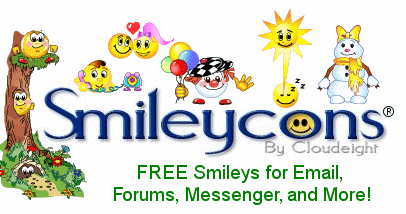 Cloudeight Boosters Get the Full Version of Smileycons FREE
All Cloudeight Boosters now get the full, registered version of Smileycons FREE. Smileycons makes it easy to add smileys, emoticons, signatures and more to your emails, forum posts* and more. Smileycons full version currently sells for $14.95, but it is free for all Cloudeight Boosters.
If you want to learn more about Cloudeight Smileycons, please visit this page. Do not download your Smileycons from that page though it's the free public version and has restrictions. The version we're offering to our boosters is the full version – you can add your own smileys, emoticons, images, signatures etc.
Thanks so much for being a Cloudeight Booster!
We appreciate your support very much!