CLOUDEIGHT STATIONERY ART CONTEST - See your child or grandchild's art displayed in a Cloudeight Stationery collection! Click Here to submit art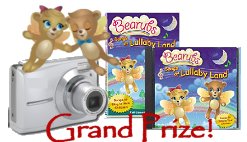 Grand Prize: Winner will receive a digital camera (3.1 mp or better) and Smileycons + Gold Membership. *PLUS choice of new Bearubs Teddy Bear Cherubs products or $25 Best Buy gift certificate!
Click here to visit the new Bearubs Website!
2nd Prize - Bearubs Lullaby Land DVD, Bearubs Funstuff Games, choice of two Bearubs art prints + a $15 gift certificate to Target for purchase of new Bearubs books pre-order, or $35 BestBuy Gift Certificate

3rd Prize - Bearubs Lullaby Land DVD, Bearubs Funstuff Games and choice of Bearubs art print, or $20 BestBuy Gift Certificate!

4th Prize - Bearubs Lullaby Land DVD and choice of Bearubs Art Print or choice of any single DVD Movie!
We're giving your child a chance to show his or her artistic ability, win a great prize, and, most importantly, have a lot of fun. Winners will be selected on originality, design, and usability for stationery. All winning entries will be featured in a special Cloudeight Stationery collection to be released before Christmas 2007. Each preview page will feature the child's name and state or country. It will be fun to us, and we hope fun for parents and children too. Your child's artwork will be seen by hundreds of thousands of people too!
You can submit your child's art in two ways. You can submit it by email (attachment) from the special link below or by sending it by regular mail to:

Cloudeight Internet
Christmas Is For Kids Contest
PO Box 73
Middleville, Michigan 49333-0073
You may submit your child's artwork by email (attachment) by .
Here are the contest rules and requirements:
| | |
| --- | --- |
| | Scanned art images should be approximately 1024x768 in jpg format. If you have a question regarding size, click here to email us |
| | Contest is open to all children preschool through grade 12 |
| | All entries must be received by midnight on 12/12/2007 |
| | Entries will be judged on creativity and originality as well as our ability to create it into a stationery. |
| | All artwork submitted must be original art and have a holiday theme. |
| | By submitting your child's art you give us permission to use it. |
| | Have fun! |
*Grand Prize winner will receive Bearubs DVD, Game and Bearub art print!
**Bearubs is the creation of our featured artist David Lindsley and are geared for the ages 7 and under. Winners in age group over 7 will receive option for BestBuy gift certificates. ® © 2007 The Bearubs Company LLC All Rights Reserved.
Bearubs Picture Books at Target! All three Bearubs picture books are now available for preorder at target.com! These colorful 8"x8" books are 32 pages and are only $3.99 each! Please go to target.com and search for "bearubs" or click on this link: Bearubs books at Target