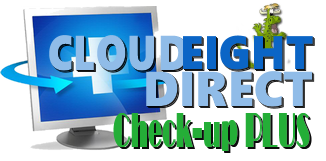 Cloudeight Direct Computer Care - Check-up PLUS Service
With our Cloudeight Direct Computer Care Check-up Plus service, you get the option of having a lost cost, professional, PC checkup... PLUS if we find your computer needs repair or additional work, you can apply the price you paid for your check-up to the price of the repair.

With our Cloudeight Direct Computer Care Check-up PLUS service, we'll connect to your computer and:
Check your start-up programs and services
Do a thorough check for Malware, PUPs, and other malicious or troublesome software
Check your hard drive errors
Check your computer performance
Check for any computer problems
When we're finished, we'll give you a complete summary
All this for just $20! If we find problems you can apply this to the price of a full Cloudeight Direct Computer Repair Key. You can't lose!
That's right: If we find no problems, you'll have the piece of mind of knowing that all is well with your computer. If we do find problems, you can apply the full cost of this checkup to your Cloudeight Direct Computer Repair key. You can't lose.
Order your Cloudeight Direct Check-up PLUS service right now -- it's just $20!
Questions? Comments?