Now for the fun part! You are ready to send Cloudeight Email Stationery!
These are instructions for using Email Stationery with Outlook Express versions 5 and 6.
Now, open your mail program and follow the instructions below!
To use email stationery, Click Message, then New Message Using, then Select Stationery. (See Picture Below)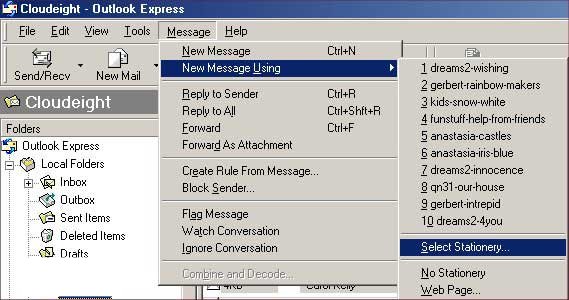 When you click "Select Stationery" you will see the Popup Window below;
This is where you choose the stationery you want to use. Just doubleclick the one you want. You can see a preview of the choice as you are looking through the list; be sure your "show preview" is checked as shown below.
If you installed "Advanced" collections, you will find the stationery listed in the folder you see below called "Cloudeight" and if you installed "Advanced" collections of Quicknotes, you will find those collections in the Quicknotes Folder you see below!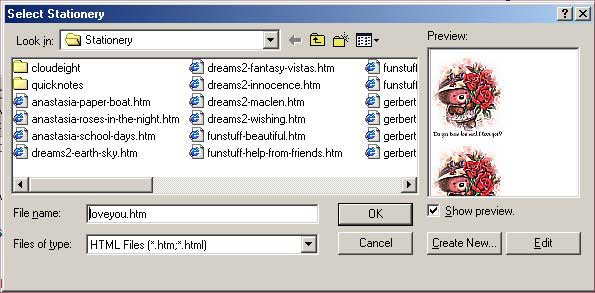 Now! Wasn't that easy! Enjoy!
NOTE: You won't see it scroll while you are typing your message. Check your preview pane, or your sent folder and it will be scrolling!
IMPORTANT: Have you recently upgraded to Outlook Express 6.0? If so, your security settings may be too high to allow for scrolling. Open your mail program and go to Tools, then Options, then choose the Security tab. You must be set to "Internet Zone."