Two Quick & Easy Tips For Windows
Increase The Total Amount of Temporary Internet Files Space
Open Internet Explorer, click Internet Options from the Tools menu. Under the Temporary Internet files section there is a button labeled Delete Files and another labeled Settings. Delete Files will remove temporary files that are currently being stored on your hard disk, while Settings will allow you to set the amount of disk space that the Temporary Internet files folder should occupy. Click Settings and increase the amount of space allowed. You should do this if you've noticed when you save images you cannot save them as GIF or JPG. Instead your only option is "BMP". Also, if you notice your browser performance degrading over time. We also suggest that you set Internet Explorer to clear your Temporary Internet Files automatically each time you close your browser.
Here's how to do that: Go to the Tools menu, and click Internet Options. Click the Advanced tab. In the "Settings" box, scroll down to the section labeled "Security," and click to check the box next to the "Empty Temporary Internet Files folder when browser is closed" option. Click OK to finish. This option does not delete cookies, but it will clear your cache of other files when you close your browser.
---
Disable Error Reporting
How Many Times Have You Seen The Picture Below?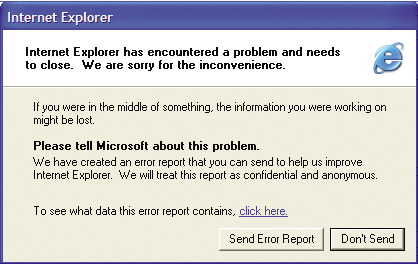 If you would rather not send a report to Microsoft every time a program crashes, here is how you can disable the error reporting feature. Select System from the Control Panel then click the Advanced tab. Click on the Error Reporting button at the bottom and in the window that appears select the Disable error reporting option
---
SpeedUpMyPC 2.0 advertisement
Special Offer - Order now and receive 40% off the regular price!
Now, you can get a faster, cleaner, and safer PC within minutes - without being a Windows expert! SpeedUpMyPC automatically finds the best settings for your PC and carefully controls your system resources to give you the best performance. Easy to use, this award-winning utility has all the features you could ever need to clean up your system, monitor resources, and improve performance. Click here now for more information.
---


Help Support Our Site!
Make our new Start page - Your new Start page!
Click the start button
---
Move up to InfoAve Premium Edition - We hope you will join the thousands who have already made the switch. Our InfoAve Premium Newsletter contains almost three times more information than Information Avenue free edition, and no third party advertisements! Upgrade to InfoAve Premium right now! An InfoAve Premium Newsletter Subscription is only $11.95 per year, that's 52 great issues of news, tips, tricks, and features you can really use. Subscribe today, and save 50% on our new super Premium E-book !
All content is copyright ©2005 Cloudeight Internet LLC
The above advertisements are provided by Google. Content of these ads is the responsibilty of Google, Inc.