Windows Vista Tips And Tricks
Flip 3D Windows
One of the features that sets Windows Vista apart from Windows XP is a feature called Flip 3D. Flip 3D allows you to see all open windows in 3D. The purpose is to allow you to quickly "flip" through all open Windows. By clicking any of the windows showing in Flip 3D view, you can bring it to the front and work in that window or close it. And, it looks pretty cool too!
Click here or on the picture above to see it full size.
To view all open program Windows (and your desktop) in Flip 3D view click the Window Switcher shortcut icon in your Quick Launch bar. If you don't see a Window Switcher icon, you can access Flip 3D view by clicking the Windows Key and the Tab Key. As soon as you release the Tab Key the windows return to the normal state. If you want them to stay in Flip 3D view, use CTRL+Windows Key+Tab Key.
And if you want another cool view, use the Filmstrip view. Access it by tapping your ALT+Tab keys. If you want it to remain on your screen after you release the Tab key, tap CTRL+ALT+TAB .
Just a reminder: Flip 3D views are available all versions of Windows Vista except Windows Vista Home Basic.
---

SAVE 20% OFF REGISTRY MECHANIC INSTANTLY!
It's Official! Registry Mechanic Is Our Most Reader-Recommended Program Ever!

We've received more unsolicited reader testimonials for Registry Mechanic than we have for any other Cloudeight-recommended and endorsed program. Each week we receive dozens of reader comments about the big difference in computer performance Registry Mechanic has made. These unsolicited comments come from readers just like you who relate their own experiences with Registry Mechanic to us.
Here are a just two of the many comments we received this week about Registry Mechanic.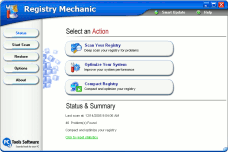 A Comment From Judith
I kept reading positive comments about Registry Mechanic in your InfoAve Premium Newsletter so I finally bought it for my year old laptop. That was about six weeks ago, I've had no problems with it and last week I bought another subscription of it for my 3 year old PC. It found/repaired 908 problems. Registry Mechanic is one tool I would recommend for sure. I use IE 7. Judith - happy computer user.

A Comment From Jim R.
"...before I knew about Registry Mechanic, I downloaded a different registry cleaner. In the scan it found almost 1000 errors. When I got Registry Mechanic, it found 600 errors. I have often wondered about the difference. Then I got your wonderful 3rd e-book. You speak often of registry cleaners that cause problems. I believe that I was saved from a problem by going with Registry Mechanic. You two are the greatest! Take Care, Jim R..."
Registry Mechanic uses a high-performance detection algorithm to quickly identify missing and invalid references in your Windows registry. These problems can occur for many reasons including being left-behind after the un-installation or incorrect removal of software, by missing or corrupt hardware drivers, or orphaned startup programs. Download A Free Trial of Registry Mechanic by PC Tools
With a few easy steps Registry Mechanic will scan your entire registry for any invalid entries and provides a list of the registry errors found, you can then choose to selectively clean each item or automatically repair them all. For your convenience and protection Registry Mechanic can also make a backup of any repairs made so that you can easily recover any changes if required. Try it free now! Download A Free Trial of Registry Mechanic by PC Tools.
---
Move up to InfoAve Premium Edition - We hope you will join the thousands who have already made the switch. Our InfoAve Premium Newsletter contains almost three times more information than Information Avenue free edition, and no third party advertisements! Upgrade to InfoAve Premium right now! An InfoAve Premium Newsletter Subscription is only $11.95 per year, that's 52 great issues of news, tips, tricks, and features you can really use. Subscribe today, and save 50% on our new super Premium E-book !
All content is copyright ©2007 Cloudeight Internet LLC
The above advertisements are provided by Google. Content of these ads is the responsibilty of Google, Inc.