Some of you might not know this, but you can set up dozens of email accounts in Outlook Express. Why would you want to do this? Who knows! But we have about 20-25 accounts set up for specific purposes and we're sure you must have some specific purposes you could use additional accounts for too! So adding a Gmail Account to Outlook Express will not change the account or accounts you already have set up. And, you can select any account to be your "default" account (i.e. the account that opens automatically when you choose to create a new message - the account from which, unless you select a different account, your mail is sent when you compose a new message).
Unlike Yahoo Mail and other free "Web mail" services, Gmail allows you to use your Gmail Account in Outlook Express like you would any other email account (like that your ISP gives you). Not only does Google give you the option to use your Gmail Account in Outlook Express, but you can keep an archived copy of your email on the Web where Google gives you about 2.5 Gigabytes (that's GIGABYTES) of storage. So, essentially, you can store year's worth of email on the Gmail server and not take up your own hard drive space with archived messages.
Anyway, sorry for being "chatty" again :). Here's the scoop on how to set up a Gmail Account in Outlook Express.
First you need to configure your Gmail Settings - so login to your Gmail account and click "Settings" (at the top) then click the "Forwarding and POP" tab (at the top):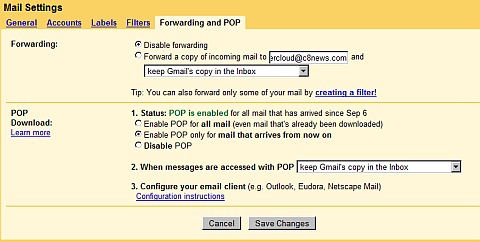 In the section "Pop Download" enable either option one or two. If you don't enable one of these you will not be able to access Gmail with your Outlook Express email program. After selecting one of these options don't forget to click "Save Changes" or you'll have to start all over.
Next click "Configuration Instructions" at the bottom of the dialog above and you'll see a window that looks like this:
Click Outlook Express and Outlook 2002 (and older) (Windows) and you'll see this page appear (click here to see) . On the actual page there are links to Google's Gmail Automatic Configuration tool and manual instructions. We don't know about you, but when given a choice between easy and difficult, with the end result being difficult, we'll take "easy" every time. It doesn't get any easier than using Gmail's Auto-configuration tool, but if you prefer and want to learn how to set up accounts in Outlook Express manually, following this guide is a good tutorial.

Once you get your Gmail account set up in Outlook Express, you'll be able to use it exactly like you use your normal ISP account. And, you can use Cloudeight Stationery, QuickNotes, and Funletters with it too, exactly like you would with any other Outlook Express account. And for AOL users, a Gmail Account offers you a great deal more freedom than you can get with your AOL account.
Don't have a Gmail Account yet? Well, Gmail is still in Beta, but that's sort of a joke, because Gmail has been around for about 18 months now. The only way you'll get a Gmail Account is by invitation. And there are a lot of "invitations around. If you've been using our Start Page you've noticed that a couple of times a week we'll give away free Gmail accounts. What? You're not using our Start Page? Shame! Shame! Anyway, we've given out about 500 free Gmail accounts and we'll be giving out hundreds more as we get time. So, if you want a Gmail Account, that would be another excellent reason to use our Start Page as your browser's home page, wouldn't it? Not to mention that it helps us a great deal too.
---
Registry Mechanic - A Cloudeight Endorsed Product
(Advertisement)
Download A Free Trial of Registry Mechanic by PC Tools

With Registry Mechanic you can safely clean, repair and optimize the Windows registry with a few simple mouse clicks! Problems with the Windows registry are a common cause of Windows crashes, slow performance and error messages. By using a registry cleaner regularly and fixing registry errors your system should not only be more stable but it will also help improve your system performance without expensive hardware upgrades. Download A Free Trial of Registry Mechanic by PC Tools
Registry Mechanic uses a high-performance detection algorithm to quickly identify missing and invalid references in your Windows registry. These problems can occur for many reasons including being left-behind after the un-installation or incorrect removal of software, by missing or corrupt hardware drivers, or orphaned startup programs. Download A Free Trial of Registry Mechanic by PC Tools
With a few easy steps Registry Mechanic will scan your entire registry for any invalid entries and provides a list of the registry errors found, you can then choose to selectively clean each item or automatically repair them all. For your convenience and protection Registry Mechanic can also make a backup of any repairs made so that you can easily recover any changes if required. Try it free now! Download A Free Trial of Registry Mechanic by PC Tools