Windows Vista Tips And Tricks
Enable Hidden (Aurora) BootScreen in Windows Vista
The Windows Vista BootScreen is, well, pretty "blah". Why Microsoft decided to hide a nicer boot screen (called "Aurora" - and I no, I don't know why it's called that) that can easily be enabled by anyone - is beyond me, only those with knowledge more vast than that stored in my humble storehouse of knowledge knows. Those guys at Microsoft are strange sometimes. But, at least, they recognized that someone was going to figure out how to get to the better BootScreen eventually. It didn't take long, did it? Now from the dungeons of arcane knowledge I submit to you this tip to enable the better BootScreen that Microsoft, for reasons known only to them, has decided to hide by default.
Press the Windows Key + R and type MSCONFIG - then press Enter.

If User Account Control prompts you to allow the action, click on Continue to proceed.

In the "System Configuration" window, click on the Boot tab.

Select your Windows Vista installation and under "Boot options", check "No GUI boot". Press OK.

In the dialog that appears, check "Don't show this message again", and then click on Restart.

Your computer will now reboot, and you will see the Aurora boot screen with text that says "Starting Windows Vista".
Caveat time: You may get a "Windows Defender" error the next time you start your computer. To get rid of it, enable the System Config utility using the tray icon and the error will disappear.
---

SAVE 20% OFF REGISTRY MECHANIC INSTANTLY!
It's Official! Registry Mechanic Is Our Most Reader-Recommended Program Ever!

We've received more unsolicited reader testimonials for Registry Mechanic than we have for any other Cloudeight-recommended and endorsed program. Each week we receive dozens of reader comments about the big difference in computer performance Registry Mechanic has made. These unsolicited comments come from readers just like you who relate their own experiences with Registry Mechanic to us.
Here are a just two of the many comments we received this week about Registry Mechanic.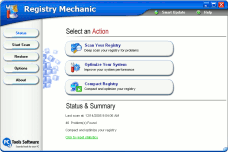 A Comment From Judith
I kept reading positive comments about Registry Mechanic in your InfoAve Premium Newsletter so I finally bought it for my year old laptop. That was about six weeks ago, I've had no problems with it and last week I bought another subscription of it for my 3 year old PC. It found/repaired 908 problems. Registry Mechanic is one tool I would recommend for sure. I use IE 7. Judith - happy computer user.

A Comment From Jim R.
"...before I knew about Registry Mechanic, I downloaded a different registry cleaner. In the scan it found almost 1000 errors. When I got Registry Mechanic, it found 600 errors. I have often wondered about the difference. Then I got your wonderful 3rd e-book. You speak often of registry cleaners that cause problems. I believe that I was saved from a problem by going with Registry Mechanic. You two are the greatest! Take Care, Jim R..."
Registry Mechanic uses a high-performance detection algorithm to quickly identify missing and invalid references in your Windows registry. These problems can occur for many reasons including being left-behind after the un-installation or incorrect removal of software, by missing or corrupt hardware drivers, or orphaned startup programs. Download A Free Trial of Registry Mechanic by PC Tools
With a few easy steps Registry Mechanic will scan your entire registry for any invalid entries and provides a list of the registry errors found, you can then choose to selectively clean each item or automatically repair them all. For your convenience and protection Registry Mechanic can also make a backup of any repairs made so that you can easily recover any changes if required. Try it free now! Download A Free Trial of Registry Mechanic by PC Tools.