Cloudeight InfoAve Windows Tips

Setting Multiple Browser Home Pages In Internet Explorer 7


Home Page Gluttony With Internet Explorer 7


Windows XP/Windows Vista (With Internet Explorer 7 Installed)

Remember just a few days ago when having one browser start page was enough. Well, folks, we're living in the age of excess where one of anything is not enough (although I'm sure many will argue that and say sometimes one is too many).

So, in response to our cultural gluttony, Microsoft figured that you should have the option to have as many different start pages as you want. The first in your list will be your primary one and the rest will be secondary. These are called "Home Page Tabs" in the current IE7 vernacular.

Actually, gluttony or not, we rather like this feature. It comes in handy if you're used to using a certain page as your browser's start page (or browser home page - as some call it) and find yourself reading the news in the morning and perhaps using TV guide in the afternoon to see if
the "Daryl divorces Dana or if Dana broke off her relationship with Manny and went back to her husband Daryl" episode is on "It's A Wacky World" soap opera.

If that's not enough - wait there's more! It's easy to set up as many start pages - or "Home Page Tabs" as you want. Here's how to do it. In this example we have three pages listed. Keep in mind that the first in the list will be your primary home page tab (the one you will see when you open your browser - and it we hope it will be http://thundercloud.net/start/ . You can type you other "home pages" after it and these will open as tabs in the background - so you can easily switch between all the tabs. Keep in mind, then, when setting numerous "Home Page Tabs", they're all going to open in tabs when you open Internet Explorer. Your primary "Home Page Tab" will be visible, the rest will be opened in tabs in the background. Our advice - three or four "Home Page Tabs" should be plenty. There's not much point in having a bunch of sites open when you open Internet Explorer - it will slow it down and, if you're like us, in a few weeks you won't remember why you decided to have so many. Well, maybe just because you can? Keep it simple. Three or four maximum should be enough.

Here's a picture to guide you. As you can see we've simply typed our three choices for "Home Page Tabs" in the box - then clicked "Apply" and "OK" to save our Home Page Tabs. Once you've set them, you'll need to close Internet Explorer and reopen it.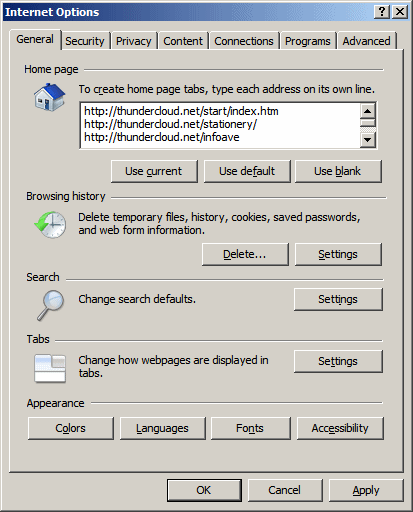 Save 20% With this special offer!


RoboForm 6.7


The world's most trusted password
management and form-filling software
Works with Firefox 2.0 and I.E. 7 !!

Reduce your many passwords to just one
Automatically logs you into online accounts
Fills forms with just one click
Prevents Phishing and Keylogging, much more
Get More Information and SAVE 20% On RoboForm Right NOW!
All content is copyright ©2006 Cloudeight Internet LLC

The above advertisements are provided by Google. Content of these ads is the responsibility of Google, Inc.