The Outlook Bar


Outlook Express 5 and 6 - Windows 98 through Windows XP

Cool! You made it here! Let's move on with Step #3:

As you can see from the picture below, the Outlook Bar comes complete with a few folders showing. Of course these are pretty much useless if you're organizing and sorting your email using dozens of special folders. So, let's point out you can remove any or all of the folders that show by default by right-clicking on them (one at a time of course) and choosing "Remove from Outlook Bar". For this tutorial, we've removed them all. Why? Because we can always find "Inbox" "Sent Items" and "Deleted Items" anyway and why anyone would want "Outbox" displayed here is beyond us...however it takes all kinds. Those of you who do use the "Drafts" folder might want to keep it on the Outlook Bar. We don't use it so we removed it.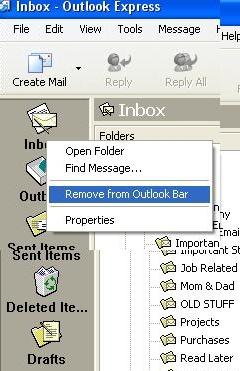 Step #4
Now we've cleared the slate we can start adding folders to the Outlook Bar that are important to us!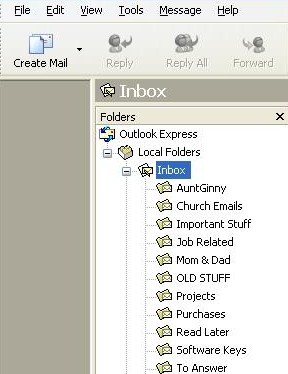 Step #5
To add folders to your Outlook Bar, simply click on the folder you want to move with your left mouse button. Continue to hold down your left mouse button as you drag the folder to the Outlook Bar. Once it's over the Outlook Bar release your mouse button. You'll note that you can't actually move the folder, actually you're copying it to the Outlook Bar. The folder stays in place in its normal location and the contents of the folders in the Outlook Bar are always identical to the folders in the "Folders" column of Outlook Express.
Once you get all the folders that you want in the Outlook Bar you can drag them around in any order you like. We put "Mom & Dad" first. Isn't that nice? :-)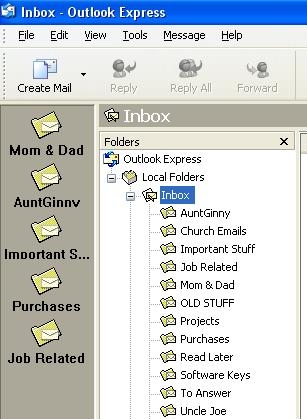 Thanks for visiting the Outlook Bar! Stop back on Wednesday for our Blue Plate Special :)
SpeedUpMyPC 2.0
Bonus: Order Now and Get the Award Winning WinBackup 1.86 for FREE!

Now, you can get a faster, cleaner, and safer PC within minutes - without being a Windows expert! SpeedUpMyPC automatically finds the best settings for your PC and carefully controls your system resources to give you the best performance. Easy to use, this award-winning utility has all the features you could ever need to clean up your system, monitor resources, and improve performance.

Bonus: Order Now and Get the Award Winning WinBackup 1.86 for FREE!
---


Help Support Our Site!
Make our Start page - Your Start page!
Click the start button
---
All content is copyright ©2006 Cloudeight Internet LLC
The above advertisements are provided by Google. Content of these ads is the responsibilty of Google, Inc.