Rummaging Through Icons Lookin' For A Picture

Windows XP Home and Professional
Have you ever wanted to insert a picture in an email, or send a picture to a friend and opened up a folder with lots of pictures in it, only to be greeted by ten thousand icons with strange and mysterious names? Maybe five years ago when you saved that picture, the name you gave it made since, but five years later, how in the heck do you know what "June05-2001" is? Is it picture number five of June? June went back to Nebraska and you haven't seen her since. Or does it mean you took it on June 5, 2001? If you're memory is as bad as ours, you won't remember the pictures you took last June let alone pictures you took five years ago. And if you ever knew anyone named June, and you knew her in 2001, how do you know if those are pictures of June? Or pictures you took in June. We all name things we think will help indicate to us later what it is - but invariably what meant something to you last year won't mean a thing to you this year. Know what I mean?
Let's get right down to it. If you're like us, then you'll want a better way to find what you're looking for when you're looking for a picture in folder full of pictures. Right?
Here's a tip you can really use that will make it easy to find the picture you're looking for in a folder full of pictures, whether their named June05-2001 or "Trebils Victory Party On Shagmuffins Porch" (No apostrophes allowed in file names - all you English majors out there!)

1. When you look for a picture in a normal Windows folder, you'll see something like this - where all the pictures are represented as icons. Big help huh?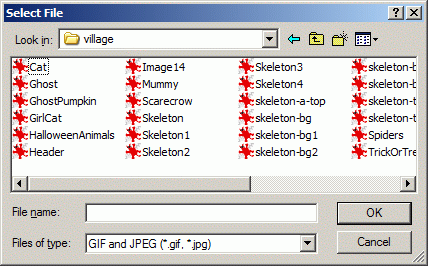 2. The arrow in the image below points to the Folder View selector button. Click the down-arrow on the right edge of the button to display the View Options Menu. (Pay no attention to the blotchy GIF rendering :-) )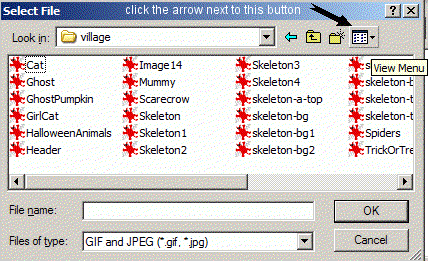 3. When you click the down-arrow on the Folder View button, a drop-down menu appears. Select "Thumbnails" from this menu.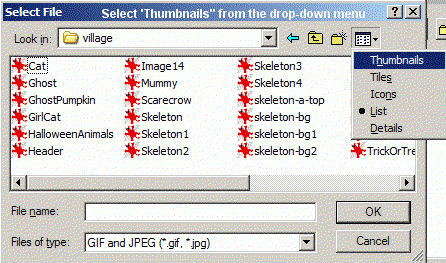 See? Told you!
4. As you can see, the icons are now displayed as Thumbnails so you can easily choose the picture you want to insert in your email or document. While these don't look a bit like June or "Trebils Victory Party On Shagmuffins Porch" they do sort of resemble skeletons. Anyway, you can see how using the "Thumbnails" Folder View Option can make it much easier for you to find the picture you're looking for, when your looking for a certain picture which is buried in a folder containing dozens and dozens of pictures.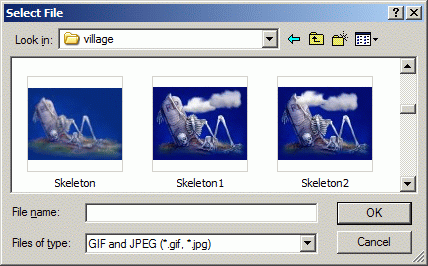 So the next time you're writing an email and you want to send your friends a picture of your brand new Mercedes Z-2800X convertible, and it happens to be in the folder with about seven-hundred other pictures, just use the thumbnail folder view option, and that red convertible will jump right out at you from all those pea-green Fords you've owned for the past twenty-two years.