Put A "Show Desktop" Icon on Your Start Menu
Windows XP Home and Professional
Did you know it's easy to put a "Show Desktop" Icon on your Start Menu? It is and here's how:
If you're using "Quick Launch" toolbar (and you should be) you'll see the "Show Desktop" icon. It looks like this:

Right click on the "Show Desktop" icon and drag it to an empty space on your desktop. Release the right mouse button and choose "Copy here".
Now right-click on the "Show Desktop" icon on your desktop and slide it over your "Start" button until the menu opens- now drag the "Show Desktop" icon into the left side of your Start Menu while holding down the right mouse button until you have it where you want it and then release the mouse button and choose "Move here".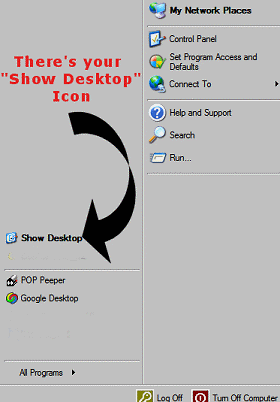 And there you go. You can also place the "Show Desktop" icon in the "All Programs" menu if you prefer.
*If you don't have your Quick Launch toolbar enabled (and it's not enabled in Windows XP by default) you can do this easily by right-clicking an empty area of your taskbar, selecting "Toolbars" from the pop-up menu and place a checkmark next to "Quick Launch".
---


Help Support Our Site!
Make our new Start page - Your new Start page!
Click the start button
---
Move up to InfoAve Premium Edition - We hope you will join the thousands who have already made the switch. Our InfoAve Premium Newsletter contains almost three times more information than Information Avenue free edition, and no third party advertisements! Upgrade to InfoAve Premium right now! An InfoAve Premium Newsletter Subscription is only $11.95 per year, that's 52 great issues of news, tips, tricks, and features you can really use. Subscribe today, and save 50% on our new super Premium E-book !
All content is copyright ©2005 Cloudeight Internet LLC