Turning Your Email Folders Red
Windows 98/ME/2000 and Windows XP Home and Professional - Outlook Express 5 and 6

Did you ever get an email that you didn't want to answer right away? So you "flag" it. But after a couple days it gets buried? Or you moved it to a special folder but forgot it was there so it never got answered? Sure, we've all had good intentions of answering an email and then forgot about it. Now if you could turn that special folder red or and turn the message red that would make it stand out wouldn't it? It's very easy to do!
First select a message that you want to be reminded to answer and move it (if you wish to another folder). Now highlight the message and click Message (on the toolbar) and select "Watch Conversation"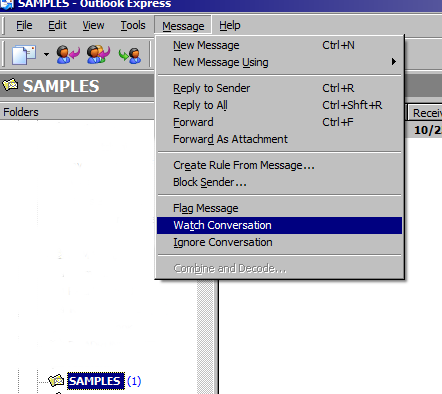 After you've done this, you'll see the message is now red and at the very right edge you'll see a pair of eyeglasses. This tells you this message is being "Watched"
Now this is all fine and we all know how to make email change colors with message rules, but by "Watching" this message you not only turn the message red but whatever folder you put it in will turn red as well. This way you can't possibly forget about it can you?
As you can see above, the folder "Samples" turns red when I put the message being watched into it. This folder and message will both stay read until you uncheck "Watch Message". So be sure to uncheck "Watch Message" when you've answered it or you can just delete it when you've answered it if you wish.
Now you should never forget about that important email you keep wanting to answer but never do. Now you have no excuse!
Save 20% With this special offer!


RoboForm 6.7


The world's most trusted password
management and form-filling software

Reduce your many passwords to just one
Automatically logs you into online accounts
Fills forms with just one click
Prevents Phishing and Keylogging, much more
Get More Information and SAVE 20% On RoboForm Right NOW!
---
SpeedUpMyPC 2.0 advertisement
Special Offer - Order now and receive 40% off the regular price!
Now, you can get a faster, cleaner, and safer PC within minutes - without being a Windows expert! SpeedUpMyPC automatically finds the best settings for your PC and carefully controls your system resources to give you the best performance. Easy to use, this award-winning utility has all the features you could ever need to clean up your system, monitor resources, and improve performance. Click here now for more information.
---


Help Support Our Site!
Make our new Start page - Your new Start page!
Click the start button
---
Move up to InfoAve Premium Edition - We hope you will join the thousands who have already made the switch. Our InfoAve Premium Newsletter contains almost three times more information than Information Avenue free edition, and no third party advertisements! Upgrade to InfoAve Premium right now! An InfoAve Premium Newsletter Subscription is only $11.95 per year, that's 52 great issues of news, tips, tricks, and features you can really use. Subscribe today, and save 50% on our new super Premium E-book !
The above advertisements are provided by Google. Content of these ads is the responsibilty of Google, Inc.