Windows Vista Tips & Tricks
Windows Vista Shortcuts
With Windows Vista those of you running Aero Glass also have the so-called 3D "Flip Windows". Those of you who've used MACs before will chortle, but this is new in Windows. So here are some Windows Vista only "Keyboard Shortcuts". Some of these tips require you to be running Aero Glass which may not be available in your version of Windows Vista (Vista Basic does not have Aero Glass and some graphics cards do not support Aero Glass).
- Windows logo key +TAB Cycle through programs on the taskbar by using Windows Flip 3-D

- CTRL+Windows logo key +TAB Use the arrow keys to cycle through programs on the taskbar by using Windows Flip 3-D

- Ctrl+Shift+Esc -> Task Manager

- Ctrl+Shift+Enter -> Run an executable with elevated privileges

- Windows logo key+1-0 -> Launch the shortcuts on the Quick Launch toolbar

- Windows logo key+T -> Cycle through programs on the taskbar
---
SAVE 20% ON THESE GREAT CLOUDEIGHT ENDORSED SOFTWARE PRODUCTS

Valuable Coupon Offer For Cloudeight Subscribers - Now Save 20% Instantly on RoboForm, S*pyware Doctor, Registry Mechanic, and Acronis True Image -Complete Computer Backup System. All of these great products are approved and endorsed by Cloudeight.

RoboForm - The world's most trusted password management and form-filling software. Reduce your many passwords to just one; automatically log into online accounts, fill forms with just one click, prevents Phishing and Keylogging and much, much more! Get More Information and SAVE 20% On RoboForm Right NOW!

Acronis True Image
Acronis True Image is an easy-to-use and powerful backup tool that makes a mirror-image backup of your hard drive. In our tests we were able to completely format a hard drive and restore it and all our settings and programs in about 30 minutes. In about 30 minutes we went from nothing to complete working condition. Try that with your current backups :) Get more information and your special 20% discount here.

S*pyware Doctor
S*pyware Doctor is one of the most popular and effective S*pyware removal and real-time protection tools on the market. "The most effective of all the products tested at both blocking and removing S*pyware and keyloggers, and it's our current Editors' Choice" - PC Magazine Editors' Choice, June 19, 200. S*pyware Doctor also won PC Magazine's Editor's Choice for 2006. Get more information and your 20% off coupon code here.
---
Optimizing Wireless Connections - Windows Vista
One of the first annoyances we noticed about Windows Vista are the default power settings for wireless adapters. If you use a wireless connection you might notice that if you leave your computer for a few minutes and return, you Internet connection has changed from "Local and Internet" to "Local" or "Limited connectivity". If this plagues your computer try this tip:
Click the Windows Logo Button (formerly known as "the Start Button), then click Control Panel, System and Maintenance, Power Options. Most of you will find your default to be "Balanced". Click change plan settings, then click on Advanced power settings, and find Wireless Adapter Settings in the list: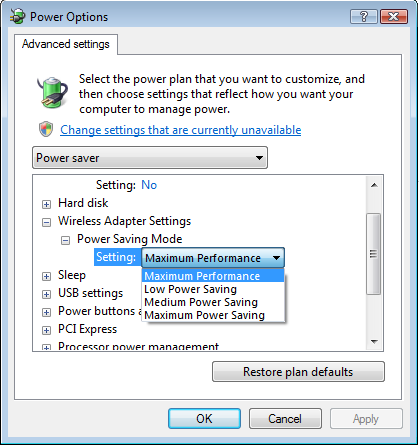 The default setting for the default "Balanced Power Plan" is "Maximum Power Saving". Select "Maximum Performance" from the list, click "Apply" then "OK". You may have to reboot your computer for the changes to take affect. After you've changed to "Maximum Performance" you should notice that your wireless adapter is being powered-down by Windows and your connection to the Internet should not be interrupted just because you went and had a couple of cups of coffee :)
---

It's Official! Registry Mechanic Is Our Most Reader-Recommended Program Ever!

SAVE 20% OFF REGISTRY MECHANIC INSTANTLY!



We've received more unsolicited reader testimonials for Registry Mechanic than we have for any other Cloudeight-recommended and endorsed program. Each week we receive dozens of reader comments about the big difference in computer performance Registry Mechanic has made. These unsolicited comments come from readers just like you who relate their own experiences with Registry Mechanic to us.

Here are a just two of the many comments we received this week about Registry Mechanic.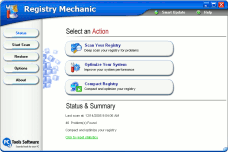 A Comment From Judith
I kept reading positive comments about Registry Mechanic in your InfoAve Premium Newsletter so I finally bought it for my year old laptop. That was about six weeks ago, I've had no problems with it and last week I bought another subscription of it for my 3 year old PC. It found/repaired 908 problems. Registry Mechanic is one tool I would recommend for sure. I use IE 7. Judith - happy computer user.

A Comment From Jim R.
"...before I knew about Registry Mechanic, I downloaded a different registry cleaner. In the scan it found almost 1000 errors. When I got Registry Mechanic, it found 600 errors. I have often wondered about the difference. Then I got your wonderful 3rd e-book. You speak often of registry cleaners that cause problems. I believe that I was saved from a problem by going with Registry Mechanic. You two are the greatest! Take Care, Jim R..."
Registry Mechanic uses a high-performance detection algorithm to quickly identify missing and invalid references in your Windows registry. These problems can occur for many reasons including being left-behind after the un-installation or incorrect removal of software, by missing or corrupt hardware drivers, or orphaned startup programs. Download A Free Trial of Registry Mechanic by PC Tools
With a few easy steps Registry Mechanic will scan your entire registry for any invalid entries and provides a list of the registry errors found, you can then choose to selectively clean each item or automatically repair them all. For your convenience and protection Registry Mechanic can also make a backup of any repairs made so that you can easily recover any changes if required. Try it free now! Download A Free Trial of Registry Mechanic by PC Tools.
All content is copyright ©2007 Cloudeight Internet LLC
The above advertisements are provided by Google. Content of these ads is the responsibilty of Google, Inc.