MELONS ON MY MIND
First Published In InfoAve Premium Issue #202 - August 31, 2007
Those of you living in big and sophisticated cities will be astonished to learn that those of us living in more-or-less rural areas of America, get all worked-up about summer festivals. It may seem sad to you, but it is true.
So far, this summer, in my neck-of-the-woods, we've had the Cherry Festival, the Strawberry Festival, The St. Alphonsus Festival, The St. Joseph's Festival, The St. Paul's Festival (you never thought of Saints as "festive" did ya?) and several others, which I've forgotten (I'm sorry).
But, the Super Bowl of Festivals happens this very weekend in beautiful downtown Milan, Ohio, where they will spend the entire weekend frolicking and celebrating! And the whole shebang is about melons. It's Melon Festival time, folks! Yes indeedy! The biggest festival of them all is right around the corner, and the whole area around here is all atwitter with excitement. I bet you never thought folks could get all worked up over melons, did you? We're all worked-up! Bring on the melons!
Everywhere I go, I see posters, billboards and signs (tacked to telephone poles) reminding me that this is the big weekend. The weekend when the sleepy little village of Milan, Ohio (population 1445) comes alive with festivities to rival New Orleans, New York, San Francisco, San Antonio, and Miami. Swarms of jet-setters and party animals will descend on Milan this weekend to celebrate melons. They expect that over 100,000 revelers will fill the town square over the weekend - dancing, partying, and living it up - and all under the watchful eye of the much celebrated Milan Police Department (MPD). Now, the rest of the year, the only thing you hear about the Milan Police Department is that they run a very efficient (and profitable) speed trap on US 250 North. Since Milan has little industry, this speed trap raises much-needed funds that keep the city going until another Melon Festival rolls around when the village is again awash in melons and cash from hungry visitors who chow down on various and sundry (and expensive) festival-food - and park in No Parking zones ($35 fine, please!).
By now, I'm almost sure that those of you looking for a fun party this long Labor Day Weekend, are wondering how you can get to this festival. Well, I'm hear to tell you that it's not hard. If you're flying in, fly into Cleveland Hopkins International Airport, rent a car, take I-480 West to the Ohio Turnpike. Take the Ohio Turnpike west to Exit 250 and go south about 3 miles. Don't worry. You can't miss the festival. There will cars parked (illegally - $35.00 fine please!) for miles on both sides of U.S. 250. When you see this line of cars, you're there. Just be careful you don't park along U.S. 250. Drive into Milan, and you'll find many of the gracious villagers will let you park on their front lawns (really!) for a small fee of $15 to $20. If you're driving in from the east or west, just find the Ohio Turnpike and get off at Exit 250. If you're coming from the north (sorry no Michiganders are allowed in Ohio) just act like you're going to Cedar Point (Sandusky, Ohio) but instead of going north to the Lake, go south to the Melon Festival. If you're driving in from the south, good luck.
Accommodations might be a problem - and you can't stay with me so banish that thought from your mind right now! There are no hotels or motels in Milan. They've got ordinances against strangers hanging around in Milan overnight. But there are plenty of motels within ten miles. My advice: Stay somewhere south, east, or west of Milan where you can get a room for under a hundred bucks. If you're thinking of taking in Cedar Point and the Lake Erie Islands while you're in the area - forget it. Rooms in and around Sandusky this weekend are SOLD OUT and if you can find one, it will cost you around $350.00. If you can afford that much for a room, why not spend it more wisely and sent it to me? I could use it at the Melon Festival - I'd really like to try my luck playing some of those games. I've always wanted a stuffed giraffe for my bed. And a few extra beers wouldn't be bad either. Don't worry, I don't plan on driving. I'll walk.
By now, you're probably wringing your hands in anticipation and wanting me to tell you what you can expect when you arrive at the Melon Festival. It's almost too exciting to write. But I'll try. First of all, my favorite part of the Melon Festival (aside from all the gorgeous melons) is the beer tent. I'm a guy. And guys have a thing about beer tents. I've noticed lately though that a lot more ladies are hanging around in the beer tent. While I'd really like to believe that this has something to do with me being there, I'm sure it does not. I think the ladies are there because all the guys hang out there. I don't think it has anything to do with me - even though I'm a guy, I'm too old to be a lady-magnet. And, yes, it's a very difficult thing for me to admit. But sometimes you have to stare reality in the eye and accept the truth of what is staring back a you.
If you're not one to hang around beer tents with a bunch of half-drunk, party animals (myself excluded) you can play all sorts of chance games. Like "Knock A Doll", "The Fish Pond", "The Birthday Game", "Knock Down The Wooden Milk Bottles" and tons more. You can win great prizes if you're lucky; prizes like cool replicas of Zippo Lighters, plastic flashlights, bike reflectors, and Coca-Cola playing cards.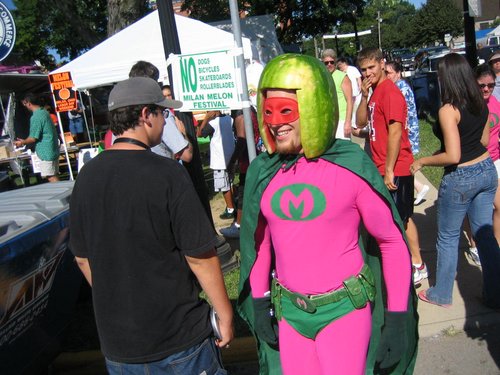 The Melon Festival Man
If you don't like games, but want to gamble where you can win really big cash prizes, you'll love the never-ending bingo game above the Town Hall. All day and all night you can play Bingo for just 25 cents a game. And if you're the first to holler "BINGO" you can win up to $12.00! That's more than enough to buy a high-in-transfat, deep-fried turkey drumstick and a high-fructose-corn-syrup-laden-Coke (that'll run you about $6.00 U.S.D.).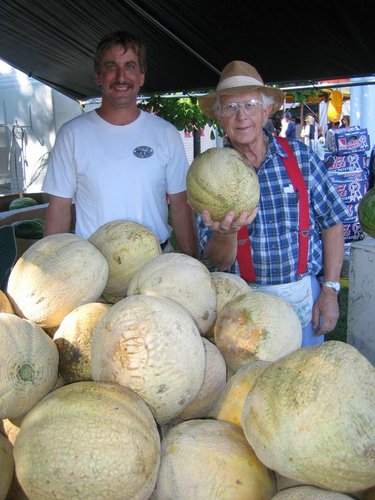 But, let's get to the real reason why you came to the Melon Festival. The MELONS! Lovely melons everywhere you look! Visit the Cantaloupe Wagon at the south-end of the square and meet the Millers of Miller's Melons. You call them cantaloupes, but we call them musk melons, but whatever you call them, they skuzzy looking on the outside and nice and orange on the inside. Yummy! Juicy, sweet, and delicious, served right off the Miller's Melon Wagon. Dig in and let the juice run down your chin and all over that nice clean shirt!
(A little note: Did you know the term "seedy" comes from this? Indeed. Everyone who eats melons from the Wagon, ends up with melon juice and seeds on their clothing. Hence, the term "seedy" was born. And if you picked up a few pieces of hay from the Wagon, you could become a "hayseed". I just thought you'd like to know how these terms came to be - and that Milan is where these terms originated. Interesting huh?)
Finally, you'll want to try the various melon treats available throughout the square. You can have a melon milkshake, a melon ice cream cone or a rich, frozen chocolate-covered melon slice. If you're adventurous, you might want to sink your seedy teeth into some deep-fried watermelon or muskmelon slices. Or feast on a melon burger covered with ketchup, mustard and onions and served with hot, greasy melon fries. Try some melon mustard, melon pickles, and melon pancakes too. Or if you've got a competitive nature, enter the Official Muskmelon Eating Contest; you just might make the Guinness Book of World Records ... if you can eat more than fifty-two muskmelons in twelve minutes. Alka-Seltzer is provided to all contestants - free of charge - by the gracious Milan Village Council (really!).
Now you can understand why I have melons on my mind! Everyone around here is chomping at the bit waiting for this weekend to arrive. We're crazy about melons! If you come to Milan, Ohio this weekend, and you're looking for me, try the beer tent first, that's probably where I'll be: Drinking beer, reveling in the festive atmosphere - with melons on my mind!
Tell us what you think - Please
---
Registry Mechanic - A Cloudeight Endorsed Product
(Advertisement)
Download A Free Trial of Registry Mechanic by PC Tools

With Registry Mechanic you can safely clean, repair and optimize the Windows registry with a few simple mouse clicks! Problems with the Windows registry are a common cause of Windows crashes, slow performance and error messages. By using a registry cleaner regularly and fixing registry errors your system should not only be more stable but it will also help improve your system performance without expensive hardware upgrades. Download A Free Trial of Registry Mechanic by PC Tools
Registry Mechanic uses a high-performance detection algorithm to quickly identify missing and invalid references in your Windows registry. These problems can occur for many reasons including being left-behind after the un-installation or incorrect removal of software, by missing or corrupt hardware drivers, or orphaned startup programs. Download A Free Trial of Registry Mechanic by PC Tools
With a few easy steps Registry Mechanic will scan your entire registry for any invalid entries and provides a list of the registry errors found, you can then choose to selectively clean each item or automatically repair them all. For your convenience and protection Registry Mechanic can also make a backup of any repairs made so that you can easily recover any changes if required. Try it free now! Download A Free Trial of Registry Mechanic by PC Tools
Home | Smileycons | Email Guardian | Start With Us | InfoAve Premium | More Rants
All content is