Changing The Default Icons For Folders, Files, and Programs
(Windows XP Home and Professional Editions )

You're limited only by your imagination (and supply of icons) when changing file, folder, or program icons in Windows. And, it's very easy to do. At the end of this tutorial we'll give you a couple of links to places where you can download free icons (no adware or spyware of course). Or you can create icons yourself using your own digital images too using any good image editor like Irfanview or many others. If you want to learn to make your own icons see http://thundercloud.net/infoave/tutorials/makeicons/ . If you're artistic you can actually create icons from scratch using an icon editor like Microangelo.
It's a snap to change folder, file, and some program icons. The procedure is exactly the same for each type of file. So let's change a folder icon and see how easy it is to do:
1. First we select a folder. In this case one called "images". Then we right-click on it and select "Properties" from the menu which appears.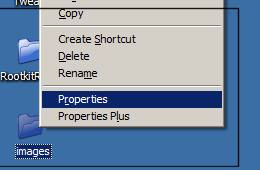 2. Click the "Customize" tab at the top of the "Properties" dialog window. When you're in the "Customize" dialog (as shown below) click the "Change Icon" button near the bottom.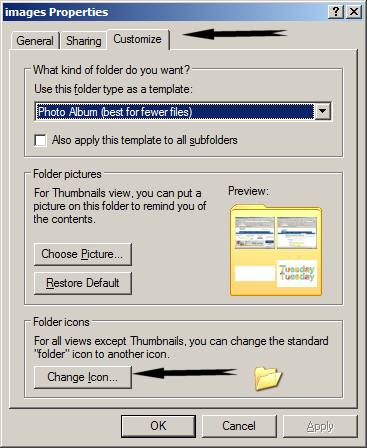 3. Now the "Change Icon" dialog appears with a bunch of standard Windows icons showing. You'll probably not want to use these, so click on the "Browse" button and browse to icon or folder containing the icon you want to use.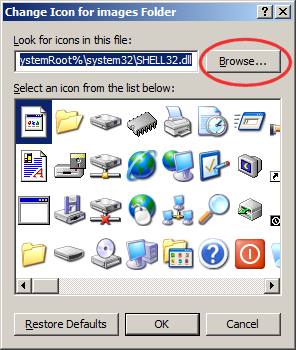 4. As you can see from the image below, I've browsed to a folder on one of my hard drives called "Celestial Icons". Now I select the icon I want to represent my "image" folder (chosen in step 1 of this tutorial). Once I've selected the icon I want to use I click "Open".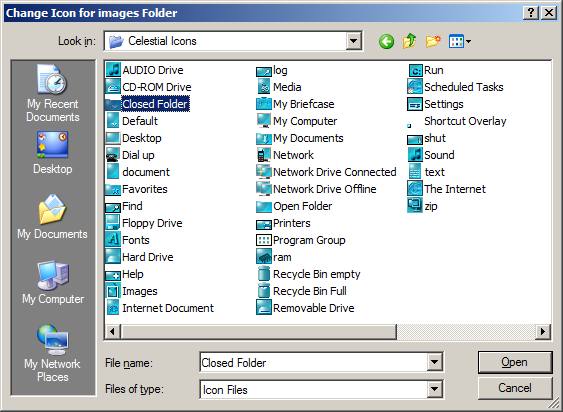 5. A dialog window open showing the icon I've chosen. If this is the icon I want, all I have to do is click OK (duh!).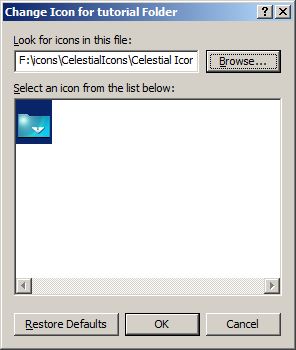 6. All done! Here's what my folder called "images" looks like now. How easy was that? VERY!

Here are a couple sources for free icons (for personal/home use only). These are made by small companies and/or individuals and contain no adware or spyware. There are many others too. So, go Googling for "free windows xp icons", but beware, there are a lot of spyware/adware developers pushing free icons.
We chose the following sites because the icons are quite unique and of high quality. And of course, these do not require the download of adware or spyware in order to get the icons. Have a look!
http://www.foood.net/index.htm

http://www.iheartny.com/icons.html
We hope you've enjoyed this tutorial!
Would you like to make a donation to help Cloudeight help you?
How about making our Cloudeight Start Page your start page?
Copyright ©2005 by Cloudeight Internet LLC/Cloudeight InfoAve