How to show Hidden Files in Windows Explorer
Why are some files hidden? Windows hides certain files by default. These files are system files used by Windows itself and unless you want to edit them (which requires some windows proficiency) they are perfectly fine to leave hidden. They're hidden to save them from accidental deletions, and accidental editing.
Why would you want to show hidden files ? If you would like to edit (for example) CONFIG.SYS or find spyware/adware DLL files, which may emulate Windows system files and therefore are hidden; or you just want to see what's "in there", then you will need to enable the showing of hidden files.
How to show Hidden files by default
Click "MY COMPUTER"

Click from the top toolbar select Tools / Folder Options then Click the View tab. The folder options window will then load.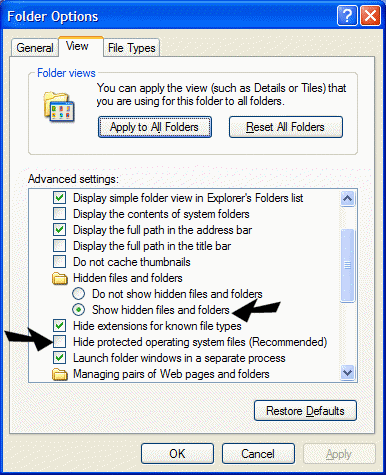 3. Tick the item that says "Show hidden files and folders"
4. Uncheck the box that says "Hide protected operating system files".
5. Click Apply/OK
Now when your view your files and folders using My Computer or Windows Explorer you'll see the files that were once hidden. Just be careful that you don't try removing or editing these files unless you're sure you know what you're doing!
Donate to help Cloudeight help you!
©2005 Cloudeight Internet