How To Restrict Sites In Internet Explorer
(Windows XP Service Pack 2 and Windows Vista - Internet Explorer 6 and 7)

No one knows better than you, what sites you don't want to visit, download from, or have anything to do with. And, you don't want anyone else using your computer to stumble upon some unsavory site and inadvertently cause your pristine computer to be engulfed in a storm of beware-ware - right? No anti-spyware program, no firewall, in fact, no program at all, can make decisions better than the good old brain in your head.

Did you know that you can easily set Internet Explorer to restrict access to Web sites you don't want to have anything to do with? It's really very easy-to-do. And, should you change your mind later it's just as easy to "un-do".

Open Internet Explorer and click Tools - Internet Options - then click the Security Tab at the top. You with us so far? Good! Now click on the big red circle with the white bar in the middle (Restricted). Now, click the the "Sites" button. (See picture below)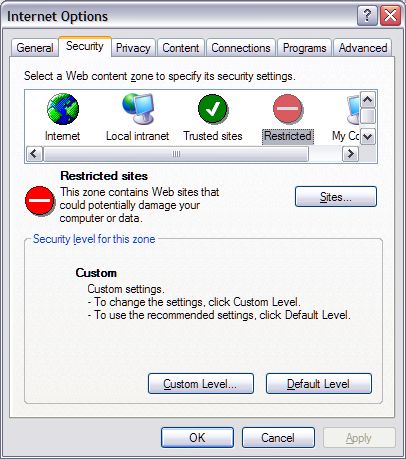 OK! Now after you've clicked on the Sites button you'll probably see nothing listed in your "Restricted Sites" list. (We, on the other hand, have a bountiful plethora of sites listed - and you soon will too ... maybe :-) )
Look at the image below. You can see our list of restricted sites is very large. They're listed alphabetically - you're only seeing a small part of our "S" section.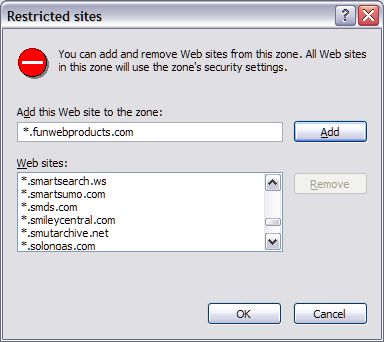 Let's add a site to the Restricted Sites list. Note the format of the entry. An asterisk followed by a dot then the domain of the site you wish to restrict. Notice you don't need to add the http:// or the www - just the domain name will suffice. After you've typed in the domain that you wish to restrict, click the Add button then click OK. Look at the picture below to see how the domain we just added appears in our "Restricted Sites" list.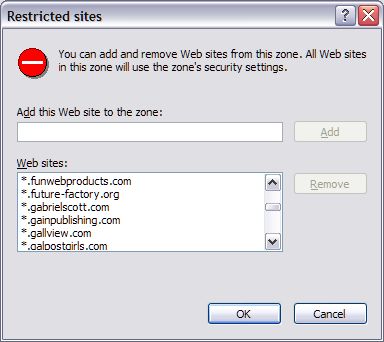 You can see how it was added in the screen shot above. And, that was easy! You can add as many domains as you want to this list. Would you like to know what happens when you try to visit any of the domains in your Restricted Sites list? Internet Explorer will display the Yellow Information Bar (Windows XP-SP2 - Internet Explorer 6) and restrict potentially harmful or unwanted or unsavory content from being installed or downloaded to your computer. See the picture below: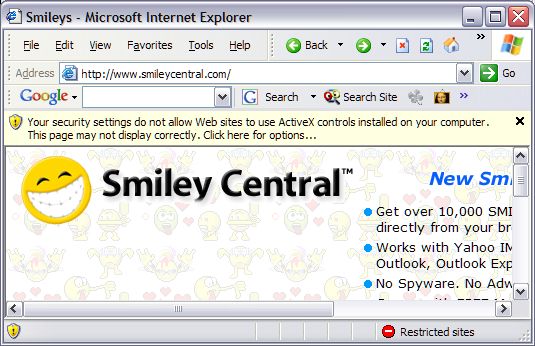 Did you notice the Security Warning icon in the bottom-left and the Restricted Sites icon in the bottom right?
You'll see the Information Bar when a Web site tries to:
Install an ActiveX control on your computer.
Open a pop-up window.
Download a file to your computer.
Run active content on your computer.
Run an ActiveX control on your computer in an unsafe manner.
If you have a site in the "Internet Zone" or "Trusted Sites" you might not know any of the above were going on "behind the scenes". But, you're smarter now.. right?
Copyright ©2005-2007 by Cloudeight Internet LLC