Information Avenue Tutorial - Making a simple Text Signature File in Outlook Express
The following window will now appear.
Step 1: Click New and you will see "Signature #1" appear in the box beside this. Click Rename if you want to give it a name such as My Signature, or Main Signature, or anything you want!
Step 2: Where it says "Edit Signature" type whatever you want here. There is a size limit on the number of words you can put in your signature, but it is pretty big, so go for it! If your signature is too long, Outlook Express will warn you :) Some of our signatures have over 100 words!
Step 3: If you want your signature to show up whenever you send an email, click Default. You do not need to set a signature as your default though!
If you do not set a default, the only time a signature will show up in your mail is if you manually add it (we will show you on the next page of this tutorial).
If you choose a signature as Default, all mail you send will have the signature added automatically! If you have several signatures, you can choose a different one when you are sending your mail (we will show you on the next page of this tutorial).
Step 4: Now click Apply and OK.
This is a hands on tutorial, so go ahead and click OK to get to the next step of this tutorial.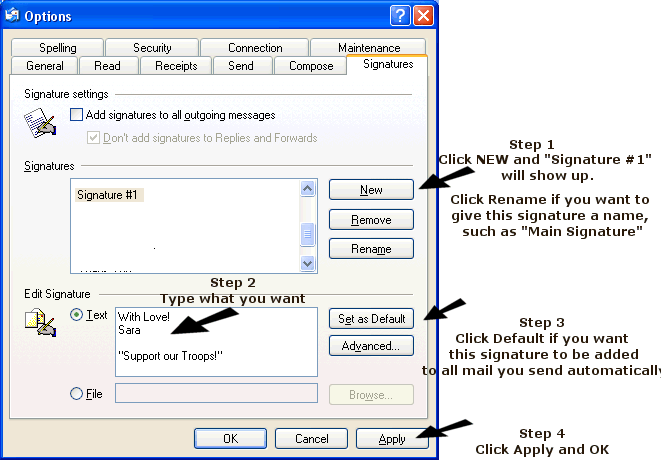 Click here to return to Step 1 of this tutorial