Changing the Behavior of Icons in your System Tray
(Windows XP Home Media and Professional Editions )

Windows System Tray (Notification Area) is located in the lower right hand corner of your screen. It is the area of your Task Bar nearest your computer's clock. This is the area where the icons of programs running in the background reside. Normally there are things such as anti-virus program, firewall, volume control icon, and others, depending on your configuration. The System Tray will "hide" icons that are not actively being used or those that are seldom or never used. But sometimes you may want to see them anyway! Sometimes, for unknown reasons, Windows will hide icons of programs that you have recently accessed. So it's good to know how to take control of your System Tray. For this tutorial we've used the example of the volume control icon. This tutorial is going to show you how to keep the volume control icon showing all the time. You can use these same steps to keep other icons visible in the System Tray as well.
Step 1 Right Click the lower right hand corner of your system tray as shown in the image below.

Step 2 Choose Properties from the drop down menu that appears, as shown below:
Step 3 The following window will open. Click Taskbar tab and then choose Customize.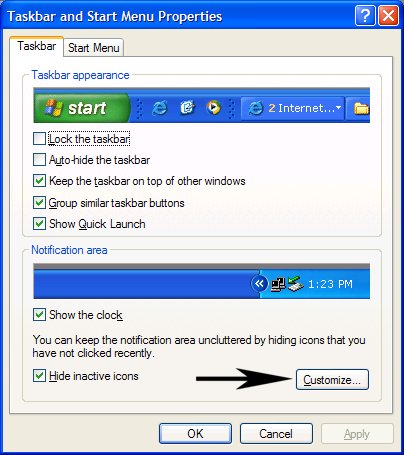 Step 4 The window that appears will look like the one below. Find "Volume" in the list, click it once, then click the little blue arrow next to it to open the drop down menu of choices, and choose "Always Show". Now click OK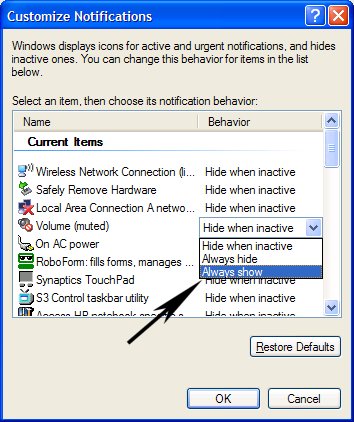 Step 5 You are all done! You can use the same steps listed here to change the behavior of other icons in your System Tray too!

Note that locking the taskbar does not affect icons which are displayed in the Notification area (System Tray) area of the Taskbar - just in case you were wondering why we didn't mention Lock The Taskbar in this tutorial.
We hope you've enjoyed this tutorial!
Would you like to make a donation to help Cloudeight help you?
How about making our Cloudeight Start Page your start page?
Copyright ©2007 by Cloudeight Internet LLC