Dear friends,
Thank you very much for subscribing to Cloudeight Stationery News - and welcome to all the Funletters subscribers who have joined us in the past week. As most of you know by now we've consolidated our Stationery and Funletters newsletters and we're happy to have all our Funletters subscribers with us today!
We do not send unrequested emails - so if you're no longer interested in receiving this newsletter :-( please visit this page to remove your email address from our Smileycons database.
We are going to introduce you to another great artist today (it's her first appearance on Cloudeight) and we're going to make you deal you can't refuse! So let's get started ...
---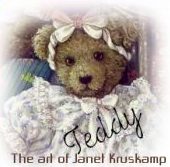 Our Newest Collection of Cloudeight Stationery!
"Teddy - The Art of Janet Kruskamp"

If you love teddy bears you're gonna love this collection! Once again we are very proud to introduce you to another great artist making her first appearance with us. Her name is Janet Kruskamp and today we're featuring some of her adorable teddy bear art in our newest collection of Cloudeight Stationery. We hope we have a lot of teddy bear fans out there because this entire collection is dedicated to them! This is a really cute collection we know you'll all enjoy! So, please accept our invitation to preview and download the very latest Cloudeight Stationery collection entitled "Teddy - The Art of Janet Kruskamp".


Get A Free CalendarPal CD-ROM!
OK, so we're going a little crazy here - but what the heck it's summer! And we've got the best deal on our Award Winning CalendarPal program we've ever offered. Now we'll send you a CalendarPal CD-ROM FREE when you order the downloadable version of CalendarPal - our desktop calendar, weather and reminder program that will keep you up-to-date and organized. Don't hesitate! This is a limited time offer! Visit this page for all the details and get your CalendarPal CD-ROM FREE! We have new autumn and Halloween Themes coming for CalendarPal next month! Get a CalendarPal CD free!
---


Windows Tips & Tricks For You!
Each week in our InfoAve newsletter we feature great tips for computer users of all skill levels - so here's a couple tips and tricks for you!
Take Control Of Your System Tray Icons
Most of you, in fact all of you, have icons in your Windows XP system tray (which is now called the "Notification Area" - the icon display area by the system clock). Sometimes this area can be a bit of a problem especially if you have a lot of programs running which display icons in this area. Most, but not all, of the programs that use the system tray are programs that start with Windows. When this area becomes crowded, Windows XP hides inactive icons. Learn how to take control of your system tray icons!
Another Tip For You!
Here are some things you must do if you want your computer to run great and keep running great!
---

Smileycons PLUS!
We're offering two great ways to get our Smileycons program PLUS a Membership to our Gold Members' Web Site where you can download dozens of cool expansion packs for Smileycons for FREE for as long as you're a member. Right now we offer over thirty FREE expansion packs for our Gold Members and we have lots more on the way. So, if you've been missing out on our fun new packs like "Cats & Kittens II", "Magic" and "Dogs & Puppies" you really need to take advantage of our two new Smileycons Plus packages! Get more details by visiting this page.
---

Cool fish swimming on your desktop? Yes, and you don't have to feed them either!
---

Now our Zappit System Cleaner is FREE for EVERYONE! The Internet community and all our subscribers have been so kind to us we wanted to give something back. Zappit System Cleaner is the fun and easy way to keep your computer clean and free from junk files and temp files that cause your computer to run slow. Zappit is powerful enough for the advanced user, yet safe and easy enough for the newest beginner. Please accept our thanks and our free gift to all of you! You can download the full, registered version of our Zappit System Cleaner completely free from this location.
---

Try Spyware Doctor Free! The "doctor" is always In!
Over 78% of all computers connected to the Internet have some spyware or adware on them! Nothing is more frustrating than using a computer that takes forever to start up or shut down. And nothing slows down a computer more than adware, spyware, and other kinds of badware. And worse, once your computer starts to slow down it's just the beginning of a slippery slope that normally results in having to format (erase) your hard drive and re-install Windows. Once these adware/spyware people get their hands on your computer, they don't ever want to let it go. But, lucky for us, the doctor is in! Don't take chances with your computer or your personal information. Run a FREE spyware scan today and find out if you're infected! Best of all, if you decide you want to order it, you'll save 20%. How many doctors do you know these days that give you discounts? :-)
---
We hope that you all enjoy our newest collection, our tips and tricks, Zappit, and our special offers!
Thank you all for your support and kindness! We'll see you next time with more new things
from Cloudeight. Thank you for subscribing to our newsletter!
Best wishes,
Eightball and Thundercloud
Cloudeight Stationery
http://thundercloud.net/stationery/
---
You are receiving this newsletter because you or someone using your computer subscribed to it. If you no longer wish to receive our newsletters please visit this page.
---
This newsletter is published by:

Cloudeight Internet
P.O. Box 558
Hastings, Michigan 49058
All content is copyright ©2006 Cloudeight Internet