Captain Optimizer keeps your PC fresh & clean
Increases performance with powerful sub apps:
Disk Optimizer, System Cleaner, Memory Optimizer.
A speedy solution for most common PC issues.
Backup important files and settings to restore them whenever required.\Recover accidentally deleted files or lost data.
USE YOUR LICENSE ON TWO COMPUTERS!
Tune up your system settings to get the most out of your PC.
Detect and eliminate duplicate files from your system.
Driver Updater, Startup Manager, Uninstall Manager.
Regular price $49.95 - Special Cloudeight subscriber price $29.95
Our review of Captain Optimizer - Our software program of the year!
Captain Optimizer
Our program of the year for 2010
Windows XP, Windows Vista, Windows 7
32bit and 64bit Windows

Once in awhile, a developer of a software program will write us and ask us to take a look at a program. Almost always, we come away from testing the program with a so-so feeling about it. We tell the developer it's a nice program and wish him luck and that's the end of it.

About a month ago, a developer asked us to take a look at a program. At that time we were busy with other things and really didn't time to look at it, but we told him we would as soon as we got a chance. A couple of weeks went by and we still hadn't tested it, so the developer wrote us back and reminded us. We're glad we did.

The name of the program is Captain Optimizer. It's a Swiss Army Knife collection of useful programs. Yes, and you're thinking it's a suite and we don't like suites, this is a collection of different programs - whereas a suite is a collection of similar programs - i.e. security suite. After a week of testing Captain Optimizer, we were so impressed with program we wrote the developer and asked if we could work out a deal with him so we could offer this program to our subscribers at a discount. We're glad to say we were able to get a good price from him so that we will be able to offer you the full version of Captain Optimizer at $20.00 off the regular retail price.

But before we get into that, we're going to tell you what the program can do and why we are naming it our program of the year.

What is Captain Optimizer?

Features of Captain Optimizer

There are so many features Captain Optimizer, we're just going to briefly cover some of them here. Believe it or not there are even more features, but we didn't have room to cover in this newsletter.

Driver Updater
Driver Updater scans your computer and updates out-of-date drivers. When it finds a driver that is out-of-date it automatically finds the correct driver for your device from the device manufacturer's Web site. You don't have to do a thing but sit back grab a cup of coffee and wait a minute or two. Captain Optimizer's Driver Updater feature is the fastest most accurate driver update program we've ever tried. Most importantly, Driver Updater lets you make the decision as to which of your drivers you want to update. You're presented with a list of drivers which are out-of-date. Users can then choose which drivers to update with just a single click. Driver Updater also lets you easily create a back up of all your system drivers, which you can easily restore using Captain Optimizer.

Smart PC Care
Smart PC Care carries out multiple tasks with ease. Several tasks like junk file cleaning and disk defragmentation can be accomplished through a single click. This not only saves time but also makes the process of performing multiple tasks a breeze. Smart PC Care makes routine maintenance a snap - and that's important; most of us don't keep up with regular maintenance because it's such a hassle. Smart PC Care in Captain Optimizer makes keeping up with necessary computer maintenance simple and easy.


Backup Manager
Backup Manager lets you create different backup profiles, or jobs, each of which can be used to back up and restore specific files and folders. For instance, you could create one backup job to back up your photos, and another to back up your music, and yet a third that would back up a larger portion of your hard drive. All of your backups can be stored as space-saving ZIP archive files. Once you create a backup job, you can re-run that job at any time. Restoring data from backup can be done using Captain Optimizer's Backup Manager with just a few clicks.

PC Advisor

1. Common Errors
Common Errors scans your system, and presents an easy-to-read summary list of common issues that negatively impact the system's performance and the user experience. The list is sorted by category for an easy review - clicking on a category like 'Control Panel' opens up a recommended list of action items.

2. Duplicate File Finder
If we only had a dollar for every time someone has asked us for a good duplicate file finder. We found one. It's the duplicate file finder that comes with Captain Optimizer. It's as good or better than any stand alone duplicate file finder we've ever tried.

3. Disk Explorer
This nifty little feature lets you see at a glance what files and folders are hogging your hard drive space. Captain Optimizer's Disk Explorer analyzes your hard drive and provides you with a nicely formatted overview of your file and folders.

4. System and Security Advisor
If there is one part of the program which we're a little reluctant about, it's this part. Some of the advice this advisor gives is somewhat Draconian; users might get confused here. We've talked to the developer about this and he promised an update this week. So by the time you read this, this section might be a little less Draconian. As it stands now, this section should be used only by advanced users.

Memory Optimizer
One of our favorite parts of the program - not because we don't have enough RAM installed, but because this little feature of Captain Optimizer can be set to run in the system tray and release additional memory still being held captive by programs you closed an hour ago. We'll let Eran, the developer, explain it - he does it so well:

"Memory Optimizer resolves the most common causes of system crashes and application freezes. Memory Optimizerís colorful and intuitive "memory graph" shows, at a glance, the total memory, available memory, used memory, and the resources that are used by the system's cache. By constantly monitoring your system, Memory Optimizer is able to reclaim valuable memory resources, making them available for your applications and ensuring the continued health of your operating system. Applications will perk up, running faster and with greater stability. Users can also specify how much memory should be reclaimed each time it runs, tailoring the memory allocation process to the way that you work!"

There are also features in Captain Optimizer that let you repair common Windows errors, like missing items in the start menu (System Restore, Control Panel, etc.), fixing Windows Update when it stops working, and many other common Windows errors most all of us Windows users have to deal with at one time or another.

CaptainOptimizer does many things and it does most of the things it does better than any stand alone product we've tried. No software program is perfect, but Captain Optimizer is a program we think every Windows user would benefit from.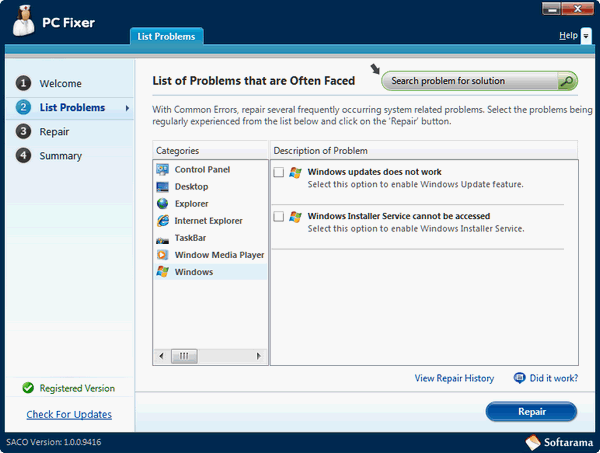 ----------------------
All Cloudeight Subscribers save $20 off the regular price of Captain Optimizer!
As we stated earlier, we thought so highly of this program and found it so useful, we made a deal with the program's developer so we could pass those savings on to you. And right now, you can save $20.00 off this fantastic program - our software program of 2010. This discount is available only to our subscribers and only when purchased from our Captain Optimizer page. CaptainOptimizer works on Windows XP, Windows Vista, and Windows 7 - both 32bit and 64bit versions. Get more information or get CaptainOptimizer now and save $20.00. CaptainOptimizer comes with a 60-day money-back satisfaction guarantee. USE YOUR CAPTAIN OPTIMIZER LICENSE ON TWO COMPUTERS!
©2011 by Cloudeight Internet
Some information on this page copyright © Softarama