Cloudeight InfoAve Premium
Issue #845
Volume 17 Number 9
December 20, 2019

Dear Friends,

Welcome to Cloudeight InfoAve Premium issue #845. Thank you very much for subscribing and for being a part of our Cloudeight family. We appreciate your friendship and support very much!





Our Holiday Publishing Schedule
,
This will be our last "all-new" edition of InfoAve Premium until the new year. We will be publishing review editions on Friday, December 27, 2019 and on Friday, January 3, 2020. We're going to make the review editions worth reading as we'll review some of our best tips and tricks, questions and answers, and more.

We'll be publishing our daily newsletter every day but Christmas Day... and as with our Premium newsletter, we'll be featuring mostly review articles

Publishing review editions over during the Christmas and New Year holidays gives us a chance to gather with our families and friends and celebrate Christmas and the beginning of a new year. We thank you all for your support and friendship. And we wish you all a happy and blessed holiday season and a very MERRY CHRISTMAS!



Our Cloudeight SeniorPass is valid for unlimited computer care & repair for one computer for 365 days - starting with the first time you use it. The clock does not start ticking until you use your SeniorPass for the first time. A great deal that just got better during our Christmas sale!

Having a SeniorPass is just like having insurance for your computer. Our SeniorPass is always affordable, but during our Christmas sale, you can get a SeniorPass for just $79. With a Cloudeight SeniorPass you can get help with almost any computer problem whenever you need it and as often ad you need it. Plus, our SeniorPass gives you the option of Anytime Support! If you request it, we can set up an unattended session for you so all you have to do when you need help is just let us know. We're here to help you.
Our SeniorPass is on sale now for just $79. Save $20 right now!
Get more details and/or get your Cloudeight SeniorPass here.
Our Christmas Sale deals are good through Christmas Day.


A comment from Pete
Today, December 18, 2019, TC & I completed my 6th Windows 10 Transformation in a very successful manner. In looking back over the past 16 to 17 years supporting the Cloudeight team, I have purchased all of the available eBooks, their software, their stationery etc. I commented, recently, the Cloudeight team as being Magnificent. They are not only that but they are the most honest team with extremely high integrity dealing in the computer world that I have ever worked with. My hat is off to TC and Darcy and I just sent you a Super Booster donation in order to wish you both a very Blessed Merry Christmas and a wonderful new year. For any of you newcomers to Cloudeight, do not be afraid to put your trust in them. I have been building computers (hardware only) for over 30 years. I have learned more about the software end from Cloudeight than anywhere else. God Bless you both! Pete

A comment from Barb
A huge Thank You to Darcy for rescuing me by remote control during the weekend when my email programs let me down. I don't have ANY devices and rely on my PC to keep in touch with people. This is by no means the first time Darcy has come to my aid, and so has T.C. on many occasions. Both of them share their knowledge and skill and get a lot of us out of the messes that we make, or explain the things we don't understand, and once again I am on my way to PayPal. Grateful thanks, Darcy, and Merry Christmas to you both. Barb.

A comment from Annabelle
I wanted to thank TC for upgrading my Windows 7 to Windows 10 and setting it up to look like 7. You did a great job! And for any reader out there that is needing help with any kind of computer issues, these folks are trustworthy and the real deal. You don't have to leave your home to have your computer worked on, and you can watch everything they do as they repair or upgrade it.

A comment from Binnie
Hi TC. It is a few days since you transformed my computer from Windows 7 to Windows 10 and then made it look like Windows 7. The whole process went so smoothly and you tweaked a few other things for me. My computer is a few years old but it is running like new. Thanks so much. Will recommend you to all my friends. Have a good Christmas. Binnie.

A comment from Carol
Darcy, you are amazing! Thank you so much for your help in transferring from a free trial to Emsisoft to a regular subscription for a year. Your kindness, understanding, and perseverance are so much appreciated. To anyone who has not yet subscribed to Emsisoft through Cloudeight, is missing out. You can fully appreciate and trust Darcy and TC to do the best job and FAST, and feel confident that your computer/laptop is well protected.

A comment from Dawn
My grateful thanks to TC who seamlessly transformed my PC from Win 7 to Win 10 taking a big weight off my mind. All seems to be working just fine and your work was appreciated. I could never have done this on my own. Dawn.

A big Cloudeight "Thank you!" to Pete, Barb, Annabelle, Binnie, Carol, Dawn and everyone who took time out to write to us, share a comment and/or share us on Facebook! We appreciate your kind words and your support very much! Happy Holidays & Merry Christmas, Darcy & TC.



Emsisoft With Free Installation and Set-up by Cloudeight.
Here's your chance to get Emsisoft award-winning anti-malware and antivirus protection plus free installation and configuration by Cloudeight Direct. This special offer includes a one-year license for Emsisoft Anti-Malware/Antivirus, complete removal of your current antivirus software. and installation and configuration of your Emsisoft Anti-Malware and antivirus program by Cloudeight Direct Computer Care.
Our regular price for Emsisoft with Cloudeight Installation is $59. With our Christmas Special, you can get Emsisoft plus FREE Cloudeight Installation and setup for just $29. You save $30 and you'll have the peace of mind of knowing your computer is protected by Emsisoft's world-class protection and that it's installed and set up correctly Get more information and/or buy Emsisoft with free Cloudeight Installation for just $29 here.
Our Emsisoft + Free Installation and set-up is a great deal. Take advantage of our Christmas sale and protect your computer with Emsisoft - the same security software we use on all our business and personal computers. This special offer of Emsisoft with free installation and set-up and a one-year Emsisoft license for just $29 is available only for a very short time.
Our Christmas Sale deals are good through Christmas Day.





Here are some important links for you:



Yvonne asks about "Toggle Distilled Page Contents" in Chrome
A little while ago you pointed to a Chrome extension we could use when visiting a webpage that allows you to read a 'clean copy' of the webpage without the annoying ads. I added it to my extensions and use it often. Suddenly today, it disappeared and I cannot find it. I looked in my Extensions and it is no longer there. Can you point to it again? I found it VERY useful. Thank you!!

Our answer
Hi Yvonne. It was Reader Mode in Chrome (see our article here ). For some reason, Google removed it in newer versions of Chrome. But not to worry, there's an extension you can install that does the same thing. I've been using it for years in Firefox (it works in Chrome too). You can download/install the extensionn for Chrome from here.

Let us know how you like Mercury Reader.



Delores wants to know about Rivit Networks
What is Rivit Networks and is it dangerous and how did I get it on my system? I have tried to remove it but can't seem to do it. So is it something I should have or is it malware? You are just wonderful, please don't ever go away.

Our answer
Hi Delores. Thanks so much for your nice comments. The program is called Smartbytes by Rivit Networks and it's pre-installed on some Dell and Alienware computers to assist with network adapters and related drivers.

Happy Holidays & Merry Christmas!



Joann has question about using a Cloudeight Direct Computer Car repair key
Can I use a one of my Cloudeight Direct Computer Care keys to upgrade my Dell laptop to Windows 10? Also my desktop is Windows 10 but no idea what version it is and I don't know how to find out. Would you please enlighten me if there is a way to find out? Thank you very much. Joann B.

Our answer
Hi Joann. Yes, you can use a regular Cloudeight Direct Computer Care key to have us help you upgrade your computer from Windows 7 to Windows 10.

If you want to find what version of Windows 10 you're using do this: Type

WINVER

in taskbar search and press enter when you see it in the search results. You can also right-click the Start button, click Run and type WINVER in the run box and press Enter.

I hope this helps you.





John wants to change the mouse pointer color
I am using Windows 10 version1809. I am using an external Microsoft mouse; model 1560. How do I change the color of the mouse pointer? Thanks, John.

Our answer
Unless you can find a 3rd-party program that will change the color of your mouse pointer, that feature is not available in Windows 10 version 1809. Microsoft did include that feature in Windows 10 version 1903 and it's also in Windows 10 version 1909. So, if you upgrade to a newer version of Windows you'll be able to change your mouse pointer color. See our article here.

By the way, it does not matter what brand or model of mouse you use.





Vari wants to back up folders in Gmail
Hi, I am not sure if this is a suitable question for you both but I thought I would try! I would like to save some very important emails in Gmail and wonder what is the best way to do this. I would like them to be all in one folder and easily accessible. I have never done something like this before so not sure how easy it is or if it is possible. Sorry if this is a very basic question but I have not had the need before now so I hope you can help. Many thanks for all your wonderful newsletters and tips. Vari.

Our answer
Hi Vari. Thanks for your nice comments.

You can save any label (folder) in Gmail by using Google Takeout. Read our article here.

That article describes how to back up your entire Google account - but you can back up a specified Gmail label (folder) too. All of your Gmail emails are stored in the folder "All mail".

There's also a program that you may be interested in called UpSafe - it was our freeware pick a few months ago. Read about that here.

I hope this helps you. Happy Holidays & Merry Christmas!





Joyce says all of a sudden her keyboard started acting wonky
This morning I was typing and thought I hit the shift key plus the 1 key to make an apostrophe when a box came up on the upper left side of screen that said something about ease of access link. I do not know what I hit but it wasn't the link and now I cannot type unless I keep pressing on each key till the letter finally shows. Can you help me get my keyboard back to normal typing again as I do not know what I did or what to do to correct my mistake.

Our answer
Hi Joyce. Try this: Shut down your computer and leave it off for 5 minutes. Make sure all power lights are off. Then restart your computer.

Let me know if you still have a problem.
-----
Joyce wrote back: "Thank you "magic maker" it was so simple...why didn't I think of that? I'm so thankful for your help. Joyce."





Linda wants to know if upgrading to Windows 10 is still free
TC, thanks s much for your reply, the most important question -- is windows 10 upgrade still available for free now? We'd finally like to do this week ASAP. Thanks much-again, Linda.

Our answer
Hi Linda. Yes, it's available for free. If you want to do the upgrade yourself I can give you instructions. If you want us to help you upgrade and then come back and make it work and look a lot more like Windows 7, we offer our Windows 10 Transformation Service for $35. You can read more about that service here.


Buy One Cloudeight Direct Computer Care Repair Key and GET ONE FREE!
During our Cloudeight Christmas Sale, when you buy one Cloudeight Direct Computer Care repair key, we'll give you one FREE. That's right! From now through Christmas Day, when you buy one Cloudeight Direct Computer Care repair key for $50, we'll give you a second one free!.

With our Cloudeight Direct Computer Care service, we connect directly to your computer via the Internet to fix your computer problems, remove viruses or malware, optimize your PC and more. You never have to leave your home or leave your computer with a stranger. You'll be invited to watch us while we fix your Windows computer. And, we can fix your computer regardless of where you live. Our Cloudeight Direct Service is available worldwide. We offer world-class computer care services from the company you trust.

Take advantage of our Christmas Buy One Get One free special NOW!

Our Christmas Sale deals are good through Christmas Day.




How to Control Active Windows Using Your Keyboard
Windows 7, Windows 8 and Windows 10

If you are like EB you're a control freak, and you're busy all the time. So I'm guessing that you probably have many windows open at once. Clicking your mouse can be tiresome and time- consuming. I know it is for for EB. She thinks more than one step to complete a task is more than anyone should have to endure.To me, she's time-consuming!
Did you know that you can quickly switch between your email program, browser, and other programs without taking your hands off the keyboard... or your martini? You can, and here's how.

Minimize a window to your taskbar
ALT – SPACEBAR – N (in one-at-a-time quick sequence, not at the same time)

Maximize a window so it takes up your whole desktop
ALT – SPACEBAR – X (in sequence)

Switch to the last window you had open
Hold down ALT, then click TAB key

Switch to any open program/window
While holding down the ALT key, press TAB key until the window you want is visible/on top

Close a window
Hold down the ALT key, then click F4

Restore a window so it's visible but does not take up your whole desktop
ALT – SPACEBAR – R (in sequence)

If you use these commands often, you will find that it gets almost automatic after a while and you, unlike EB, will be much more efficient!



How to Make Your Own Screensaver on Windows 10
Windows 10 (all currently supported versions)
This tip was inspired by a question I was asked during a support session.
Until yesterday I hadn't given any thought to making screensavers on Windows 10 using pictures already on my computer. And I sure didn't realize how easy it was to do. If you'd like to make a custom screensaver using your personal photos, or any photos on your computer, follow me., and I'll show you how.
Step #1. This is a step you won't appreciate now, but you will later. By default, Windows 10 will use whatever photos you have in your Pictures folder. But it won't use the pictures in any subfolders in your Pictures folder. But you can choose any folder you want, so here's what I recommend that you do first.
Make a folder in your Pictures folder called "MyScreenSaver" or whatever tickles your fancy – as long as you know what it is. Then copy all of the photos you want to appear in your screensaver to that folder. Our "Copy to / Move to" tip works great for this. Once you copy all the pictures you want in your screensaver to the folder you created, move on to…
Step #2. Now with all the photos copied to the folder you created for your screensaver, right-click on an empty area of your desktop and choose "Personalize". In "Personalization" click on "Lock screen" (it's in the menu on the left). Scroll down until you see "Screen saver settings".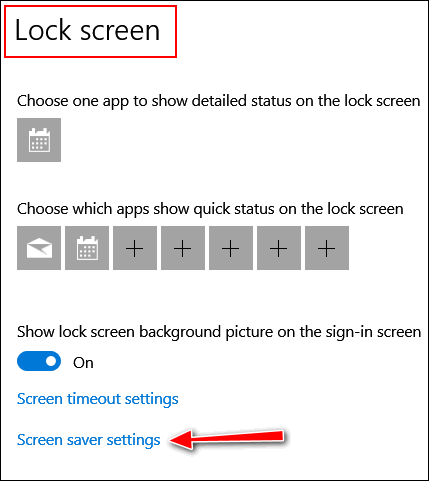 Step #3. When Screen saver settings opens, use the down-arrow to display ad drop-down menu. Choose "Photos" from the list.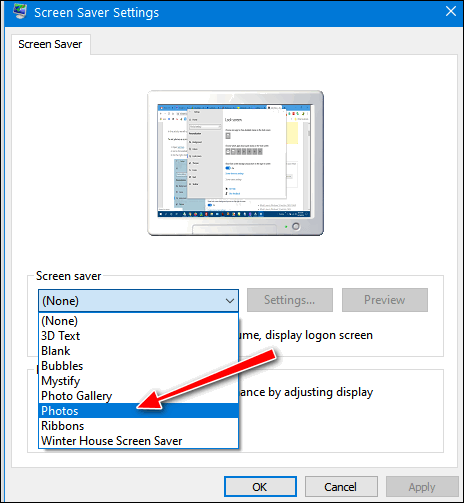 When you choose "Photos" you'll see this dialog: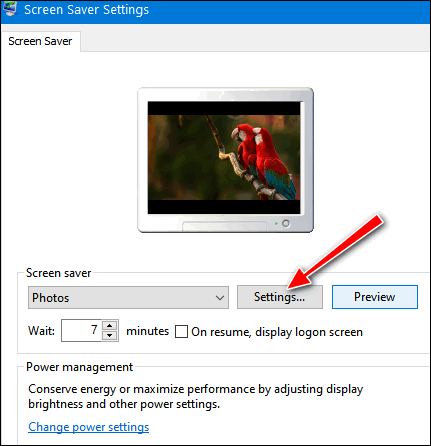 Your "Pictures" folder will be the default folder. Click "Browse" and browse to the folder that contains the pictures you want to use for your screensaver.
I created a folder called MyScreenSaver1. After you select the folder you want to use, you can choose how quickly you want the images in your screensaver to change… slow, medium, or fast. And if you check the box next to "Shuffle pictures", Windows will display your pictures in random order.
Once you have every set, click "Save".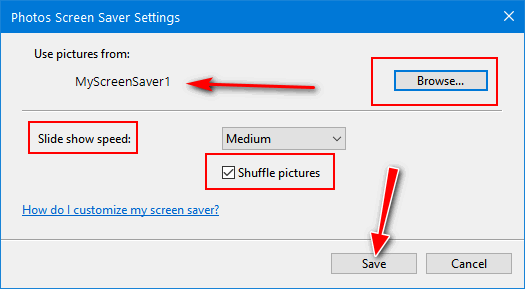 Step #4. It's time to preview your screensaver and make sure it looks the way you want it. If the pictures are changing too rapidly or too slowly for you, just click "Settings" and go back and change the speed.
Once everything is the way you want it, click "Apply" and "OK".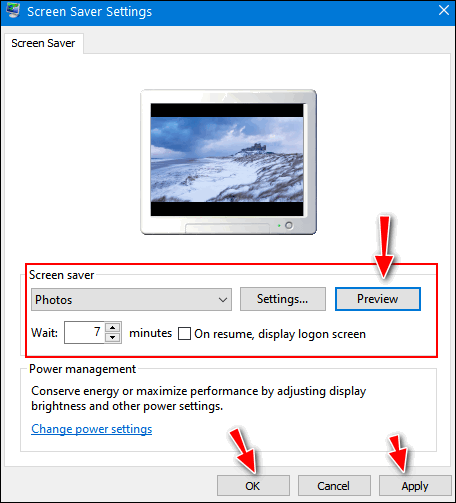 Now you know how to make a screensaver with your own photos or any photos you have on your computer.



Timely Advice from Darcy and TC
All Windows Users
Your computer is just a machine. You operate it, it does not operate you. Do not make things more difficult by over-thinking things or finding problems where there are none. Most problems are minor annoyances and can be easily corrected. We have seen many folks who find problems that are not problems at all – phantoms, specters, ghosts. They get frustrated and when they do, logic and common sense fly out the windows…
Don't get frustrated — count to ten, think it through, because the problem may be easily fixable. Yes, some problems require a professional to fix, but many times those little annoyances can be fixed by using a little gray matter, a little research and a touch of logic.
There's another side to that coin too. People have problems with their computer, or more often their browser and they'll blame a program or a Web site for their problems. Some programs indeed do cause problems, but most software that's been around a while works. If it doesn't work for you, it's probably your computer, not the software. And it may be true that Web sites go down, but most are not down for more than a few minutes – or a few hours at most.
For example, we recently had a reader write to us and say that most of the sites we recommend do not work for her. If you think about that for a moment, saying that most of the sites we recommend don't work assumes we never checked the site out — but we always do and more than once – or we sure wouldn't recommend it.
The best thing you can do is to keep things simple. Computers don't have to be any more complicated than other electronic devices we've all grown used to over the years. Don't be afraid of your computer. Don't be afraid of trying new things; there are very few things you can do to a computer that will cause major problems or that cannot be reversed. Steer clear of toolbars, especially those dealing with saving money, downloading or watching videos, music toolbars, game toolbars, search toolbars (with the exception of Google and Bing — careful though, Yahoo's toolbar borders on malware), or any toolbar that you're only rarely going to use.
When downloading software, especially freeware, make sure you click the correct download button. The web is replete with sites offering downloads whose download pages are labyrinths full of big green download buttons that won't download the program you want but will download malware.
Use a site like www.snapfiles.com. when you can. Don't trust CNET, Tucows, Softonics, File Hippo, or other download sites whose pages feature dazzling mazes of download buttons and links – you should not have to spend five minutes looking for the right download link.
Read the rest of this article here. It will be worth your time... we promise!



The Best Way to Play DVDs in Windows 10
Windows 10 (all versions)
More and more Windows 7 users are upgrading to Windows 10. Now almost 1 billion people use Windows 10. And we think Windows 10 is a great operating system and it continues to get better. But most new Windows 10 users are disappointed when they find out that Windows 10 does not play DVDs. While Microsoft does offer a DVD Playback option ($15), it's not free and it's not very good. It seems to be plagued with problems.
We have a better option for playing DVDs in Windows 10 and it's free. We use and recommend VLC Media Player. VLC Media Player supports a wide range of video and audio formats including MPEG-1, MPEG-2, MPEG-4, DivX, MP3, MP4, OGG and does not require downloading additional codecs to play most media formats.
According to VideoLAN's VLC Media Player website, VLC Media Player can play the following formats:
MPEG-1/2, DivX® (1/2/3/4/5/6), MPEG-4 ASP, XviD, 3ivX D4, H.261, H.263 / H.263i, H.264 / MPEG-4 AVC, Cinepak, Theora, Dirac / VC-2, MJPEG (A/B), WMV 1/2, WMV 3 / WMV-9 / VC-1, Sorenson 1/3, DV, On2 VP3/VP5/VP6, Indeo Video v3 (IV32), Real Video (1/2/3/4).MPEG Layer 1/2, MP3 – MPEG Layer 3, AAC – MPEG-4 part3, Vorbis, AC3 – A/52, E-AC-3, MLP / TrueHD>3, DTS, WMA 1/2, WMA 3, FLAC, ALAC, Speex, Musepack / MPC, ATRAC 3, Wavpack, Mod, TrueAudio, APE, Real Audio, Alaw/µlaw, AMR (3GPP), MIDI, LPCM, ADPCM, QCELP, DV Audio, QDM2/QDMC, MACE. DVD.. and more.
And VLC Media Player has a lot of great features including filters, effects, playlist, video snapshots, visualizations and more – all in a very simple user interface.
You can download VLC Media Player from here.
If you're not sure if you have a 64-bit system or not, download the regular version as it works on both 32-bit and 64-bit systems. If you want to find out if you have 64-bit Windows 10, type ABOUT in taskbar search and click "About your PC". Under "Device specifications" look for "System type". If you see 64-bit there, then you know!
Once you install VLC Media Player, you'll want to make it your default media player. You can do that this way:
1.) Right-click the Windows 10 Start button
2.) Click "Settings"
3.) Click "Apps"
4.) Click "Default apps"
5.) Under "Video Player" click "Movies & TV" and a list of programs will appear. Select VLC Media Player from the list.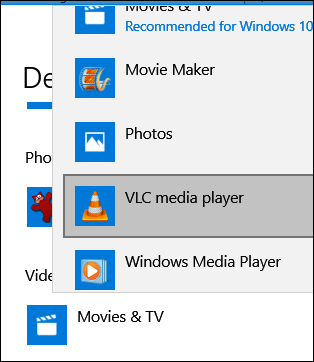 That's it. From now on, VLC Media Player will be your default media player and you will be able to play DVDs in Windows 10 without any problems.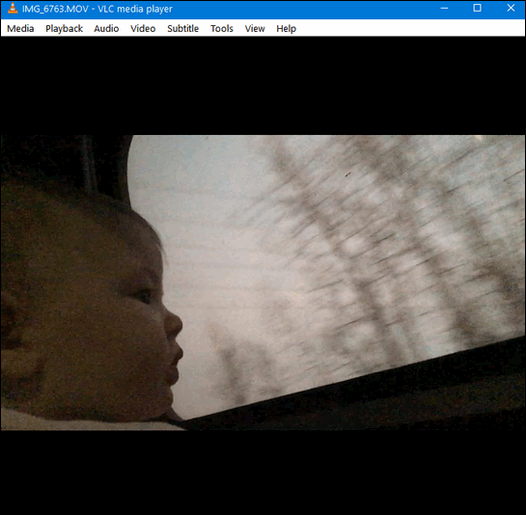 Want more tips, tricks, and information?
We have thousands of Windows tips, tricks and more on our InfoAve web site.
Subscribe to our free InfoAve Daily newsletter.



Emsisoft One-Year Renewal with Cloudeight Direct PC Checkup just $29!
During our Christmas Sale when you renew Emsisoft, we'll add 365 days to your current license, PLUS we will give you a Cloudeight Direct Computer Care Checkup key that you can use to schedule a computer checkup whenever you like - you can use it anytime. Our checkup includes checking your hard drive, checking your Windows services and startups, as well as check your browser add-ons and extensions, your installed programs and doing a deep scan to check for hidden problems.
This special Christmas offer includes a one-year renewal license for Emsisoft Anti-Malware/Antivirus and a Cloudeight Direct Computer Care checkup key. The Cloudeight Direct checkup key never expires - it's good until you use it. You can use it any time your computer needs a checkup.
Our regular price for a one-year Emsisoft renewal is $25. You get the Cloudeight Direct Computer Checkup key plus a one-year Emsisoft renewal all for $29!.

Learn more and/or get your deal here.
Our Christmas Sale deals are good through Christmas Day.




Paribus
You already know pari-chute, pari-pants, pari-shoes, pari-winkle, pari-glasses, peri-como, and pari-bull, don't you? But we bet you that you have never heard of Paribus before. And if you like to save money or get money back when you're overcharged or you forget a coupon or prices go down after you buy something, you'll wish you had exchanged your pari-chute for Paribus - unless, of course, you are going skydiving soon.
If we have not already enraptured your eyes with our clever wordplay... how about an eyeball blaster?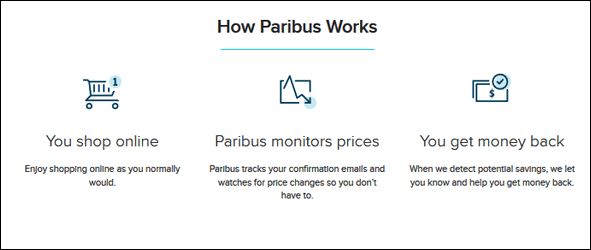 Now if EB and I would have thought of Paribus, we'd be lying in hammocks in Bora Bora sipping on blue cocktails with an umbrella in them and watching the local gals sashaying around in grass skirts with flowers in their hair and smiling. instead, we are bundled up in heavy blankets and shivering because we cannot afford to keep our thermostats turned up past 42 degrees. That's Fahrenheit, not Celsius. Poor old Max Celsius never did make it big in the good ol' USA.
The entertainment portion of this screed is nearly over, for we are about to call in the developers of Paribus to quell your laughter and give you the gist of Paribus. So, we're glad you stuck around this long, cuz now you're going to find out how cool this Cloudeight Site Pick really is - and how much money it can save you. It can save you enough that you can donate $10 or $20 so that we can turn on thermostats up to 55 degrees and just wear hoodies around our houses. With pants too, of course.
Now, without further entertainment, it's going to get a bit dry now, because we're turning it over to those in the know at Paribus to tell you more about their service and how it can save you money if you shop online
Sign up for Paribus and find out if stores owe you a refund - effortlessly!

Sign up (or log in) with the email you use for online shopping receipts. We'll scan your inbox for receipts from stores we monitor...

In 2016 Paribus LLC was acquired by Capital One to further its mission of providing straightforward and innovative solutions. Paribus builds software to save online consumers time and money effortlessly and has found millions of dollars in savings for its users.

Paribus is part of Capital One's suite of services dedicated to solving complex problems to offer delightful and valuable experiences. To learn more about how Paribus works, visit our FAQ page.

Paribus is a revolutionary approach to online shopping. Paribus helps users save money on their purchases by monitoring retailer policies, such as price protection, across 25+ retailers and late deliveries from select retailers.

It automatically scans for online shopping receipts and monitors for price drops and shipping delays. Depending on the retailer, Paribus will file a claim automatically or help users contact the retailer to get those savings back. Many users are excited when they're alerted that they've gotten money back without any hassle!

Paribus does the heavy lifting for you, saving busy consumers time and effort while helping to ensure that they get the best deals online.

See the Press Kit for full details and our story.
What does it cost to use Paribus?

Paribus is completely free! Consumers take home 100% of all potential online savings. No hidden fees.
Which stores does Paribus monitor?

Paribus tracks prices at over 25 of the largest online retailers with price adjustment policies and monitors for late deliveries from select retailers. These policies are independent of Paribus and subject to change. Visit our Policy Guide page to see each store's policy.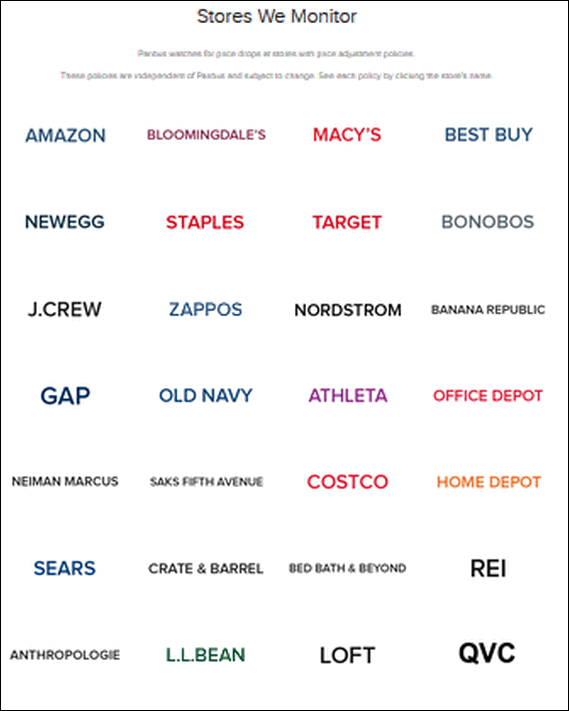 Look! Gads of stores!

And so on... you get the idea, right? And if you don't get the idea, you can get a lot more information by visiting https://paribus.co/. If you shop online, you can sign up with Paribus and save some money without doing any work. That's the opposite of us who make no money and do a lot of work, right EB?

Get more information about and/or sign up with Paribus here.





Now when you shop Amazon using our links, you can save money, get great products and help us too! For every purchase you make using our Amazon affiliate links, we make a small commission. If you shop at Amazon, we hope you'll use our Amazon affiliate links. It won't cost you a penny more, but it will help us a great deal! Al l you need to help us is use the following link whenever you shop Amazon - for anything.

https://amzn.to/32zhiIo

That link goes to the same Amazon site you'd see if you went to www.amazon.com, but when you use our link, we'll get a small commission on anything you buy from Amazon. It's another way you can help us and it won't cost you a penny more. And you'll get the same great Amazon prices, sale prices, and promo prices you always get.

So the next time you shop Amazon, use our special affiliate link and bookmark the Amazon page once you get there. Then use that bookmark whenever you shop Amazon!

Thanks so much for helping us!


Let's All Keep Christmas Well
Christmas is just a few days away. And if you're lucky, you will be gathering with your family and friends to celebrate the Joy and Love that Christmas brings.
But mot everyone is that lucky though. Many are spending Christmas alone. Many are homeless and some are sick. Some shiver in the desperate cold of the unlit forgotten alleys of this desperate world.
And then there are those of us who are blessed with children and grandchildren. My two amazing kids have made their way in the world and I'm so proud of them both.
This year for the third Christmas Eve in a row, my kids won't be coming home for Christmas Eve. For the third year in a row, the annual Christmas Eve gathering at my house won't take place, but this year, I've been invited to spend Christmas Eve with my youngest and my oldest and his family will be coming home for Christmas dinner.
Nothing is so certain a change – whether it's Christmastime or not.
For decades, my house was aglow with the conviviality of family and friends. Christmas Eve was a very special day at my house, but not so much anymore. for the last two years, my house has been empty and quiet on Christmas Eve. And I'll be honest, at first, it ate at me. It gnawed at my soul. It bothered me — a lot. And just to be blunt — it hurt. Change is not easy to accept, but there's no way anyone can avoid it.
But then, like everyone else, I have a choice. I can choose to be miserable and reflect on what I don't have and what will not be. Or I can choose to count the blessings I do have and what will be. And remember that life does not always unfold the way we wish it would...
Read the rest of this Christmas essay here.




Help us keep on helping you!
When you support us with a small gift, you help us continue our mission to keep you informed, separate the truth from the hyperbole, and help you stay safer online. Plus, our computer tips make your computer easier to use.
Did you know that we provide support to thousands of people? Every week we help dozens of people via email at no charge. The questions and answers you see in our newsletters are from the email answers and help we provide to everyone free of charge.
Thanks to your gifts, we do a lot more than provide this free newsletter. We help you recognize online threats, fight for your online privacy, provide you with the knowledge you need to navigate the Web safely, provide you with suggestions for safe, free software and websites, and help you get more out of your PC.
Please Help us keep up the good fight with a small gift.
Interested in making an automatic monthly gift? Visit this page. Help us keep helping you... and helping you stay safe on the Web.




What is a hijacker?
EB is a hijacker. She hijacks my day and makes me her slave. That's what a hijacker is.
No! No! No! We're talking computers here, right? Most generally the term "hijacker" applies to a web browser, like Chrome, Firefox, Internet Explorer, Edge, etc.). A hijacker is considered a form of malware. It's more of an annoyance than a danger. If you don't know how to remove a hijacker it can be aggravating.
A hijacker either changes your start page to something other than what you want, changes your default search engine to something other than you want, or both.
What's in it for the hijacker? Money. If a hijacker changes your start page to something other than what you want or changes your search engine to something other than what you want, they're diverting you to pages and searches that make them money.
Hijackers are generally installed when installing a software program. Be very careful when installing software and read every dialog during the installation. Uncheck anything you don't want or don't recognize.
Most hijackers can be removed easily, but some are very tricky. The best way to deal with hijackers is not to get them in the first place. Also, use good security software like Emsisoft and heed any warnings you get.





Sales of the following products and services help support our newsletters, websites, and free computer help services we provide.

Cloudeight Direct Computer Care: Single Keys, SeniorPass or Season Tickets - always a great deal. Cloudeight Direct Computer Care is like having PC insurance. Get more information here.

Emsisoft Anti-Malware: Emsisoft is the only Cloudeight endorsed and recommend Windows security program. It provides users with a complete antivirus, antimalware, anti-ransomware, anti-PUPs solution. We offer single Emsisoft licenses and multi-computer licenses at discount prices. Also, we offer our exclusive Emsisoft with Cloudeight installation & setup. Get more information here.

Thunderbird Email Setup: Thunderbird is a great email program that you can use with your Gmail and Outlook.com (Hotmail) webmail accounts as well as with your Internet provider's email. We'll set it up correctly you. Our set up includes configuring up to 3 email accounts and setting up Thunderbird to use stationery (if desired). Our Thunderbird Email Setup Service is always a great deal. For more information visit this page.

Reg Organizer 8.30: Reg Organizer is the Swiss Army Knife of Windows tools. It's far more than just a registry optimizer and cleaner... it's a Windows all-in-one toolkit. Reg Organizer helps you keep your computer in tip-top shape and helps you solve annoying Windows problems. Reg Organizer works great with Windows 10! Get more information about Reg Organizer (and get our special discount prices) here.






These products and services are recommended and endorsed by Cloudeight:



We'd love to hear from you!

If you have comments, questions, a tip, trick, a freeware pick, or just want to tell us off for something, let us know.

If you need to change your newsletter subscription address, please see "Manage your subscription" at the very bottom of your newsletter.

We received hundreds of questions for possible use in IA news. Please keep in mind we cannot answer all general computer questions. We try to personally answer as many as we can. We can only use a few to in each week's newsletter, so keep this in mind. If you have a support question about a service or product we sell, please contact us here.





Subscribe to our Daily Newsletter!

Get computer tips & tricks every night. Our daily newsletter features a computer tip/trick or two every day. We send it out every night around 9 PM Eastern Time (USA). It's short and sweet, easy-to-read, and FREE. Just visit this page and sign-up. All you have to enter is your email address. Once you confirm your subscription, you'll receive our daily newsletter every day, six days a week. You can unsubscribe at any time.

Print our Cloudeight Direct Computer Care Flyer!

Print our Cloudeight Direct Computer Care Flyer and spread the word about our Cloudeight Direct Computer Care repair services. Get our ready-to-print flyer here.






We hope you have enjoyed this issue of InfoAve Premium. Thanks so much for your support and for being a Premium subscriber.

Happy Holidays & Merry Christmas to you and your family!

Have a great weekend.

Darcy & TC
Cloudeight InfoAve Premium - Issue #845
Volume 17 Number 9
December 20, 2019

Not a subscriber? Subscribe to our InfoAve Premium Newsletter

Share Us on Facebook!
We'd love for you to share us with your family and friends on Facebook. Help us by sharing us on Facebook!






"Cloudeight InfoAve Premium" newsletter is published by:

Cloudeight Internet LLC
PO Box 73
Middleville, Michigan USA 49333-0073

Read our disclaimer about the tips, tricks, answers, site picks and freeware picks featured in this newsletter.

Copyright ©2019 by Cloudeight Internet