Cloudeight InfoAve Weekly
Issue #858
Volume 17 Number 22
March 20, 2020

Dear Friends,

Welcome to Cloudeight InfoAve Weekly issue #858. Thank you very much for subscribing and for being a part of our Cloudeight family. We appreciate your friendship and support very much!





Wishing you all the best during the global pandemic

We want to take a moment and wish all our friends and subscribers all around the world the very best during the worldwide coronavirus pandemic. We want you all to stay safe and healthy!

With many folks now working from home including millions of college grade-school students, we will be offering special pricing for those working from home or confined to their home during this time of uncertainty. We'll be here for you. And we hope you'll share our newsletters and our Web site with all of your family and friends.




THIS IS THE LAST WEEKEND FOR OUR SPRING SPECIALS!
Spring is right around the corner and we're celebrating by bringing back one of our most popular sales ever! We're giving you the option to choose what you pay for some of our most popular products & services.

During our Spring Sale you can choose the price you want to pay for any of the following products & services:
Cloudeight Direct Computer Repair - Single Key
Cloudeight Direct Computer Care Season Ticket - Computer Care for one full year.
Thunderbird Email Installation and Setup
Emsisoft Anti-Malware installation, setup and a one-year Emsisoft license
Don't need anything? Please help us with a donation.
Our Spring Sale won't last as long as spring, so don't miss out. Help yourself and help us too. Your purchase supports our small business and helps us keep on helping you. Thank you so much!



A comment from Delores
Hi Darcy, I am eternally grateful to you. I made a horrible mess of my Windows 10 computer and I thank you for coming and getting things back to normal again. I thought my new computer was completely messed up and I was going to lose everything. I'm always amazed at your knowledge and your professionalism. Thank you again, Darcy, for bailing me out of a bad situation. Delores.

A comment from Sue
Hello, I just want to thank TC for doing a great job on my computer! It is comforting to know that I had no "miscreants" lurking in the inner workings! I have been following you and EB for 20+ years and have complete trust in what you guys do. When I wanted to have my computer checked out, there was no question about who I wanted to do it! Thanks, again...take care & keep safe & healthy!

A comment from Mike
Just a thank you to Darcy for removing the malware from my computer and for the time she took making my computer run great again. She took the time to fix everything. Great job, Darcy!

A comment from Joe
I just finished a session with TC this morning. He cleaned up, optimized and installed Emsisoft on my wife's computer and did it all in one short session. I can't say enough about TC and Darcy. They have always been there to answer the bell whenever my wife or I needed help. I have recommended their services to all my friends.

A big Cloudeight "Thank you!" to Delores, Sue, Mike, Joe, and everyone who took time out to write to us, share a comment and/or share us on Facebook! We appreciate your kind words and your support very much! EB & TC.




Your Purchase Helps Us!
When you purchase any Cloudeight Direct Computer Care Service, you get the best computer care and repair, at the lowest possible price. Plus, each Cloudeight Direct Computer Care service you purchase goes a long way in helping to support our small business.

Your computer fixed - while you watch!
With our Cloudeight Computer Care, we'll fix your computer while you watch. You'll be getting the best computer repair service available, at the best price, from people you trust. Our Cloudeight Direct Computer Care single repair keys are a great deal. They are good until you use them.

For more information see our Cloudeight Direct Computer Care home page!




Sonjia asks about recovery partitions
When I bought my computer new it was a Win.8, I updated to Win 8.1 now updated to Win 10. I have a partition Recovery Drive D on this computer, placed there by HP. I'm thinking this Recovery D drive is just for Win 8, because it was on this computer when I bought it. If it is Win 8, can I get rid of the data on this drive, and how do I do it. Also wondering if it can be renamed and used for something else, or can I just get rid of the partition and let it just be part of my regular C drive. Sonjia

Our answer
Hi Sonjia. Good question. You can format the Recovery Drive (D) but we wouldn't advise you do that. If you turn on File History in Windows 10 and you make good backups, you should never need the Recovery Drive (D). However, that being said, since the recovery drive takes a very minimal amount of space and hard drives are so large these days, removing it doesn't have many advantages, and leaving it does provide you with one more option, if necessary, to recover from a computer disaster. You're right in thinking that the recovery drive put there by HP would restore your computer to its factory state - i.e. with Windows 8.1 and all pre-installed software that came with your computer.

Windows 10 offers so many ways to recover from a serious computer problem (Fresh start, System Reset, File History, System Restore, Startup Troubleshooting) that we doubt you'd ever need to use the HP recovery drive, but we don't find any compelling reason to remove it either. Our advice, let it be.

If you decide to remove the data on Drive D (HP recovery) you can right-click on the drive and choose "Format". When the format options appear, choose "Quick Format". You will have a drive D with nothing on it that you can use to store files.




Margie wants to delete the huge Windows.old file on her computer
I use several computers and just installed the new Windows 10 Fall Creators Update. No problems at all. But now I am stuck with an over 20 gig file that won't delete, it is in the Windows.old file on the C drive. There is no reason for me to hold on to that file - there is nothing in the old version I want and should anything not work properly I would just re-install the entire operating system. So how do I delete this old file - it won't go no matter what I do - Administrator does not work on this one. This is very annoying and tells me I am not in charge of my own computer!! I should be. Please help.

Our answer
Hi Margie. Be very sure you want to delete the Windows.old folder. If you delete it and you have problems with Windows 10 Fall Creators Update you will not be able to go back to your previous version of Windows 10.

After you install a major update (like Fall Creators Update), Windows gives you 10 days in which you can easily return to your previous version of Windows without losing any data or programs; in other words, you can go back to the previous build just by pressing a button in Settings > Update & security > Recovery >

If you're sure you've used Windows 10 Fall Creators Update to know all is well and you want to remove the Windows Old folder you can do so using Windows Disk Cleanup:

In Windows Search (Cortana) in the taskbar search for Disk Cleanup and press Enter (or click it) when Disk Cleanup appears at the top.

When Windows Disk Cleanup appears, you'll see a dialog box. Click OK to let it scan your C drive. When it's done it will show you a list of files that you can clean using Disk Cleanup. Near the bottom you'll see a button that says "Clean up system files". Click that button.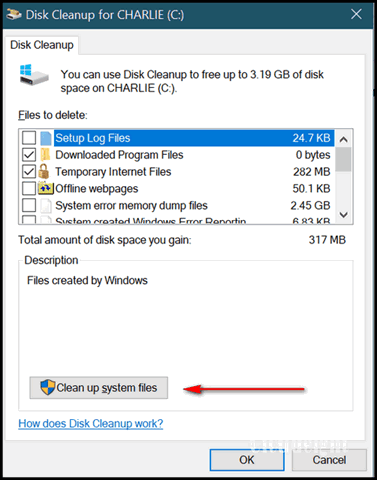 Windows will ask drive you want to clean up, it will default to "C". Leave it set to drive C and click OK. Wait a few minutes for Windows to scan your drive. When it's done you'll see another dialog. You'll need to scroll down until you see "Previous Windows installations".


Tick the box next to it. And then click OK. It will take a while to remove the files. The Windows.old folder is huge -- 20 GB or larger.

The Windows.old folder not only contains your previous version of Windows but also includes an exact image of your previous installation including programs, files, settings, etc. So be very certain you are not having any problems with Windows 10 Fall Creators Update before you delete the Windows.old file or you will have no easy way of going back without having to reinstall your programs and possibly losing data.

Keep in mind that Windows will automatically remove the Windows.old folder within 30 days after you update.

I hope this helps you, Margie.


Janet has problems connecting to her Wi-Fi
I continually have trouble connecting to my Wi-Fi network. Sometimes I have to restart my computer or restart my router or restart both just to connect. My Internet provider checked my modem and router and connection and found nothing wrong. Do you have any suggestions for me? Thanks!

Our answer
Hi Janet. It sounds like your computer's wireless adapter is going bad. But there's an easy way to work around that; it's easy to do and inexpensive too! Get yourself a USB Wireless (Wi-Fi) adapter. All you have to do is plug it into any available USB port, install the software that comes with it (if any) and connect to your Wi-Fi network. It's the easiest way to fix (or workaround) a wireless network adapter that is going bad. It takes less than 5 minutes to get a USB Wireless Adapter up and running. You don't even have to open your computer's case... and you can do it for less than $30.

Here's a brand name USB Wi-Fi adapter we found on Amazon for less than $30.
We hope this helps you, Janet.
---------
Janet wrote back: "I bought the USB Wi-Fi adapter and it seems to have fixed all my connection problems. Thanks so much for your suggestion. It's nice to know I can always count on you guys! Janet"



Adele asks about our services
I really don't know where to begin but I've been thinking about contacting you for some time. I have no doubt you are knowledgeable and trustworthy and I am sorry that I left you for a while. Also, I don't often have time to read your entire newsletter. Today I printed out the whole thing. What I would like to do is have you take a look at my computer and correct any deficiencies. I know of one that has to do with my uploading photos from my Samsung Galaxy 9. I just don't know which is the best plan for me to do that and that is why I am looking to you for guidance right now.

Our answer
Hi Adele. You can either get a one-time service key or sign up for our annual plan as it includes unlimited service repairs for one year. Here is the order page

https://thundercloud.net/direct

On getting your photos from your Galaxy Tab, consider getting a free Dropbox account. Then you will have access to all your pictures, regardless of the device you are using.

Thanks for being with us through the years, and welcome back!





Robert has browser problems and a lot of ads
I seem to be experiencing the latest "Google" enabled weakness. Is there any way I can get rid of this ad supplier and still render my PC usable? After my update, which was problematic, on my rebooted home screen I had a myriad of ads. Bunches of ads. One especially on the lower right corner of my screen is an ad about 1/5th the screen area (3.5" x 3.5"), and is stationary (cannot be moved to see what lays underneath except to scroll the page.

In addition to the obvious ad, is line seemingly attributing the ad to Google, using this line: Google Chrome * mypdf.com or other ads. I checked both Google & MS Edge and there are no extensions on either. I ran the Emsisoft search and came away with nothing bad. I think we had something like this a few years ago, and the answer seemed to do with the advertiser runs of memory alone and would need to be loaded when the PC is rebooted

Our answer
Hi Robert. This is something we might have to look at... if you have a Cloudeight Direct Computer Care repair key we can schedule an appointment to take a look.

Sometimes these things bury themselves in the registry, Services or User/App/Data - or in the Startups. It's hard to guess. Here are two things you can try. Try resetting Chrome - see this page for instructions.

Also, open Task Manager, click on the Startup tab and disable anything you don't recognize. Then right-click the Start button, click on Settings > Apps > Startup and turn off anything you don't recognize.

After you do all of the above, restart your computer - if you still have problems, then we'll need to take a look.
-----------
Robert wrote back: "THANK YOU! One of your suggestions seemed to work! On average I don't use many "extensions" and the reset went so quickly I thought I must have made a mistake. Thank you again, Robert."




Susan wants to make backups on her new external hard drive
Hi TC & Darcy. I have been meaning to contact you for months now. I bought that new external hard drive like you suggested for my backups. I use to have Genie as my back up and I thought I would try it but the only problem was I couldn't find it to reinstall it. Can you help me, please? Thanks so much for all your hard work. Your newsletters are full of information. I couldn't do it without you. Cheers, Susan.

Our answer
Hi Susan. We are no longer recommending or selling any backup programs (Genie Timeline, Ashampoo, etc.) or backup services.

We currently recommend Windows 10 File History which is extremely easy to set up - and once it's set up it's automatic as long as you leave your external hard drive plugged in.

Emsisoft is a program, it does not need to be backed up. You can download and install Emsisoft when and if you need to do so and your license is good for its full term. Should you have to reinstall Emsisoft, you can use the same license key and you will still have the full number of remaining days. So there's no reason to back the program up. if we sent your license to your Gmail account, you always have access to it. If you lose it, we can send it to you.

You can set up File History backup very easily by following the instructions on this page.

All you need is an external hard drive and the instructions on that page.

You may also find the following page helpful:

https://www.thundercloud.net/infoave/new/another-look-at-backing-up-your-computer/

If you feel you need more help, please let us know.





Beverly is having problems with sound on her computer
I have lost my volume on my desktop. I don't know when I lost it as I usually keep it on mute. I have tried everything Google suggested to restore it. Do you have any suggestions that might restore it? Thanks.

Our answer
Hi Beverly. Here are some things you can try:

Right-click on the Windows 10 start button... click Settings > System > Sound.

1. Make sure your output device is set to Speakers and not headphones if you are not using headphones.

2. Make sure your Master volume is not muted and that it is turned up.

3. If you still have no sound, click on the Troubleshoot button and run the Windows 10 sound troubleshooter.

See the screenshot below for some helpful tips.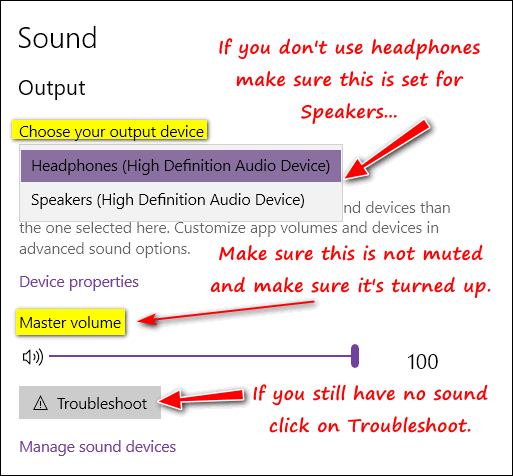 I hope this helps you. Beverly.




It's springtime and time to get your computer ready for spring & summer. With our Spring Cleanup service, we'll make that EASY for you.
We'll check your PC, clean it up, optimize it and get it ready for summer...
Here's what we'll do for you:
We'll connect to your computer and do a deep scan for malware
We'll check your computer for suspicious programs
We'll check your browser for problematic extensions/add-ons
We'll optimize your startups.
We will check your hard drive
We'll check your Windows services and optimize them when necessary.
If you choose, we'll remove your current security software and install Emsisoft and give you a FREE 3-month license
This service is available for a limited time only.
Get more information and/or get your spring cleanup here!
*Note: Our Spring Cleanup Service does not include repairs.


How to Turn System Icons On or Off
Windows 10


Above: The Windows 10 notification area & the magic strip.
Did you know you can turn system icons on or off in the Windows 10 notification area and customize it just the way you want? Did you know you can even turn off — hide — the clock?
Let's look at the options. First type system icons in taskbar search and press Enter or click on "Turn system icons on or off" in the search results.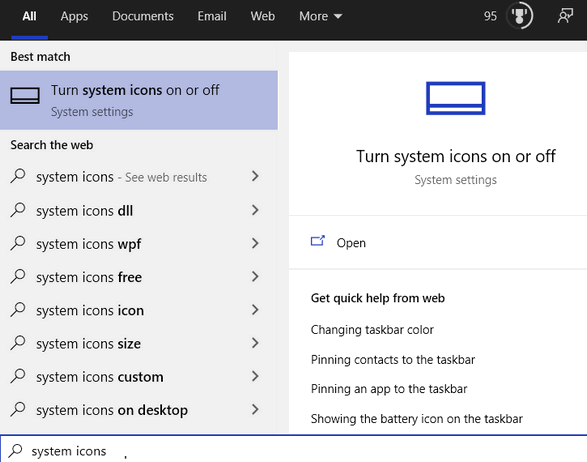 Below you can see the complete list of system icons. Any item you see in those lists you can turn on or off.
If you're missing the Volume icon, turn it on here. If you're missing the Network icon, turn it on. Do you see ENG in the notification area? Do you want to hide it? Just turn off the "Input Indicator" switch.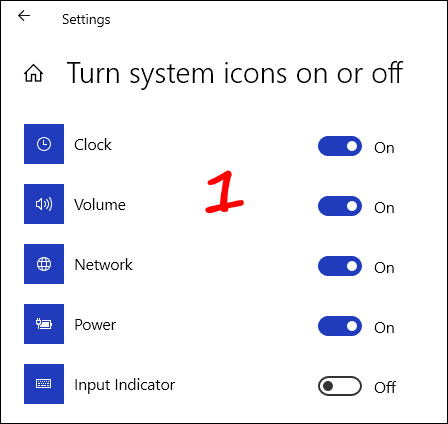 If you never use the Action Center icon, you can turn it off and save taskbar real estate.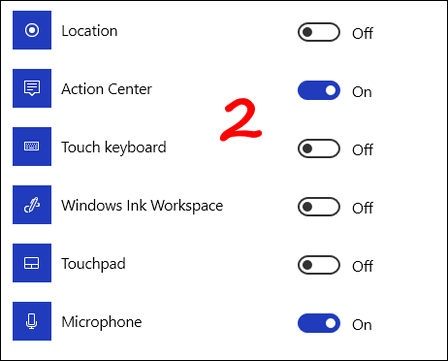 You can turn any system icon on or off to suit the way you use your computer. If you're a minimalist you can turn them all off. Or if you like everything at your fingertips, turn them all on. But our advice is to experiment with the system icons and find the best combination for you. It is your computer after all.
A bonus tip

Look at the screenshot of the notification area above. Do you see the little yellow arrow and the thin vertical strip it's pointing to? Do you know what happens when you click on that little strip? It minimizes all open windows and takes you directly to your desktop.



Chrome's "Reader Mode" is Back
Windows 8.1 or Windows 10 - Chrome browser
A while back we wrote about distilling webpages with Chrome's Reader Mode. A lot of people liked that feature because it removed clutter from pages and made them easier to read. Soon after we wrote that article, Google removed "Reader mode" from Chrome's available experimental feature's list. In the current version of Chrome — Version 80.0.3987.132 (Official Build) — Reader Mode ("Toggle distilled page contents") is back.
So let's distill web pages again…
First, make sure you're using the current version of Chrome. Click on the Settings icon (3-vertical dots in the top-right corner of Chrome) and click on Help > About Google Chrome. If you're not using the current version you'll have the option to update Chrome.
Next, type chrome://flags in the Chrome Omnibox (address bar) and press "Enter". In the search box at the top start typing Distill.
When "Enable Reader Mode" appears, click on the down arrow next to "Default" and choose "Enabled".
Once you've done that, go to a website or webpage you want to read – and while on the page click on the Chrome settings icon (3 vertical dots) and click on "Toggle distilled page contents".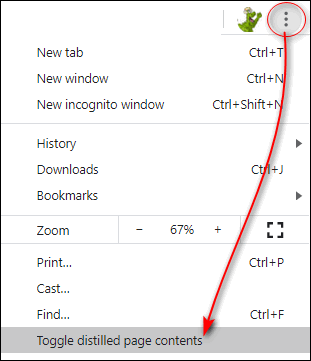 And you can take a messy page, full of ads or ads that were blocked — as in the screenshot below…
And distill it and make it much easier to read.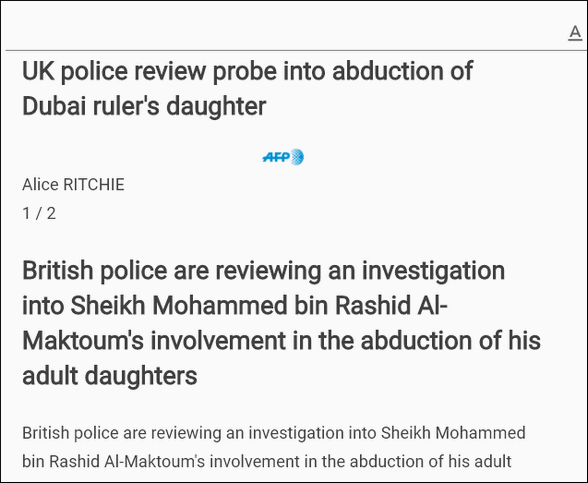 But wait – there's more!
You can adjust the font size, text color, and background color. Go from black on white to white on black.
Just click the "A" near the top of any distilled page. Click on the black circle if you want white text on a black background. Or click the white circle if you want black text on a white background. To change the text size on the page move the slider to the right to make the text bigger or to the left to make it smaller.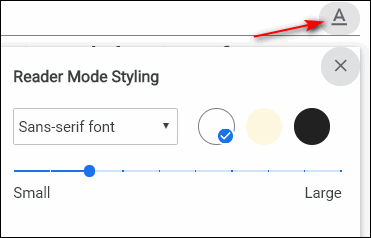 With simple controls like these, no more instructions needed!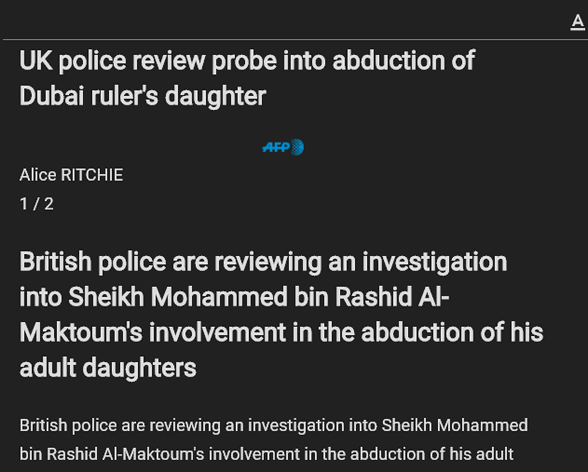 Now you can distill almost any web page and make it easier on your eyes.
Oh… and one more thing…
On some pages, you'll have an option to make the background a beige or cream color… see?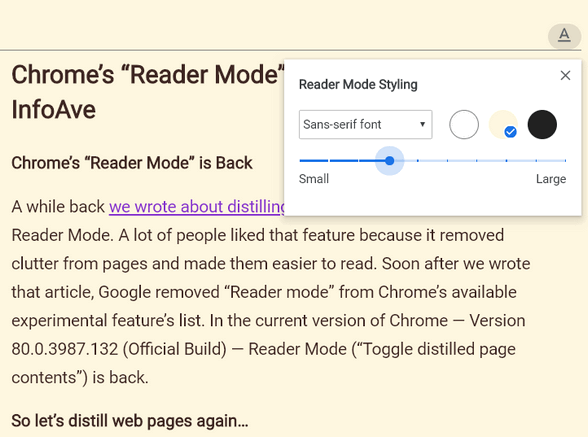 Now go forth and distill your favorite Web pages.
If you don't know the name of your network, you can find it in the Network & Sharing Center. You can find Network & Sharing Center in the Control Panel or Settings > Network & Internet > Network and Sharing Center.

Six Quick Tips For Windows 10 From Microsoft
Windows 10
Once in while Microsoft surprises us and provides some really useful tips for Windows 10 users. And today we're featuring six easy Windows 10 tips – complete with videos – from Microsoft – that can help you get the most out of your Windows 10 PC.
Here are the six quick tips from Microsoft … and they are all posted on one page.
How to use the Action Center
We use the Windows 10 Action Center a lot. It can be a time saver and you can customize it so it works the way you want it to. Add or remove "quick actions" so only the actions you use show in the Action Center.
How to save battery life
If you have a laptop computer, you'll find this useful.
How to manage updates
Windows 10 users have a lot more control over Windows updates than they used to. Now there are ways for you to take control over Windows updates. You can change or delay updates quite easily in newer versions of Windows 10. So, this is worth a look.
How to set up your OneDrive folder
Darcy is a big fan of OneDrive. She uses it every day. Me? Not so much. But if you are not familiar with OneDrive or you use it but want to see some tips for using OneDrive, this is for you.
How to quickly add Emoji
Not sure how useful this one is, but hey! if you like Emoji and use them, then you might just want to take a look at this.
How to use keyboard shortcuts
This one is worth the trip to the Microsoft page. Watch the video and see how you can save time using shortcuts. We love shortcuts! Do you?.
You can view any or all of the above tips – in video form – just by visiting this Microsoft page.

Convert Currency (and more) Using Windows Calculator
Windows 10

Microsoft has continued to improve the calculator app in Windows 10. Windows 10's calculator app has a lot of great features, like the Currency converter, for example.
So, let's open the Windows Calculator by typing CALC in taskbar search and press Enter.

Click on the menu icon (3 horizontal lines at the top left) and under "Converter", select "Currency".




Choose your currency and the Country/Currency you want to convert your currency to… that's it. If you want to verify the currency exchange rate, click on the link "Update rates".


You'll note the currency converter is updated to be accurate for the time you use it. See you don't need no stinkin' 3rd-party program or Website to convert currency. And... Windows 10's Calculator also converts Volume, Length, Weight and Mass, Temperature, Energy, Area, Speed, Time, Power, Data, Pressure and Angle. Who knew? Now you do.
PS: Coming soon (in Windows 10 Version 2004 due out in May 2020) Microsoft will be adding a "Graphing" option. I guess if you're a math genius you'd find that useful, but for me, not so much.



Want more tips, tricks, and information?
We have thousands of Windows tips, tricks and more on our InfoAve web site.
Subscribe to our free InfoAve Daily newsletter.




Includes "Anytime Repair" with Our Unattended Support Feature!

SeniorPass: A Great Deal for Our Friends 60 and Older!

With our Cloudeight Direct Computer Care SeniorPass, our friends age 60 and older get one full year of unlimited computer care and repair for one low price. With our SeniorPass you'll get the best computer care anywhere - any time you need it!

SeniorPass is valid for unlimited computer care & repair sessions for one full year starting with the first time you use it. The clock does not start ticking until you use your SeniorPass for the first time. A great deal!

Having SeniorPass is just like having insurance for your computer. You'll get one full year of computer care and get help with almost any computer problem whenever you need it. We're here to help you.

Computer care & repair for one full year just $99! Check out our SeniorPass offer right now!

Get your SeniorPass and/or get more information here.


Reuters Oddly Enough
Ecclesiastes 3

"To everything there is a season – and a time to every purpose under the heaven:
A time to be born, and a time to die; a time to plant, and a time to pluck up that which is planted;
A time to kill, and a time to heal; a time to break down, and a time to build up;
A time to weep, and a time to laugh; a time to mourn, and a time to dance;
A time to cast away stones, and a time to gather stones together; a time to embrace, and a time to refrain from embracing;
A time to get, and a time to lose; a time to keep, and a time to cast away;
A time to rend, and a time to sew; a time to keep silence, and a time to speak;
A time to love, and a time to hate; a time of war, and a time of peace…"
Just a few weeks ago, we all went about our business in a world we all knew pretty well — then all of a sudden the world changed.
And it looks to me like it's going to be a while before the world gets back to the way it was. And this should be a wake-up call for us all to treasure each day and care for those we love because our world and our lives are very fragile. And the best thing we can ever give or leave behind is love.
And as I am reminded by Ecclesiastes, there is a time for everything: A time to be born and a time to die. A time to mourn and a time to dance. And… there's a time to weep, and a time to laugh.
One of my favorite sites that always makes me smile is a Reuter's news site called Reuters Oddly Enough. It's a site dedicated to the news of the strange and bizarre. Some of these articles are sure to make you laugh and others are sure to make you scratch your head.
What could be better right now than a good smile or a hearty laugh? This site is my candle in the darkness and I hope you will enjoy it too.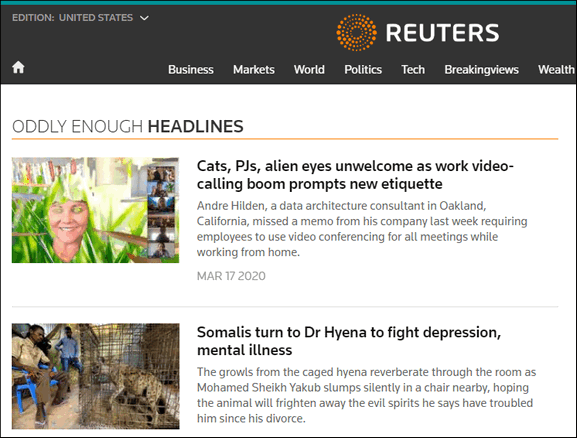 Here are few teasers of the kinds of articles you'll find on Reuters Oddly Enough:
Cat vs. chants: Friendly feline tests Buddhist monk's patience
A Thai temple cat's bid for affection during five-hour-long New Year prayers was enough to test the patience of a Buddhist monk as he tried to maintain his chanting concentration.

Wakanda free trade forever? Fictional nation removed from U.S. trade list
The U.S. Department of Agriculture (USDA) said it removed the fictional country of Wakanda from an online list of nations that have free trade agreements with the United States on Thursday.

Dying for a better life: South Koreans fake their funerals for life lessons
A South Korean service is offering free funerals – but only to the living.

'Something novel': Chinese cafe dyes pups to look like pandas
Would you like your dog transformed into a panda?

Australia bars entry to Vietnamese woman for failing to declare raw pork
Australia has refused entry to a Vietnamese woman for failing to declare 10 kg (22 lb) of raw pork, seafood and poultry on arrival in Sydney, its first expulsion under a more strict biosecurity law, authorities said on Tuesday.

A 70-year-old biking grandmother conquers Bolivia's 'Death Road'
Bolivia┤s "Death Road" might seem an odd place for a septuagenarian grandmother on two wheels.
We invite you to take a break from the world, grab a smile and maybe a laugh. It won't cost you a thing but taking some time out to smile.
Visit our site pick "Reuters Oddly Enough" and you'll find yourself smiling and maybe even laughing! And that is a good thing, right?






VERSION 8.43 NOW AVAILABLE!
If you purchased or renewed Reg Organizer through Cloudeight within the last 12 months, you're entitled to a free version upgrade to Reg Organizer 8.43.

Save $14 on Reg Organizer right now!

Reg Organizer - A Swiss Army Knife of Windows Tools - Works Great on Windows 10!


Give Me a Corona Please!
In the middle of this coronavirus pandemic… OK maybe not the middle of it, who knows, I am sitting here, fearless, drinking a Corona. Well, to be honest, I'm drinking a Corona Light – 2.6 grams of carbohydrates and only 90 calories.
While I am pouring my third beer into my most cherished frosted beer mug, I'm poring over some interesting articles from which I have gleaned a deeper insight into the thought processes of some of my fellow creatures.
Let me be clear, I'm not a genius, but I consider myself reasonably intelligent and I'm taken aback by some of the things people believe. Maybe it's that some people need to believe something and are, therefore, ready to believe anything that gives them hope. But hope can be a very nebulous and curious thing.
You'd think in times of trouble that common sense would prevail. But I'm sorry to say, many people are gullible and many have gotten rich by feeding on fear. And nothing creates more fear than suggesting the grim reaper...
Please read the rest of this essay here.




THIS IS THE LAST WEEKEND FOR OUR SPRING SPECIALS!
Spring is right around the corner and we're celebrating by bringing back one of our most popular sales ever! We're giving you the option to choose what you pay for some of our most popular products & services.

During our Spring Sale you can choose the price you want to pay for any of the following products & services:
Cloudeight Direct Computer Repair - Single Key
Cloudeight Direct Computer Care Season Ticket - Computer Care for one full year.
Thunderbird Email Installation and Setup
Emsisoft Anti-Malware installation, setup and a one-year Emsisoft license
Don't need anything? Please help us with a donation.
Our Spring Sale won't last as long as spring, so don't miss out. Help yourself and help us too. Your purchase supports our small business and helps us keep on helping you. Thank you so much!


Two Back to Basic Tips

1. Are you having a problem finding the Print Screen key? On many keyboards, especially laptops, it is abbreviated as PrtScr and on others PrtScr.

2. When you see two commands on one key, the shift key enables the lower command. That kind of seems backward, doesn't it? I think the reason is that your eyes tend to focus on the top command first, and the top command is the command that would most likely be used most often. For example, the question mark is on top with the slash below it on the same key. You would have to use the shift key and click the ? key for slash. The keyboard powers-that-be think that people would use the question mark more that than the slash. Before the Internet, they may have been right, but now? ┐Quien sabe?



<
When you support us with a small gift, you help us continue our mission to keep you informed, separate the truth from the hyperbole, and help you stay safer online. Plus, our computer tips make your computer easier to use.
Did you know that we provide support to thousands of people? Every week we help dozens of people via email at no charge. The questions and answers you see in our newsletters are from the email answers and help we provide to everyone free of charge.
Thanks to your gifts, we do a lot more than provide this free newsletter. We help you recognize online threats, fight for your online privacy, provide you with the knowledge you need to navigate the Web safely, provide you with suggestions for safe, free software and websites, and help you get more out of your PC.
Please Help us keep up the good fight with a small gift.
Interested in making an automatic monthly gift? Visit this page. Help us keep helping you... and helping you stay safe on the Web.





Sales of the following products and services help support our newsletters, websites, and free computer help services we provide.

Cloudeight Direct Computer Care: Single Keys, SeniorPass or Season Tickets - always a great deal. Cloudeight Direct Computer Care is like having PC insurance. Get more information here.

Emsisoft Anti-Malware: Emsisoft is the only Cloudeight endorsed and recommend Windows security program. It provides users with a complete antivirus, antimalware, anti-ransomware, anti-PUPs solution. We offer single Emsisoft licenses and multi-computer licenses at discount prices. Also, we offer our exclusive Emsisoft with Cloudeight installation & setup. Get more information here.

Thunderbird Email Setup: Thunderbird is a great email program that you can use with your Gmail and Outlook.com (Hotmail) webmail accounts as well as with your Internet provider's email. We'll set it up correctly you. Our set up includes configuring up to 3 email accounts and setting up Thunderbird to use stationery (if desired). Our Thunderbird Email Setup Service is always a great deal. For more information visit this page.

Reg Organizer 8.43: Reg Organizer is the Swiss Army Knife of Windows tools. It's far more than just a registry optimizer and cleaner... it's a Windows all-in-one toolkit. Reg Organizer helps you keep your computer in tip-top shape and helps you solve annoying Windows problems. Reg Organizer works great with Windows 10! Get more information about Reg Organizer (and get our special discount prices) here.




InfoAve Weekly Subscribers' Home Page. You'll find the last few weeks of Cloudeight InfoAve Weekly archived on this page.
To change your subscription address, see "Manage your subscription" at the bottom of this newsletter.
Submit your questions, comments, and suggestions for possible inclusion in our newsletters here. This form is for questions, comments, and suggestions for this newsletter. This form is not for product support, stationery questions, or general questions concerning our products or services.
Send us your suggestions and recommendations for future freeware picks and/or sites of the week
Help us Grow! Forward this email newsletter to a friend or family member - and have them sign-up for InfoAve Weekly here!
Get our free daily newsletter! Each evening we send a short newsletter with a tip or trick or a computer-related article - it's short and sweet - and free. Sign-up right now.
Have a question about a Cloudeight Software program, service, stationery, or need to ask about an order? Let us know!
If you need help with one of our software programs, have a question about an order, or have a question about any of our email stationery, screensavers, or other products - please don't use our InfoAve Questions/Answers/Tips form. Use our general Cloudeight support form instead.
Print our Cloudeight Direct Flyer and spread the word about our computer repair service! If you want to help us by telling your friends about our Cloudeight Direct Computer Care service, you can download a printable flyer you can hand out or post on bulletin boards, etc. Get the printable PDF Cloudeight Direct Computer Care flyer here.




These products and services are recommended and endorsed by Cloudeight:
Also... don't forget:




We'd love to hear from you!

If you have comments, questions, a tip, trick, a freeware pick, or just want to tell us off for something, let us know.

If you need to change your newsletter subscription address, please see "Manage your subscription" at the very bottom of your newsletter.

We received hundreds of questions for possible use in IA news. Please keep in mind we cannot answer all general computer questions. We try to personally answer as many as we can. We can only use a few to in each week's newsletter, so keep this in mind. If you have a support question about a service or product we sell, please contact us here.





Subscribe to our Daily Newsletter!

Get computer tips & tricks every night. Our daily newsletter features a computer tip/trick or two every day. We send it out every night around 9 PM Eastern Time (USA). It's short and sweet, easy-to-read, and FREE. Subscribe to our Cloudeight InfoAve Daily Newsletter!

Print our Cloudeight Direct Computer Care Flyer!

Print our Cloudeight Direct Computer Care Flyer and spread the word about our Cloudeight Direct Computer Care repair services. Get our ready-to-print flyer here.





We hope you have enjoyed this issue of Cloudeight InfoAve Weekly. Thanks so much for your support and for being an InfoAve Weekly subscriber.

Have a great weekend.

Darcy & TC
Cloudeight InfoAve Weekly - Issue #858
Volume 17 Number 22
March 20, 2020

Not a subscriber? Subscribe to our FREE Cloudeight InfoAve Weekly Newsletter here.

Share Us on Facebook!
We'd love for you to share us with your family and friends on Facebook. Help us by sharing us on Facebook!






"Cloudeight InfoAve Weekly" newsletter is published by:

Cloudeight Internet LLC
PO Box 73
Middleville, Michigan USA 49333-0073

Read our disclaimer about the tips, tricks, answers, site picks and freeware picks featured in this newsletter.

Copyright ©2020 by Cloudeight Internet