Cloudeight InfoAve Weekly
Issue #881
Volume 17 Number 44
August 28, 2020

Dear Friends,

Welcome to Cloudeight InfoAve Weekly Issue #881. Thank you very much for subscribing and for being a part of our Cloudeight family. We appreciate your friendship and support very much! Please share our newsletters and our Website with your family and all your friends.

We wish you all the best during the global pandemic. Our prayers and good wishes go out to all of you during this difficult time. We are all in this together.






Help Us During our Summer 2020 Donation Drive
If you don't need any of our products or services right now, consider helping us with a small donation.
Did you know that we provide support to thousands of people? Every week we help dozens of people via email at no charge. The questions and answers you see in our newsletters are from the email answers and help we provide to everyone free of charge.
Thanks to your gifts, we do a lot more than provide this free newsletter. We help you recognize online threats, fight for your online privacy, provide you with the knowledge you need to navigate the Web safely, provide you with suggestions for safe, free software and websites, and help you get more out of your PC.
Please Help us keep up the good fight with a small gift.
Interested in making an automatic monthly gift? Visit this page. Help us keep helping you... and helping you stay safe on the Web.




Mary wants to know what to do about bandwidth throttling
I'm hoping you can help me with this problem. Do you have any ideas about what I can do/get to help with bandwidth throttling? Thanks for taking the time! Mary

Our answer
Hi Mary. Bandwidth throttling is done by your ISP (Internet Service Provider) or your cell service provider, it's not done on your end.

If your bandwidth is being throttled you need to call your provider to find out why and find out what you're doing that is causing them to throttle your bandwidth. It's not something you can control other than by knowing what your providers' limits and keeping your bandwidth usage below the limits your provider(s) set.





JoAnn asks about BitLocker
Hi Darcy or TC. Thank you for all you do for us! I saw this article on BitLocker Drive Encryption for Windows 10. I don't see it on my PC and wondered if I should download it and add it for extra protection. Always appreciate your help and time! JoAnn

Our answer
HI JoAnn. Thank you! BitLocker does not come with Windows 10 Home; it comes with Windows 10 Pro and Enterprise. You can't download BitLocker and install it on Windows 10 home.

There are encryption utilities from 3rd-parties but we've never used them or recommended them.

Make sure you use a good password or PIN on your computer if you're concerned with privacy. For most home users password/PIN protection is plenty.

Most of the time users have data stolen because they are tricked into downloading malware via phishing mail or tricked into logging into fake bank sites, etc. or by being tricked into giving email passwords.

Home users are almost never hacked directly - home users' devices are not very high-value targets. Hackers do not target home users; they target businesses where rewards are greater. Hackers can be spammers who send out millions of phishing emails with links to counterfeit sites, password-stealing malware, or other malware. Remember, most personal information and identities are not stolen - hackers trick people into giving up personal info.

I hope this helps.
-------
JoAnn wrote back: "Hi TC. Thank you! Thank you! Thank you! That really helped me understand so much! I truly appreciate your expertise and way of explaining things! Sincerely, JoAnn."



Sandy asks about MajorGeeks and CCleaner
Some of the fellas I'm friends with are looking to download CCleaner. I told them what you said, even sent them the link to what you said about CCleaner. I told them I don't trust anything or any programs till I check them out with you. And I told they should do that too. One of them told me that he uses Major Geeks to check everything out. What is MajorGeeks and is it safe? It can't be as good as you people. I don't trust anyone but you.

Our answer
Hi Sandy. Thank you so much. Major Geeks is a basically a software download site with recommendations. It was number 2 on our safe download sites behind our top-rated download site, Snapfiles.

We are not a software download site so our site does not rely on the number of downloads we serve for our popularity.. In the case of CCleaner, the article we wrote was about Microsoft warning Windows 10 users not to install it. Once CCleaner was purchased by Avast it became (in our opinion) untrustworthy.

Here is our chronicle of what happened to CCleaner after Avast bought it:

https://www.thundercloud.net/infoave/new/avast-buys-ccleaner-then-distributes-an-infected-hacked-version-to-users/

https://www.thundercloud.net/infoave/new/ccleaner-now-comes-with-advertising/

https://www.thundercloud.net/infoave/new/ccleaner-does-it-again/

https://www.thundercloud.net/infoave/new/ccleaner-avast-still-playing-games-with-users/

https://www.thundercloud.net/infoave/new/windows-10-warns-users-not-to-install-ccleaner/

Each time Avast was caught changing CCleaner with ads, collection of user data, they "fixed" it and then turned around and did something else to it. So you may well see Major Geeks offering CCleaner for download without mentioning the tainted history it has had since Avast bought it.

And I can't tell you whether you can trust Major Geeks as much as you do us - that's a decision you'll need to make. We tell it like it is -- and always will.





Debbie has a problem with Windows 10 File Explorer after an update
Hi. My question is about a problem with my File Explorer. Ever since my last Windows 10 update (July?) when i type in the search for, within files it's delayed. I have to wait several seconds before it will let me type my query into it. Have you heard of anyone else having this problem and is there a solution to restore it back to its former self? Thanks in advance, Debbie.

Our answer
Hi Debbie. We have not heard of this problem, but that does not mean others are not experiencing it.

You can uninstall the update, but first I suggest you try following the instructions in our article here to fix any missing or corrupt Windows system files.

Let us know if this helps you.



The Best Computer Care and Repair - Anywhere!
We can fix your computer while you watch. You never have to leave your home. Just sit back, relax, and watch us work. Get PC service from folks you trust at the best prices you'll find anywhere.
Get more information here.

Isabelle wants to know how to tell when it's time to update drivers
I have followed you for many years. I love your newsletters and suggestions. Now I need your help. My husband and I are wondering how do we know if our computers are running with outdated drivers? Is there a way to find that out and which ones would need to be updated even if they are not outdated? Is there a list and where could we find that? I am afraid to just look on the Internet and then make a huge mistake by downloading and deleting something that was perfectly okay. Could you please help us out? Maybe you mentioned this in your newsletters before, but I can't find it. Your help is appreciated. I hope that you will always be here help us! Thank you so much and stay safe. Isabelle C.

Our answer
Hi Isabelle. As we have always said: "If it ain't broke, don't fix it."

If everything is working correctly, you do not need to update any drivers. And a reminder: One of the worst things you can do is install a driver updater program. Those types of programs almost always cause major problems.

Windows 10 update does some driver updates automatically.

But basically remember this - you need to worry about updating drivers unless a hardware device is not working correctly.

We hope this helps you.
-----------
Isabelle wrote back: "Hi TC. Thank you for your prompt reply, it did help. Have a great day and safe week ahead of you. Isabelle."





Bev says her touch keyboard taskbar icon is no longer working properly
Suddenly my Touch keyboard (still visible on taskbar) does not work. If I bring up the keyboard in settings, the emoji button is not there. I'm not sure if it was after updating Windows or Thunderbird. I have queried thunderbird but there doesn't seem to be any subject about it.

I wondered if anyone had the same problem or if you or anyone knows how to fix? I have searched the internet but all I get is how to get the touch keyboard icon onto the taskbar. I am using Windows 10 version 1909. Thank you, Bev P.

Our answer
Hi Bev. First of all, you can open the emoji panel using Windows Key +. (Period) or Windows Key + ; (semi-colon), so if your touchscreen keyboard is not working correctly you can open the On-Screen keyboard by typing OSK in taskbar search and pressing ENTER.

Next try right-clicking on your taskbar an unchecking "Show touchscreen keyboard" . Then restart your computer.

When your computer restarts, right-click on your taskbar and check "Show touchscreen keyboard". Then try it. See if it works. If that does not work, let me know.
-----
Bev wrote back: "Wow! I knew you could do it. I have the Keyboard back. I wonder why it had quit? Oh well it is fine now so I will keep these instructions for later. (hope I don't have to use then). Your letters, tips & tricks are the greatest. Keep them coming. I love your site. Bev P."



Gus is having problems with Windows Live Mail
I'm using my wife's computer now because I cannot send or read Email since the update on the 19th. I get the following message when I go to read my Emails

"Windows Live Mail encountered an unexpected problem while displaying this message. Check your computer for low memory or low disk space and try again."

I don't know what to do with this and would like to have your help. I can read the old Emails before the above date but can hot get to the new ones. You will have to reply to this Email because I cannot open the ones on my computer. If it will take a purchase to look into let me know and which one I will need. Thanks, Gus J.

Our answer
Hi Gus. Windows Live Mail is no longer a valid email program; it was discontinued a few years ago by Microsoft and has not been updated since 2016.

I (Darcy) worked on your computer in February and set up Thunderbird Email program for you. There should be an icon for that on your desktop, in your taskbar, and in your Start menu.

Let me know if you still need assistance.

Dick wants to get rid of all background programs except for Emsisoft
Thanks so much for your tip on removing unwanted start up programs. It worked great. Now if I could only figure out how to remove any unwanted programs continuing to run in the background. I only want Emsisoft to run and that's all. Usually when I sit down to work on my PC, I have to wait ten minutes or so for the background programs to stop running before I can do anything. It's very frustrating and probably a quick way to solve this problem but I just don't know what to do. I want to add to all the compliments you receive on a daily basis. I don't think there is any other computer service, in the world like yours. We are all so thankful to have you in our world.

Our answer
Hi Dick. Thank you so much! Windows has background programs that need to run in order for Windows to run. Things like DWM (Desktop Window Manager) and many others will always be running in the background and can't be stopped without disrupting Windows. So, there's no way to have only one program running in the background.

That being said, you can turn off all unnecessary background apps this way:

Open Settings (Windows key + i )
Click on "Privacy"
Click on Background apps (on the left)
Turn the switch under "Let apps run in the background" to "Off"


Another thing you can do is turn off SYSMAIN (SuperFetch) and Search Indexing service both of which drag on computer performance. See our tutorial here (it's #7 in the list). https://www.thundercloud.net/infoave/new/seven-easy-things-you-can-do-to-help-speed-up-your-computer/

And one more thing. You don't have to shut your PC down or put it to sleep every night. It does not shorten the life of a computer to leave it running and idle.

Windows 10 is a very slow starter - the average is 3 to 5 minutes to get it up and running from a cold start. Rather than shutting down your PC or putting it to sleep, right-click on the Start button, click on Power options. Set the screen to power off after 5 or 10 minutes (your choice) and set Sleep to "Never". I have a laptop so I have options for when the computer is plugged in (which work on desktops too) and for when the computer is on battery.




If you set your computer's power options this way, and you don't shut it down every night, your computer will be immediately ready for use whenever you want to use it. And the power consumption of the computer using these settings when the computer is idle is about the same as 1 or 2 small night lights. As far as service life, the computer I'm using right now is always on, never sleeps, and the only time I restart it is when necessary (updates, program installs that require a restart, restarting to fix a problem, etc.) and it's now 8 years old and runs better than my 3 year-old laptop.
-------
Dick wrote back: "Hi again TC. Your suggestion to turn off all unwanted programs running in the background was a lifesaver. My PC is running so much faster now, and I have also set the sleep modes to let it run all night. Thank you so much again and I have just purchased a gold gift from you for your help. Gee, there is nowhere else that us oldsters can get such fine help. Thank you once again, Dick."




Attention Cloudeight SeniorPass Holders! Announcing our new SeniorPass Telephone Hotline Service

Don't have a Cloudeight SeniorPass? It's a great deal. Learn more here.

During this global crisis, we are offering a special telephone hotline service to all SeniorPass holders. There are reports of many COVID19 scams targeting seniors. If you are approached by a scammer or encounter something suspicious, you can use our hotline to discuss your situation with us. We check into it for you and do all we can to help you.

If you currently have a SeniorPass, all you need to do is contact us. Send us your telephone number and a brief message/a> describing your problem and we'll call you back during normal business hours.

If you don't yet have a Cloudeight SeniorPass and you'd like to know more about our SeniorPass, please see this page.

Please note: Currently, our telephone hotline service is only available to SeniorPass holders in the United States due to international call restrictions.




How to Zip Folders in Windows 10 Without 3rd-party Software
Windows 10 (all supported versions)
Since Windows XP, Windows has had a built-in compression (or zip) utility. And while the images in included in this tip were created on Windows 10, if you're using Windows 7 or Windows 8.1 this tip pretty much works the same way. While not nearly as full featured as some third-party compression utilities (like 7-zip), the Windows compression (zip) utility lets you create zipped files and it's very easy to do.
You can create a zip file from folder on your computer. Here's how:
Chose any folder on your computer. For example, let's say you have pictures you took last Christmas in a folder in your Pictures folder. You can zip up your Christmas pictures folder this way:
Right-click on the folder you want to zip
Click on "Send to" then choose "Compressed (zipped) folder" from the menu which appears". That's it. The zipped file/folder will be created in the same location where original files/folders are located.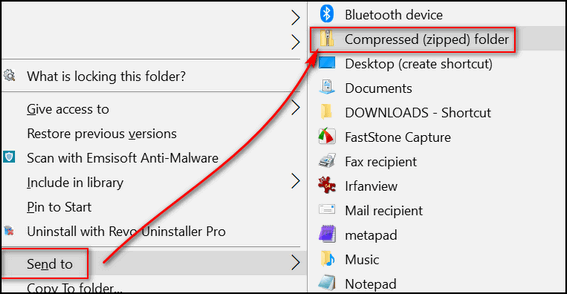 Below you'll see I created 3 test folders. I added some pictures to each folder. Then for this tip, I compressed (zipped) the folder I called Test Folder 3. See? The original folder remains untouched, but all the files in Test Folder 3 are zipped inside the Test Foler3 zipped file.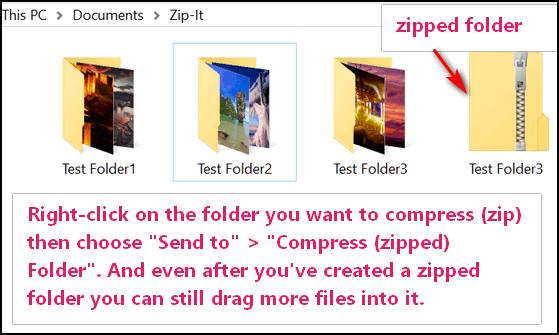 You can rename your compressed folder the same way you rename any other folder.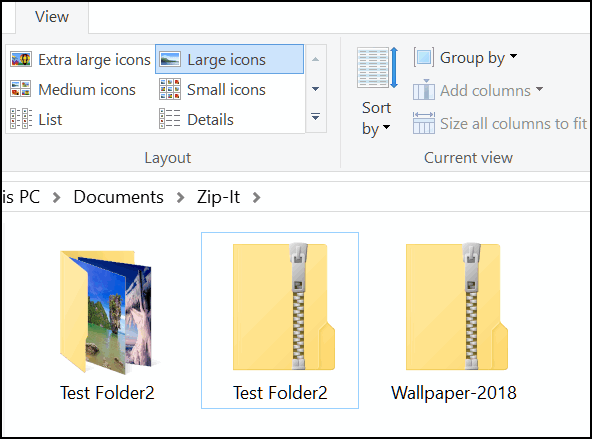 Notice above, renamed Test Folder3.zip to Wallpaper-2018.zip.
If you forgot to add some pictures to the folder before you zipped it, no problem. Here's how to add files to a zipped file.
Just drag and drop any file that you want to add to the zipped file, and it will automatically be included in the zip file.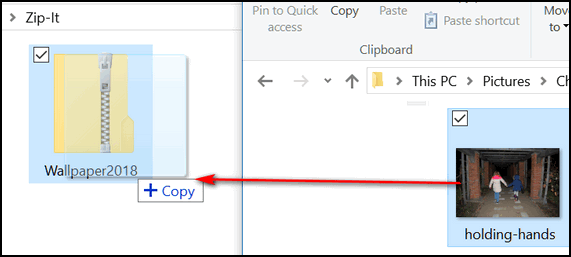 When you drag and drop a file to the zip file, it will be added to the zip file without changing or removing the original file.
Now you know how create compressed (zip) files in Windows 10 without using any 3rd-party software.



Another Way to Control Windows 10 Startups
Windows 10 (all supported versions)
As a rule, the more programs that start with Windows the more the computer's performance is negatively affected. So, it benefits all Windows users to take control of the programs that start with Windows 10.
As someone who has used Windows 10 since it's pre-release days, I am Task Manager oriented. In Windows 10 the Task Manager has a Startup tab which lets users control startups. And I'm guilty of forgetting the newer Settings > Apps > Start whenever I want to check on what's starting with Windows.
And I've learned over the years, you have to check your startups once in a while because, no matter how astute and aware you are, some things just seem to sneak into Windows startups. And I'm not talking about furtive malware or PUPs or bundled software -I'm talking about programs like Google Chrome, Opera, and some photo editors. Many programs have no reason they need to start with Windows – Chrome is a good example. I can open Chrome once Windows starts, it takes one click and maybe 3 seconds.
So, this is to remind you of what I'm guilty of forgetting – that you can control your startups using the Settings app instead of a 3rd-party program or the Task Manager.
Here's how:
Type Startup in the Taskbar search
Press enter or click on Startup apps or Open (whatever you like)
When Settings > Apps > Startup opens, you'll see a list of startup apps and under each, you'll see an On/Off switch. Turn the switches "Off" under the programs you don't want or need to start with Windows.
Remember, do not turn off your antivirus program – it needs to start with Windows. Otherwise, use good judgment as to what needs to start with Windows. Generally, the fewer programs that you allow to start with Windows, the better your computer will perform.



How to Make a Desktop Performance Widget from Task Manager
Windows 10 (all supported versions)
There's a performance widget hiding inside of the Task Manager and you can break it out of Task Manager and put it wherever you want on your desktop.
Here's how to do it.
1.) Open Task Manager by using the CTRL+SHIFT+ESC keyboard shortcut or right-click on the taskbar and choose Task Manager.
2. When Task Manager opens, if you have not previously opened it with "More details", you need to click "More details" at the bottom right of Task Manager.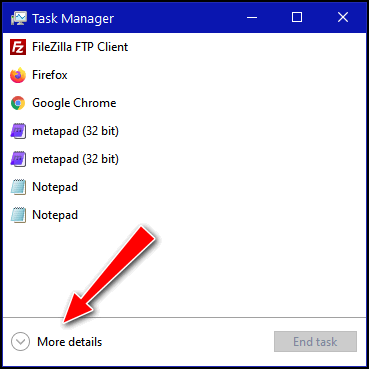 3.) When the full details view opens, click on Options, and select "Always on top".

4.) Click on the Performance tab near the top of Task Manager.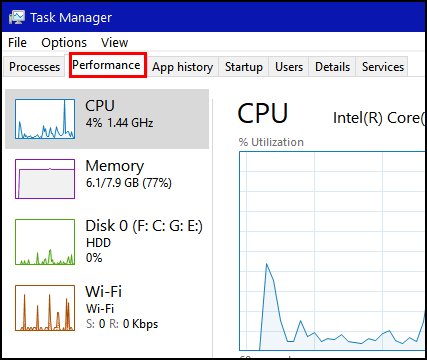 5.) Double-click on CPU or any of the other three performance monitors on the left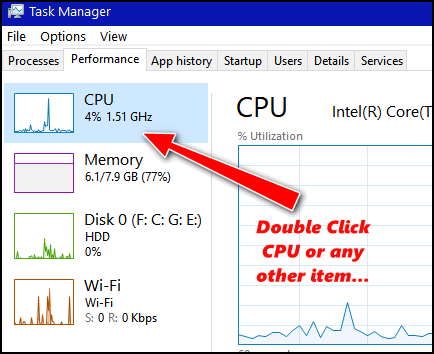 6. The Performance widget will break out of the Task Manager and appear on your Desktop. you can drag it around your desktop and place it wherever you want it.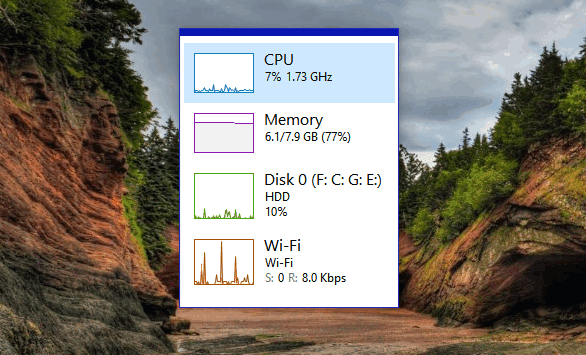 7.) And should you decide you don't want the performance widget on your desktop any longer, just double-click anywhere on it, and it will magically turn back into the Task Manager you know and love.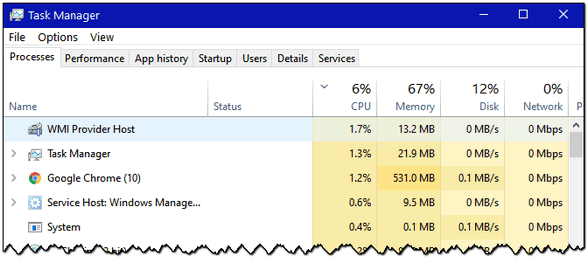 Want more tips, tricks, and information?
We have thousands of Windows tips, tricks, and more on our InfoAve web site.
Subscribe to our free InfoAve Daily newsletter.




Our special annual pass for computer repair for our friends 60 or older. See this page for more information.




Million Short vs. Google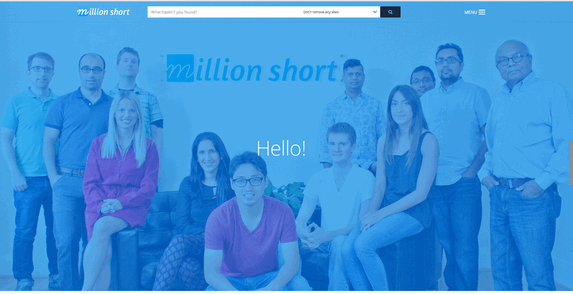 The title of this article reminds me of Mothra vs. Godzilla. Remember that movie? Anyway…
One of the things I enjoy the most is discovering something new. And sometimes discovering new things happens by accident. So, it was when I discovered a new search engine with the unlikely name Million Short.
I was reading a well-researched and well-written article about conspiracy theories and why some otherwise smart people are so wont to believe even the most bizarre of these theories. And in the article, he mentioned that he uses Million Short to do journalistic research claiming it is more customizable than Google and he gets better more accurate search results.
Whether or not it's better than Google is a matter of personal preference. I tried Million Short and while I am not ready to say it's better than Google, it is better than many of the other search engines I've tried. And I can tell you that search engines, like browsers, are personal choices. You should always use the one that works best for you.
Am I going to switch from Google to Million Short? Probably not. But I will make Million Short my alternate search engine. It is very good.
Here's some information from Million Short.
Discover

Join the millions who are choosing a better search experience.

You're a Million Short of your next discovery! At Million Short, we are boldly going where no search has gone before. In developing a more exploratory tool, our innovative search technology and filtering options will allow you to probe beneath the surface, revealing an untapped wealth of information.

Customization

Fine tune your search to customize your experience.

Million Short allows you to customize how you search the web. Results can be filtered by popularity, shopping, advertising, privacy, country and communication.

Popularity

Refine your search results by the number of sites included or excluded from your search.

e-Commerce

Refine your search by choosing to include or remove eCommerce sites.

Advertising

Filter your web sites by choosing to include or exclude websites with paid advertising.

"…You'd never tolerate a total lack of choice in your everyday life. But think about your Internet search habits. Notice anything? No options. No control. Internet search has failed to keep up with the fast-paced evolution of other technologies. Instead, search has stagnated.

Think about it: when was the last time you were truly excited by a new Google search feature? It's probably easier to remember the last time you were frustrated by the number of ads you had to sift through to get the results you were searching for. If you're a small business owner or entrepreneur, it's probably easier to remember the last time you were frustrated by the way that Google's SEO rules felt stacked against you.

Search is not a solved problem. That's why we created Million Short — to remedy the lack of Internet search options and to give users greater control over their online search experience…

Instead, our status-quo search tools have… given us filter bubbles and echo chambers. Even worse, the companies that we've trusted as the custodians of our online experience have continually proven themselves unworthy of that trust…

Every individual should have the right to explore the world wide web on their own terms.

A tremendous opportunity is before us. The world needs options for search engines. Million Short is here to guide people on the road less traveled by providing alternate methods of organizing, accessing and discovering the vast web of information that is the Internet. Through advanced filtering and other unique features, we put control back into the hands of the searcher. We empower users with options and control. We respect our users' privacy. And we're just getting started…"
So, there you go. Is Million Short as good as Google? That's up to you. But it sure won't hurt you to give it a shot, right? Give Million Short a try and see what you think.




A Day in the Life
"I read the news today, oh boy…"
Well howdy, folks. This is just a brief little ditty about a day in my life. I live such an interesting life. I don't want any of you to feel that you need to keep up with me. Some of you reading this may feel your life pales in comparison to mine so I'm going to give you but a few hours of a day in my life so as not to make you feel too bad about yourselves.
Today, I woke up around 6:30 and made coffee. I have a Bunn. I don't have one of the Keurig pod deals. I want a coffee pot, not a robot.
And if you don't know what a Bunn is – never mind. Anyway, a Bunn makes coffee in 3 minutes so while I was making coffee, I headed to the bathroom to do something. When I came back, I was disappointed that the coffee was not done. I should take more time in the bathroom, I guess. So, I fiddled around in the kitchen, killed a couple of ants, and looked in the refrigerator for nothing in particular.
Three minutes of my day were already in the can (no pun intended)...
Please read the rest of this essay here.


VERSION 8.50 NOW AVAILABLE!
If you purchased or renewed Reg Organizer through Cloudeight within the last 12 months, you're entitled to a free version upgrade to Reg Organizer 8.43.

Save $14 on Reg Organizer right now!

Reg Organizer - A Swiss Army Knife of Windows Tools - Works Great on Windows 10!


What is WebP?

WebP is the newest image format developed by Google. The main advantage of WebP is that it reduces the file size of an image up to 30% compared to files in JPG or PNG format, without any noticeable loss of image quality. This means you can store a lot more pictures in the same amount of disk space.

But that's not all WebP is good for. Since WebP images have smaller file sizes, large images open more quickly on the web. And because of reduced loading times, more and more Web sites are using WebP images more frequently.

On the downside, some web browsers like Apple's Safari don't yet support WebP images. And Internet Explorer does not support WebP images and never will.

If you're using Windows 10 you can open WebP images without installing any 3rd-party programs by right-clicking on a WebP file and choosing "Open with" and selecting Chrome, Microsoft Edge, or Paint.
To see examples of JPG images converted to WebP, see our article here.






Help Us During our Summer 2020 Donation Drive
If you don't need any of our products or services right now, consider helping us with a small donation.
When you support us with a small gift, you help us continue our mission to keep you informed, separate the truth from the hyperbole, and help keep you safe online. And our computer tips make your computer easier to use.
Did you know that we provide support to thousands of people? Every week we help dozens of people via email at no charge. The questions and answers you see in our newsletters are from the email answers and help we provide to everyone free of charge.
Thanks to your gifts, we do a lot more than provide this free newsletter. We help you recognize online threats, fight for your online privacy, provide you with the knowledge you need to navigate the Web safely, provide you with suggestions for safe, free software and websites, and help you get more out of your PC.
Please Help us keep up the good fight with a small gift.
Interested in making an automatic monthly gift? Visit this page. Help us keep helping you... and helping you stay safe on the Web.




Sales of the following products and services help support our newsletters, websites, and free computer help services we provide.

Cloudeight Direct Computer Care: Single Keys, SeniorPass, or Season Tickets - always a great deal. Cloudeight Direct Computer Care is like having PC insurance. Get more information here.

Emsisoft Anti-Malware: Emsisoft is the only Cloudeight endorsed and recommended Windows security program. It provides users with a complete antivirus, antimalware, anti-ransomware, anti-PUPs solution. We offer single Emsisoft licenses and multi-computer licenses at discount prices. Also, we offer our exclusive Emsisoft with Cloudeight installation & setup. Get more information here.

Thunderbird Email Setup: Thunderbird is a great email program that you can use with your Gmail and Outlook.com (Hotmail) webmail accounts as well as with your Internet provider's email. We'll set it up correctly you. Our set up includes configuring up to 3 email accounts and setting up Thunderbird to use stationery (if desired). Our Thunderbird Email Setup Service is always a great deal. For more information visit this page.

Reg Organizer: Reg Organizer is the Swiss Army Knife of Windows tools. It's far more than just a registry optimizer and cleaner... it's a Windows all-in-one toolkit. Reg Organizer helps you keep your computer in tip-top shape and helps you solve annoying Windows problems. Reg Organizer works great with Windows 10! Get more information about Reg Organizer (and get our special discount prices) here.
SeniorPass - One year of Cloudeight Direct Computer Care - unlimited sessions! Get more information here.




These products and services are recommended and endorsed by Cloudeight:




We'd love to hear from you!

If you have comments, questions, a tip, trick, a freeware pick, or just want to tell us off for something, let us know.

If you need to change your newsletter subscription address, please see "Manage your subscription" at the very bottom of your newsletter.

We received hundreds of questions for possible use in IA news. Please keep in mind we cannot answer all general computer questions. We try to personally answer as many as we can. We can only use a few to in each week's newsletter, so keep this in mind. If you have a support question about a service or product we sell, please contact us here.

Subscribe to our Daily Newsletter! Get computer tips & tricks every night. Our daily newsletter features a computer tip/trick or two every day. We send it out every night around 9 PM Eastern Time (USA). It's short and sweet, easy-to-read, and FREE. Subscribe to our Cloudeight InfoAve Daily Newsletter!

Print our Cloudeight Direct Computer Care Flyer and spread the word about our Cloudeight Direct Computer Care repair services. Get our ready-to-print flyer here.





We hope you have enjoyed this issue of Cloudeight InfoAve Weekly. Thanks so much for your support and for being an InfoAve Weekly subscriber.

With hope and prayers, may you and your loved ones stay safe and well.

Your friends at Cloudeight,

Darcy and TC
Cloudeight InfoAve Weekly - Issue #881
Volume 17 Number 44
August 28, 2020

Not a subscriber? Subscribe to our FREE Cloudeight InfoAve Weekly Newsletter here.

Subscribe to our Cloudeight InfoAve Daily Newsletter!

Share Us on Facebook!
We'd love for you to share us with your family and friends on Facebook. Help us by sharing us on Facebook!






"Cloudeight InfoAve Weekly" newsletter is published by:

Cloudeight Internet LLC
PO Box 73
Middleville, Michigan USA 49333-0073

Read our disclaimer about the tips, tricks, answers, site picks, and freeware picks featured in this newsletter.

Copyright ©2020 by Cloudeight Internet