QuickNotes! II
(Gift Gallery for Mail List Members)
The QuickNotes Gift gallery features artwork by Griselda Tello. You will all be seeing more of her work in one of our upcoming full collections of CloudEight Stationery. We invite you all to take a few minutes and visit her beautiful site. And we'd like to thank Griselda for allowing us to use her work!
Listed below are the titles in QuickNotes Gift Gallery for our mail list subscribers. Click on the title of the stationery to see its preview. The stationery in this collection have the prefix qn-gift2

Have you seen our CloudEight Acpressions™? You can express yourself just the way you want!
Greetings From The Cool Cats Of Smileycons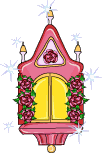 The fun, family-safe Smileys! Cloudeight Smileycons
Try Smileycons Free Right Now - Learn More - Click Here

All content copyright �2000 by CloudEight Internet Designs