Welcome to our Quicknotes 131 Dance of Dreams home page!
Welcome to Cloudeight Stationery's "Dance Of Dreams Quicknotes 131: The Art of Josephine Wall" stationery collection. This collection features the beautiful and unique art of world-renown English artist Josephine Wall. We offer our since thanks to Josephine Wall for giving us permission to use her art in this stationery collection. You can thank her to by visiting her Website at https://www.josephinewall.co.uk/ . She would appreciate your visit and hearing from you as well.
Listed below are the titles of each of the selections from this stationery collection. You may click on each title to see a full preview of each QuickNotes design. Due to the small file size of the entire collection, QuickNotes are not available as individual selections. QuickNotes are small and easy to send - they do not scroll nor do they have music.
If you need help using our stationery, please visit our award-winning Help Page. Also, for more information and answers to frequently asked questions, see our FAQ page. All stationery in this QuickNotes collection has the prefix "qn131-dance-of-dreams" for your convenience in locating selections from this collection in your default stationery directory.
Quicknotes 131 Dance of Dreams
A Cloudeight Quicknotes Collection
Download the QuickNotes 131 Dance of Dreams Collection
Download the QuickNotes 131 Dance of Dreams Collection
This stationery collection is 100% compatible with all versions of Windows Vista "Windows Mail". Please be sure to download the Vista "Windows Mail" version when selecting your choice from the available versions. This collection is also available for Windows 98, Windows ME, Windows NT, Windows 2000, Windows XP Home, Windows XP Media, and Windows XP Professional.
CalendarPal - Our 5-Star Award Winning Weather Calendar with Reminders, Todo lists, notes, & more!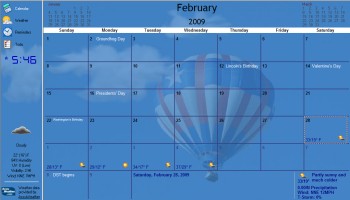 Springs Brings Severe Weather - Get Instant Weather Alerts with CalendarPal! If you haven't tried CalendarPal yet, please try our free 15-day fully functional trial. Spring is the season of change and brings with it the threat of severe weather. CalendarPal offers instant severe weather warnings with audio and visual alerts so you'll be notified instantly of any warnings or watches posted for your area. It's just another good reason to have CalendarPal installed on your computer. Not to mention the reminders, perpetual calendar, to-do lists, events, notes on the calendar, local weather conditions and forecasts, and more. Try CalendarPal and see how this unique program can help you organize your life while keeping you up-to-date with local weather alerts, conditions and forecasts wherever in you're located in the world. Try a fully-functional trial version of CalendarPal right now and see for yourself. CalendarPal is not a subscription, it's a lifetime license. If you decide to order it, it's yours for a lifetime. Try CalendarPal right now!
New Spring Themes For CalendarPal
To all of you who have our CalendarPal program installed, we have some new themes available for spring You can see all our free themes for CalendarPal at https://calendarpal.com/themes/ . If you're looking for holidays, visit our free holiday themes page at https://www.calendarpal.com/themes/holiday-themes.html .
stationery | acpressions | funletters | quicknotes | screen savers | wallpaper | wonderscreens
smileycons | calendarpal | foldermagic | twitter | contact us
All content is copyright © 2009 by Cloudeight Internet; images used are copyright by ©Josephine Wall and are used with the written permission of the artist. We provide these stationery designs free for your personal and business use. You may use the stationery freely but you may not alter the designs in any way. If you have any questions please contact us.