Sometimes the default setup of email programs is really bizarre. Take carets for instance. Have you ever gotten an email that looks like this?
>Hey Freda,
>Thanks for the tip
>on the hot water bottles!
>I bought 25 of them!
>Bluto has worms. He's taking medicine
>Love,
>Martha
+++++++++++
>>Hey Martha,
>>Did you know
>>they have hot water
>>bottles on sale
>>at Bizco for $1.99?
>>I bought
>>20 of them!
>>How's Bluto doing?
>>Love,
>>Freda
Isn't that ugly? No, we don't mean the content of the email, we mean the carets - you know >>>>> those things!
Now, before you all fire up your email program and tell us about the gazillion little programs out there that remove these things; we'll tell you we know there are a gazillion of them...we've tried most of them. See why we get behind so much?
Anyway, did you know you can use notepad to clean up these caret-laden emails? You can and it's easy. And Notepad is a standard Windows program on every version of Windows since Windows 95. In fact, it's the standard reader for all text files.
OK. We're going to show you how you can use Notepad to clean up these carety (is that a word?) emails.
1. Fire up Notepad by clicking Start/Run. Type notepad.exe and press the Enter key.
2. Cut the email by highlighting the text that contains the carets (to cut, highlight and click CTRL plus the X key), and paste it in Notepad (To paste click "CTRL+V")
3. On Notepad's toolbar - click replace
4. In the dialog which appears, next to "Find what:" put >
5. Next to "Replace with" leave it blank (see picture below)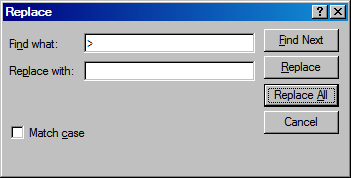 6. Click "Replace All"
7. Close the dialog by clicking the "X" in the top-right corner.
When you're done you can realign the text and you'll get something that looks like a real email (see this picture).
Now, put your little cursor in the text field of Notepad - press the CTRL and the "A" keys (to copy all the text). Go back to your email and paste the whole shebang.
This is exactly how all those email strippers work - so you don't need another program to remove carets. All you need is love Notepad.
And remember, all this will do you no good if you allow your email program to continue to caretize (a new word?) your email. So, see this page to learn how to prevent Outlook Express from adding carets to every email you send. And, don't forget to send this tip to your friends who are not privy to all this good information :)