Cloudeight InfoAve Premium
Issue #725
Volume 14 Number 46
September 1, 2017

Dear Friends.

Thank you very much for subscribing and for being a part of our Cloudeight family. We appreciate your membership and support very much!
Remember: To ensure delivery of this newsletter, please add our email address to your address book and / or alert your ISP should you need to have it whitelisted in order to receive this newsletter. We send this newsletter from our new email address, cloudeight-news@thundercloud.net.

Holiday Edition: Labor Day Weekend
As is our custom on major holidays, we issue a review edition of InfoAve Premium. But today's issue is not all review - there's quite a few new things in today's issue, including some tips and tricks that were submitted by our readers. We hope you enjoy this special edition of InfoAve Premium. We wish all our readers in Canada and the USA a very happy and safe Labor Day Weekend.
Also, this weekend, please say a prayer for all of the victims of Hurricane Harvey.

Attention Cloudeight Boosters!
We've extended the Cloudeight Boosters' Appreciation Sale through September 4, 2018. So, you still have time to save $60 on Cloudeight Direct Computer Care Season Tickets! Log in to your Cloudeight Boosters Home Page - all the information is right on the page that opens immediately after you sign in.

Not a Cloudeight Booster? Make a donation and you can join our Cloudeight boosters. We offer our boosters special sales and freebies. Please consider joining us.


Buy One Get One Free - Back to School Special
Sale Extended Through the Holiday Weekend!
It's hard to believe that it's back to school time already. For a limited time, we're offering you a chance to buy one Cloudeight Direct Computer Care Repair Key and get one FREE. You can keep the both service keys for yourself or share one or both with a family member, friend or student of your choice.

Buy your keys now, use them when you need them. They never expire! Our Cloudeight Direct Computer Care repair keys are always good until you use them. Think of our computer repair keys as inexpensive insurance for your computer!.
Our Back to School Buy One Get One Free Sale has been extended through Monday September 4, 2017.
A note about the September 4, 2017 Price Increase on Cloudeight Direct Care Repair Keys.
Summer is our slow season so we've been featuring special prices on our Cloudeight Direct Computer Care Services. However, autumn and winter are busy times. We'll be announcing a small price increase for single session Cloudeight Direct Keys on September 4, 2017. So, take advantage of our Buy One & Get One free special right now. We've extended our BOGO sale through September 4, 2017.





Here are some important links for you:




A comment from Gary
I just want to thank TC for all his help last Tuesday. He came onboard at the early hours of the morning and set up my computer windows 10 with windows 7 look and installed Emsisoft as well as uninstalling Eset what a mission, but once done every thing is working fine, I can not thank you enough for your time, i have no problems recommending any body in New Zealand to using your service and i will certainly use you again, thank once again.

A comment from Judy
Just had to say thank you! I don't know Cathern, but as a concerned citizen I totally appreciate your helping her get back her money from those computer scammers. We work HARD for our money, I love hearing a story where the bad guys lose and we win. Thanks EVER so much, you guys are the best in the business in my books. If I had lots of money, you would have some too.
A comment from Ruth Ann
A thousand thanks, TC for your help during my session Tuesday. You found one item of malware which you removed. I haven't had a problem since. I am very glad that you stopped those annoying popups that I couldn't read anyway. I appreciate your installing Thunderbird Mail. I am getting used to it now. It is convenient to have mail from all three email addresses show up on the same page. It looks like Thunderbird's spam filters are better than Windows Live Mail's, too. I was getting a lot of spam at that address. It was letting spam through, yet keeping some of your newsletters and your connection letters from coming through. What kind of sense does that make?
A comment from Jacquie
I have just had another of those mind boggling sessions with the incomparable mistress of the Internet. I have had trouble with my Thunderbird mail and as ever, Darcy has devoted considerable time, thought (and not to mention infinite patience with my considerable lack of knowledge) in giving me an easy to follow solution. If you have a problem and you are in any doubt about using the first rate services from C8 get in touch with them immediately. Their approach cannot be bettered.

A comment from Sandra
I just want to say thanks to TC for coming and helping me on this computer of mine. After some investigation he found why my computer was so slow. I had a corrupt file and a service running that was causing my computer to use up all kinds of resources. Once he found the problems he was able to fix things up and now my computer runs so much faster. I can't believe how easy it was to sit here in my home and watch him fix my computer. Not having to have some stranger come into my house or take my computer to a service place was awesome! I am so thankful for TC and EB and for the services and information they provide.

Thanks so much to Gary, Judy, Ruth Ann, Jacquie, Sandra and everyone who has taken time to write to us. And thanks all those who used our Cloudeight Direct Computer Care services . Don't forget! We've extended our Back to School Special through September 4, 2017. Buy one Cloudeight Direct Computer Care repair/service key - and get one FREE.
Also, a BIG thank you to all who have helped us with your donations and those who have shared our site with their friends. THANK YOU! EB & TC.






Ralph wants to know what happened to System Restore in Windows 10
Where did system restore go in win 10, can't find it where it used to be.

Our answer
Hi Ralph. System Restore is on Windows 10 and it's easy to find. Press & hold down the Windows Key and tap the E key to open File Explorer. Right-click on "This PC" in the left pane of File Explorer, and click "Properties". click on "System". When System Properties open, click on "System Protection:. It's right there on the left side. Here, we'll show you: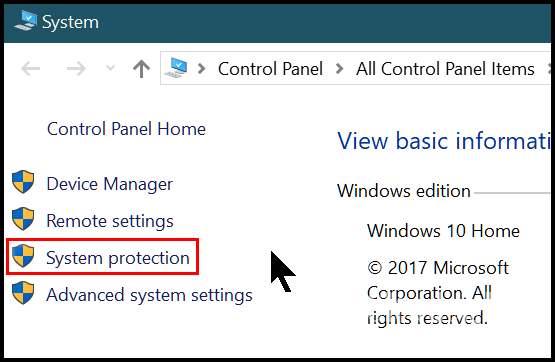 And you'll see not only can you access System Restore from there, but you can also configure its settings from there as well.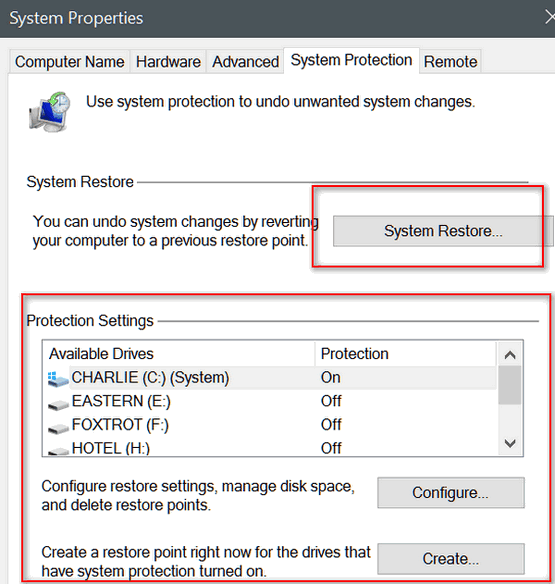 If you want an even faster way to get to System Restore, see our tutorial on making a shortcut to System Restore.



Rebecca has Emsisoft but still a scam showed up on her computer
I turned on my laptop Sunday evening and up popped the same scam you wrote about. I was surprised because I DO use Emsisoft and it is up-to-date. i just hit the power button and turned off the computer, and once restarted the did now show up again. Just thought you should know that it did get through! I still trust Emsisoft, as this seems to be a new twist to malware and I know they will eventually catch up to it. Thanks for the heads up though.....I didn't panic!

Our answer
Hi Rebecca. Neither Emsisoft nor any other security program can keep you from being scammed. Even pop-up and ad-blockers can't block all of these kinds of ads. Nothing can prevent you from being scammed, except one thing: You. The warning screens you see that pop up in your browser are not viruses, Trojans or even malware - they're advertisements designed to frighten you and cause you to panic and to call a number and/or download something. They try to scare you into buying repair services you don't need. They offer to clean up your PC and get rid of the terrible things on your computer. But...there is nothing installed on your computer at the point you see these kinds of ads. There is nothing to clean up and nothing to protect you from. These are tricks to get you to part with your money.

The fact that the ad may appear to be malware and are coming from your computer, is how the ad was made. These are carefully crafted ad designed to fool you into thinking it is malware taking over your computer... sometimes complete with beeping sounds and pictures!

We have written many times that the #1 security software you can use is the software between your ears. Recognizing when something isn't right is the first step in stopping scammers, as well as protecting your computer from problems.

Emsisoft is doing its job - preventing malware from being installed on your computer. Had you called or contacted the scammers they probably would not have installed malware on your computer either - they would have run a bunch fake scans designed show that your PC is infected. Then they would have installed some freeware on your computer and run another fake scan on your computer showing the infections were cleared up. And for this, they would have charged you up to several hundred dollars. For the outrageous prices charged by most of these scammers, you could buy a new computer.

Most of the time, you can get rid of these fake warnings by pressing ALT+F4. Some of them can't be closed with ALT+F4, and require you to open Task Manager and end the browser processes - or just shut down your PC. You did the right thing. Powering off your computer is a quick & sure way to get rid of the web page that looks for all the world like it's part of your computer. Good job!

We want to remind everyone that if they shut down the browser using Task Manager or restarting the PC, most browser will see that as a browser crash and offer to restore the pages that were open when restarted or ended the browser processes in Task Manager. Never allow the browser to restore the pages in this situation. If you do you could find yourself right back in the same situation - with the big fake warning on your screen. Just decline the offer to restore pages, and give your browser a fresh start.

For those who have never seen a what one of these scams look like, read this article.



Ann asks about firewalls and security programs
I have read your articles in regard to iOBit products, I have been using Advanced System Care for quite a long time as it was very convenient to have fire wall and security under one program, now that it is almost expired and I must purchase another program, I would appreciate any suggestion you may have for a safer product, I am also looking into the possibility of Emsisoft, but I am still left with needing a safe firewall and security system. I have never had any problem with IOBit, and find myself questioning whether to renew or not. Any help would be most appreciated, I look forward to your regular newsletters and read very carefully anything that could possibly affect my computer system. Thanks for your assistance. Ann

Our Answer
Hi Ann. We use and recommend Emsisoft which is all the security you need. It is an antivirus/antimalware/anti-adware/anti-pup. Windows Firewall will automatically start when you remove iOBit. It is all the firewall you need despite what the people selling 3rd-party firewall tell you. In fact, we could make a lot of money selling firewalls, but we won't sell what we don't use, or what you don't need. Here is some reading on firewalls: http://thundercloud.net/infoave/new/you-don't-need-a-firewall/

Here is our order page for Emsisoft. We have an option to have us remove all current antivirus programs/suites, and install, Emsisoft for you. Or, you can download and install Emsisoft yourself. You will find more info here - http://thundercloud.net/emsisoft .





Betty wants to join the world of Wi-Fi with a nine-year-old desktop
Time to join the world of wifi and I am wondering what is the best way to connect? I have a 2007 Gateway desktop and it runs like a brand new one, thanks to you two. I need wifi now for my kindle fire. What do I need to buy? Thanks for your help as always.

Our answer
Hi Betty. We want to remind you that if you're running Windows XP or Windows Vista, there is no way to secure your computer against the new threats that were created when Microsoft discontinued support for Windows XP and Windows Vista, so keep that in mind. Right now, you can get nice laptop, more powerful than your 2007 PC for around $300. If you're running Windows 7, you're good to go until January 2020 - assuming your PC's hardware holds out.

Now, to answer your question. A nine-year-old desktop probably does not have a wireless adapter. The easiest and best choice for you would be to buy a Wireless USB adapter. All you have to do with a Wireless USB adapter is plug it in to any open USB port, follow the easy set-up instructions, and your desktop will be Wi-Fi ready. Not only is it easy to enable Wi-Fi on your PC this way, it's also inexpensive. You can get a Wireless USB adapter for less than $20. Here's an example.

Hope this helps you, Betty.





Bill wants to make a Windows 10 installation USB
II upgraded my Windows 7 computer to Windows 10 - so far so good. I'd like to make an installation USB. My question is, should I make the USB or should I make an installation DVD. Love your newsletters!

Our answer
Hi Bill. Thank you. Great question. Whether you use a USB or DVD depends on what your computer's boot sequence is - is your computer capable of booting from a USB? If you can't boot your computer having a Windows installation disk or USB will come in mighty handy. If your computer won't start, you can start your computer with your Windows installation USB or DVD and access all the Windows 10 troubleshooting tools. You can also access system restore and system reset. And if all else fails you can clean install Windows from your installation USB or DVD.

As a general rule, if your computer is older than 2 or 3 years, and you're not familiar with changing the boot sequence in the BIOS, you should definitely make the installation DVD as opposed to an installation USB. If your computer is less than 2 or 3 years, you could probably use the USB; your PC mostly likely boots from a bootable USB drive out of the box.. If you're not sure, and you're not familiar with BIOS settings, then making an installation DVD is the way to go.

If you have a newer computer and it has no DVD/CD drive (and many new laptops do not) you'll want to make the installation USB flash drive, since your computer can boot from a USB flash drive.

Visit this page to see a tutorial showing how to create a Windows 10 installation DVD. You can make an installation USB following this tutorial too, you can see where Windows gives you a choice of creating a USB or DVD.





Jenny loves Thunderbird, but needs to know how to create groups for mailing
Thank you for installing Thunderbird for me. I love it. I have a question though. In Windows Live Mail I could create a group in my address book I could use to send mailings to members of my dog rescue group. I can't figure how to do it in Thunderbird. Can you tell me how to do it? Thanks!

Our answer
Hi Jenny. It's very easy to create a group of addresses for group mailings. Here's how:

1. With Thunderbird open, click "Address Book: from the Menu
2. Choose "New List"
3. Give List a Name - the name of your group would be great
4. Add all the Contacts you want to send mail to, to the list. Hint: If you type the first letter or two of a person's name or email address you will see it show up in drop down menu and you can choose it from there.

OK. Now that you have your group created, you'll want to send an email to everyone in your group. And here's two ways to do that..

1. With "Address Book" open, click the name of the group you created and then click Write.

2. Or, From main menu of Thunderbird, click Write, and then type in the first letter or two of the name of your group in the "To" field, and click the name to choose it from the drop down menu.

Hope this helps you, Jenny.




Mary can no longer move her desktop icons
It seems I can no longer move my desktop icons around. It is really quite annoying. Do you have any suggestions to remedy this. Thank you, Mary.

Our answer
Hi Mary. You probably set them to auto arrange; right click on an empty space on your desktop and uncheck Auto-arrange icons, but leave "Align icons to grid" checked as that spaces them nicely when you move them around.

Mary wrote back: Thank you so very much for your quick response and solution. Mary



Sonia asks about AbiWord - last week's freeware pick
Hi TC EB can you help I down loaded AbiWord ( I think that is correct) via the news letter my question is . How do I open up any saved items in my documents and right click on it and want it to open in AbiWord at present they only open with pictures and I would like AbiWord to take over anything written in documents with thanks and blessing Sonia,

Our answer
Hi Sonia. We are sorry to say that you cannot set AbiWord as a default program to open Word documents (.DOC, DOCX,), text files (.TXT), or RTF (RTF) etc. It's not made to be a Windows default opener. You can open AbiWord and then open any of those kinds of files (and many more) but you can't make those files open automatically or always open with AbiWord.
You can download free office programs like OpenOffice that you can set as default opener for Word docs and other MS Office files, but sadly, not AbiWord.


One Year Emsisoft License With FREE Installation & Set-up
Send your favorite student back to school with the best PC protection available. Protect them from malware, ransomware, viruses, Trojans, PUPs and more! During our Emsisoft Back to School Promo, we'll even install Emsisoft and set it up for best protection free. All for the price of a one-year license. Best protection - installed and set up for you - can't beat this deal. And this offer is available to everyone - student or not.
See this page for all the details.



Today's issue features Windows tips & tricks submitted by you, our readers. We had so many tips and tricks submitted, we couldn't use them all in one issue, so we'll be featuring more reader's tips & tricks in future issues of InfoAve Premium. The following tips & tricks we among the first submitted. Thank you for all the great tips you sent to us.
A Windows Tip from Philip: Using the Windows Key + M shortcut
Windows 7, Windows 8x, Windows 10

I enjoy the Windows key + M. It lets me pause a game I am playing and also turns off the sound. I can pause the game when ever the phone rings or when I need to use the restroom! I can also instantly use this trick to pause what ever I am doing and go right to the desktop to get an incoming email.





A Windows 10 Tip from Enid: Windows 10 Snipping Tool
Windows 10

UUsing the Snipping Tool as found under Windows Accessories. Now with Windows 10 you can not only save the piece you select but print it, as well as forward it. You can have it as a shortcut on the desk top so it is there for easy access. An improvement with 10, as previously you had to save it first, before you could do anything with it. The Snipping Tool is used when you see a piece or article you would dearly like to save or print or forward for future reference. You don't have to download it, it comes with Windows and is very easy to use.



Two Windows Tips from Barbara: Browser Screen Size & Right-clicking the Windows 10 Start Button
Windows 7, Windows 8x, Windows 10br />
I like the F11 feature to give more screen size when using my browser. Press F11 to open the browser to full screen, then press F11 again to return it to normal.

A another tip (for Windows 10). This one I use all the time now. Right-click on the start button for many functions. I use it most often to shut down my PC.

A note from TC & EB: Windows Key + X opens the same menu as right-clicking the Windows 10 start button.



A Windows Tip from Ted: Copy & Paste
Windows 7, Windows 8x, Windows 10

There is one tip I use constantly, learned it from your newsletter many years ago, along with many other things. Ctrl + C to copy and Ctrl+ V to paste. That has saved me so much time over the years. Enjoy your long weekend you deserve it.



A Windows Tip from Shirley: The Degree ° Sign
Windows 7, Windows 8x, Windows 10

I seem to need the sign for degree quite frequently, so I use alt 0176 on the numerical keypad for Windows10. Degree sign °

A note from EB & TC: For those without a numerical keypad (for instance some laptop users). You can use the Windows Character Map. Windows Key+R to open a Run box. Type CHARMAP in the run box and press Enter.




You can select and copy the degree sign ° from the Character Map and paste it in a document or email.

Rich Has Two Windows 10 Tips to Share: Opening Programs & Setting Up Bookmarks
Windows 10

I like it that you frequently feature keyboard shortcuts since I hate using a touchpad, or even worse, a mouse. To open a program in Windows 10 press the Windows key, then type the first letter (or letters, if necessary,) then press [Enter]. For example, to open Firefox I press the Windows key, type f, then [Enter]. To open Chrome, I press the Windows key, type ch, then press [Enter].

I also set my bookmarks up for quick and easy opening via the keyboard. When I name a page I bookmark, I start the name with a digit, for example 3 - Weather. That way ALT + B opens the bookmarks menu in Firefox, then typing 3 takes me to my weather website without even pressing [Enter]. You can use all the digits from 1 to 0 and also any letters that aren't already initial letters on the bookmarks menu.



Connie's Tip: Create Folders & Stay Organized
Windows 7, Windows 8x, Windows 10

I save a lot of information on the internet so I make folders that I keep on my desktop. For instance, I make jewelry, so I have a folder to store any information relating to jewelry. Another for music from YouTube, etc. I also keep my favorite sites on the desktop like Amazon or Facebook so I can just click on them to open.



Two Tips from Rhea: Printing and Copying & Pasting
Windows 7, Windows 8x, Windows 10

One very helpful tip I learned from you years ago has come in handy so many times and that is when I want to print something and cannot find a printer icon on the tool bar is to highlight what I want to print, hit CTRL + P and when the printer screen comes up , press print and tick selection.

Another tip I learned a while back: If you want to copy and paste something and send it in an email or even a letter, press CTRL + C to copy. Then I want to include it in an email press CTRL+V to paste.



A tip from EB & TC: About Your PC
Windows 10 (all versions)
If you're running Windows 10, you can get a lot of details about your PC by typing one word and doing one click.
Yes you can. So, step right up and read all about it!
You can learn what version of Windows you have, what version of Windows you have, how much RAM your PC has installed, what kind of processor(s) and more. Plus you can see your computer's name and rename it to something else just by clicking a button and typing in a new name for your PC.
If you are using Windows 10, just type ABOUT in the taskbar search (Cortana) and click on "About your PC" when it appears at the top of the search results. (Tip: If you have hidden your taskbar search icon, just press Windows Key + S to open Search.)
See? Your PC info at your command!
You can get your current Windows 10 version, your processor type, how much RAM you have, if you have a 32-bit or 64-bit computer and amore. All by typing one little word: "About".
Heck, you can even rename your computer from here. Whatever you do, do not change the name of your PC to EB, or you'll be sorry!


Buy One Get One Free - Back to School Special
Sale Extended Through September 4, 2017
It's hard to believe that it's back to school time already. For a limited time, we're offering you a chance to buy one Cloudeight Direct Computer Care Repair Key and get one FREE. You can keep the both service keys for yourself or share one or both with a family member, friend or student of your choice.

Buy your keys now, use them when you need them. They never expire! Our Cloudeight Direct Computer Care repair keys are always good until you use them. Think of our computer repair keys as inexpensive insurance for your computer!.
Our Back to School Buy One Get One Free Sale has been extended through Thursday August 31, 2017.
A note about the September 4, 2017 Price Increase on Cloudeight Direct Care Repair Keys.
Summer is our slow season so we've been featuring special prices on our Cloudeight Direct Computer Care Services. However, autumn and winter are busy times. We'll be announcing a small price increase for single session Cloudeight Direct Keys on September 4, 2017. So, take advantage of our Buy One & Get One free special right now. We've extended our BOGO sale through Monday September 4, 2017.


Thoughts on the Passing of the Seasons

Drifting so silently we play wasting the hours,
Warm in our knowledge of yesterday's passing.
We've met on the hilltops and parted near mountains,
And we touched without feeling beneath a gray winter sky.

Seasons. Never fails. They sneak up on you, don't they?

One day I'm looking out my window and the trees are just beginning to bud - tiny little green things stuck on the branches. I feel good... summer is coming. The weather will be beautiful. I can do things outdoors and enjoy reading books under a big red maple tree. The budding trees stimulate my anticipation and I can hardly wait for the warm sunny days of summer.

Next thing I know, those little bright green buds have grown up into full-sized leaves and now they're droopy, dusty dark-green leaves, just hanging around waiting to die.

Reminds me of people, myself included. I think about it a lot. Unlike people, though, leaves have one last burst of beauty - perhaps even more beautiful - but far less hopeful - than the fresh new buds of spring. To make a bad pun - trees go out in a blaze of glory. Sorry. I couldn't help that. But really... not many of us get more beautiful in the days and hours before our demise. Unless you believe beauty is in the eye of the beholder.

It won't be long and I'll be watching the trees glow magnificently in their annual autumnal death march. I do so enjoy walking in the autumn, crispy leaves crunching and crackling under every step. I enjoy walking in autumn almost as much as the anticipation of summer that I feel when I see those first baby buds of spring.

I actually like autumn almost as much as I love summer, but I really dislike its unstoppable death-march to winter.

Winter is the season of chills and death. Of desperate winds and hungry cold. Of mysteriously beautiful snowy landscapes that grow brown and dirty and ugly too quickly. Winter is the season of slush and damp...







LastPass

We have been using LastPass for a lot of years. And while the company has changed hands, one thing that has not changed: LastPass is still best free password manager. The reason why we're featuring it in today's newsletter is to let you know that you can now use LastPass free on all your devices - your Windows PC, Windows Phone, Windows Tablet, Android phone, Android Tablet, iPads, iPhone, and Mac computers. You can even use it on Linux devices.

With LastPass you'll have access to all your password no matter where you are or what device you're using. All your passwords are locked by your master password - and after you get LastPass set up, you'll only have to remember one password... your master password.

Here are some of the features of LastPass:
Access your passwords and logins on all your devices (Now Free)
Save & fill passwords automatically.
Password generator - Generate secure passwords on the fly and let LastPass remember them.
Secure notes - You can store confidential information here - and kept it safe from prying eyes. We use LastPass Secure Notes to store our email passwords and software licenses and registrations.
Share passwords & notes
Security challenge
Two-factor authentication (2FA) for extra security.
Here's some updated information from the LastPass Website:
"Never forget a password.
Save your passwords and keep everything organized in your LastPass vault.

Store passwords in a secure vault
All of your passwords and notes are stored safely in a vault. Easy-to-use, searchable, and organized the way you like.

Autofill every password
Save passwords as you browse, and LastPass will autofill the login for you next time you sign into that account.

One account or many
Have multiple Gmail accounts? 12 WordPress logins? Save unlimited logins for websites, and easily switch between them.

Convenient access
Get started on any device, free. Your LastPass vault is backed up and synced automatically where you need it.

Generate random passwords
The built-in password generator will create long, randomized passwords that protect you from being hacked.

New account, new password
Don't waste time creating a new password when registering on a website. LastPass does it for you and remembers it for later.

Audit your passwords
Use the LastPass Security Challenge to find weak, duplicate, old, and vulnerable passwords that are lurking in your vault.

Auto-change passwords
Hate changing passwords? LastPass can do it for you, in one click! Stronger passwords, without the hassle.

Manage more than passwords.
LastPass does more than remember your passwords. Keep track of other important information & simplify your online life.

Keep digital records with secure notes
Store insurance cards, memberships, prescriptions, WiFi logins and more, so your information is backed up and encrypted.

Profiles for online shopping
Create a profile for every credit card and address, so making a purchase is just a few clicks - no typing required.

Share passwords, securely
Pay bills with a spouse? Send encrypted passwords to others, easily sync changes & remove access when they're done..."
If you don't use a password manager, you're probably not using strong passwords. Sometimes the only thing keeping your information safe are your passwords. Using a password manager like LastPass, makes it easy to create, store, and use strong passwords. And LastPass does a whole lot more than store passwords and log you into Web sites.

We use LastPass Secure Notes to save email server information, email passwords, and other sensitive information we need to keep at our fingertips, yet want to keep encrypted so only we can access it. Safe Notes makes this easy to do. The only way you can access your Secure Notes is by entering your master password. All your Secure Notes are encrypted and only your master password can decrypt your notes: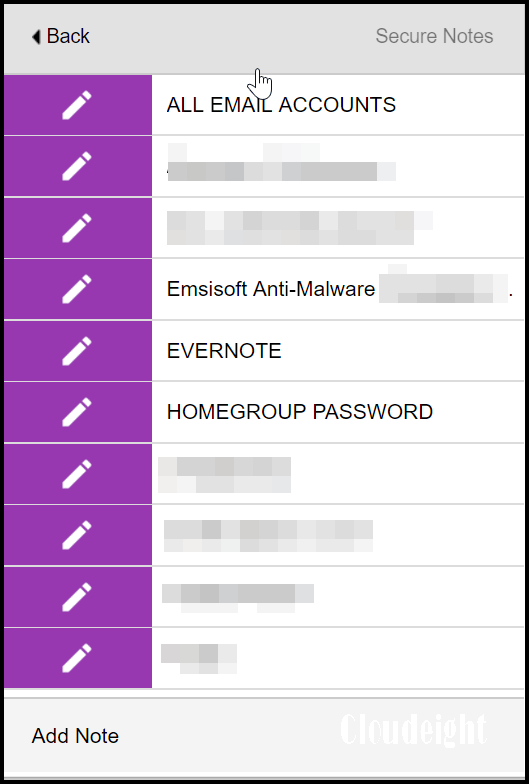 We have been using LastPass for a long time and we think it's the best free password manager. And now that you can use it on all your devices for free, it's just become even better. And that's why we're featuring LastPass as today's Cloudeight Freeware Pick.

You can learn more about LastPass here.

PS: If you don't want to use LastPass, please use some other password manager!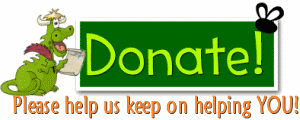 Donations help us continue our mission to keep you informed, separate the truth from the hyperbole, and help you stay safer online. We provide support to thousands of people. Every week we help dozens of people via email at no charge. Thanks to donations, we do a lot more than provide this free newsletter. We help you recognize online threats, fight for your online privacy, and provide you with the knowledge you need to navigate the Web safely, and help you get more out of your PC.

Help us keep up the good fight with a small donation.

After you donate, you will receive an invitation to become a Cloudeight Booster.

Interested in making a automatic monthly gift? Visit this page. Help us keep helping you!



What is the cloud...really?

EB says the simple way to explain the cloud is to say its like having an external hard drive to store information from your computer.. but you are using an external hard drive owned by someone else, like Microsoft. However...
Have you ever seen "The Wizard of Oz"? Well if you have, then you know what The Cloud is. It's that dark, sinister, twisting column of caliginous gases and detritus stuff. Or have ever lain down in the grass on a warm spring day and looked up and imagined dragons and horses and castles floating by in The Clouds - then you know what The Cloud is and what The Clouds are. But unfortunately the cloud we are talking about is not so ephemeral or delicate...nope it's mostly hard stuff like EB's head or the cider in EB's fridge.

The cloud used be called "The World Wide Web", and then more commonly referred to as the Internet. And whether you call it the World Wide Web or the internet or even the (and I hate this term) the interwebs, you are talking about a bunch of interconnected computers called servers. And despite the euphemistic, light, airy, feathery sounding name, the cloud is no more than a web server, or a whole bunch of servers in a data center. That's all the cloud is. Or as EB likes to say, the cloud is a big external hard drive owned by someone else where you can park your data free -- or for a fee.

It's just typical cool speak to make you think it's something new. But it's not. The Microsoft Cloud is just like anyone's else's cloud, just a bunch of Web servers, interconnected and storing your precious files (OneDrive) or a company paying big bucks to store data in the cloud. Of course those who run the servers back up everything a whole bunch of times because the last thing the cloud needs it to lose someone's precious love letters or pictures - almost as bad, some company's entire payroll.

There is no question that the cloud has its place. With more and more folks using more than one device to access the internet, it's nice to be able to easily access the same data from each of those devices.

But the cloud is definitely a euphemism because a web server -- or a collection of interconnected servers -- looks nothing like a cloud. Trust me. Look at your computer, does it look like a cloud? If so, please send us a picture!

I guess euphemisms are nothing new are they EB? How about the word "tinkle"?

Reg Organizer - A Swiss Army Knife of Windows Tools - Works Great on Windows 10!


To change your subscription address, see "Manage your subscription" at the bottom of this newsletter.
Submit your questions, comments, and suggestions for possible inclusion in our newsletters here. This form is for questions, comments and suggestions for this newsletter, not for product support, stationery questions, or general questions concerning our products or services.
Help us Grow! Forward this email newsletter to a friend or family member - and have them sign-up for InfoAve Premium here!
Get our free daily newsletter! Each evening we send a short newsletter with a tip or trick or other computer-related article - it's short and sweet - and free. Sign-up right now.
Have a question about a Cloudeight Software program, service, stationery, or need to ask about an order? Let us know!
If you need help with one of our software programs, have a question about an order, or have a question about any of our email stationery, screen savers, or other products - please don't use our InfoAve Questions/Answers/Tips form. Please use our general Cloudeight support form instead.
If you want to help us by telling your friends about our Cloudeight Direct Computer Care service, you can download a printable flyer you can handout or post on bulletin boards, etc. Get the printable PDF Cloudeight Direct Computer Care flyer here.

These products and services are recommended and endorsed by Cloudeight:
Emsisoft Anti-Malware- The best anti-malware you'll find anywhere. Great protection -- both proactive and reactive. Learn more here.
Reg Organizer-- A Swiss Army knife of PC tools. Easy for beginners to use -- with advanced features for experienced users too. Learn more here.
Cloudeight Direct Computer Care - Computer Repair Service-- And for computer repair, you can't beat our remote repair service. You never have to leave your home, take your computer anywhere or leave it with someone you don't know or trust. We can fix most computer problems and all you have to do is sit back and relax. Learn more here.
Thunderbird Email Setup - we'll set up Thunderbird for you - works great with Windows 7, Windows 8 and Windows 10. Get the details here.
Windows 10 Customization - Make Windows 10 look and work the way you want it to. Get more info here.
Also.. don't forget:
We're offering something we think most of you will enjoy. We have a daily tips and tricks summary newsletter that is sent six days a week. It features daily tips, freeware picks, and site picks and interesting computer tips, tricks and more. It's short and sweet - very brief and lightweight. If you'd like to receive or daily tips and tricks newsletter (completely free, of course). You can subscribe here.
You can also help us by using our Start Page.
We have over 100 free games on our Start Page. Use our Start Page and come and play all day. It costs nothing, and it helps us a lot.
Your Premium Members' Home Page is located here.

Subscribe to our Daily Newsletter!

Get computer tips & tricks every night. Our daily newsletter features a computer tip/trick or two every day. We send it out every night around 9 PM Eastern Time (USA). It's short and sweet, easy-to-read, and FREE. Just visit this page and sign-up. All you have to enter is your email address. Once you confirm your subscription, you'll receive our daily newsletter every day, six days a week. You can unsubscribe at any time.
Please sign up for our daily newsletter and help us grow!
And don't forget to tell your friends too! Tell them to sign up at:

http://thundercloud.net/start/subscribe.htm.

We'd love to hear from you!
If you have comments, questions, a tip, trick, a freeware pick, or just want to tell us off for something,, please visit this page.
If you need to change your newsletter subscription address, please see "Manage your subscription" at the bottom of your newsletter.
We received hundreds of questions for possible use in IA news. Please keep in mind we cannot answer all general computer questions. We choose a few to use in each week's newsletter, so keep this in mind. If you have a support question about a service or product we sell, please contact us here.

We hope you have enjoyed this issue of InfoAve Premium. Thanks so much for your support and for being a Premium subscriber.
To all of you in the USA and Canada, we wish you all a happy and safe Labor Day weekend. To our friends in other countries around the world - have a great weekend!
Darcy & TC
Cloudeight InfoAve Premium - Issue #725
Volume 14 Number 46
September 1, 2017

Not a subscriber? Subscribe to our InfoAve Premium Newsletter

DISCLAIMER ABOUT THE TIPS & SOFTWARE RECOMMENDED IN THIS NEWSLETTER-- PLUS OTHER IMPORTANT INFO:

All software recommendations we make in this newsletter are based on our own experience and testing of the programs that we recommend. This does NOT guarantee they will work on YOUR computer. We assume you will read the program documentation and use the program according to the instructions. We make no guarantees about any program recommended in this newsletter or its suitability for any particular purpose.
We cannot be responsible for any problems you may have. We do not and cannot provide support for any products other than our own Cloudeight products and we will not answer email concerning any product which is not a Cloudeight product. We urge you to use good judgment when downloading and installing software and to use a program only after reading the program's documentation. And, all Tips & Tricks in this newsletter have been tested by us on several different computers and were found to work as indicated. They may not work on yours. We make no guarantees. Anything we recommend you try and use at your own risk. We will not be responsible for any problems caused by any software programs recommended in this newsletter or any of the tips and tricks in this newsletter that do not work for you.
Readers' comments are their own and Cloudeight Internet LLC is not responsible for comments of our readers. All readers' comments, suggestions, questions, and tips and tricks sent to us become the property of Cloudeight Internet LLC. You understand that we may use your comments in our newsletters and on our Websites without your explicit permission.
"Cloudeight InfoAve Premium" newsletter is published by:
Cloudeight Internet LLC
PO BOX 73
Middleville, Michigan USA 49333-0073