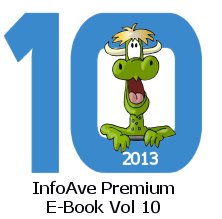 CLOUDEIGHT INFOAVE PREMIUM E-EBOOK VOLUME 10
Our Volume 10 E-book contains all the content from every issue of InfoAve Premium from October 2012 to October 2013 (52 issues). We have taken thousands of tips, tricks, questions and answers, freeware picks, site picks, Back to Basics, and more -- and compiled them all into an organized, easy to use, searchable E-book. Our E-book makes a handy, searchable reference for tips, tricks, freeware picks, site picks, answers to questions and more.
SPECIAL PRICE FROM NOW UNTIL EBOOK 11 IS PUBLISHED (LATE OCTOBER)
GET OUR INFOAVE PREMIUM VOLUME 10 EBOOK FOR JUST $5.00
Free for Cloudeight Boosters Members! If you are a booster member, log in to your booster page to download.