Cloudeight InfoAve Weekly
Issue #900
Volume 18 Number 11
January 8, 2021

Dear Friends,

Happy New Year! We wish you all a very happy, healthy, prosperous, and SAFE new year!

Welcome to Cloudeight InfoAve Weekly Issue #900. Thank you very much for subscribing and for being a part of our Cloudeight family. We appreciate your friendship and support very much! Please share our newsletters and our Website with your family and all your friends.





Our newest Cloudeight Endorsed Email Program - Very Similar to Windows Mail & Outlook Express. Stationery works great!

Read more about OE Classic here!




A comment from Sharon
Cloudeight comes through again! Thanks Darcy. I am so glad you told us about the new OE Classic email program in your last newsletter. I switched from Thunderbird and it works great. It's-more like the old email programs. And it's a big bonus to be able to use Stationary again for those special emails.

Thanks for your excellent service and expertise, patience, and commitment to getting things done correctly and in a timely manner. I am so happy with my SeniorPass, and appreciate your ability to come in and fix my computer at your convenience and without my having to be there. It was nice to wake up this morning and read your message that everything was completed and working fine! Thanks so much, Sharon.
A comment from Jean
Wow is all I can say! I just read your weekly newsletter looked at my desktop and thought what a mess will do as you say and make folders for everything. Only took me about half an hour and I can't believe the difference it has made. It will make it just so much easier to find everything instead of wading through all those icons. Thank you both so much. Jean.
A comment from Adele
Tonight Darcy installed the new Outlook Express (OE) on my Windows 10 desktop computer. Since the installation was finished, I have sent two emails with stationery & I am thrilled with the program. Darcy just flew around. She got it installed and the address book imported, and it was all set to go for me.

This is one of the better computer decisions I have made. I couldn't ask for better service than I get from Cloudeight whenever I need help. Darcy & TC are the reliable experts who will tell it as it is, so I know I can trust them to do what I need. A job very well done Darcy! Thanks for everything. I am on Cloud Nine with the new OE Classic email program. Adele.
A comment from Jeanne
There have been many comments on how Darcy and TC have helped a lot of people who have problems/questions about so many different things. I have often wondered how they know so much and of course how they have the time for one thing.

Recently, I too had an opportunity to experience some of their expertise. I had a problem which I couldn't resolve so I put it to them. I had barely sent my message when I saw that I had a reply from Darcy. I want to thank her so much for her time and the way she went about explaining things. When she is working with you, you have such a feeling that she really cares about you and helping you to resolve your issue. Added to all of this, I found out she understands a bit of Dutch. Thank you Darcy - thank you both for caring about us. Jeanne.

Thanks so much to Sharon, Jean, Adele, Jeanne, and everyone who wrote to us. We appreciate your comments so much. Darcy & TC.

The Best Computer Care and Repair - Anywhere!
We can fix your computer while you watch. You never have to leave your home. Just sit back, relax, and watch us work. Get PC service from folks you trust at the best prices you'll find anywhere.
Get more information here.


Lee says his username is not listed in the Users folder on Windows 10
Hi TC and Darcy. Don't want to sound thick but having read your recent reply to Clint regarding backing up folders to move to a new computer, where do I find the "C: \Users \Your Username\ folder" ? I have found the Users folder but not one with my username. I currently use an external drive to back up my files and folders. Thanks for your help and advice over the past years, especially this terrible last year. Best wishes, Lee.

Our answer
Hi Lee. Your user account name may not be the same as the name you see on your log-in screen.

To see the username of your user account is, do this...

Type COMMAND in the taskbar search and press "Enter" when you see Command Prompt in the search results.

At the prompt type WHOAMI (that's who am i - all in one word).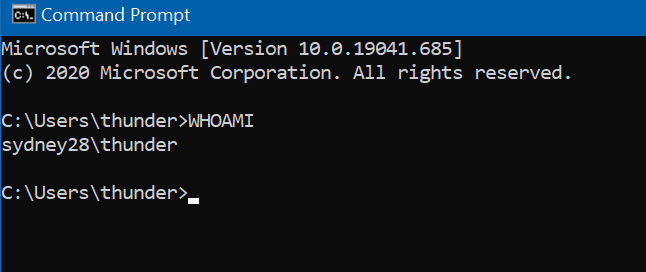 You can see my computer name is syndey28 and my username is thunder. And though it says Thundercloud on my log in screen, my username is thunder. And the Pictures, Documents, Desktop, Music, etc. folders, as well as all my files are located at C:\Users\thunder.

Hope this helps you, Lee.





Bev says that the shortcut to automatically add the date in notepad doesn't work for her
For some reason your tip: "In Notepad Press F5 to add the date and time to any Notepad file" doesn't work for me. What am I doing wrong?

Our answer
Hi Bev. If you are using a laptop, you may have to hold down the Fn Key while you tap the F5 key.

Hope this helps you and others who use laptops.



Jim has questions about the OE Classic email program
Before jumping into OE Classic, I do have several questions. It looks like a great product and especially when endorsed by TC & EB! Here goes:

1. I have two Windows 10 computers. Do I need two licenses for OE Classic and two $30 installations?

2. I guess I can do without scrolling music stationery, but I would like to have background midi or mpg music included with static stationery. Is this feature possible? How's about a voice file, like "Hi there, howya doon?", etc.?

3. I'm presently using eMClient as my e-mail client. There is a lot of correspondence archived that I'd like not to lose. Is there a way to retrieve these e-mails or import them into OE Classic? I think (but don't know) if eMClient uses a proprietary method of storing archived e-mail (that which has been archived automatically after 15 days in my case.) Right now, I can search and retrieve archived e-mail, like everything related to Cloudeight, for example.

I'm sure you're are busy, and I can stand by with the best of them, just like Garrison Keillor! Thanks for considering my questions! Jim

Our answer
OE Classic is very similar to Outlook Express. It is the program most like Outlook Express we've found. But it is not Outlook Express. Outlook Express was from a different era and it was not very secure. OE Classic is similar in its interface and in the way it works - i.e., "Message > New Message > Select Stationery. And you can view the email source at the click of a button.

You can use your OE Classic license on more than one computer in the same household. But you'd need two Cloudeight Setups.

You cannot use background music or sounds in OE Classic that automatically play when the mail is opened.

We can import contacts (address book) from most email programs. If you have EMClient set up as IMAP then all the messages and folders you have in EM Client will show in OE Classic.

I hope this answers your questions, Jim.





Ted wants to know about CNET
I have a question. Often in your newsletters I see CNet mentioned in a negative manner. I go to CNET to get comparisons on products whether Apple or something else. Is CNET not to be trusted? Thanks as always for your help. By the way love the new OE Classic email program. I can't wait to get it set up.

Our answer
Hi Ted. Our negative reviews are about CNET's Download.com - where downloads are quite often bundled with unwanted third-party programs (PUPS).
Our negative comments are not about CNET's product reviews. But keep in mind CNET, PC World, ZDNET, and others very often get paid for positive reviews either in additional advertising or free products. Always read those reviews with a jaded eye.



The Best Computer Care and Repair - Anywhere!
We can fix your computer while you watch. You never have to leave your home. Just sit back, relax, and watch us work. Get PC service from folks you trust at the best prices you'll find anywhere.
Get more information here.

Leora asks about screensavers and wallpaper
I don't fully understand the difference between screen savers and Wallpaper. I always use wallpaper and change it a lot. What is the purpose of a screen saver?

Our answer
Hi Leora. Great question.

Wallpaper (desktop wallpaper) is a picture you use on your desktop as a background. A screensaver can be set to turn on when your computer has been idle for a period of time. A screen saver is usually a slideshow of different pictures, designs and/or animations - some have music as well. A screen saver does not replace your wallpaper.

Back in the early days of computers when CRT monitors were popular, screensavers were necessary to prevent "screen burn-in" - that means whatever is on your screen for a long time gets burned into the monitor and can't be removed. Modern computer monitors and screens have high refresh rates so burn-in is no longer a problem. However, many people still like to have a screen saver playing when they're not using their computers.

Windows 10 comes with several screen savers. If you want to try one out, type Screensavers in taskbar search, and when "Change Screen Saver" appears, click "Open" or press Enter.

You'll see the Screen Saver Settings dialog. As you can see from the screenshot below, Windows 10 comes with several screen savers as well as the option to use your "Pictures" folder (photos) as a screen saver.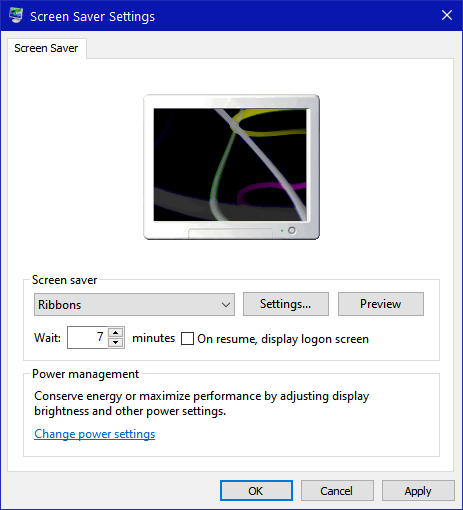 No matter what screen saver you choose, it will not change your desktop wallpaper.

I hope this answers your question, Leora.

Margie wants to know why she has to verify her account
Hi. For the past couple of days every time I get on my PS a message pops out in "Notifications". It says...

"Microsoft account problem. We need to fix your Microsoft account. (Most likely your password changed). select here to fix it in shared experiences settings."

I have done nothing to cause this. I have Not changed my password. What is going on with Microsoft? Thank you, Margie.

Our answer
Hi Margie. This is an old problem that almost every Windows 10 user who logs in with a Microsoft account will see. Microsoft will occasionally ask you to verify your account. And it does not mean you've changed your password or anything else. It's recommended, for security reasons, that you change your passwords every few months. I think this is Microsoft's roundabout way of reminding you to change your password.

If you don't want to change your password, this notification is a nuisance. But there's no way to stop it. So, even if you don't want to change your password the best way to deal with this notification is just to go ahead and verify your account information.

Julia has questions about OE Classic
My computer is Windows 8.1 and I use Thunderbird email.

I have two questions: In the old Outlook Express, I, like others, enjoyed creating my own background and adding music sometimes for a special personal note or occasion.

About OE Classic: You say "Scrolling, musical stationery does not work, but all Cloudeight Stationery for Windows Live Mail and Thunderbird works great!

Does this mean OE Classic does not have the feature to let me create my own background and music, without having to add the music file as an attachment? (In Outlook Express I created my background and added the music. Wrote my note and sent...when opened the music auto played for the recipient.)

Now a question about Thunderbird email... will my address book and folders transfer into OE Classic OK?

Thank you for your help.

Our answer
Hi Julia. You can create email backgrounds and you can attach music, the music will not play unless the recipient opens he attached file.

All our non-musical, non-scrolling stationery that we created for Thunderbird and Windows Live Mail works in OE Classic.

When we do the set up for OE Classic we include about 300 stationery designs to get you started.

You can export your contacts (Address book) from Thunderbird as a CSV file and import it into OE Classic. If your email accounts in Thunderbird are set up as IMAP accounts, all your IMAP folders will show in OE Classic.

I hope this helps you, Julia.

Bernie asks about reducing the size of images
It may have been there for a while, but I just "discovered" Easy Way to Search Our Tips & Tricks. Thank you, thank you, thank you. I now have a far more reliable means of searching for articles instead of the printed articles that now fill two 3-ring binders!!!

That said, although I can't find it, I seem to recall a program or programs you mentioned for reducing the size of JPEGs, GIFs, and other pictures. Am I dreaming, or did you? If yes, could you point me to the article?

Every so often, I think about how much you two have taught me about this computer beast. I say "beast" because it often seems like a snake in the grass that is just waiting to strike out and bite me. I know that is a little over-dramatic but just allow me to marvel at your smarts and wisdom (yes, I do separate those two words: anybody can be smart but not everyone can be wise).

Our answer
Hi Bernie. Thanks for your nice comments and your long-time support.

Reducing the size of pictures can mean reducing the size of the amount of disk space the picture uses (its file size) or it can mean reducing the dimensions of the pictures.

Reducing the file size of the picture (the disk space it uses) is one thing we covered here.

If you're talking about reducing the dimensions of pictures, we covered that here.

I hope this helps you, Bernie.




Attention Cloudeight SeniorPass Holders! Announcing our new SeniorPass Telephone Hotline Service

Don't have a Cloudeight SeniorPass? It's a great deal. Learn more here.

During this global crisis, we are offering a special telephone hotline service to all SeniorPass holders. There are reports of many COVID19 scams targeting seniors. If you are approached by a scammer or encounter something suspicious, you can use our hotline to discuss your situation with us. We check into it for you and do all we can to help you.

If you currently have a SeniorPass, all you need to do is contact us. Send us your telephone number and a brief message/a> describing your problem and we'll call you back during normal business hours.

If you don't yet have a Cloudeight SeniorPass and you'd like to know more about our SeniorPass, please see this page.

Please note: Currently, our telephone hotline service is only available to SeniorPass holders in the United States due to international call restrictions.




How to Use SFC and DISM to Repair Windows
Windows 10 (all versions)
We've covered how to use SFC (System File Checker) to check your Windows PC for missing or corrupted Windows System Files several times before. But today, we're going to take it one step further. We're going to show you how to use SFC and DISM (Deployment Image Servicing and Management) one after the other, to repair or replace corrupted, damaged or missing Windows System Files that may be causing problems with your computer or with Windows update.
We'll start by running SFC (System File Checker) to check Windows System Files.
How to Run System File Checker (SFC)
Open an administrator Command Prompt. Press Windows Key + X then click on "Command Prompt (Admin)" – or type CMD in Taskbar search, right-click on CMD when it appears at the top and choose "Run as administrator".
At the prompt type SFC /SCANNOW and press Enter. Note the space after SFC.
It will take some time to scan your system. In most cases it will take between 5 and 15 minutes.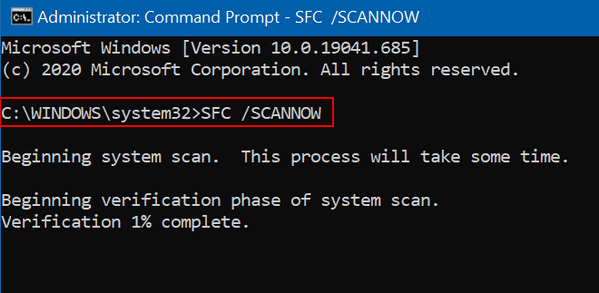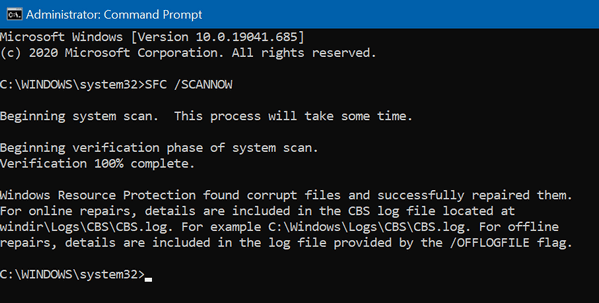 If SFC does not find any errors and says it found no corrupt files, or if it found some and fixed them all or if you get a message that: "Windows Resource Protection found corrupt files but was unable to fix some (or all) of them". You're not done. You have more to do. Running DISM is an important second step in the process of replacing missing, corrupted or damaged Windows system files.
Before you proceed to the next step, you should restart your computer.
After you've restarted your computer, continue as follows...
Repair Windows System Files Using DISM
It is a good idea to run System File Checker (SFC) before running DISM.
If you think your computer has problem and SFC tells you that it found no integrity violations or even it finds corrupted files and repairs them, you should still run DISM to double-check. If you get the message that "Windows Resource Protection found corrupt files but was unable to fix some (or all) of them", you should can use the DISM tool to repair any damaged files that might be preventing SFC from working correctly.
How to Run DISM.
1. Type CMD in Taskbar search
2. Right-click on Command Prompt when it appears at the top & choose "Run as administrator".
3. At the Command Prompt type this (exactly):
DISM /Online /Cleanup-Image /RestoreHealth
and press "Enter"...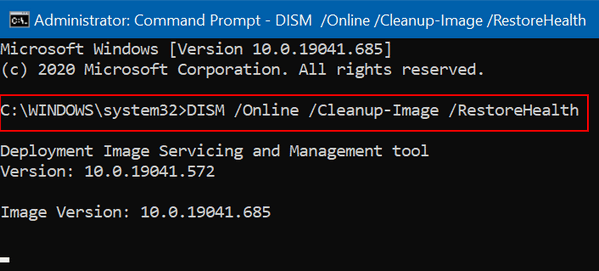 Make sure you type the command exactly as shown with the spaces as shown.
4. DISM will check your PC's system files for corruption or damage and automatically fix any problems that it finds.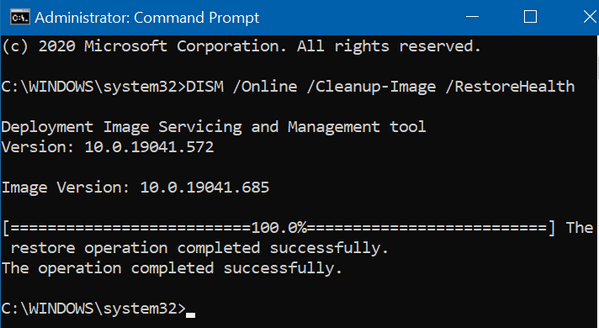 DISM generally takes 10 to 20 minutes to complete. But you may notice that at some points DISM may appear to be frozen and not running. Be patient and let DISM run and finish its work. If you interrupt it, it won't repair anything, and you'll have to start all over. When it is done, you'll see a message that "The operation completed successfully."
After DISM has finished running, restart your computer. Keep in mind that you may have to run SFC and DISM more than once.

How to Check Your Installed Browser Extensions
Chrome, Firefox, or Microsoft Edge
We posted an article recently about some potentially malicious browser extensions. And it came to light that some folks are not sure how to check what extensions they have installed. So today, we're going to show you a quick and easy way you can find out what browser extensions are installed in your favorite browser. We'll also show you how to turn extensions on or off – or remove them.
If you use Google Chrome…
Type Chrome://Extensions in Chrome's address bar and press Enter.
When Chrome Extensions opens you can turn any extension on or off – or remove it.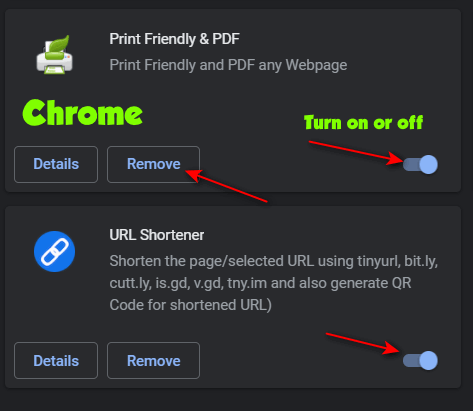 If you use Microsoft Edge…
Type Edge://Extensions in the Edge address bar and press Enter.
When Edge "Installed Extensions" opens, you can turn any extension on or off – or remove it.
If you use Firefox…
Type about:addons in the Firefox address bar and press Enter.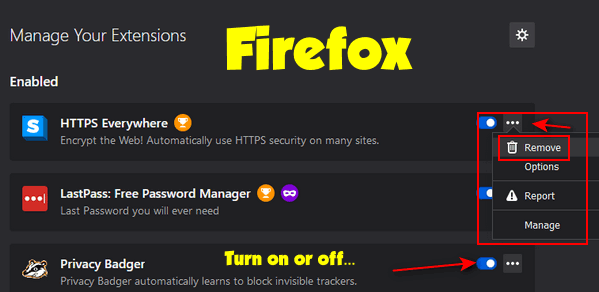 When Firefox "Manage Your Extensions" opens you can turn any extension on or off – or remove it.



Force Chrome to Always Show Full URLS
Google Chrome
Here's a question for all you Google Chrome users. Have you ever noticed that Google Chrome takes a minimalistic approach when it comes to showing the full URL (website address) in the address bar? By default, Chrome shows the URL sans the www or the http:// or https://.
If you want to see the full URL all you need to do is double-click in the address bar. The URL will return to its shortened version when you click anything on the page.
But what if you, like me, would rather always see the full URL in Chrome's address bar, it's easy to do. All you need to do is right-click in the address bar and choose "Always show full URLs " from the menu that appears.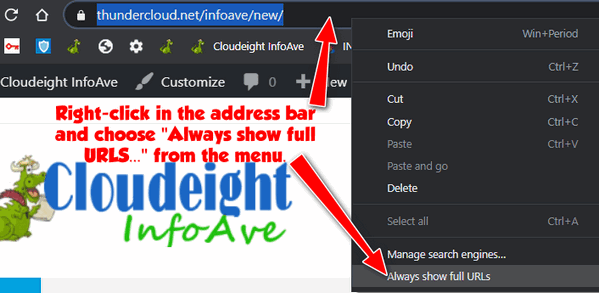 And then, from now on, you'll always see the full URL in Chrome's address bar.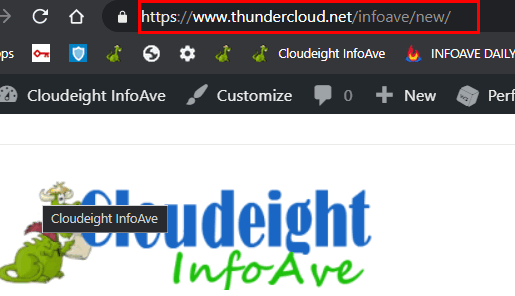 Why does all this matter anyway? Well, if Chrome always shows the full URL, you can instantly see if it says https:// (secure) or http:// (not secure). If a site deals with money or personal information – be sure you see the https:// (secure site) at the beginning of the URL. Even though Chrome alerts you anyway – I still like to see the https:// or http:// with my own eyes!



Want more tips, tricks, and information?
We have thousands of Windows tips, tricks, and more on our InfoAve web site.
Subscribe to our free InfoAve Daily newsletter.





Now available: Reg Organizer 8.60

If you purchased or renewed Reg Organizer through Cloudeight within the last 12 months, you're entitled to a free version upgrade to Reg Organizer 8.60.

Save $14 on Reg Organizer right now!

Reg Organizer - A Swiss Army Knife of Windows Tools - Works Great on Windows 10!




Recover Deleted Files with Puran
Most Windows users know that when you delete a file it's not really erased. Windows does a little sleight-of-hand and marks the space occupied by the deleted file as free space – and therefore available for Windows to use. So, even when you empty the recycle bin, nothing is really deleted. A deleted file remains recoverable for quite a while – much to the chagrin of criminals who think deleting files or even formatting a drive is going to keep their clandestine computer activities from the prying eyes of the authorities. But this bane of the criminal works to your benefit should you accidentally delete a file or an entire folder of files. If you act reasonably quickly, almost anything you delete is recoverable. The more time that passes the less chance you have of recovering deleted files.
We found an excellent free file recovery program called "Puran File Recovery". It can recover deleted files from any storage media including hard drives, external drives, flash drives, camera cards, smartphones, etc.
While not difficult to use, Puran File Recovery has a lot of options and ways to recover files, so we strongly recommend you take a look at the excellent help files that come with Puran File Recovery (just click the ? on the right side of the title bar.
It's really a great program and it is very robust; it can do almost any type of file recovery you would want or need to do, including recovering data from formatted drives.
Here are a few words from the developer:
Puran File Recovery can be used to recover deleted/lost files/partitions. Files can be recovered from formatted disks too. Almost everything that is detected as a drive by Windows can be scanned irrespective of its file system. Be it Hard Disks, Pen Drives, Memory Cards, Mobile Phones, CDs, DVDs, basically any storage medium.

If none of the below options is selected, a quick scan is performed which simply scans the file system. It is recommended that you go through this scan first and if deleted files are not found, try below options.

Deep Scan Does a quick scan as well as scans entire free space of the selected drive for pre-defined image, video, audio, document etc. file formats. It is a byte by byte scan and hence can take a lot of time.

Full Scan Does a quick scan as well as a deep scan of the Total Space. If the Find Lost Files option is also selected, it scans for lost partitions as well.

Find Lost Files Scans for lost file records. When combined with Full Scan option, it also scans for lost partitions. At times, you may see files that you do not recognize at all, these files are actually random data on your disk falsely detected as files. It is a result of less strict algorithm to get maximum records. Just ignore them.

Scan Custom List When combined with Deep / Full Scan, it scans the selected drive for a user defined format list which you can see by clicking EDIT on the main window. Adding or editing formats is strictly for advanced users only.

Physical Drive If a Physical Drive is selected for scanning, all files irrespective of their deletion status are displayed. Scanning Physical Drive should be the last option.

Preview Window It shows the first 1024 bytes of the selected file in HEX and ASCII format. If it is a valid image file below 10 MB, this window displays the image.

Search You can search for a filename. Use of wildcards ? and * is allowed. For example, if you want to list all files starting with 'a', you may search for 'a*'. * is important if you do not know the exact filename like for searching hellopic.jpg, you can search hello*.jpg and if you know exact filename, you can search hellopic.jpg directly.

In all you should try Quick Scan first, if deleted file is not found, you should go with Deep Scan + Find Lost Files + Scan Custom List and if still not found, go for Full Scan as well.

Puran File Recovery can be used to recover deleted/lost files/partitions. Files can be recovered from formatted disks too. Almost everything that is detected as a drive by Windows can be scanned irrespective of its file system. Be it Hard Disks, Pen Drives, Memory Cards, Mobile Phones, CDs, DVDs, basically any storage medium….

You get 3 options when you click on Recover button.

Just Recover When you click on this option, you are asked to select a destination folder and selected files are simply saved there. If destination folder contains files with same name, new files are renamed and then saved.

Recover With Folder Structure This option will save files with their folder structure intact. This means, if a scanned file path is suppose E:\Trips\Location\MyPhoto.jpg and if we choose to save it to F:\abc then MyPhoto.jpg will be saved in F:\abc\Trips\Location. If Trips and Location folder do not exist, this option will create them.

Recover with Custom Size During Deep Scan, there are times when size of file is not accurately calculated and hence recovery of file becomes difficult. This can be resolved by using this option. This option allows you to specify custom size of the file to be recovered. More details are provided when you click this recovery method.

Partition Recovery When Full Scan and Find Lost Files is selected, multiple partition may be found and file's path is prefixed with Vol1, Vol2 and so on respectively. When recovering, you can change the default partition association of a file. It is recommended that you go with the one already selected but in a case when you suspect the association, you can try recovering file by associating it with different partitions.

For more details, please refer (to) HELP.
Here are some screenshots from our testing of Puran File Recovery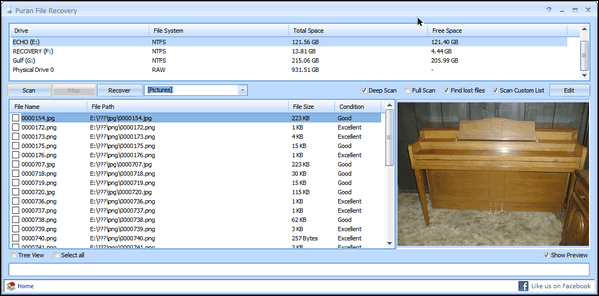 Above: Locate deleted image files and preview them in Puran File Recovery


Above: Scan any drive connected to your PC including flash drives, camera cards, smartphones, and external drives.

Above: You can search for certain file types – or use wild cards or search by file name.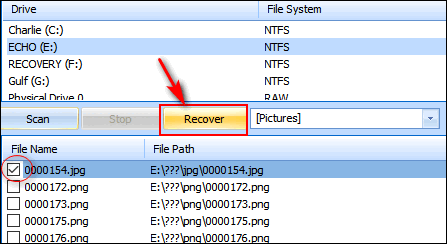 Above: Select the file or files you want to recover and click the "Recover" button.


Above: Choose the type of scan you want to perform. You can even create a custom list of file types.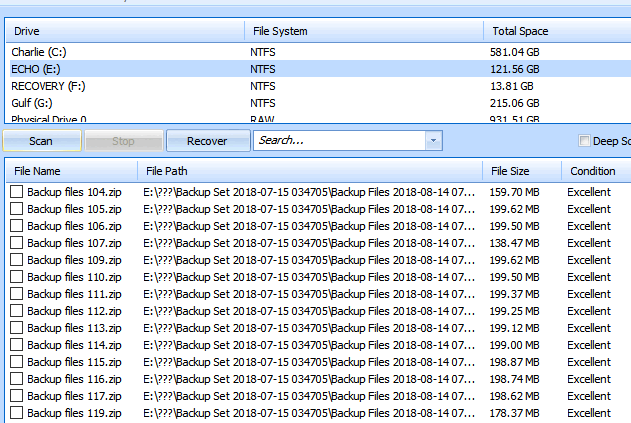 Above: You might be amazed at how many deleted files still exist on your hard drive. Puran File Recovery even tells you the condition of the files. If they are in good or excellent condition, chances are good those files are recoverable.
While Puran File Recovery is a great free recovery program and the installer is free of 3rd-party programs, malware, and PUPs, for some reason, the developer decided to play games with the download buttons and links. It's nearly impossible to download the program from the developer's site without accidentally clicking on an advertisement — which could lead to you installing malware — or going around in circles trying to avoid clicking the wrong button or link.
Luckily, SnapFiles saves the day again with an easy to find the download link and providing a nice review of the program as well. So, if you want to read more about Puran File Recovery and easily download it without playing whack-a-mole with download links and buttons, please visit this SnapFiles page.
NOTE: Some readers have had problems with the download link. Here is an alternate link – this one from Major Geeks.
Puran File Recovery works on Windows 8.1 and Windows 10 (all versions). Puran works on both 32-bit and 64-bit systems.
This review was updated on January 2, 2021.




On the Day I Die

One of life's great blessings is that not one of us knows the exact day we will die. Well, at least I think so. I could not imagine being a teenager and knowing how many years I would live or the date of my death. That would take away the fun and great advantage of being young; the perception of being immortal. We have all experienced that.

Being young is for looking down the road that never ends. When you're young you can't even see around the next bend let alone the end of the road. You certainly don't know where and when that road will end – but then no matter how old you are – you don't know when or where it will end. You just know the end of the road is a hell of a lot closer than it used to be. Better then to be young and think the road is infinitely long and death more like a scientific theory than a matter of fact.

Unfortunately, the shimmering optimism and smugness of my youth faded as I grew older...
Read the rest of this essay here.




What does "Windows as a service" mean?

Windows as a service is a new approach to Windows that Microsoft introduced with Windows 10. Windows as a service allows Microsoft to deploy, update and service Windows 10. It allows Microsoft to move away from releasing a new version of Windows every three to five years, as it did with all previous versions of Windows. Microsoft will continually update Windows 10 rather than release new versions of Windows every few years.

The service updates consist of quality updates and feature updates.

Quality updates, which are more traditional Windows update, are bug fixes, security updates, and the like.

Feature updates are released twice each year - usually in April or May and again in October or November. In the past, these would have been either Service Packs or new versions of Windows. Each feature update is supported for 18 months after the date it's released.

Distilling it all down to its essence, Windows as a service means there won't be any more named versions of Windows - Windows 11, Windows 12, etc. Windows 10 will constantly be upgraded with monthly quality updates and biannual feature updates.





THANK YOU FOR HELPING US!

When you support us with small gift, you help us continue our mission to keep you informed, separate the truth from the hyperbole, and help you stay safer online. Plus, our computer tips make your computer easier to use.

Did you know that we provide support to thousands of people? Every week we help dozens of people via email at no charge. The questions and answers you see in our newsletters are from the email answers and help we provide to everyone free of charge.


Thanks to your gifts, we do a lot more than provide this free newsletter. We help you recognize online threats, fight for your online privacy, provide you with the knowledge you need to navigate the Web safely, provide you with suggestions for safe, free software and websites, and help you get more out of your PC.

Please Help us keep up the good fight with a small gift.

Interested in making an automatic monthly gift? Visit this page. Help us keep helping you... and helping you stay safe on the Web.




Sales of the following products and services help support our newsletters, websites, and free computer help services we provide.

Cloudeight Direct Computer Care: Single Keys, SeniorPass, or Season Tickets - always a great deal. Cloudeight Direct Computer Care is like having PC insurance. Get more information here.

Emsisoft Anti-Malware: Emsisoft is the only Cloudeight endorsed and recommended Windows security program. It provides users with a complete antivirus, antimalware, anti-ransomware, anti-PUPs solution. We offer single Emsisoft licenses and multi-computer licenses at discount prices. Also, we offer our exclusive Emsisoft with Cloudeight installation & setup. Get more information here.

OE Classic Email program. The email program that is most like Outlook Express. We can even set it up for you. Get more details here.

Reg Organizer: Reg Organizer is the Swiss Army Knife of Windows tools. It's far more than just a registry optimizer and cleaner... it's a Windows all-in-one toolkit. Reg Organizer helps you keep your computer in tip-top shape and helps you solve annoying Windows problems. Reg Organizer works great with Windows 10! Get more information about Reg Organizer (and get our special discount prices) here.
SeniorPass - One year of Cloudeight Direct Computer Care - unlimited sessions! Get more information here.



Our newest Cloudeight Endorsed Email Program - Very Similar to Windows Mail & Outlook Express. Stationery works great!

Read more about OE Classic here!





We'd love to hear from you!

If you have comments, questions, a tip, trick, a freeware pick, or just want to tell us off for something, let us know.

If you need to change your newsletter subscription address, please see "Manage your subscription" at the very bottom of your newsletter.

We received hundreds of questions for possible use in IA news. Please keep in mind we cannot answer all general computer questions. We try to personally answer as many as we can. We can only use a few to in each week's newsletter, so keep this in mind. If you have a support question about a service or product we sell, please contact us here.

Subscribe to our Daily Newsletter! Get computer tips & tricks every night. Our daily newsletter features a computer tip/trick or two every day. We send it out every night around 9 PM Eastern Time (USA). It's short and sweet, easy-to-read, and FREE. Subscribe to our Cloudeight InfoAve Daily Newsletter!

Print our Cloudeight Direct Computer Care Flyer and spread the word about our Cloudeight Direct Computer Care repair services. Get our ready-to-print flyer here.





We hope you have enjoyed this issue of Cloudeight InfoAve Weekly. Thanks so much for your support and for being an InfoAve Weekly subscriber.

With hope and prayers, may you and your loved ones stay safe and well.

Your friends at Cloudeight,

Darcy and TC
Cloudeight InfoAve Weekly - Issue #900
Volume 18 Number 11
January 8, 2021

Not a subscriber? Subscribe to our FREE Cloudeight InfoAve Weekly Newsletter here.

Subscribe to our Cloudeight InfoAve Daily Newsletter!

Share Us on Facebook!
We'd love for you to share us with your family and friends on Facebook. Help us by sharing us on Facebook!






"Cloudeight InfoAve Weekly" newsletter is published by:

Cloudeight Internet LLC
PO Box 73
Middleville, Michigan USA 49333-0073

Read our disclaimer about the tips, tricks, answers, site picks, and freeware picks featured in this newsletter.

Copyright ©2021 by Cloudeight Internet