How to Delete Temporary Files Using File Explorer
Windows 10 (all versions)
If you've ever used Storage Sense (Settings) or Disk Cleanup to remove temporary files, you've probably noticed there are still many temporary files remaining after the cleanup.
If you want to clean nearly all your temporary files, try using File Explorer.
1. Important: Save anything you're working on and close all open programs.
2. Press Windows + R to open a Run box.
3. Type %temp% into the Run box and press "Enter".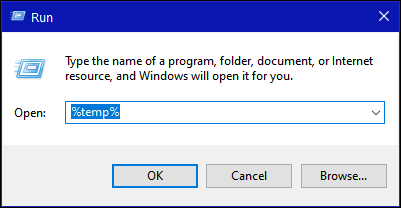 4. A File Explorer window will open with a lot of temporary files and folders. Press Ctrl + A to select all the temporary files at once. When all are selected, right-click and choose "Delete".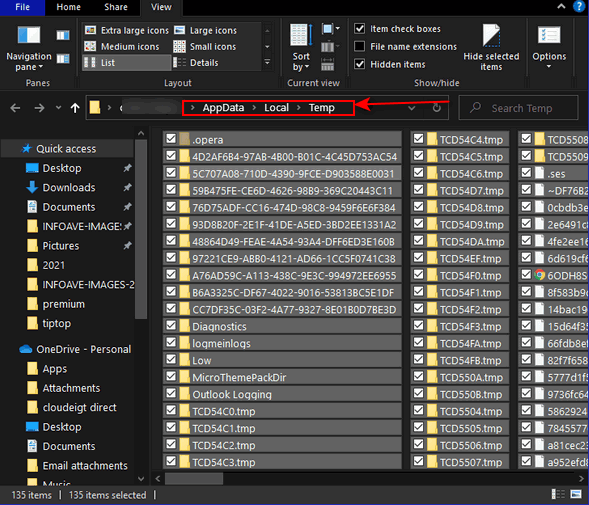 IMPORTANT: If you get a warning that certain files can't be deleted – it's because they're in use. If you see this warning, just choose "Skip" to continue.
5. Press the Windows key + R to open another Run box. Type TEMP in the Run box and press "Enter".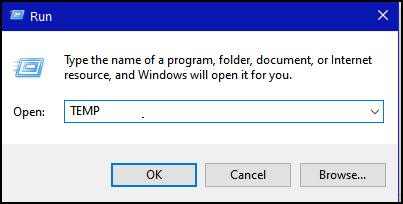 NOTE: You may get a warning that you don't have permission to access this folder. If you do, just click "Continue".
6. Press CTRL+A to select all the files and folders in the directory. Once they are all selected, right-click and choose "Delete".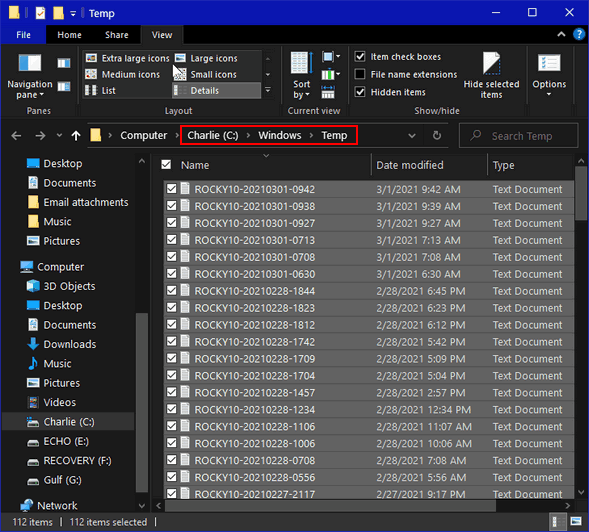 Again, something to remember – You may get a warning that certain files cannot be deleted. If you see this click "Skip".
You're almost done.
7. Right-click the Recycle Bin icon on the desktop and choose "Empty Recycle Bin."
That's it. Now you know how to delete almost all of your temporary files using File Explorer.
You can never delete all temporary files because as long as Windows is running, temporary files are constantly being created.



Want more tips, tricks, and information?
We have thousands of Windows tips, tricks, and more on our InfoAve web site.
Subscribe to our free InfoAve Daily newsletter.






Now available: Reg Organizer 8.60

If you purchased or renewed Reg Organizer through Cloudeight within the last 12 months, you're entitled to a free version upgrade to Reg Organizer 8.60.

Save $14 on Reg Organizer right now!

Reg Organizer - A Swiss Army Knife of Windows Tools - Works Great on Windows 10!




150 + 40 Minimalist Desktop Wallpaper and More
Rarely, do we ever feature a wallpaper site in our newsletters. This one was so unique we wanted to tell you about it. You may not know this, but TC is very minimalistic, while EB tends to be maximalistic, engaging in all sorts of exotic behavior, especially for a woman in her advanced age group — you know what I mean?
EB, honestly, do you really think you look cool driving around in that red Mercedes convertible? You think the young guys care? And don't you think one 12-pack of beer is enough for one day? My heavens, do you need to drink a case a day? Think of your poor old liver.
OK. So, I exaggerate. I need to make a point. I like minimalistic things. I'm not big on gaudy wallpapers or gaudy colors. I like things neat and functional. I have a new minimalistic desktop, what do you think?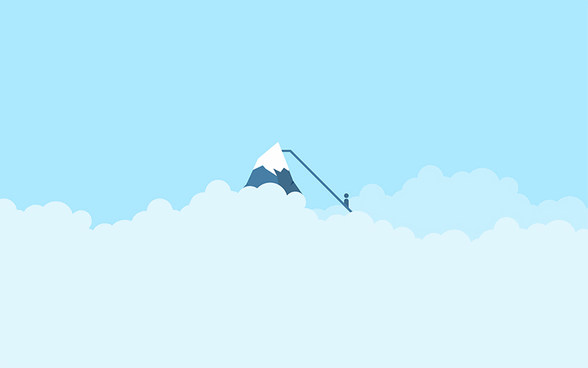 I'm sure you're anxious to minimalize your desktop too, and so without further delay or verbosity, I hereby present, The Honorable William T. Paget III, owner, manager, and CEO of ICanBeCreative.com — home of the minimalist wallpaper and so much more.
I made up his name. I don't know what his or her real name is. I'm sorry.
Take it away, Bill!
"Minimalism is a popular style of design because it keeps things simple and user-friendly, minimalism can also be applied to other aspects of business and life. The purpose of Minimalism is basically to allow the viewers or the audience to experience the artwork more intensely without all the distractions of the composition, the theme, the organization, and so on. Below are 160 minimalistic desktop wallpapers to download and perhaps even get a little inspiration to create your own!

Use them and let the simplicity take over your computer desktop…"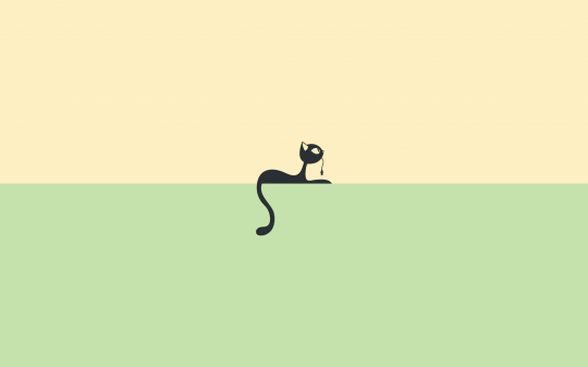 Now…the link you've been eagerly awaiting! You can get 190 minimalist desktop wallpaper here. Come on, simplify your life – start with your desktop!
Wait! Before you go! There are a lot more freebies to discover on this site besides decluttering, minimalistic wallpaper, I tells ya! You can get free fonts, icons, templates, and a whole lot more by going to this section of the I Can Be Creative website.


It's About Time
Well. here it is again… the weekend of the time change.
Just last year I learned that calling daylight saving time, "Daylight Savings Time", with an s at the end, is horribly stupid, dumb, and incorrect. They say it makes me look like an idiot to everyone who knows better. Daylight Savings Time is correctly called daylight saving time. So, for decades, I guess I've been considered a stupid oaf for running around calling it daylight savings time.
You might say "Who cares?" Obviously, I do — since I wrote this.
And this year, stupid me, just learned something else! It's not Daylight Saving Time, it's daylight saving time – no uppercase letters. The Associated Press stylebook tells me so, I tells ya!
Who in the heck ever consults the Associated Press stylebook? You wouldn't really do that, would you? It costs over $20 just to get the online edition. Now, I'm sure many of you reading this would be glad to send me a free online subscription to the AP stylebook thinking it would improve my writing, but you know better, don't you?
Look here: "Daylight Savings Time is a misspelling, but more common than the correct term. Setting our clocks one hour forward in the spring is often referred to as "Daylight Savings Time" even though "Daylight Saving Time" is the correct spelling…
Please read the rest of this essay here.


What is an IP address?

Your IP address is like your phone number. It's a unique number assigned to you when you're connected to the Internet. Your IP address can be static – that is fixed and unchanging – or it can be dynamic – meaning it changes every time you connect to the internet or semi-static meaning it changes from time to time.
Your IP address is logged by every Web site you visit and can be used to identify you right down to your city and country — and with a court order your name and address and phone number.
However, unless there is some reason for the authorities to issue a court order to find out who you are, IP addresses simply remain on Web server logs along with the time and date when you accessed the site(s). Every web server captures your IP address – and no ad-blocker or do-not-track or other browser extension which claims to keep your browsing private actually does.
Additionally, your ISP logs everything you do and everywhere you go on the Internet. You can run, but you can't really hide.
Yes, can hide using a VPN, but someone is tracking your IP address- your VPN provider for one.


THANK YOU FOR HELPING US!
When you support us with small gift, you help us continue our mission to keep you informed, separate the truth from the hyperbole, and help you stay safer online. Plus, our computer tips make your computer easier to use.
Did you know that we provide support to thousands of people? Every week we help dozens of people via email at no charge. The questions and answers you see in our newsletters are from the email answers and help we provide to everyone free of charge.
Thanks to your gifts, we do a lot more than provide this free newsletter. We help you recognize online threats, fight for your online privacy, provide you with the knowledge you need to navigate the Web safely, provide you with suggestions for safe, free software and websites, and help you get more out of your PC.
Please Help us keep up the good fight with a small gift.
Interested in making an automatic monthly gift? Visit this page. Help us keep helping you... and helping you stay safe on the Web.




Sales of the following products and services help support our newsletters, websites, and free computer help services we provide.

Cloudeight Direct Computer Care: Single Keys, SeniorPass, or Season Tickets - always a great deal. Cloudeight Direct Computer Care is like having PC insurance. Get more information here.

Emsisoft Anti-Malware: Emsisoft is the only Cloudeight endorsed and recommended Windows security program. It provides users with a complete antivirus, antimalware, anti-ransomware, anti-PUPs solution. We offer single Emsisoft licenses and multi-computer licenses at discount prices. Also, we offer our exclusive Emsisoft with Cloudeight installation & setup. Get more information here.

OE Classic Email program. The email program that is most like Outlook Express. We can even set it up for you. Get more details here.

Reg Organizer: Reg Organizer is the Swiss Army Knife of Windows tools. It's far more than just a registry optimizer and cleaner... it's a Windows all-in-one toolkit. Reg Organizer helps you keep your computer in tip-top shape and helps you solve annoying Windows problems. Reg Organizer works great with Windows 10! Get more information about Reg Organizer (and get our special discount prices) here.
SeniorPass - One year of Cloudeight Direct Computer Care - unlimited sessions! Get more information here.

Windows 10 Customization: Make Windows 10 look and work the way you want it to. Learn more.

MORE IMPORTANT STUFF!

Your InfoAve Weekly Members' Home Page is located here.

Print our Cloudeight Direct Computer Care Flyer and spread the word about our Cloudeight Direct Computer Care repair services. Get our ready-to-print flyer here.

Help us Grow! Forward this email newsletter to a friend or family member - and have them sign-up for InfoAve Weekly here!

Get our free daily newsletter! Each evening we send a short newsletter with a tip or trick or a computer-related article - it's short and sweet - and free. Sign-up right now.

We have thousands of Windows tips and tricks and computer articles posted on our Cloudeight InfoAve website. Our site has a great search engine to help you find what you're looking for too! Please visit us today!

Help us by using our Start Page. It costs nothing, and it helps us a lot.

Print our Cloudeight Direct Flyer and spread the word about our computer repair service! If you want to help us by telling your friends about our Cloudeight Direct Computer Care service, you can download a printable flyer you can hand out or post on bulletin boards, etc. Get the printable PDF Cloudeight Direct Computer Care flyer here.



We'd love to hear from you!

If you have comments, questions, a tip, trick, a freeware pick, or just want to tell us off for something, let us know.

If you need to change your newsletter subscription address, please see "Manage your subscription" at the very bottom of your newsletter.

We received hundreds of questions for possible use in IA news. Please keep in mind we cannot answer all general computer questions. We try to personally answer as many as we can. We can only use a few to in each week's newsletter, so keep this in mind. If you have a support question about a service or product we sell, please contact us here.

Subscribe to our Daily Newsletter! Get computer tips & tricks every night. Our daily newsletter features a computer tip/trick or two every day. We send it out every night around 9 PM Eastern Time (USA). It's short and sweet, easy-to-read, and FREE. Subscribe to our Cloudeight InfoAve Daily Newsletter!





We hope you have enjoyed this issue of Cloudeight InfoAve Weekly. Thanks so much for your support and for being an InfoAve Weekly subscriber.

Have a great weekend... be safe!

Your friends at Cloudeight,

Darcy and TC
Cloudeight InfoAve Weekly - Issue #909
Volume 18 Number 19
March 12, 2021

Not a subscriber? Subscribe to our FREE Cloudeight InfoAve Weekly Newsletter here.





"Cloudeight InfoAve Weekly" newsletter is published by:

Cloudeight Internet LLC
PO Box 73
Middleville, Michigan USA 49333-0073

Read our disclaimer about the tips, tricks, answers, site picks, and freeware picks featured in this newsletter.

Copyright ©2021 by Cloudeight Internet