How to Quickly Rename All Files in a Folder at Once
Windows 10 (all versions)
Here's a handy tip if have a lot of digital photos and you've ended up with folders full of images with names like DCC0122420171107.jpg. Not very descriptive. You can't tell if it's a picture from a birthday party, Christmas day, or your vacation to Hawaii. Wouldn't it be nice if you could give all the pictures in a folder a more descriptive name – and rename all of them at the same time? You're in luck! It's easy using Windows 10's File Explorer. All of geeks out there probably know this trick as "batch rename". But whatever you call it, this is a quick and easy way of renaming all the files in a folder at once.
Here's how to do it.
First, open the folder containing the images you want to rename.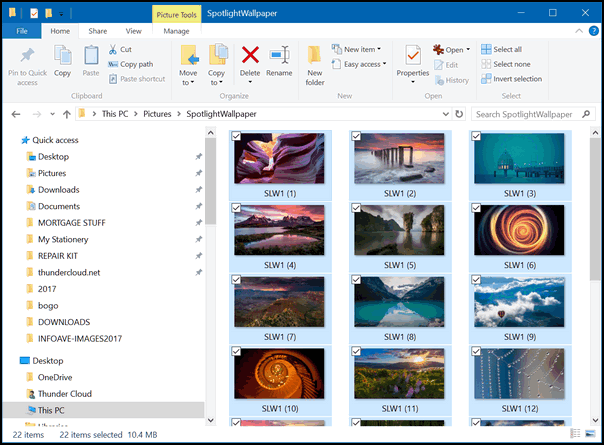 Above, you can see I selected all the images in a folder full of desktop wallpaper pictures. To select them all, I just highlighted one and pressed CTRL +A.
With all the images in the folder selected, I pressed "F2" to rename them. You can right-click and choose "Rename", you can click the Rename button at the top of File Explorer, or you can just press F2 as I did.
The first picture's name in the folder will become editable: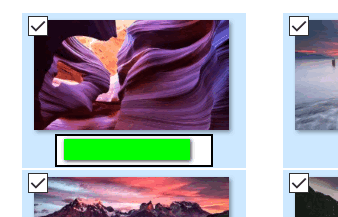 Just type in the name you want (I chose Wallpaper), and press Enter.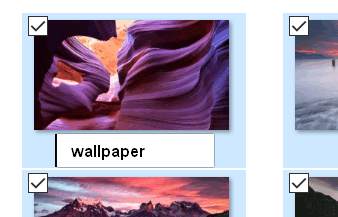 And all the files in the folder will be named Wallpaper (1), Wallpaper (2), sequentially to the last image the folder.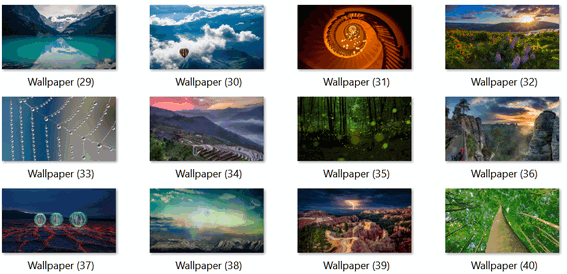 So, folks, if you end up a whole bunch of precious pictures with names like DCS122420175947.jpg, wouldn't it be better to have them all named Judy's-birthday2020(1), Judy's-birthday2020(2) or Tahiti-vacation2019(1), Tahiti-vacation2017(2), and so on? We thought you'd agree. And now you know how easy it is to do, you'll do it, right?
OH YES! One more thing. You can use this tip to rename files of any type, not just pictures.



Want more tips, tricks, and information?
We have thousands of Windows tips, tricks, and more on our InfoAve web site.
Subscribe to our free InfoAve Daily newsletter.






Now available: Reg Organizer 8.60

If you purchased or renewed Reg Organizer through Cloudeight within the last 12 months, you're entitled to a free version upgrade to Reg Organizer 8.60.

Save $14 on Reg Organizer right now!

Reg Organizer - A Swiss Army Knife of Windows Tools - Works Great on Windows 10!




Easy Context Menu - Quickly and Easily Remove Right-click Context Menu Items
Last week, Lynn asked us a question that we have not heard for a while – she wanted to know how to remove some of the programs from her right-click context menu – she was tired of scrolling down a long list just to get to "Rename" and "Delete" which are the two items she uses most.
There are a lot of programs that can help with paring down the list of items on the right-click context menu – you can even remove items by editing the registry. But few people consider editing the registry easy or fun – and we found many of the context menu editors complicated.
Because of Lynn's question, we went on a search for an easy-to-use context menu editor. And we found a free program that's extremely easy to use — so much so that removing items from the right-click context menu is as easy as this:
Highlight the item you want to remove and click "Delete".
The program is called "Easy Context Menu". You can download the zip file from here.
Once you download it, unzip the file, and open the folder inside. Then click on EcMenu or EcMenu64 (if you have a 64-bit computer click on EcMenu64 – if you're not sure click on EcMenu).
Once you open the program, press Ctrl-X (or choose "File" > "Context menu cleaner") to open the Context Menu Cleaner. Highlight the item you want to remove from your right-click menu and click "Delete".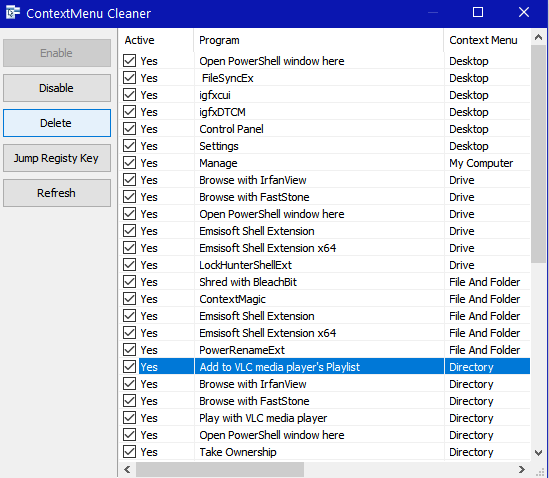 If you want to delete several items at once, highlight multiple items by holding down the SHIFT key while you click on the items you want to remove. Then, when you have all the items you want to remove from your right-click context menu selected, click on the Delete button on the left side. That's it.
Context Menu Cleaner has many other features as well. You can read more about it and all its features here.


It's the Little Things

They showed their pretty heads this week. After a cold and snowy winter, the crocuses, and the snowdrops magically showed their lovely heads and broke winter's spell – at least for a while.

One day the ground was covered with snow, then the snow melted and brown, muddy dirt was all that was left. Then, magically, from the ugly patch of brown appeared little yellow and purple and white flowers. Every year, when I see the first signs of spring emerge from the frozen, brown, ugly dirt, I think it's a miracle. And although I'm now an old man, the miracle of spring is just as much a miracle now as it was when I was a child.

But you see, I never lost the child inside. I never lost the feeling that it is the little things that make life worth living. The first flowers of spring, the sight of kids flying kites on a sunny, but chilly day in April. That first perfect day in spring when the sky is so blue and the majestic clouds so white, that it takes your breath away.

Spring… One day the trees are brittle and barren, the next day...
Please read the rest of this essay here.


Do you have a 64-bit or 32-bit PC?
Chances are you have a 64-bit PC, but if you want to find out for sure, follow the instructions below.
1.) Type About PC in the taskbar search.

2.) Press Enter when "About your PC" shows up at the top of the search results.

3.) Under Device Specifications, you'll find your system type.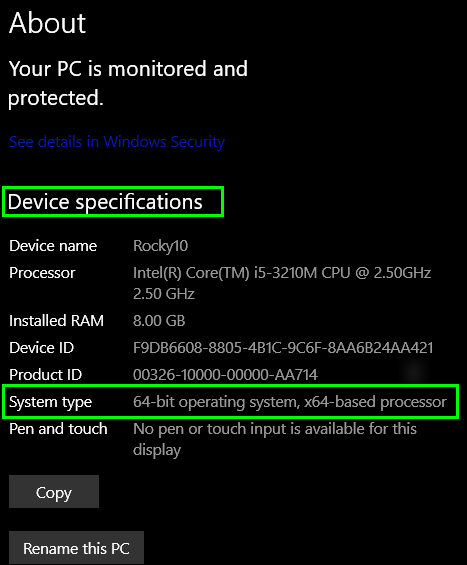 THANK YOU FOR HELPING US!
When you support us with small gift, you help us continue our mission to keep you informed, separate the truth from the hyperbole, and help you stay safer online. Plus, our computer tips make your computer easier to use.
Did you know that we provide support to thousands of people? Every week we help dozens of people via email at no charge. The questions and answers you see in our newsletters are from the email answers and help we provide to everyone free of charge.
Thanks to your gifts, we do a lot more than provide this free newsletter. We help you recognize online threats, fight for your online privacy, provide you with the knowledge you need to navigate the Web safely, provide you with suggestions for safe, free software and websites, and help you get more out of your PC.
Please Help us keep up the good fight with a small gift.
Interested in making an automatic monthly gift? Visit this page. Help us keep helping you... and helping you stay safe on the Web.




Sales of the following products and services help support our newsletters, websites, and free computer help services we provide.

Cloudeight Direct Computer Care: Single Keys, SeniorPass, or Season Tickets - always a great deal. Cloudeight Direct Computer Care is like having PC insurance. Get more information here.

Emsisoft Anti-Malware: Emsisoft is the only Cloudeight endorsed and recommended Windows security program. It provides users with a complete antivirus, antimalware, anti-ransomware, anti-PUPs solution. We offer single Emsisoft licenses and multi-computer licenses at discount prices. Also, we offer our exclusive Emsisoft with Cloudeight installation & setup. Get more information here.

OE Classic Email program. The email program that is most like Outlook Express. We can even set it up for you. Get more details here.

Reg Organizer: Reg Organizer is the Swiss Army Knife of Windows tools. It's far more than just a registry optimizer and cleaner... it's a Windows all-in-one toolkit. Reg Organizer helps you keep your computer in tip-top shape and helps you solve annoying Windows problems. Reg Organizer works great with Windows 10! Get more information about Reg Organizer (and get our special discount prices) here.
SeniorPass - One year of Cloudeight Direct Computer Care - unlimited sessions! Get more information here.

Windows 10 Customization: Make Windows 10 look and work the way you want it to. Learn more.

MORE IMPORTANT STUFF!

Your InfoAve Weekly Members' Home Page is located here.

Print our Cloudeight Direct Computer Care Flyer and spread the word about our Cloudeight Direct Computer Care repair services. Get our ready-to-print flyer here.

Help us Grow! Forward this email newsletter to a friend or family member - and have them sign-up for InfoAve Weekly here!

Get our free daily newsletter! Each evening we send a short newsletter with a tip or trick or a computer-related article - it's short and sweet - and free. Sign-up right now.

We have thousands of Windows tips and tricks and computer articles posted on our Cloudeight InfoAve website. Our site has a great search engine to help you find what you're looking for too! Please visit us today!

Help us by using our Start Page. It costs nothing, and it helps us a lot.

Print our Cloudeight Direct Flyer and spread the word about our computer repair service! If you want to help us by telling your friends about our Cloudeight Direct Computer Care service, you can download a printable flyer you can hand out or post on bulletin boards, etc. Get the printable PDF Cloudeight Direct Computer Care flyer here.



We'd love to hear from you!

If you have comments, questions, a tip, trick, a freeware pick, or just want to tell us off for something, let us know.

If you need to change your newsletter subscription address, please see "Manage your subscription" at the very bottom of your newsletter.

We received hundreds of questions for possible use in IA news. Please keep in mind we cannot answer all general computer questions. We try to personally answer as many as we can. We can only use a few to in each week's newsletter, so keep this in mind. If you have a support question about a service or product we sell, please contact us here.

Subscribe to our Daily Newsletter! Get computer tips & tricks every night. Our daily newsletter features a computer tip/trick or two every day. We send it out every night around 9 PM Eastern Time (USA). It's short and sweet, easy-to-read, and FREE. Subscribe to our Cloudeight InfoAve Daily Newsletter!





We hope you have enjoyed this issue of Cloudeight InfoAve Weekly. Thanks so much for your support and for being an InfoAve Weekly subscriber.

Have a great weekend... be safe!

Your friends at Cloudeight,

Darcy and TC
Cloudeight InfoAve Weekly - Issue #910
Volume 18 Number 20
March 19, 2021

Not a subscriber? Subscribe to our FREE Cloudeight InfoAve Weekly Newsletter here.





"Cloudeight InfoAve Weekly" newsletter is published by:

Cloudeight Internet LLC
PO Box 73
Middleville, Michigan USA 49333-0073

Read our disclaimer about the tips, tricks, answers, site picks, and freeware picks featured in this newsletter.

Copyright ©2021 by Cloudeight Internet