What Version of Windows 10 Do You Have?
Windows 10 (all supported versions)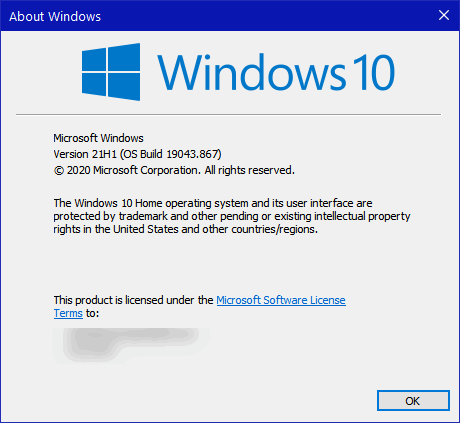 We've received quite a few emails recently where people are reporting that their Windows version says it's up to date but it's not. And Darcy has had the same thing happen to her.
The current version of Windows (as of March 21, 2021) is Windows 10 version 20H2 (October 2020 Update). But we've discovered that many people are still running either Windows 10 October 2019 Update (Version 1909) or the May 2020 Update (Version 2004).
If you're still running Windows 10 Version 1909 (November 2019 update), your version's end-of-support date is May 11, 2021. Those using Windows 10 version 2004 (May 2020 update) can relax a bit – Windows 10 Version 2004 will not reach its end-of-support date until December 14, 2021.
Here's the official end-of-service (end-of-support date) for the last four versions of Windows 10″
| | | |
| --- | --- | --- |
| Windows 10 Version | Official Release Date | End of Support Date |
| Version 20H2 | 10/20/2020 | 05/10/2022 |
| Version 2004 | 05/27/2020 | 12/14/2021 |
| Version 1909 | 11/12/2019 | 05/11/2021 |
| Version 1903 | 05/21/2019 | 12/08/2020 |
The problem that many people are reporting – and Darcy has experienced — is this:
When Windows 10 users open Settings > Update & Security > Windows Update, it may show that Windows is up to date, when it is not. And even clicking on Check for Updates shows Windows 10 is up to date. Darcy and a lot of the folks who wrote were still using Windows 10 version 1909. Windows 10 version 1909 reaches the end of its support cycle on May 11, 2021 – not that far away.
Our advice? Right now, is an excellent time for you to check your Windows version. Type WINVER in taskbar search and press Enter when you see the winver run command appear in the search results. A window will open showing your Windows version and build number.
If you see Windows 10 Version 1909, you need to update soon. And since you may not be able to update using Settings > Update & Security > Windows Update, you can update by going to this page.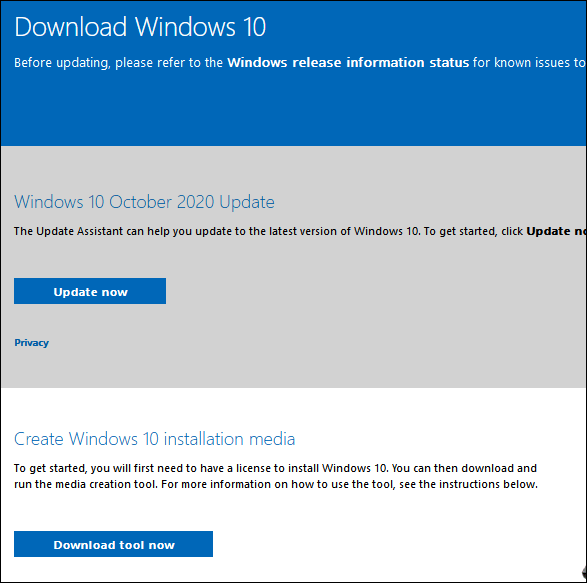 On that page, you can click "Update now" or "Download tool now" to update your computer to the current version of Windows 10. Both the Windows update assistant (Update now) and the tool can upgrade your PC to the latest version. If you download the tool, you'll also have the option to create a Windows 10 installation USB or DVD.
If you need help with the tool, it's available from the same page.

So, now is the time to check your PC to find out what version of Windows 10 you're using and upgrade your PC to the current version if you find you're still running Windows 10 version 1909. And if you're still running version 2004, you can choose to update or not. But, keep in mind, Windows 10 version 21H2 will be released in May 2021.



Want more tips, tricks, and information?
We have thousands of Windows tips, tricks, and more on our InfoAve web site.
Subscribe to our free InfoAve Daily newsletter.






Now available: Reg Organizer 8.60

If you purchased or renewed Reg Organizer through Cloudeight within the last 12 months, you're entitled to a free version upgrade to Reg Organizer 8.60.

Save $14 on Reg Organizer right now!

Reg Organizer - A Swiss Army Knife of Windows Tools - Works Great on Windows 10!




Infoplease: An Online Encyclopedia and a Whole Lot More
Infoplease is an online encyclopedia that has answers to almost any questions you have. Infoplease says it has answers to "everything under the sun, including the sun".
But Infoplease is more than an encyclopedia. It's an almanac, a dictionary, a thesaurus, and an atlas. And besides all those, Infoplease has a Daily IQ section, a Homework Center, a Fact Monster for younger kids, and a whole lot more.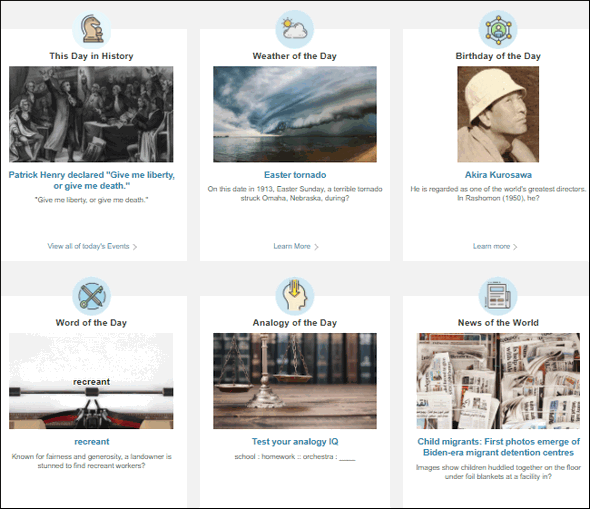 Here are a few of the features of Infoplease.
Quizzes
Arts and Culture
Animals
Pop Culture
Science
The Daily IQ
A daily dose of fun facts, brain exercises, and news for smart people.
This Day in History
Weather of the Day
Birthday of the Day
Analogy of the Day
News of the World
Here's what the staff of Infoplease has to say…
"Infoplease is a reference and learning site, combining the contents of an encyclopedia, a dictionary, an atlas, and several almanacs loaded with statistics, facts, and historical records. Our editors regularly update and refine this enormous body of information as well as adding new discoveries and identifying trends to bring you reliable and authoritative information. The content is written and edited by professional editors, and the site has received numerous awards and accolades since launch. Parents, teachers and librarians turn to Infoplease for information on an array of topics, including current events, pop culture, science, government and history. They can also confidently point students and children to our COPPA and kidSAFE-certified sister site, Fact Monster, assured that it's a safe place for kids to explore."
If you're looking for an answer to a question, or if you like learning new things, or if you love IQ quizzes, you'll want to visit Infoplease.


Why

You wake up and you look out your bedroom window and you see it's another beautiful spring day. You hear the birds singing, you see the flowers opening in the sun, and you smell the fresh, clean spring breeze.

You see a deer peacefully eating a plant in a field, you see a bee hopping from flower to flower, and you see puffy, ephemeral white clouds, majestically floating in a bright, crystalline-blue springtime sky.

You think how wonderfully balanced nature is — the soil feeding the flower, the flower feeding the bee and the deer, the clouds floating above created from rain and rain created by clouds and the rain the formed the oceans, the lakes, the ponds, the rivers — and all of them full of life and all of them life sustaining.

You look up at the sun and you know that everything draws its power from it — the flowers, the oceans, the plants, the animals, even you — all solar powered.

You think how powerful the sun is and yet how significant it is. You realize if the sun would burn out right now all life on Earth would end and the world would be a barren, frozen wasteland.

And you ponder the sun's insignificance. It's just an ordinary star...
Please read the rest of this essay here.


What are the four most important things you can do to keep yourself safe on the Internet?
Some so-called geeks will tell you to install browser add-ins like safe site toolbars so you can let someone else decide what is safe and what is not. Some will tell you to install a firewall because Windows firewall is no good. There is an endless supply of questionable and bad advice out there, and we know it's really difficult to figure out who to believe.
Here's something that will help you. What is the motivation of the geek or tech writing the newsletter? To inform you or to scare you into reading an article. We subscribe to numerous newsletters, and a couple of the more popular ones seem to live by clickbaiting - that is by using headlines to lure you into clicking a link to read an article. We see this every day - and it's a shame because they take advantage of the very people they profess to want to help.
And it's not easy to find interesting computer-related topics to write about that will appeal to most readers... but there's no reason to stoop to fear mongering and clickbaiting.
The headline of this back to basics might be considered to be clickbaiting, but it's not. We really are going to tell you the four most important things you can do to stay safe on the Internet and you don't have to jump through hoops or click a link to read them, because here they are - in order of importance:
A. Always Use Strong Passwords
B. Be careful when clicking links. Think before you click
C. Never click links in an email if you're not sure who sent it... and never click links in an email that comes from a bank, credit card company, or other financial institution that asks you to verify a password or your account. Think before you click.
D. Use good security software that protects you from all manner of malware: Pups, ransomware, scamware, Trojans, viruses, et. al.
Those are the four... now go and be safe!


THANK YOU FOR HELPING US!
When you support us with small gift, you help us continue our mission to keep you informed, separate the truth from the hyperbole, and help you stay safer online. Plus, our computer tips make your computer easier to use.
Did you know that we provide support to thousands of people? Every week we help dozens of people via email at no charge. The questions and answers you see in our newsletters are from the email answers and help we provide to everyone free of charge.
Thanks to your gifts, we do a lot more than provide this free newsletter. We help you recognize online threats, fight for your online privacy, provide you with the knowledge you need to navigate the Web safely, provide you with suggestions for safe, free software and websites, and help you get more out of your PC.
Please Help us keep up the good fight with a small gift.
Interested in making an automatic monthly gift? Visit this page. Help us keep helping you... and helping you stay safe on the Web.




Sales of the following products and services help support our newsletters, websites, and free computer help services we provide.

Cloudeight Direct Computer Care: Single Keys, SeniorPass, or Season Tickets - always a great deal. Cloudeight Direct Computer Care is like having PC insurance. Get more information here.

Emsisoft Anti-Malware: Emsisoft is the only Cloudeight endorsed and recommended Windows security program. It provides users with a complete antivirus, antimalware, anti-ransomware, anti-PUPs solution. We offer single Emsisoft licenses and multi-computer licenses at discount prices. Also, we offer our exclusive Emsisoft with Cloudeight installation & setup. Get more information here.

OE Classic Email program. The email program that is most like Outlook Express. We can even set it up for you. Get more details here.

Reg Organizer: Reg Organizer is the Swiss Army Knife of Windows tools. It's far more than just a registry optimizer and cleaner... it's a Windows all-in-one toolkit. Reg Organizer helps you keep your computer in tip-top shape and helps you solve annoying Windows problems. Reg Organizer works great with Windows 10! Get more information about Reg Organizer (and get our special discount prices) here.
SeniorPass - One year of Cloudeight Direct Computer Care - unlimited sessions! Get more information here.

Windows 10 Customization: Make Windows 10 look and work the way you want it to. Learn more.

MORE IMPORTANT STUFF!

Your InfoAve Weekly Members' Home Page is located here.

Print our Cloudeight Direct Computer Care Flyer and spread the word about our Cloudeight Direct Computer Care repair services. Get our ready-to-print flyer here.

Help us Grow! Forward this email newsletter to a friend or family member - and have them sign-up for InfoAve Weekly here!

Get our free daily newsletter! Each evening we send a short newsletter with a tip or trick or a computer-related article - it's short and sweet - and free. Sign-up right now.

We have thousands of Windows tips and tricks and computer articles posted on our Cloudeight InfoAve website. Our site has a great search engine to help you find what you're looking for too! Please visit us today!

Help us by using our Start Page. It costs nothing, and it helps us a lot.

Print our Cloudeight Direct Flyer and spread the word about our computer repair service! If you want to help us by telling your friends about our Cloudeight Direct Computer Care service, you can download a printable flyer you can hand out or post on bulletin boards, etc. Get the printable PDF Cloudeight Direct Computer Care flyer here.



We'd love to hear from you!

If you have comments, questions, a tip, trick, a freeware pick, or just want to tell us off for something, let us know.

If you need to change your newsletter subscription address, please see "Manage your subscription" at the very bottom of your newsletter.

We received hundreds of questions for possible use in IA news. Please keep in mind we cannot answer all general computer questions. We try to personally answer as many as we can. We can only use a few to in each week's newsletter, so keep this in mind. If you have a support question about a service or product we sell, please contact us here.

Subscribe to our Daily Newsletter! Get computer tips & tricks every night. Our daily newsletter features a computer tip/trick or two every day. We send it out every night around 9 PM Eastern Time (USA). It's short and sweet, easy-to-read, and FREE. Subscribe to our Cloudeight InfoAve Daily Newsletter!





We hope you have enjoyed this issue of Cloudeight InfoAve Weekly. Thanks so much for your support and for being an InfoAve Weekly subscriber.

Have a great weekend... be safe!

Your friends at Cloudeight,

Darcy and TC
Cloudeight InfoAve Weekly - Issue #911
Volume 18 Number 21
March 26, 2021

Not a subscriber? Subscribe to our FREE Cloudeight InfoAve Weekly Newsletter here.





"Cloudeight InfoAve Weekly" newsletter is published by:

Cloudeight Internet LLC
PO Box 73
Middleville, Michigan USA 49333-0073

Read our disclaimer about the tips, tricks, answers, site picks, and freeware picks featured in this newsletter.

Copyright ©2021 by Cloudeight Internet