A Windows 10 Menu You Might Not Know You Have

Windows 10 (all versions)
No matter how much we think we know about Windows, we're always finding something new. Well, maybe not new, just different. The "Windows Accessories" menu is on Windows XP, Windows Vista, Windows 7, Windows 8, Windows 8.1, and Windows 10.
Back in the days of XP, Vista, and even in Windows 7, Accessories was listed under "A" alphabetically, but in Windows 10, it's listed under Windows Accessories and hence, it's listed under the "W" section of the Start menu. So, while it used to be near the top and easy to find, now it's hidden near the bottom of the Start menu and you might not have noticed it. To get to Windows Accessories, you have to click the Windows 10 Start button, then scroll down to the W's and find Windows Accessories.
Well, here, take a look: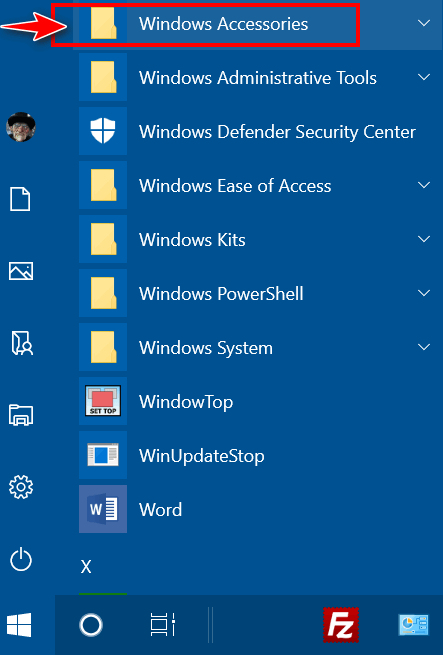 Hidden in the Windows Accessories menu are many useful items. When you click the down-arrow next to Windows Accessories (see above) you'll see a menu open (see below):
As you can see there are some useful Windows programs are hiding in the Window Accessories menu – things like Character Map (which helps you make stuff like æ Ø ß ¿ – characters not normally available on your keyboard – well at least not on my keyboard). You'll also find WordPad, Notepad, Snipping Tool, Quick Assist, Internet Explorer and more.
And if anything in the Accessories menu is something you use often, you can make a shortcut on the Start menu or Taskbar. All you have to do is right-click the item you want to put on your Start menu or Taskbar and choose "Pin to Start" or click "More" and then "Pin to taskbar". Below, we're adding "Notepad" to our Windows 10 taskbar.




Want more tips, tricks, and information?
We have thousands of Windows tips, tricks, and more on our InfoAve web site.
Subscribe to our free InfoAve Daily newsletter.






Now available: Reg Organizer 8.60

If you purchased or renewed Reg Organizer through Cloudeight within the last 12 months, you're entitled to a free version upgrade to Reg Organizer 8.60.

Save $14 on Reg Organizer right now!

Reg Organizer - A Swiss Army Knife of Windows Tools - Works Great on Windows 10!




BleachBit: A Unique System Cleaner
Once in a while, we find a freeware program that seems to be a re-hash of other applications, but on closer look isn't. BleachBit is one of these kinds of applications.
On the surface, it may seem to be just another system clean-up tool (yawn!) of which there are dozens of free ones to choose from. But when we looked closer, we found it to be the most powerful, most comprehensive free clean-up tool we've ever used. And because it can be so powerful – it can cause problems for some users — especially those who are inclined to not heed warnings or read program documentation.
But we've decided to recommend it to you because it cleans areas of your computer that most others don't touch. BleachBit is a powerful system clean-up tool, and when it is used with care, it can clean up files like Adobe Reader's cache. temporary files, system files, files created by popular browsers such as Chrome, Opera, Firefox, Internet Explorer, etc., and much more. Plus, its file shredder can make your private files impossible to recover.
It goes places other cleaners don't — and that's why we are featuring it. Here's a simple description from the developer:
"When your computer is getting full, BleachBit quickly frees disk space. When your information is only your business, BleachBit guards your privacy. With BleachBit you can free cache, delete cookies, clear Internet history, shred temporary files, delete logs, and discard junk you didn't know was there. Designed for Linux and Windows systems, it wipes clean thousands of applications including Firefox, Adobe Flash, Google Chrome, Opera, and more. Beyond simply deleting files, BleachBit includes advanced features such as shredding files to prevent recovery, wiping free disk space to hide traces of files deleted by other applications, and vacuuming Firefox to make it faster. Better than free, BleachBit is open source…

Features

--Delete your private files so completely that "even God can't read them" according to South Carolina Representative Trey Gowdy.
--Simple operation: read the descriptions, check the boxes you want, click preview, and click delete.
--Multi-platform: Linux and Windows
--Free of charge and no money trail
--Free to share, learn, and modify (open source)
--No adware, spyware, malware, backdoors, browser toolbars, or "value-added software"
--Translated to 63 languages besides American English
--Shred files to hide their contents and prevent data recovery
--Shred any file (such as a spreadsheet on your desktop)
--Overwrite free disk space to hide previously deleted files
--Portable app for Windows: run without installation
--Command line interface for scripting and automation
--CleanerML allows anyone to write a new cleaner using XML
--Automatically import and update winapp2.ini cleaner files (a separate download) giving Windows users access to 2500+ additional cleaners
--Frequent software updates with new features
--Advanced wiping on Windows (requires BleachBit 2.0 with administrator access and local file system)
Here are some screenshots for you from our test sessions.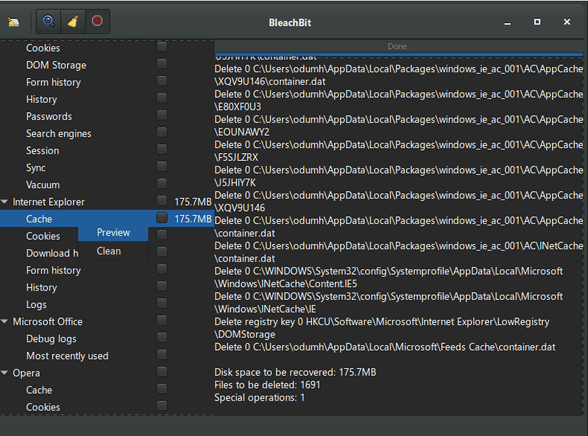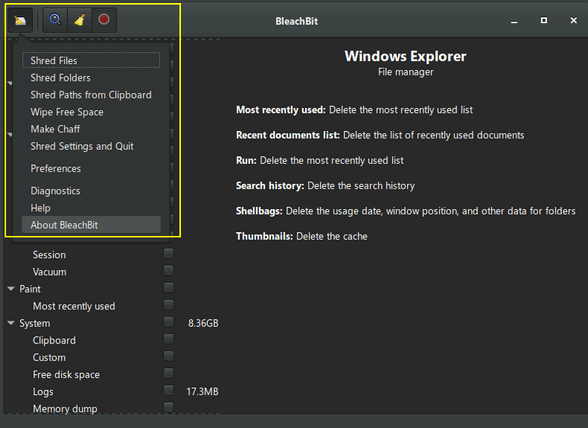 If you're looking for something that cleans the garbage from your computer and many of the applications that leave traces and junk files behind, and that is fairly easy to use, take a look at BleachBit. You can read more about and/or download BleachBit (free) from here.


A Special Easter

Raindrops, a yellow tulip, a white carnation, and a brand-new navy-blue blazer. I was eleven years old on that Easter Sunday – all those years ago – and I remember it so well. My mom had died the autumn previous, and I felt alone in the world – although I shouldn't have. My grandparents, as distraught as they were, became, in many ways, my parents.

Looking back, I can now see that my grandparents were traditionalists. They had deeply entrenched traditional values and they practiced them and held them in high regard. But back then I didn't label them anything – they were my grandparents – they together were the lighthouse that guided me though a dark and stormy time in my life. Because my grandparents considered traditions important, Palm Sunday and Easter Sunday were special occasions. And so, they were special to me also… when I was a child.

I can remember going to church on Palm Sunday and each person upon entering the church was given a palm frond. And if I close my eyes, I can smell the Easter Lilies that lined the entryway and the alter. I can see the churchgoers waving their palm fronds. I can hear the congregation and the choir singing "The Old Rugged Cross". And… I can remember singing along.

It seems like yesterday and it seems like it was another lifetime...
Please read the rest of this essay here.


Look to the Stars
This Back-to-Basics tip works in most browsers including Chrome, Firefox, and Edge (old & new).
Most people have never noticed the star in (or near) their browser's address bar. If you're one of these, you're missing one of the quickest and easiest ways to add websites or webpages to your Favorites or Bookmarks. Here, we will show you some stars:

Above: The "new" Microsoft Edge


Above: Google Chrome
Firefox hides the star in a drop-down menu.
Who doesn't like to bookmark their favorite sites or webpages? Nobody doesn't! So, what's the big deal about the star? Well, if you want to add a website or webpage to your Favorites or bookmarks, just click the star while you're on the site or page you want to bookmark. What could easier? Well, you could use CTRL+D. But we wanted you to know what the star was for, and clicking the star is just as easy as CTRL+D to me. Maybe not you though. To each their own!


THANK YOU FOR HELPING US!
When you support us with small gift, you help us continue our mission to keep you informed, separate the truth from the hyperbole, and help you stay safer online. Plus, our computer tips make your computer easier to use.
Did you know that we provide support to thousands of people? Every week we help dozens of people via email at no charge. The questions and answers you see in our newsletters are from the email answers and help we provide to everyone free of charge.
Thanks to your gifts, we do a lot more than provide this free newsletter. We help you recognize online threats, fight for your online privacy, provide you with the knowledge you need to navigate the Web safely, provide you with suggestions for safe, free software and websites, and help you get more out of your PC.
Please Help us keep up the good fight with a small gift.
Interested in making an automatic monthly gift? Visit this page. Help us keep helping you... and helping you stay safe on the Web.




Sales of the following products and services help support our newsletters, websites, and free computer help services we provide.

Cloudeight Direct Computer Care: Single Keys, SeniorPass, or Season Tickets - always a great deal. Cloudeight Direct Computer Care is like having PC insurance. Get more information here.

Emsisoft Anti-Malware: Emsisoft is the only Cloudeight endorsed and recommended Windows security program. It provides users with a complete antivirus, antimalware, anti-ransomware, anti-PUPs solution. We offer single Emsisoft licenses and multi-computer licenses at discount prices. Also, we offer our exclusive Emsisoft with Cloudeight installation & setup. Get more information here.

OE Classic Email program. The email program that is most like Outlook Express. We can even set it up for you. Get more details here.

Reg Organizer: Reg Organizer is the Swiss Army Knife of Windows tools. It's far more than just a registry optimizer and cleaner... it's a Windows all-in-one toolkit. Reg Organizer helps you keep your computer in tip-top shape and helps you solve annoying Windows problems. Reg Organizer works great with Windows 10! Get more information about Reg Organizer (and get our special discount prices) here.
SeniorPass - One year of Cloudeight Direct Computer Care - unlimited sessions! Get more information here.

Windows 10 Customization: Make Windows 10 look and work the way you want it to. Learn more.

MORE IMPORTANT STUFF!

Your InfoAve Weekly Members' Home Page is located here.

Print our Cloudeight Direct Computer Care Flyer and spread the word about our Cloudeight Direct Computer Care repair services. Get our ready-to-print flyer here.

Help us Grow! Forward this email newsletter to a friend or family member - and have them sign-up for InfoAve Weekly here!

Get our free daily newsletter! Each evening we send a short newsletter with a tip or trick or a computer-related article - it's short and sweet - and free. Sign-up right now.

We have thousands of Windows tips and tricks and computer articles posted on our Cloudeight InfoAve website. Our site has a great search engine to help you find what you're looking for too! Please visit us today!

Help us by using our Start Page. It costs nothing, and it helps us a lot.

Print our Cloudeight Direct Flyer and spread the word about our computer repair service! If you want to help us by telling your friends about our Cloudeight Direct Computer Care service, you can download a printable flyer you can hand out or post on bulletin boards, etc. Get the printable PDF Cloudeight Direct Computer Care flyer here.



We'd love to hear from you!

If you have comments, questions, a tip, trick, a freeware pick, or just want to tell us off for something, let us know.

If you need to change your newsletter subscription address, please see "Manage your subscription" at the very bottom of your newsletter.

We received hundreds of questions for possible use in IA news. Please keep in mind we cannot answer all general computer questions. We try to personally answer as many as we can. We can only use a few to in each week's newsletter, so keep this in mind. If you have a support question about a service or product we sell, please contact us here.

Subscribe to our Daily Newsletter! Get computer tips & tricks every night. Our daily newsletter features a computer tip/trick or two every day. We send it out every night around 9 PM Eastern Time (USA). It's short and sweet, easy-to-read, and FREE. Subscribe to our Cloudeight InfoAve Daily Newsletter!





We hope you have enjoyed this issue of Cloudeight InfoAve Weekly. Thanks so much for your support and for being an InfoAve Weekly subscriber.

We wish you all a very Happy and Blessed Easter!

Your friends at Cloudeight,

Darcy and TC
Cloudeight InfoAve Weekly - Issue #912
Volume 18 Number 22
April 2, 2021

Not a subscriber? Subscribe to our FREE Cloudeight InfoAve Weekly Newsletter here.





"Cloudeight InfoAve Weekly" newsletter is published by:

Cloudeight Internet LLC
PO Box 73
Middleville, Michigan USA 49333-0073

Read our disclaimer about the tips, tricks, answers, site picks, and freeware picks featured in this newsletter.

Copyright ©2021 by Cloudeight Internet