Scan Your Hard Drive(s) for Errors on Windows 10
Windows 10 (all versions)
Windows 10 lets you scan your hard drive(s) for errors while you use your computer – and it's easy to do.
Let's scan your Windows drive (usually C:\).
Open File Explorer (Windows Key + E). On the left pane under This PC, right-click on your C:\ drive, click "Properties". When the "Properties" dialog opens, click the "Tools" tab, and then click the "Check" button.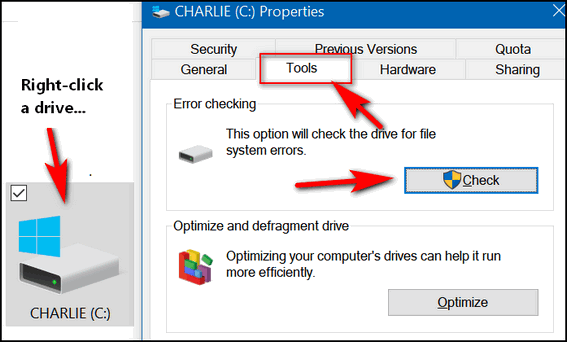 Once you click the "Check" button, you'll see the following dialog appear. If you need to scan the drive for errors, it will tell you. If you don't (as below) it will tell you that also. Even if it says, "You don't need to scan this drive", you can still scan the drive if you want to. Just click "Scan drive".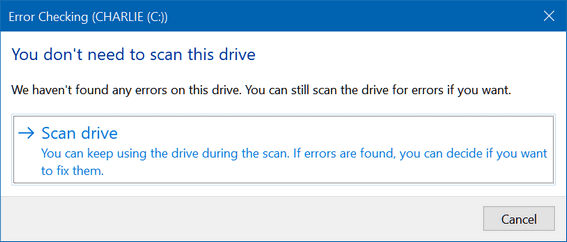 You can scan any hard drive using this tip.
Bonus Tip: Scan your hard drive(s) using a Command Prompt.
1.) Type CMD in the taskbar search.
2.) In the search results click on "Run as administrator".
3.) At the prompt, type the following command and press Enter. (Make sure you leave a space before the slash.)
CHKDSK /SCAN
Windows will scan your drive…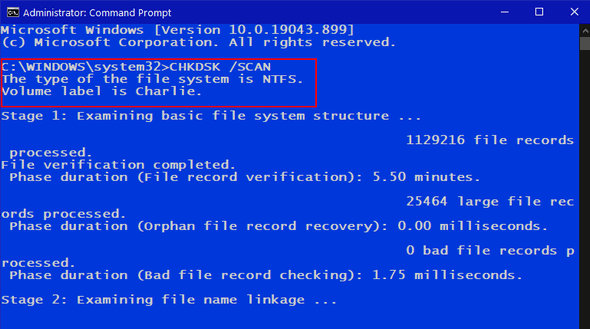 And when the scan is done Windows will let you know if further action is required. As you can see, I don't need to do anything more. My drive is fine.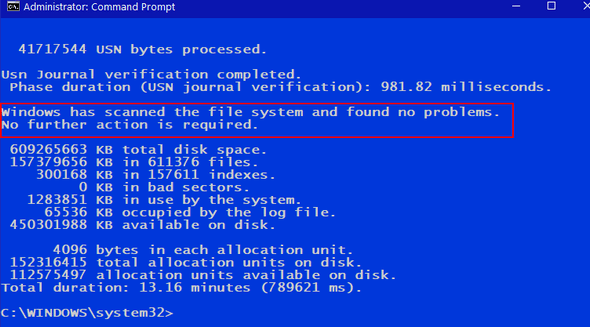 Want more tips, tricks, and information?
We have thousands of Windows tips, tricks, and more on our InfoAve web site.
Subscribe to our free InfoAve Daily newsletter.






Now available: Reg Organizer 8.60

If you purchased or renewed Reg Organizer through Cloudeight within the last 12 months, you're entitled to a free version upgrade to Reg Organizer 8.60.

Save $14 on Reg Organizer right now!

Reg Organizer - A Swiss Army Knife of Windows Tools - Works Great on Windows 10!




How to Find Out if Your Phone Number Was Stolen in the Facebook Breach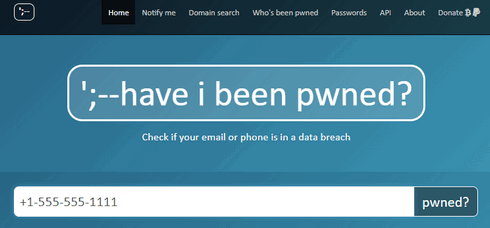 Recently, the personal data of 533 million Facebook users was stolen and placed on a hacking forum.
"Have I been pwned" has added a new feature that is especially useful if you're a Facebook user. As a result of the Facebook breach, the site now allows people to find out if their phone numbers have been exposed. "Have I been pwned" previously allowed users to check to see if their email addresses and passwords were exposed in past breaches.
The recent Facebook breach prompted Troy Hunt, the security expert who runs "Have I been pwned", to enhance the site so that people can search to see if their phone numbers have been breached too. As you may know, the recent Facebook breach exposed far more phone numbers than email addresses.
To see if your phone number was exposed in the Facebook breach, go to
https://haveibeenpwned.com/.
To search for a phone number, enter your phone number using the international format — i.e., with the country and area codes. A user in the U.S.A. would add +1 and their area code before their phone number. For example, a U.S. phone number 555-555-1111 would be entered as +1-555-555-1111.
Here are a few country codes:
USA country code +1
Australia country code +61
New Zealand country code +64
Great Britain country code +44
If yours is not listed, just google country code + the name of your country.
Good luck. May your phone number not be listed among the pilfered ones.



Time
"Time is too slow for those who wait, too swift for those who fear, too long for those who grieve, too short for those who rejoice, but for those who love, time is eternity." (Henry Van Dyke)
The world has certainly gotten crazier over the last decade. The way people act you'd think none of us had anything in common. It seems we're on one side or the other and it's always the wrong side if it's not the side you're on.
A few months before he was assassinated, John F. Kennedy, in a speech at American University in Washington, D.C. said:
"For, in the final analysis, our most basic common link is that we all inhabit this small planet. We all breathe the same air. We all cherish our children's future. And we are all mortal."
I think, somewhere along the line, we forgot that we're all in this together — no matter what side of the fence we're on. It makes no sense to hate someone who doesn't think the way you do. But there sure is a lot of that going around these days, isn't there?
We've been through this many times before – think of the crusades where each side believed they were so right that the other side needed to be obliterated. Thank goodness, we've become a little more civil – or have we? I'm not so sure...
You can read the rest of this essay here.


Wildcards
When you think of Wildcards I think of Jokers. When I think of Jokers, I think of EB. But I'm not talking about Jokers wild - or EB the Joker. I'm talking about Windows wildcards.

Now...back in the days when EB was young and thin - and TC was dashing and macho - we used to use what were known as "Wildcards". For instance, if we were looking for a PDF file and we didn't know its name, we could use a wildcard to search for all PDF files on our computers.

The search would look like:

*.pdf

The asterisk is the wildcard. If we were looking for a text file but not sure of its name...

*.txt

Or a Word document:

*.doc or *.docx

And, though EB is no longer young and thin, wildcards still work on Windows 10.

Wildcards can help you find things when you're not sure of the name of the file, but you know it's type (extension).
Jokers wild, EB!


THANK YOU FOR HELPING US!
When you support us with small gift, you help us continue our mission to keep you informed, separate the truth from the hyperbole, and help you stay safer online. Plus, our computer tips make your computer easier to use.
Did you know that we provide support to thousands of people? Every week we help dozens of people via email at no charge. The questions and answers you see in our newsletters are from the email answers and help we provide to everyone free of charge.
Thanks to your gifts, we do a lot more than provide this free newsletter. We help you recognize online threats, fight for your online privacy, provide you with the knowledge you need to navigate the Web safely, provide you with suggestions for safe, free software and websites, and help you get more out of your PC.
Please Help us keep up the good fight with a small gift.
Interested in making an automatic monthly gift? Visit this page. Help us keep helping you... and helping you stay safe on the Web.




Sales of the following products and services help support our newsletters, websites, and free computer help services we provide.

Cloudeight Direct Computer Care: Single Keys, SeniorPass, or Season Tickets - always a great deal. Cloudeight Direct Computer Care is like having PC insurance. Get more information here.

Emsisoft Anti-Malware: Emsisoft is the only Cloudeight endorsed and recommended Windows security program. It provides users with a complete antivirus, antimalware, anti-ransomware, anti-PUPs solution. We offer single Emsisoft licenses and multi-computer licenses at discount prices. Also, we offer our exclusive Emsisoft with Cloudeight installation & setup. Get more information here.

OE Classic Email program. The email program that is most like Outlook Express. We can even set it up for you. Get more details here.

Reg Organizer: Reg Organizer is the Swiss Army Knife of Windows tools. It's far more than just a registry optimizer and cleaner... it's a Windows all-in-one toolkit. Reg Organizer helps you keep your computer in tip-top shape and helps you solve annoying Windows problems. Reg Organizer works great with Windows 10! Get more information about Reg Organizer (and get our special discount prices) here.
SeniorPass - One year of Cloudeight Direct Computer Care - unlimited sessions! Get more information here.

Windows 10 Customization: Make Windows 10 look and work the way you want it to. Learn more.

MORE IMPORTANT STUFF!

Your InfoAve Weekly Members' Home Page is located here.

Print our Cloudeight Direct Computer Care Flyer and spread the word about our Cloudeight Direct Computer Care repair services. Get our ready-to-print flyer here.

Help us Grow! Forward this email newsletter to a friend or family member - and have them sign-up for InfoAve Weekly here!

Get our free daily newsletter! Each evening we send a short newsletter with a tip or trick or a computer-related article - it's short and sweet - and free. Sign-up right now.

We have thousands of Windows tips and tricks and computer articles posted on our Cloudeight InfoAve website. Our site has a great search engine to help you find what you're looking for too! Please visit us today!

Help us by using our Start Page. It costs nothing, and it helps us a lot.

Print our Cloudeight Direct Flyer and spread the word about our computer repair service! If you want to help us by telling your friends about our Cloudeight Direct Computer Care service, you can download a printable flyer you can hand out or post on bulletin boards, etc. Get the printable PDF Cloudeight Direct Computer Care flyer here.



We'd love to hear from you!

If you have comments, questions, a tip, trick, a freeware pick, or just want to tell us off for something, let us know.

If you need to change your newsletter subscription address, please see "Manage your subscription" at the very bottom of your newsletter.

We received hundreds of questions for possible use in IA news. Please keep in mind we cannot answer all general computer questions. We try to personally answer as many as we can. We can only use a few to in each week's newsletter, so keep this in mind. If you have a support question about a service or product we sell, please contact us here.

Subscribe to our Daily Newsletter! Get computer tips & tricks every night. Our daily newsletter features a computer tip/trick or two every day. We send it out every night around 9 PM Eastern Time (USA). It's short and sweet, easy-to-read, and FREE. Subscribe to our Cloudeight InfoAve Daily Newsletter!





We hope you have enjoyed this issue of Cloudeight InfoAve Weekly. Thanks so much for your support and for being an InfoAve Weekly subscriber.

Have a great weekend... be safe!

Your friends at Cloudeight,

Darcy and TC
Cloudeight InfoAve Weekly - Issue #913
Volume 18 Number 23
April 9, 2021

Not a subscriber? Subscribe to our FREE Cloudeight InfoAve Weekly Newsletter here.





"Cloudeight InfoAve Weekly" newsletter is published by:

Cloudeight Internet LLC
PO Box 73
Middleville, Michigan USA 49333-0073

Read our disclaimer about the tips, tricks, answers, site picks, and freeware picks featured in this newsletter.

Copyright ©2021 by Cloudeight Internet