The Complete Guide to Windows 10 System Restore
Windows 10 (all supported versions)
Windows 10 has a lot of excellent features. System Restore has been mostly forgotten because Windows 10 offers other great recovery methods like Fresh Start and System Reset. But using Fresh Start or System Reset to fix one problem is like using an elephant gun to kill a rat.
You may not need to wipe out Windows and reinstall it using System Reset – which allows you to wipe out Windows, keep your personal files and folders. If things suddenly go awry with your PC and a simple reboot doesn't help, your first choice should be System Restore.
System Restore can erase changes to your computer that may be causing problems without removing all your desktop programs. So why doesn't Microsoft make System Restore easier to find and to use on Windows 10? We have no idea.
Turning on and configuring Windows 10 System Restore
First, let's make sure that System Restore is turned on and configured correctly.
It's always good to start at the beginning, right?
Type Create Restore in the taskbar search and press Open when you see Create a Restore Point appear in the search results.
The following dialog will appear the System Protection tab should be pre-selected. If it is not, click on the System Protection tab. Make sure you Windows drive is selected – usually this will be drive C:\.
Then click on the Configure button near the bottom. See the picture below: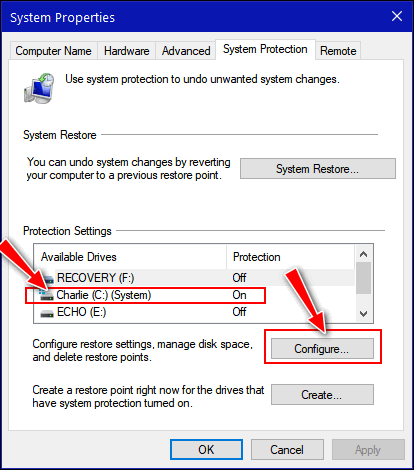 Tick the circle next to "Turn on system protection" (if it's not selected already). Slide the max usage arrow from 2% to 10% depending on the size of your hard drive. Don't go over 10%
After you've done the above, click "Apply"/ "OK".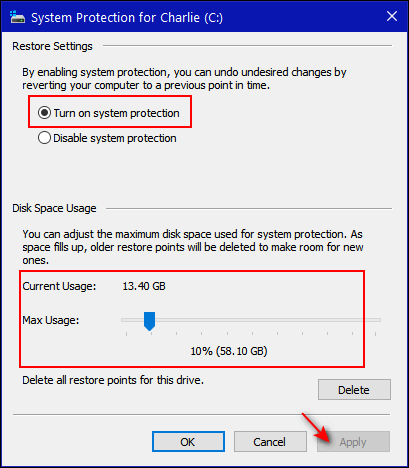 Creating a Restore Point
Click on the Create button on the main dialog (inside the lower red box in the image below). A Create a restore point dialog will appear.
Give your new restore point a name (Hint: Windows will always append the date to the name you provide so you don't have to use a date in the name.) Now click the "Create" button on the "Create a restore point" dialog (see below):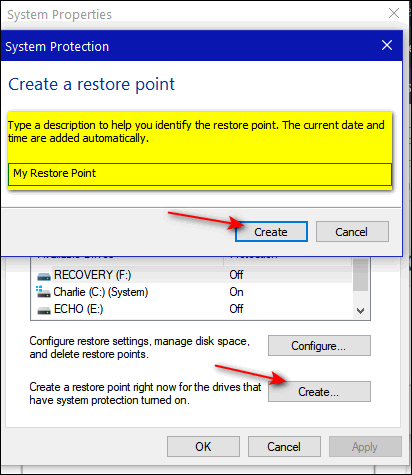 Windows will start creating a restore point with the name you gave it.

When it's done creating the restore point, click OK on the main dialog.
Now that you have created a restore point, Windows will automatically create system restore points at intervals it decides – it will use up to the maximum space you allowed for System Restore when you set it up.
How to use System Restore to restore your computer to an earlier time
But what if you need to restore your computer using your restore point(s)? Press the Windows Key plus the "R" key (or right-click the start button and choose "Run"). In the run dialog type RSTRUI and press enter.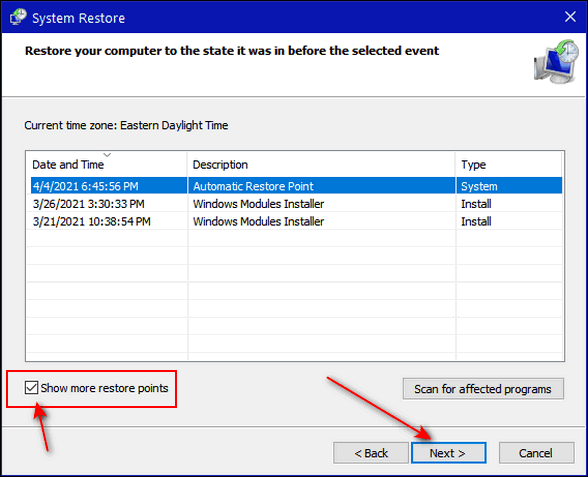 Make sure you tick the box at the bottom next to "Show more restore points" so all the restore points available are shown. Click on the restore point you want to use to highlight it, (as you can see above, I chose a restore point dated April 4, 2021). then click "Next >"
The next dialog asks you to confirm your choice. It also gives you a chance to see what programs will be affected by the restore operation. The only programs that will be affected will be programs that you installed between the restore point you choose and the date you do the restore.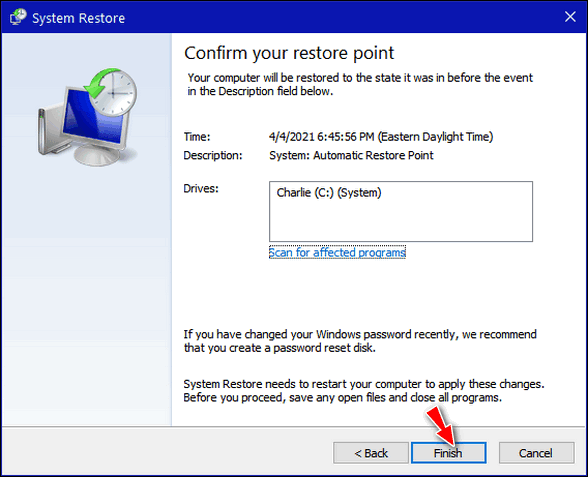 When you've confirmed the restore point, and optionally, checked to see what programs may be affected – you're ready to go. Click Finish.
You will have one more chance to cancel the System Restore. If you chose to continue with it, you will have no further options to cancel it. Once it starts. you won't be able to stop it. It will continue to run until the restore operation is complete.
A System Restore usually takes from 30 to 60 minutes – but it can take longer. You must let it finish though it appears nothing is happening. Turning off your computer or rebooting during a restore is an invitation to PC catastrophe.
System Restore is a good way to restore your computer to an earlier time should something you install cause major problems. But it's not a panacea for all computer troubles. And sometimes System Restore will complete and you'll get a message that the System Restore operation was unsuccessful. If you do get that message and you have other restore points available, you can try running restore again using a different restore point. If that fails, you still have the option to use System Reset and keep all your personal files.

Want more tips, tricks, and information?
We have thousands of Windows tips, tricks, and more on our InfoAve web site.
Subscribe to our free InfoAve Daily newsletter.






Now available: Reg Organizer 8.60

If you purchased or renewed Reg Organizer through Cloudeight within the last 12 months, you're entitled to a free version upgrade to Reg Organizer 8.60.

Save $14 on Reg Organizer right now!

Reg Organizer - A Swiss Army Knife of Windows Tools - Works Great on Windows 10!




Tickld – A Cloudeight Website Pick
Our site pick today will make you laugh — or at least smile, and probably warm your heart too.
Tickld is a website full of articles and news stories sorted into four categories:
Heartwarming, Spooky, Wow, Cute, Outrageous, and Funny.
When I first stumbled on Tickld, I had a tough time leaving the site as it has that "just-one-more" stickiness to it. There are always more articles to read and more interesting headlines to click on and on and on…
Here's what the staff of Tickld has to say.
ABOUT US

Here at Tickld, we know what tickles you! Our editorial team aims to humor, surprise and delight you with our daily content. They scour the internet for the hidden gems, keeping a keen eye on what's trending, and serve you only the best of the best. So, keep calm and scroll on!
OK, enough of my rambling, how about a few samples to motivate you to visit our Cloudeight Site Pick – Tickld.
Spunky Grandma Escapes From Retirement Home To Get Tattoo

A plucky great-grandma in Londonderry, Northern Ireland was not about to miss out on her granddaughter getting a tattoo. Sadie Sellers, 79, escaped from her retirement home to get inked with her great-granddaughter, Samantha. If you think all elderly folks are timid, gentle people, then think again. The adventurous Sellers is a lady who simply wants to live her life to the fullest…

---

Stick 'Em Up: UK Granny Wins Award For Fighting Off Robber With Cane

This granny wasn't going down without a fight!

Medals are usually reserved for civil servants and other selfless acts, but the Amplifon Awards had to give an accolade to this feisty 83-year-old grandmother.

Shopkeeper June Turner was caught on camera fighting off a burglar when he decided to rob her newsstand. Armed with only her cane, the tenacious Turner took a swing at the robber, thwacking him multiple times…

---
And a few headlines for you…
Hairdressers Recall The Nastiest Client They've Ever Had

Canada Made Unlicensed Bingo Illegal So These Seniors Straight Up Broke The Law

9 Year Old Girl Fills Chapstick With Cheese, Proves The Future Is Female

People Share The Most Annoying Thing A House Guest Has Ever Done
There are tons of interesting, funny, outrageous, and heartwarming articles on Tickld. And more are added every day.
Take some time and visit Tickld, it's a Cloudeight Site Pick – and we're sure you'll enjoy it.


Dreams

Everything I was meant to be
I am and you can surely see
That I am in reality
All I am supposed to be.

I am nothing more and nothing less
Than I am willing to confess.
In the hands of time, I ride
Until they say, "He finally died".

I am all that I'll ever be
And so are you. Can't you see?
We make our own reality
And all is as it's meant to be.

Three dazzling white horses prancing in an arid plain beneath cloudless desert-blue skies. In the background, you can see jagged, grey-edged, cold-faced mountains, shimmering in the heat.

Your mind paints the scene.

You can feel the hot, dry, gritty, relentless wind blowing through your hair, touching your skin… burning yet setting you free.

You are an artist even with your eyes closed...
You can read the rest of this essay here.


This week's back-to-basics tip comes courtesy of Kris who was kind enough to send us a tip she came up with o help her husband understand the some of the web terminology we use every day. Kris, thanks so much for sending this. I'm sure many readers will appreciate your tip.


Kris's Back-to-Basics Tip


"
After reading the confusion between Browsers/Search Engines, I thought you could embellish on what I told my husband because this did help him. Maybe this could help others. I came up with the following:
The computer is your "wide wonderful world".
Your ISP (Internet Service Provider) gives you the power (like gasoline for your car) to get on line so you can go and your thing.
A Search Engine will search the world for you wherever you want to search and for whatever you want to search for.
A web browser is your "car" to get you where you want to go.
---
Thank you Darcy & T.C. for being there for us all. Keep on doing what you both are doing! Take Care, Kris



Our newest Cloudeight Endorsed Email Program - Very Similar to Windows Mail & Outlook Express. Stationery works great!

Read more about OE Classic here!




Sales of the following products and services help support our newsletters, websites, and free computer help services we provide.

Cloudeight Direct Computer Care: Single Keys, SeniorPass, or Season Tickets - always a great deal. Cloudeight Direct Computer Care is like having PC insurance. Get more information here.

Emsisoft Anti-Malware: Emsisoft is the only Cloudeight endorsed and recommended Windows security program. It provides users with a complete antivirus, antimalware, anti-ransomware, anti-PUPs solution. We offer single Emsisoft licenses and multi-computer licenses at discount prices. Also, we offer our exclusive Emsisoft with Cloudeight installation & setup. Get more information here.

OE Classic Email program. The email program that is most like Outlook Express. We can even set it up for you. Get more details here.

Reg Organizer: Reg Organizer is the Swiss Army Knife of Windows tools. It's far more than just a registry optimizer and cleaner... it's a Windows all-in-one toolkit. Reg Organizer helps you keep your computer in tip-top shape and helps you solve annoying Windows problems. Reg Organizer works great with Windows 10! Get more information about Reg Organizer (and get our special discount prices) here.
SeniorPass - One year of Cloudeight Direct Computer Care - unlimited sessions! Get more information here.

Windows 10 Customization: Make Windows 10 look and work the way you want it to. Learn more.

MORE IMPORTANT STUFF!

Your InfoAve Weekly Members' Home Page is located here.

Print our Cloudeight Direct Computer Care Flyer and spread the word about our Cloudeight Direct Computer Care repair services. Get our ready-to-print flyer here.

Help us Grow! Forward this email newsletter to a friend or family member - and have them sign-up for InfoAve Weekly here!

Get our free daily newsletter! Each evening we send a short newsletter with a tip or trick or a computer-related article - it's short and sweet - and free. Sign-up right now.

We have thousands of Windows tips and tricks and computer articles posted on our Cloudeight InfoAve website. Our site has a great search engine to help you find what you're looking for too! Please visit us today!

Help us by using our Start Page. It costs nothing, and it helps us a lot.

Print our Cloudeight Direct Flyer and spread the word about our computer repair service! If you want to help us by telling your friends about our Cloudeight Direct Computer Care service, you can download a printable flyer you can hand out or post on bulletin boards, etc. Get the printable PDF Cloudeight Direct Computer Care flyer here.



We'd love to hear from you!

If you have comments, questions, a tip, trick, a freeware pick, or just want to tell us off for something, let us know.

If you need to change your newsletter subscription address, please see "Manage your subscription" at the very bottom of your newsletter.

We received hundreds of questions for possible use in IA news. Please keep in mind we cannot answer all general computer questions. We try to personally answer as many as we can. We can only use a few to in each week's newsletter, so keep this in mind. If you have a support question about a service or product we sell, please contact us here.

Subscribe to our Daily Newsletter! Get computer tips & tricks every night. Our daily newsletter features a computer tip/trick or two every day. We send it out every night around 9 PM Eastern Time (USA). It's short and sweet, easy-to-read, and FREE. Subscribe to our Cloudeight InfoAve Daily Newsletter!





We hope you have enjoyed this issue of Cloudeight InfoAve Weekly. Thanks so much for your support and for being an InfoAve Weekly subscriber.

Have a great weekend... be safe!

Your friends at Cloudeight,

Darcy and TC
Cloudeight InfoAve Weekly - Issue #914
Volume 18 Number 24
April 16, 2021

Not a subscriber? Subscribe to our FREE Cloudeight InfoAve Weekly Newsletter here.





"Cloudeight InfoAve Weekly" newsletter is published by:

Cloudeight Internet LLC
PO Box 73
Middleville, Michigan USA 49333-0073

Read our disclaimer about the tips, tricks, answers, site picks, and freeware picks featured in this newsletter.

Copyright ©2021 by Cloudeight Internet