How to Change Your Mouse Pointer Size and Color
Windows 10 (all supported versions)
A not-so-well-known feature of Windows 10 lets you customize your mouse pointer size and color. You can make the mouse pointer very small or very large – or any size in between by using a size slider. And for the first time, you can make your mouse pointer any color you want.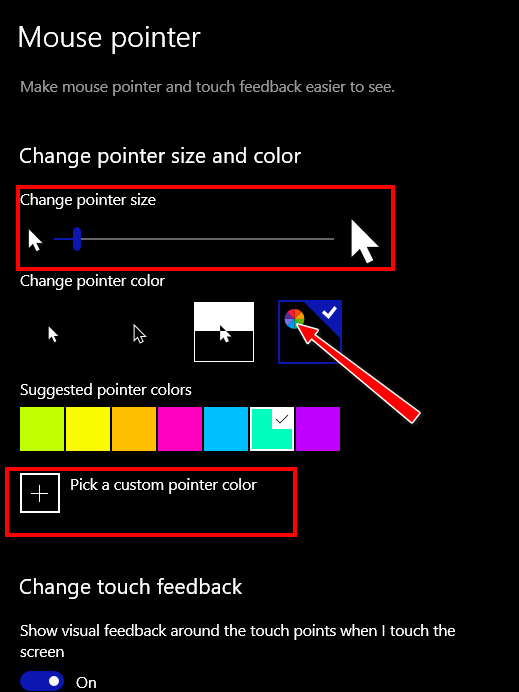 In the Ease of Access > Mouse pointer settings page, you'll find a slider that lets you make your mouse pointer as big or as small as you like. And you'll find an option that allows you to change your mouse pointer color.
Once you click on the "color wheel" option (see above) Windows will display seven color boxes showing you pointer colors you can choose. But if you don't like any of those colors, just click the plus sign + next to "Pick a custom pointer color" and choose any color you like.
All you need to do to get the "Mouse pointer" settings page is…
Press the Windows Key + U to open the Ease of Access Center. In Ease of Access click on "Mouse pointer" in the menu on the left.

Want more tips, tricks, and information?
We have thousands of Windows tips, tricks, and more on our InfoAve web site.
Subscribe to our free InfoAve Daily newsletter.






Now available: Reg Organizer 8.60

If you purchased or renewed Reg Organizer through Cloudeight within the last 12 months, you're entitled to a free version upgrade to Reg Organizer 8.60.

Save $14 on Reg Organizer right now!

Reg Organizer - A Swiss Army Knife of Windows Tools - Works Great on Windows 10!




Pine Tools – An Amazing Collection of Useful Online Tools
This Cloudeight website pick is a treasure chest of online tools – a toolbox extraordinaire. There are so many tools on the Pine Tools site, we're not even going to try to list them all.
To give you some idea of the kinds of online tools you'll find in this virtual treasure chest of online tools you'll find on the Pine Tools website, we submit the following for your perusal:
MATHEMATICS
Calculator
Area calculator
Percentage calculator
Single rule of three direct
Single rule of three inverse…
COLORS
Color picker, tools for modifying or generating colors
Lighten color
Darken color
Change color saturation
Greyscale/desaturate a color
Invert a color…
TEXT AND LISTS
Work with lists and texts, sort, randomize, reverse
Reverse list
List randomizer
Sort list
Add text to each line
Remove extra whitespaces…
NUMBERS
Work with numbers, generate, filter, sort
Generate a list of numbers
Filter numbers
Sort numbers
Minimum and maximum of a list
Average of a list…
DATE AND TIME
Measure time, calculate distance between dates, chronometers
Date/time difference
Add to a date
Subtract from a date
Timer
Stopwatch…
IMAGES
Resize images, crop, optimize, and more
Invert colors
Flip image
Darken image
Lighten image
Change brightness…
RANDOMNESS
Generate random numbers, randomize lists, common distributions
Random number generator
Coin flipper
Dice roller
Gaussian random number generator
Password generator
PROGRAMMING
Tools for programming and web development
Syntax highlighter
CSS Inliner
JSON formatter
CSS beautifier
HTML beautifier
FILES
Convert, compress, join or split
Split files
Join files
Base64 encode
Base64 decode
Random file generator…
What more can we say? If looking at the partial list of online tools above does not make your fingers twitch to click and visit Pine Tools, there's not more we can do.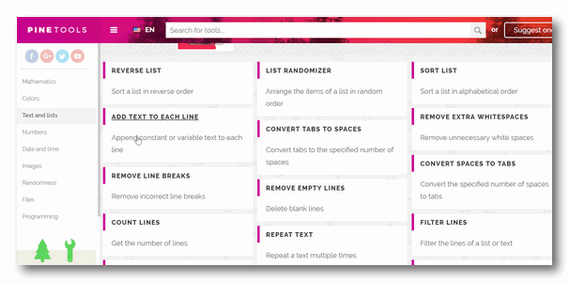 If you're looking for one place to find dozens and dozens of useful online tools that can help you do just about anything, visit this Cloudeight Site Pick – Pine Tools. It really is an amazing site!


Words from Acpressions

Twenty-one years ago, we introduced Cloudeight Acpressions. It became part of our Cloudeight family. At that time Cloudeight Stationery was the most popular email stationery site on the web and it was growing fast.

Back then, Darcy and I spent most of our time creating stationery, screen savers, and other fun things. One of the last things we added to our Cloudeight Stationery family of websites was Acpressions – the name being a play on the word "Expressions".

Our Acpressions website featured hundreds of sharable thoughts, expressions, and poems that we combined with Java applets and images. Our Acpressions were unique and quickly became a popular part of Cloudeight.

But nothing ever stays the same. Our Acpressions were rendered useless when browsers stopped supporting Java applets – and wouldn't you know we built nearly the entire Acpressions site on Java applets. When browsers stopped supporting Java applets, we sadly decided to close our Acpressions website.

The other day I was going through the backup copy we have of Acpressions, and while I could not view the Acpressions I was still able to view some of the poems and thoughts we wrote. And today, instead of our usual essay, we'd like to share some of the verses, thoughts, and poems that we shared with the world all those years ago.

We hope you enjoy this journey back in time – and the Words of Acpressions...

You can read the rest here.



Why do you have both Program Files and Program Files(X86) directories on your computer?
Windows 64-bit operating systems have two program file directories:
Program Files and Program Files(X86)
Programs that install to Program Files, by default are 64-bit programs; programs which install to Program Files(X86) by default, are 32-bit programs.
As a general rule, everything you see installed to Program Files is 64-bit software. All programs you find installed in the Program Files(X86) directory, are 32-bit programs. Windows 64-bit operating systems have 32-bit emulation, called WOW64. This emulator allows Windows 64-bit operating systems to run most 32-bit software without a problem.
So, now you know if you have two Program Files directories you have 64-bit Windows; if you have only one Program Files directory you have 32-bit Windows.



Our newest Cloudeight Endorsed Email Program - Very Similar to Windows Mail & Outlook Express. Stationery works great!

Read more about OE Classic here!




Sales of the following products and services help support our newsletters, websites, and free computer help services we provide.

Cloudeight Direct Computer Care: Single Keys, SeniorPass, or Season Tickets - always a great deal. Cloudeight Direct Computer Care is like having PC insurance. Get more information here.

Emsisoft Anti-Malware: Emsisoft is the only Cloudeight endorsed and recommended Windows security program. It provides users with a complete antivirus, antimalware, anti-ransomware, anti-PUPs solution. We offer single Emsisoft licenses and multi-computer licenses at discount prices. Also, we offer our exclusive Emsisoft with Cloudeight installation & setup. Get more information here.

OE Classic Email program. The email program that is most like Outlook Express. We can even set it up for you. Get more details here.

Reg Organizer: Reg Organizer is the Swiss Army Knife of Windows tools. It's far more than just a registry optimizer and cleaner... it's a Windows all-in-one toolkit. Reg Organizer helps you keep your computer in tip-top shape and helps you solve annoying Windows problems. Reg Organizer works great with Windows 10! Get more information about Reg Organizer (and get our special discount prices) here.
SeniorPass - One year of Cloudeight Direct Computer Care - unlimited sessions! Get more information here.

Windows 10 Customization: Make Windows 10 look and work the way you want it to. Learn more.

MORE IMPORTANT STUFF!

Your InfoAve Weekly Members' Home Page is located here.

Print our Cloudeight Direct Computer Care Flyer and spread the word about our Cloudeight Direct Computer Care repair services. Get our ready-to-print flyer here.

Help us Grow! Forward this email newsletter to a friend or family member - and have them sign-up for InfoAve Weekly here!

Get our free daily newsletter! Each evening we send a short newsletter with a tip or trick or a computer-related article - it's short and sweet - and free. Sign-up right now.

We have thousands of Windows tips and tricks and computer articles posted on our Cloudeight InfoAve website. Our site has a great search engine to help you find what you're looking for too! Please visit us today!

Help us by using our Start Page. It costs nothing, and it helps us a lot.

Print our Cloudeight Direct Flyer and spread the word about our computer repair service! If you want to help us by telling your friends about our Cloudeight Direct Computer Care service, you can download a printable flyer you can hand out or post on bulletin boards, etc. Get the printable PDF Cloudeight Direct Computer Care flyer here.



We'd love to hear from you!

If you have comments, questions, a tip, trick, a freeware pick, or just want to tell us off for something, let us know.

If you need to change your newsletter subscription address, please see "Manage your subscription" at the very bottom of your newsletter.

We received hundreds of questions for possible use in IA news. Please keep in mind we cannot answer all general computer questions. We try to personally answer as many as we can. We can only use a few to in each week's newsletter, so keep this in mind. If you have a support question about a service or product we sell, please contact us here.

Subscribe to our Daily Newsletter! Get computer tips & tricks every night. Our daily newsletter features a computer tip/trick or two every day. We send it out every night around 9 PM Eastern Time (USA). It's short and sweet, easy-to-read, and FREE. Subscribe to our Cloudeight InfoAve Daily Newsletter!





We hope you have enjoyed this issue of Cloudeight InfoAve Weekly. Thanks so much for your support and for being an InfoAve Weekly subscriber.

Have a great weekend... be safe!

Your friends at Cloudeight,

Darcy and TC
Cloudeight InfoAve Weekly - Issue #915
Volume 18 Number 25
April 23, 2021

Not a subscriber? Subscribe to our FREE Cloudeight InfoAve Weekly Newsletter here.





"Cloudeight InfoAve Weekly" newsletter is published by:

Cloudeight Internet LLC
PO Box 73
Middleville, Michigan USA 49333-0073

Read our disclaimer about the tips, tricks, answers, site picks, and freeware picks featured in this newsletter.

Copyright ©2021 by Cloudeight Internet