Cloudeight InfoAve Weekly
Issue #920
Volume 18 Number 30
May 28, 2021

Dear Friends,

Welcome to Cloudeight InfoAve Weekly Issue #920. Thank you very much for subscribing and for being a part of our Cloudeight family. We appreciate your friendship and support very much! Please share our newsletters and our Website with your friends and family.





Happy Memorial Day Weekend

As always, on major holiday weekends, we publish a review edition. Publishing a review edition allows us to take some time off to spend with our families and friends and gives us a chance to feature some of the best questions/answers, tips, and other content from past issues of Cloudeight InfoAve Weekly.

To all our friends in the USA, take time to remember those who made the ultimate sacrifice to preserve our way of life and our freedom. And have a very happy and safe Memorial Day weekend.

To all our friends in other countries around the world - have a great weekend!

And to everyone, everywhere, we hope you enjoy this special review edition of Cloudeight InfoAve Weekly.





THANK YOU FOR HELPING US!

When you support us with small gift, you help us continue our mission to keep you informed, separate the truth from the hyperbole, and help you stay safer online. Plus, our computer tips make your computer easier to use.

Did you know that we provide support to thousands of people? Every week we help dozens of people via email at no charge. The questions and answers you see in our newsletters are from the email answers and help we provide to everyone free of charge.


Thanks to your gifts, we do a lot more than provide this free newsletter. We help you recognize online threats, fight for your online privacy, provide you with the knowledge you need to navigate the Web safely, provide you with suggestions for safe, free software and websites, and help you get more out of your PC.

Please Help us keep up the good fight with a small gift.

Interested in making an automatic monthly gift? Visit this page. Help us keep helping you... and helping you stay safe on the Web.


Carol can't find Contacts in Gmail
Hi TC and Darcy. I found a link in a Google search for Gmail contacts because i could not find a link to contacts in Gmail. This is crazy! Do you have a solution for finding the contacts page and adding contacts in Gmail without leaving Gmail site?

Thanks again for all your help. I don't know where else we would go for the great amount of help we all need.

Our answer
Hi Carol. Yes, just log in to Gmail, then look in the upper right (where the "9" dots are). Click on the 9-dots and then scroll down until you see Contacts. You can add contacts or edit theme there. See the screenshot below...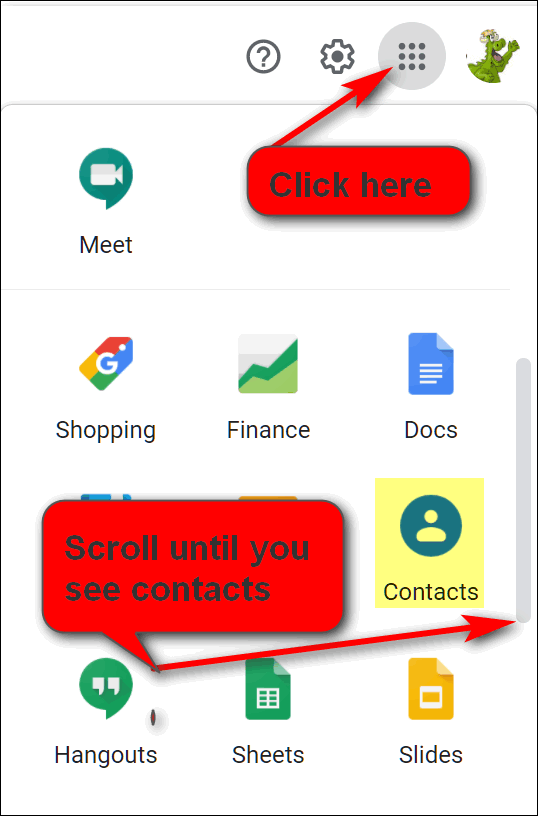 Bonnie really messed up her display colors
I really screwed up the screen on my laptop. I tried using the black background with white fonts for a few days and today I wanted to go back to white background with black fonts and I've ended up with something I don't like. It's now black background with chartreuse fonts. Yuck!
I tried to find your information about switching back and I can't find it. Can you help me and direct me where to correct this, Please?

Our answer
Hi Bonnie. All you need to do is turn off Color Filters. Here's our article on how to do that.

https://www.thundercloud.net/infoave/new/windows-10-color-filters/

We hope this helps you, Bonnie.
--------
Bonnie wrote back: "Thank you so much. It seems to be working the way I want it to be. Now what I have to do is quit messing with all those things then I won't get upset with myself and have to bother you... Bonnie."

Linda's wireless adapter quit working
I have a huge problem I reset my old computer to clean it out and use it as a backup because it was suggested to me to update to a newer computer. This is the first time I've ever done anything like this and behold the old computer does not recognize the wireless adapter, so I cannot access internet. I went to computer manufacturer's web site and download all the drivers for this computer but still no wireless internet. I don't know what to do now.

Our answer
Hi Linda. The easiest and least complicated "fix" is to buy a USB Wi-Fi adapter (around $20).

Once you have the adapter, all you have to do is plug it into a USB port on your PC and follow the instructions that come with the adapter.

For more info about USB Wi-Fi adapters, see this page.

If you need more help, let us know.




Don't have a Cloudeight SeniorPass? It's a great deal. Learn more here.

Our Cloudeight SeniorPass is a great deal. You get unlimited support for one full year from date you first use your SeniorPass. We can help keep your computer running well, fix all kinds of computer problems, clean up malware, and a whole lot more. Our SeniorPass is like insurance for your computer. And it's only $99 for an entire year.

Get your SeniorPass today for just $99. It's just like having insurance for your computer - only better!

To learn more about our SeniorPass, please see this page.


Deb needs help with Windows 10 colors
Here i am again 3rd (maybe 4th) time in all these years, Windows update changed my view on my desktop screen. I do know how to change colors and wallpaper etc., but this new Windows update has left me with all gray colors.

Unless I use Dark Mode to go back to color choices for taskbar & start menu then everything else is BLACK and I hate it.

Is there a way to get it all back to white background but still keep my colored accents. Everything i seem to read or see only shows me how to go to dark mode...

Thanks in advance for any help, Deb

Our answer
Hi Deb. You have to remember in Settings > Personalization > Colors you have to select "Custom" under Choose your color. Then, under Default Windows Mode, you have to choose "Dark" and under Default app mode" you can choose either light or dark depending on what you want. When your computer is set up like this you can chose any color you want for your taskbar, start menu, program window border colors. You can choose from a Color Chart or any custom color.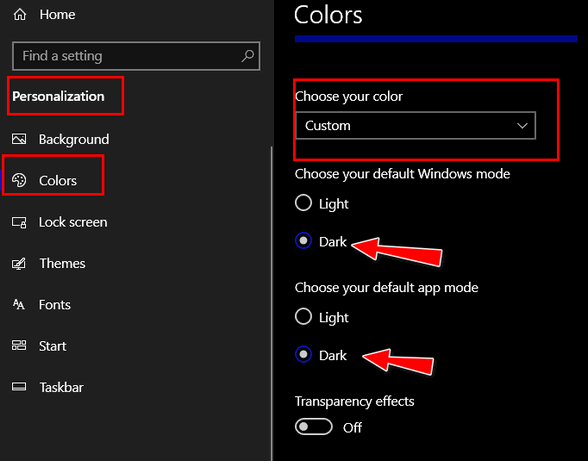 Above: You must choose "Custom" under "Choose your color" and "Dark" under Windows Mode. You can choose Light or Dark under App mode.

When you do this, you'll be able to select any color from a color chart.



Or create a custom color - using the color mixer.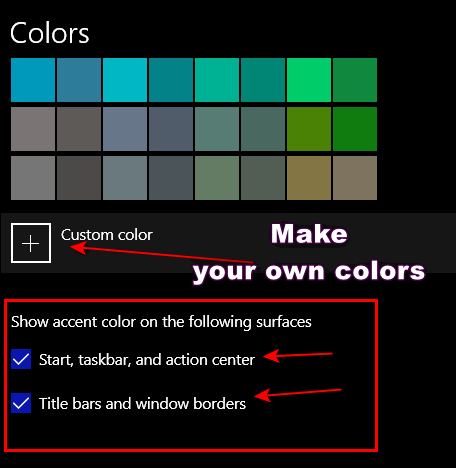 Under "Show accent color on the following surfaces" you must check both boxes.

If you still can't get it to work for you, if you have a Cloudeight Direct Computer Care key we can help you with this. If you don't have a key, you can get one here.



Joann says every time she starts her computer Firefox asks to be her default browser
Hi TC. Each time that I log onto the internet, a window pops up regarding Firefox. It always asks me if I want to make Firefox my default browser. If I click on "Not now", it continues to pop up each & every time that I go online. If I click on "yes" or "okay" (whichever it offers), then a big window pops up w/all kinds of choices. I never see any that I should accept. What do you advise? I'd like to be finished with this window pop-up for good.

Thank you so much for all your help. I have so very much appreciated all your directions, instructions, tips, offers, and help for so many years now! I have learned most of what I know about my computer(s) over those years from your InfoAve e-mails, notices, etc. It has been a treasure and a pleasure to learn from you. Thanks again, Joann.

Our answer
Hi Joann. Thanks very much for your nice comments and for your long-time support

There is nothing unusual or malicious going on here. When Firefox asks if you want it to be your default browser and you click No (Not now), the next time you open Firefox it will ask you again. When you click YES (Use Firefox as my default browser) , then Settings > Apps > Default Apps will open where you'll see a list of apps for which you can set your defaults (we explain that here).

Next time Firefox asks if you want to make it your default browser, don't click yes or (Use Firefox as my default browser) or No (Not now)… remove the checkmark from the box next to "Always perform this check when starting Firefox". Firefox won't ask to be your default browser anymore. See the screenshot below.



We hope this helps you, Joann.

Carol doesn't want to have to sign into her Windows 10 computer
How can I get rid of Windows log in when I start my Windows 10 computer.

Our answer
Hi Carol, we always advise people to use a password or PIN. But if you are sure you don't want to use a password or PIN to log into Windows 10, follow the instructions in our tutorial here.
-----
Carol wrote back: "Thank you. It worked great! Thanks for getting back to me so quickly. Carol"

MaryLee has a problem with Microsoft Edge
I've been having trouble updating Edge. I was just going to search Cloudeight for instructions on this and found your article about running SFC and DISM. So, I followed instructions; it took about half an hour to get to 8%. Three hours later, it's stuck at 8%. I think I'll have to use my Repair Key, which I purchased when you first made them available.

Our answer
Hi MaryLee. You don't have to use a repair key to fix Edge. All you need to do is reset it.

See this page to learn how to reset Microsoft Edge.

Once you do that, close and reopen Edge. Then type (or copy/paste) this into the Edge address bar...

edge://settings/help

It will tell you if your Edge browser is up to date and if not, give you the option to update it.

DISM/SFC scans are for finding and fixing or replacing Windows system files. If the scans stop when running them, you might want to close all open programs before running them again.

We hope this helps you. MaryLee.


The Best Computer Care and Repair - Anywhere!
We can fix your computer while you watch. You never have to leave your home. Just sit back, relax, and watch us work. Get PC service from folks you trust at the best prices you'll find anywhere.
Get more information here.


How to Use Microsoft Office Apps Online for Free
A tip for everyone



One of the questions we are most often asked is how to open or create Word, Excel, or PowerPoint files without spending any money. We usually suggest free MS Office substitutes like Open Office or Libre Office. But there's something we don't remind you of very much an that is if you don't need the full suite of MS Office tools, you can access a some of its apps online for free -- including Word, Excel, and PowerPoint.

And all you need to do is going to https://office.com and login with your Microsoft account. If you don't have a Microsoft account, you can create one free. For our purposes, a Microsoft account is a Microsoft email address. If you have an @outlook.com, @hotmail.com, @msn.com, @live.com or @live.ca email address you have a Microsoft account. If you don't yet have a Microsoft account go to https://outlook.com/ and get a free @outlook.com or @hotmail.com address.

Once you've logged in to Office.com, just select the app you want to use. You can even save your work in the cloud with OneDrive.

You might be thinking... "Wait... if I can get those MS Office apps for free, why would I pay for MS Office in the first place? These apps have fewer features than the full Office versions, but for most people they'll get the job done. Another drawback is that they only run in your web browser, so you can't use them when you're not online or on your desktop.

But there are benefits to MS Office (free) too. You can share links to your projects and even collaborate in real time, similar to Google's G Suite.

For most folks looking to create and/or open Word, Excel, and PowerPoint files, these free apps should work well for you.

Fun with the Run Box
Windows 8.1 and Windows 10 (all versions)
We call a Run command a Run box – because we're not geeks. And most of you know that you can open a Run box by pressing the Windows Key + R. But did you know that when you open a Run box, you open up a world of commands. And just seriously complex commands made for geeky people. Many are for normal folks like you and me… and the ones we're going to show you can come in handy.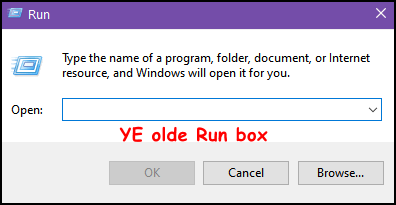 Moving right along…
Did you know that you can open programs or web pages from a Run command? You can open folders and run Windows commands as well. The Run command is not just for geeks in dirty sweatpants sitting around in dank, musty basements surrounded by computer screens, and billows of e-cigarette smoke. The Run command works for ordinary folks too — and we are going to prove it to you.
Use the Windows Key+R keyboard shortcut to open a Run box. Type the name of a program in the Run box and press Enter. For instance, try typing Chrome and then tap the Enter key. If Chrome is installed, it will open. You can try other programs too, but keep in mind, If the program does not open, some programs require you to be a geek and type in file path too.
But we're not geeks so we're going to show you some applications you can open from a Run box for which you don't need no stinkin' file paths.
Enough bloviating! Let's try some Run box magic right now. Press & hold down the Windows Key and tap the R key. The Run dialog will open. Now enter any of the following in the Run box and press Enter:
Notepad
MSINFO32
WordPad
iexplore.exe (Internet Explorer)
RSTRUI.exe (System Restore)
MSPaint (Microsoft Paint)
MSCONFIG (Configuration utility)
SERVICES.MSC (Windows Services)
WRITE (Opens WordPad)
Chrome (if Chrome is installed)
Firefox (if Firefox is installed)
MSEdge (Opens Edge in Windows 10)
Thunderbird (if Thunderbird is installed)
Winver (displays your current Windows version)
Taskmgr (opens Task Manager)
Calc (opens the Windows Calculator)
Documents (opens your Documents folder)
Downloads (opens your default Downloads folder)
Music (opens your default Music folder)
Videos (opens your Videos folder)
Explorer (opens File Explorer)
Shutdown /R (restarts your computer)
Shutdown (shuts down your computer)
Control (opens Control Panel)
Appwiz Ctrl (opens Control Panel's change or remove programs)
Control Desktop (Opens Personalization settings)
You can also enter a URL (Web page address) directly into a Run Command and open any webpage in your default browser.
Try https://thundercloud.net/start/
There are tons of other commands too, but woe is me, I'm tired of trying to think of them! The list above should be plenty to get you started.

The Case of the Hot & Dirty Laptop
Windows 8.1 & Windows 10 (Laptop users)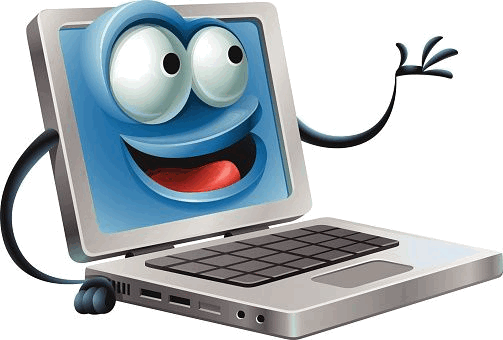 We've written about keeping your computer clean and free of malware, junkware, excess startup apps, etc. But rarely have we written about keeping the outside of your computer clean. Keeping your laptop clean can not only make your laptop run better and last longer – it can help keep you healthier too.
Dirty
If you never clean your laptop, you're not doing your computer's health (or yours) any favors. Did you know that if you never clean your laptop keyboard it could be dirtier than a toilet seat in a public restroom? YUCK!
A recent survey found that laptop keyboards often contain more germs than toilet seats in public restrooms – and most users rarely clean their laptop keyboards – if they clean them at all. So, let's be clean and healthy…
Unless you like the idea of typing on a dirty toilet seat it's time to clean it. Apply isopropyl (rubbing) alcohol to a microfiber cloth. Make sure the cloth is damp but not dripping. Use the cloth to clean the keyboard keys and all the areas bordering it. Next, take a dry microfiber or other lint-free cloth to dry and polish your keyboard. If the spaces between your keys are still dirty, use a cotton swab lightly dampened with isopropyl alcohol to clean and sanitize.
Hot
Just about everyone dusts the furniture and other objects around the home. But very few people dust the vents on their laptops. Dust can also clog your laptop vents inside and prevent it from cooling down properly.
,
Dusty cooling vents, can block airflow and cause your laptop to overheat. Overheating can drain your laptop's battery and shorten its life as well as hinder its performance. Also, if your laptop gets too hot it can randomly shut down. The hotter your laptop gets the worst its performance may be as your try to compensate for the excess heat.
Let's get clean those dusty vents. Locate the cooling vents on your laptop – they are usually on the sides or bottom. Next, point a can of compressed air at the vents. Be careful not to use too much pressure. The best way to clean your laptop's cooling vents with compressed is to shoot short bursts from different angles into the laptop vents. This cleans your vents and helps your laptop stay cooler. To prevent dust from building up, you should clean the vents once a month.
And, if your laptop is running hot and you're sure the vents are not full of dust, make sure the vents are not blocked by clothing, tablecloths, etc. And don't place your laptop on top of a comfy pillow on your lap. Instead, use a cooling pad (available for $30 and up) or place your laptop on a flat, solid surface such as a tabletop. If you use your laptop on a table, make sure you don't place your laptop on top of a cloth placemat or tablecloth.
Clean the screen
A dirty laptop screen can dull colors and make it difficult to read text. So, let's clean the screen.
First, shut down your laptop. It's easy to see dust, dirt, and grime when the screen is dark. Use a clean new sponge dampened (not soaked) with distilled water. Never use tap water or harsh chemicals to clean your laptop screen and never use paper towels on your screen. Gently wipe the screen with the damp sponge being careful to clean up any drips right away.
If your computer screen has sticky gunk or spatters or greasy spatters on it, use a clean microfiber cloth dampened with one of the following mixtures:
50% distilled water & 50% white vinegar
50% distilled water & 50% isopropyl alcohol
100% distilled water + one or two drops of dishwashing liquid
Rub the screen gently in small circles to avoid streaks. Never press too hard or you can damage your laptop's screen. Remember…easy does it! Be gentle. Repeat as often as necessary until your laptop's screen is clean and clear.
Finally, wait for the screen to dry completely before closing your laptop's lid or powering it on.
It does not take a lot of time or effort to make sure your laptop is a clean machine.

Want more tips, tricks, and information?
We have thousands of Windows tips, tricks, and more on our InfoAve web site.
Subscribe to our free InfoAve Daily newsletter.






Now available: Reg Organizer 8.60

If you purchased or renewed Reg Organizer through Cloudeight within the last 12 months, you're entitled to a free version upgrade to Reg Organizer 8.60.

Save $14 on Reg Organizer right now!

Reg Organizer - A Swiss Army Knife of Windows Tools - Works Great on Windows 10!




Make Almost Anything
A long, long time ago, back when I first met EB, I thought she knew everything. So, when I needed to know how to do or make anything, I just asked her. But then, as I got to know her better, I found out that she doesn't know everything. Go ahead and ask her how to grow a square watermelon. She won't know.
Anyway… our site pick today is called Instructables. It's a site that had its origins at MIT and Squid Labs. But you don't care about that, all you care about is what it is and what you can do with it. And what you can do with it is- just to name a few…
Bring the chips, mi amigo! Si! Si!
Learn to a simple wooden table with benches for kids
Learn to grow a square watermelon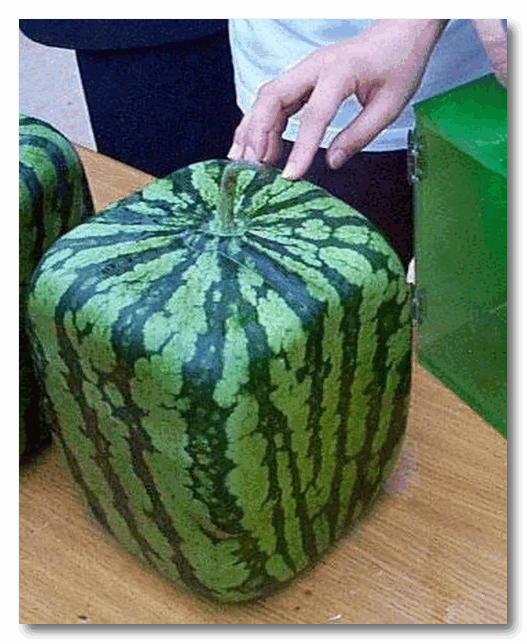 You're so square!
Learn to make an emergency oil lamp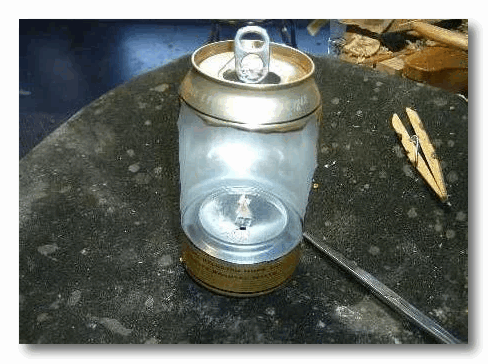 I'll drink the beer; you make the lamp!
Learn to fix up an old bicycle
Or learn to make or do over 100,000 more things.
OK, you get the idea. About anything you want to learn how to do or make can be found on Instructables. There are currently over 100,000 Instructables on the site. And the remarkable thing about Instructables is that most of them are easy to understand – and most include pictures so you can easily follow the instructions.
Finding what you're looking for on Instructables is a snap: Just type in what you want to learn to make or do in the site's search engine at the top of each page and there's a good chance you'll find exactly what you're looking for in just a second or two. The site search is extremely fast and accurate.
If you choose you can also browse through the site's "Featured" Instructables. or browse through the Instructables by category from the Categories menu at the bottom of the page:
The categories you can browse are:
Technology
Workshop
Craft
Home
Food
Play
Outside
Costumes
Here's some info from the site's owners/developers:
…When they weren't solving interesting problems like solar panels for driveways, efficiently harnessing human power, or strain sensing ropes, you could find them sharing Instructables from the workshop. From cooking to 3d printing to making just about anything fly, Instructables became the recipient of countless hours of tinkering, soldering, stitching, frying, and fun, making just about anything…

Instructables was officially spun out of Squid Labs in the summer of 2006, and has gone on to grow from a modest list of hundreds of projects to over one hundred thousand. The community that now calls the site home, is an amazing mix of wonder from around the world. Every day we continue to be amazed by the imagination, curiosity, and simple awesomeness of everyone who shares their creations with us on Instructables…"
So, what have you learned so far, EB? That's right! When you want to do or make something, and you are not sure how — check out our site pick "Instructables". We're quite sure you'll find what you're looking for.
If you've yearned to learn how to make or do something, then Instructables is a site you'll find is worth much more than its weight in gold. After all, how much does a website weigh?
Seek no more… go and learn! Visit Instructables right now.
You'll be glad you did.


Quantum English – The Long-Awaited Reprise

Someone once said that if you use bad grammar, it's like having bad breath – you can say all sorts of intelligent things, but no one is going to take you seriously. You can gargle and chew gum for your breath, but if you're grammatically illiterate — until now there was no easy solution.

Luckily for you, in this modern age of instant communion, love, and food, I've stumbled upon the most amazing and revolutionary discovery in the history of the English language, or at least since Garmond Retutsi discovered the now overused exclamation point in Palp, Sussex, England in 1488 – a scant 4 years before Columbus discovered Hispaniola, and six years after King Phillip III beheaded his youngest and last wife, Queen Heather I. And all that happen, just prior to the time when the Two Doors line of royalty began – and well before four doors became popular with families.

Anyway…

One summer morning, while I had nothing better to do – which is often the case on summer mornings – I sat behumbled on my couch listening to the air conditioner humming and my ears ringing. With this cacophony flowing through my head, I began thinking about a show I had seen several nights before on The Science Channel. It was about quantum physics. In this show, they taunted us thinking viewers with some interesting concepts drawn from quantum physics. For instance, let's say you live in Middleburg, Pa. I'm not accusing you of being from Pennsylvania, I'm just saying. And let's say your darling Aunt Prudence lives in Gluttux, West Virginia – again, I'm not accusing you of having relatives from West Virginia. I'm just saying...

Please read the rest of this essay here.


What the heck is the Dark Web?

The Dark Web is an invisible part of the Web that is not searchable by search engines like Google. You can only access with via the Onion (Tor) network. The Tor Browser can be used to access the dark web - it's the original dark web browser. The Tor browser routes your web page requests through a series of proxy servers operated by volunteers around the globe, supposedly making your IP address unidentifiable and untraceable.

The Dark Web is mostly a place where people buy and sell illegal things like stolen credit card numbers, fake passwords, stolen identities, illegal drugs, illegal prescriptions and a lot more. All traffic to/from the dark web is encrypted and theoretically hidden from all other internet traffic and searches- hence the "Dark Web".

Some companies like Experian and others, supposedly scan the Dark Web to see if your Social Security number or other highly personal information is listed there.

If you're interested in learning more about the Dark Web, here's some interesting reading for you.



Our newest Cloudeight Endorsed Email Program - Very Similar to Windows Mail & Outlook Express. Stationery works great!

Read more about OE Classic here!




Sales of the following products and services help support our newsletters, websites, and free computer help services we provide.

Cloudeight Direct Computer Care: Single Keys, SeniorPass, or Season Tickets - always a great deal. Cloudeight Direct Computer Care is like having PC insurance. Get more information here.

Emsisoft Anti-Malware: Emsisoft is the only Cloudeight endorsed and recommended Windows security program. It provides users with a complete antivirus, antimalware, anti-ransomware, anti-PUPs solution. We offer single Emsisoft licenses and multi-computer licenses at discount prices. Also, we offer our exclusive Emsisoft with Cloudeight installation & setup. Get more information here.

OE Classic Email program. The email program that is most like Outlook Express. We can even set it up for you. Get more details here.

Reg Organizer: Reg Organizer is the Swiss Army Knife of Windows tools. It's far more than just a registry optimizer and cleaner... it's a Windows all-in-one toolkit. Reg Organizer helps you keep your computer in tip-top shape and helps you solve annoying Windows problems. Reg Organizer works great with Windows 10! Get more information about Reg Organizer (and get our special discount prices) here.
SeniorPass - One year of Cloudeight Direct Computer Care - unlimited sessions! Get more information here.

Windows 10 Customization: Make Windows 10 look and work the way you want it to. Learn more.

MORE IMPORTANT STUFF!

Your InfoAve Weekly Members' Home Page is located here.

Print our Cloudeight Direct Computer Care Flyer and spread the word about our Cloudeight Direct Computer Care repair services. Get our ready-to-print flyer here.

Help us Grow! Forward this email newsletter to a friend or family member - and have them sign-up for InfoAve Weekly here!

Get our free daily newsletter! Each evening we send a short newsletter with a tip or trick or a computer-related article - it's short and sweet - and free. Sign-up right now.

We have thousands of Windows tips and tricks and computer articles posted on our Cloudeight InfoAve website. Our site has a great search engine to help you find what you're looking for too! Please visit us today!

Help us by using our Start Page. It costs nothing, and it helps us a lot.

Print our Cloudeight Direct Flyer and spread the word about our computer repair service! If you want to help us by telling your friends about our Cloudeight Direct Computer Care service, you can download a printable flyer you can hand out or post on bulletin boards, etc. Get the printable PDF Cloudeight Direct Computer Care flyer here.



We'd love to hear from you!

If you have comments, questions, a tip, trick, a freeware pick, or just want to tell us off for something, let us know.

If you need to change your newsletter subscription address, please see "Manage your subscription" at the very bottom of your newsletter.

We received hundreds of questions for possible use in IA news. Please keep in mind we cannot answer all general computer questions. We try to personally answer as many as we can. We can only use a few to in each week's newsletter, so keep this in mind. If you have a support question about a service or product we sell, please contact us here.

Subscribe to our Daily Newsletter! Get computer tips & tricks every night. Our daily newsletter features a computer tip/trick or two every day. We send it out every night around 9 PM Eastern Time (USA). It's short and sweet, easy-to-read, and FREE. Subscribe to our Cloudeight InfoAve Daily Newsletter!





We hope you have enjoyed this issue of Cloudeight InfoAve Weekly. Thanks so much for your support and for being an InfoAve Weekly subscriber.

For those of you in the USA, have a happy and safe Memorial Day Weekend. Don't forget those who sacrificed so much for all of us.

And those of you in other countries around the world - have a great weekend... be safe!

Your friends at Cloudeight,

Darcy and TC
Cloudeight InfoAve Weekly - Issue #920
Volume 18 Number 30
May 28, 2021

Not a subscriber? Subscribe to our FREE Cloudeight InfoAve Weekly Newsletter here.





"Cloudeight InfoAve Weekly" newsletter is published by:

Cloudeight Internet LLC
PO Box 73
Middleville, Michigan USA 49333-0073

Read our disclaimer about the tips, tricks, answers, site picks, and freeware picks featured in this newsletter.

Copyright ©2021 by Cloudeight Internet