Managing Extensions in Chrome
Windows 8.1 and Windows 10 (all supported versions)
and Google Chrome browser installed
If you are having problems with Chrome, you should first check the extensions you've installed. Some extensions can cause problems with Chrome. If you feel an extension is causing problems with Chrome, you have two easy options: You can disable the extension or you can remove it. Disabling the extension retains the extension but stops it from running. You can if you choose, re-enable it should you want to do so. If you remove the extension, it will be completely removed from Chrome. However, you still have the option to reinstall the extension in the future should you ever decide you need it.
First, let's open extensions in Chrome. Click the 3-vertical dots icon in the top right corner and click "More tools" > "Extensions"…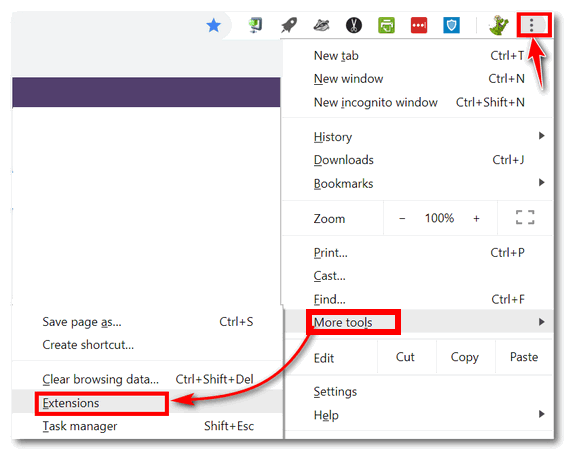 When the Extensions dialog opens, you'll see all of your extensions. If you want to disable an extension, look for the on/off switch and slide it to the left (off).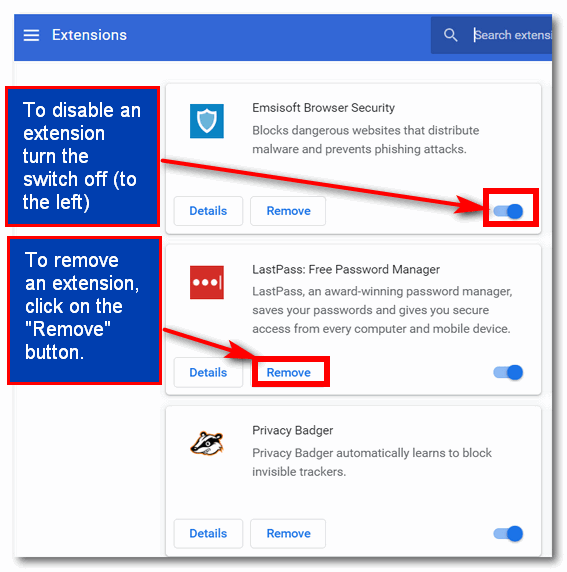 In the screenshot above, all extensions are turned on. You can tell by the switches. Slide the switch to the left and it will turn the extension off – but not remove the extension from Chrome. As you can see by the screenshot below, it's easy to tell when the extension is turned off. When you slide the switch to the left to turn off an extension, the switch becomes gray and white… as you can see below.





You can turn the extension back on by sliding the switch to the right. When the switch is on it will be colored blue.

If you no longer want an extension and want to remove it from Chrome, just click the "Remove" button. You'll be asked to confirm that you want to remove the extension. Once you confirm your action the extension will be removed.

So, now you know how to turn extensions on and off, and also how to remove extensions from Chrome.