More About Windows 11
All Windows Users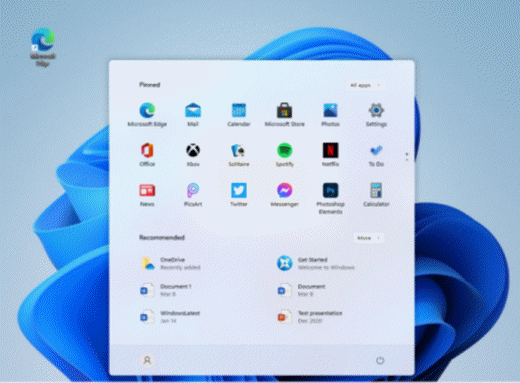 A lot of you are frustrated with Microsoft's broken promise. You know the promise … that Windows 10 would be the last numbered version of Windows. When Windows 11 was announced in June 2021, it surprised a lot of people, although the rumors at that time were fast and furious that Windows 11 was coming.
And a lot of us are disappointed that the computers we're using now won't run Windows 11. And that means that a lot of people are going to have to make a choice – buy a new computer that will run Windows 11 or continue to use Windows 10 until the end of its support on October 14, 2025. Or... using one of the many workarounds that allow advanced users to circumvent the stringent Windows 11 requirements.
And for those of you who can run Windows 11 or who are contemplating buying a new Windows 11 computer later this year, we want you to know that we will be featuring tips and tricks for Windows 11 just as we have done for all versions of Windows since Windows 95. And don't worry, we'll continue to feature tips and tricks for Windows 10 too.
Yes… you'll be able to run your favorite programs on Windows 11
There are rumors that Windows 11 won't run a lot of the programs that worked on Windows 7, Windows 8.1, and Windows 10. But those rumors are not true. Except for some programs such as desktop gadgets, Windows Media Center, and Internet Explorer, almost all of the programs you used on Windows 7, Windows 8.1, and Windows 10 will run on Windows 11.
Finally, Microsoft has updated its list of processors that will support Windows 11. So far, though the rumors have been flying, Microsoft still has not said whether it will support 7th generation processors. Right now, Windows 11 only supports 8th generation processors and newer.
For a complete list of processors that support Windows 11, see this page.
We will continue to keep you updated about Windows 11. There is still no firm release date, but most experts think Windows 11 will be released in October or November. We bet that it will be released in October so that Windows 11 computers will be available in stores in time for the Christmas shopping season.
And don't worry, if you're planning on running Windows 11, we will start featuring tips and tricks for Windows 11 when it's released to the public.

Want more tips, tricks, and information?
We have thousands of Windows tips, tricks, and more on our InfoAve web site.
Subscribe to our free InfoAve Daily newsletter.






Now available: Reg Organizer 8.70

If you purchased or renewed Reg Organizer through Cloudeight within the last 12 months, you're entitled to a free version upgrade to Reg Organizer 8.70.

Save $14 on Reg Organizer right now!

Reg Organizer - A Swiss Army Knife of Windows Tools - Works Great on Windows 10!




Search Everything Faster with Everything

As far as I know — or for as long as I can remember, at least — Windows has always had a search feature. It's not always been particularly good. And it's certainly not the fastest. In Windows XP and Vista, the Windows search feature was not very good and certainly not very fast. Windows 7 brought some improvements – as did Windows 8x and Windows 10. But Windows search is still not as fast as it should be, not as thorough as it could be, and not as fast Everything search – a free search program for Windows 8.1, and Windows 10 (all versions).

Everything Search

Everything is not new; it's been around for a long time. It's from Voidtools. The developer, David Carpenter, is so sure you'll like Everything search, he is willing to put his name and his email address on the Everything website – and that says a lot about the program and the developer.

We had featured Everything before. But this week we were reminded of Everything by Cloudeight subscriber Dawn who asked us to do everyone a favor by featuring it again.

After Dawn reminded us of Everything, I decided to check it out again. 'And once again, I found it to be exceptional. It is an amazingly fast and thorough search engine for Windows. It makes it easy to find whatever you're looking for on your computer.

I did a couple of quick tests. And Everything produced great search results instantly. We looked for all files on my laptop with the "white.mid" in their names in the first test. Everything found, well, everything with "white.mid" in its name in the blink of an eye.
And in another test, I just looked for all PDF files on my laptop. I have PDF files on this old laptop going back to 2013. I have saved quite a few in the last eight years. To find them all, I used the wildcard * (that is *.PDF) to search for all PDF files. In less than 2 seconds it found every PDF file on my laptop – and there are a whole lot of them. The search results can be ordered by name, date, type, etc. Below you can see Everything is showing all PDF files on my laptop by name.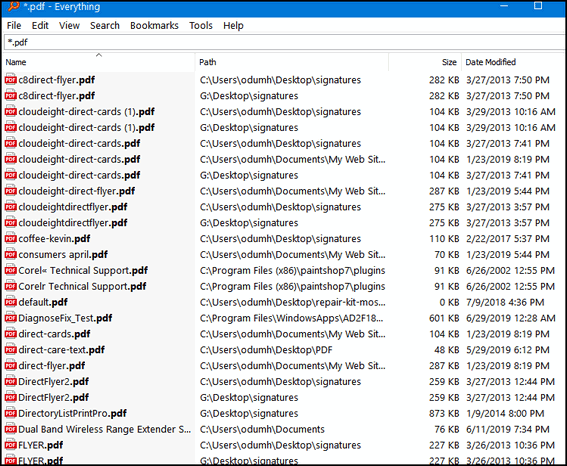 So, with our tests completed successfully, it's time to bring in David Carpenter, the developer of Everything, to answer your questions:
What is "Everything"?

"Everything" is search engine that locates files and folders by filename instantly for Windows.

Unlike Windows search "Everything" initially displays every file and folder on your computer (hence the name "Everything").

You type in a search filter to limit what files and folders are displayed.

How long will it take to index my files?

"Everything" only indexes file and folder names and generally takes a few seconds to build its database.

A fresh install of Windows 10 (about 120,000 files) will take about 1 second to index.

1,000,000 files will take about 1 minute.

Does Everything search file contents?

Yes, "Everything" can search file content with the content: search function.

File content is not indexed, searching content is slow.

Does "Everything" hog my system resources?

No, "Everything" uses very little system resources.

A fresh install of Windows 10 (about 120,000 files) will use about 14 MB of ram and less than 9 MB of disk space.

1,000,000 files will use about 75 MB of ram and 45 MB of disk space.

Does "Everything" monitor file system changes?

Yes, "Everything" does monitor file system changes.

Your search windows will reflect changes made to the file system.

Is "Everything" free?

Yes, "Everything" is Freeware..."
If you want to read more about Everything, visit this page.

Everything is available for download as a portable app or with an installer. It's available in 32-bit and 64-bit versions. You can download Everything from this page.

If you don't know if have a 32-bit or 64-bit computer and you're using Windows 10, type ABOUT in taskbar search. Click on "About your PC" when you see it appear in the search results. Look next to "System type" when the "About your PC" page opens.

If you're looking for a faster, better way to find files on your Windows PC, give "Everything" a try. It's fast, free, and it's not bundled with anything else, and it contains no malware or badware. And you'll be happy to know the author does not play whack-a-mole with the download links.

And should you have any questions or problems, David Carpenter puts his name and email address on the Everything website.




The Old Man and Me

I was talking to a friend the other day about life and death. No, it was not a seriously morose discussion. We talk about morbid stuff a lot.

But after some discussion, the basic question was distilled down to — "Would you rather die alone or have a bunch of people – family, friends, whoever – sitting by your bedside watching you breathe your final breaths and break free of the bonds of your earthly coil?"

I know this is a serious matter to some folks. I guess I don't understand why anyone would be comforted by a bunch of people watching you die, even if you dearly loved them. I mean, why would you want their last memory of you to be a memory of you sucking in your last breath?

Seriously.

Anyway, I think I would rather people remember me walking down the street wearing my old, beat-up, sweat-stained baseball cap, or me at a ball game, or me on the computer, or me eating a bagel than gasping my last allotted breaths in some stuffy, sick-smelling, darkened room.

And all those thoughts reminded me of an old man...

Please read the rest of this essay here.




Two Back to Basic Tips

1. Where's my Print Screen key?

a.) Are you having a problem finding the Print Screen key? On many keyboards, especially laptops, it is abbreviated as PrtScr and on others PrtScr.

b.) When you see two commands on one key, the shift key enables the lower command. That kind of seems backward, doesn't it? I think the reason is that your eyes tend to focus on the top command first, and the top command is the command that would most likely be used most often. For example, the question mark is on top with the slash below it on the same key. You would have to use the Shift key and click the ? key for a slash. The keyboard powers-that-be thought people would use the question mark more that than they would the slash. Before the Internet, they may have been right, but now? ¿Quien sabe?

2. Things to remember when changing your email address

We get a lot of emails informing us of an email address change. Here a few tips to remember when changing your email address:

a.) Don't use your old email address to email your contacts to tell them you are changing your email address. Use the new one.

b.) If you have a PayPal account, be sure you log in to PayPal and add your new email address, and then remove the old one.

c.). Most newsletters have a way to change your address and it's usually located at or near the bottom of the newsletter.





Our newest Cloudeight Endorsed Email Program - Very Similar to Windows Mail & Outlook Express. Stationery works great!

Read more about OE Classic here!




Sales of the following products and services help support our newsletters, websites, and free computer help services we provide.

Cloudeight Direct Computer Care: Single Keys, SeniorPass, or Season Tickets - always a great deal. Cloudeight Direct Computer Care is like having PC insurance. Get more information here.

Emsisoft Anti-Malware: Emsisoft is the only Cloudeight endorsed and recommended Windows security program. It provides users with a complete antivirus, antimalware, anti-ransomware, anti-PUPs solution. We offer single Emsisoft licenses and multi-computer licenses at discount prices. Also, we offer our exclusive Emsisoft with Cloudeight installation & setup. Get more information here.

OE Classic Email program. The email program that is most like Outlook Express. We can even set it up for you. Get more details here.

Reg Organizer: Reg Organizer is the Swiss Army Knife of Windows tools. It's far more than just a registry optimizer and cleaner... it's a Windows all-in-one toolkit. Reg Organizer helps you keep your computer in tip-top shape and helps you solve annoying Windows problems. Reg Organizer works great with Windows 10! Get more information about Reg Organizer (and get our special discount prices) here.

SeniorPass - One year of Cloudeight Direct Computer Care - unlimited sessions! Get more information here.

Windows 10 Customization: Make Windows 10 look and work the way you want it to. Learn more.

MORE IMPORTANT STUFF!

Your InfoAve Weekly Members' Home Page is located here.

Print our Cloudeight Direct Computer Care Flyer and spread the word about our Cloudeight Direct Computer Care repair services. Get our ready-to-print flyer here.

Help us Grow! Forward this email newsletter to a friend or family member - and have them sign-up for InfoAve Weekly here!

Get our free daily newsletter! Each evening we send a short newsletter with a tip or trick or a computer-related article - it's short and sweet - and free. Sign-up right now.

We have thousands of Windows tips and tricks and computer articles posted on our Cloudeight InfoAve website. Our site has a great search engine to help you find what you're looking for too! Please visit us today!

Help us by using our Start Page. It costs nothing, and it helps us a lot.

Print our Cloudeight Direct Flyer and spread the word about our computer repair service! If you want to help us by telling your friends about our Cloudeight Direct Computer Care service, you can download a printable flyer you can hand out or post on bulletin boards, etc. Get the printable PDF Cloudeight Direct Computer Care flyer here.



We'd love to hear from you!

If you have comments, questions, a tip, trick, a freeware pick, or just want to tell us off for something, let us know.

If you need to change your newsletter subscription address, please see "Manage your subscription" at the very bottom of your newsletter.

We received hundreds of questions for possible use in IA news. Please keep in mind we cannot answer all general computer questions. We try to personally answer as many as we can. We can only use a few to in each week's newsletter, so keep this in mind. If you have a support question about a service or product we sell, please contact us here.

Subscribe to our Daily Newsletter! Get computer tips & tricks every night. Our daily newsletter features a computer tip/trick or two every day. We send it out every night around 9 PM Eastern Time (USA). It's short and sweet, easy-to-read, and FREE. Subscribe to our Cloudeight InfoAve Daily Newsletter!





We hope you have enjoyed this issue of Cloudeight InfoAve Weekly. Thanks so much for your support and for being an InfoAve Weekly subscriber.

Have a great weekend... be safe!

Your friends at Cloudeight,

Darcy and TC
Cloudeight InfoAve Weekly - Issue #928
Volume 18 Number 38
July 23, 2021

Not a subscriber? Subscribe to our FREE Cloudeight InfoAve Weekly Newsletter here.





"Cloudeight InfoAve Weekly" newsletter is published by:

Cloudeight Internet LLC
PO Box 73
Middleville, Michigan USA 49333-0073

Read our disclaimer about the tips, tricks, answers, site picks, and freeware picks featured in this newsletter.

Copyright ©2021 by Cloudeight Internet