How Old is Your Windows PC?
Windows 8.1 and Windows 10 (all versions)
There's a lot of confusion about Windows 11. We have had quite a few people asking us if there's a way to find out when their computers were manufactured.
Generally, computers older than four years will not run Windows 11, but things could change. And yes, we know that there are workarounds posted all over the web. We're not recommending any of them at this point.
So how old is your computer?
If you want to know when your computer was manufactured, here is an easy way to find out
Type MSINFO32 in the taskbar search to open "System information" and look for BIOS Version/date: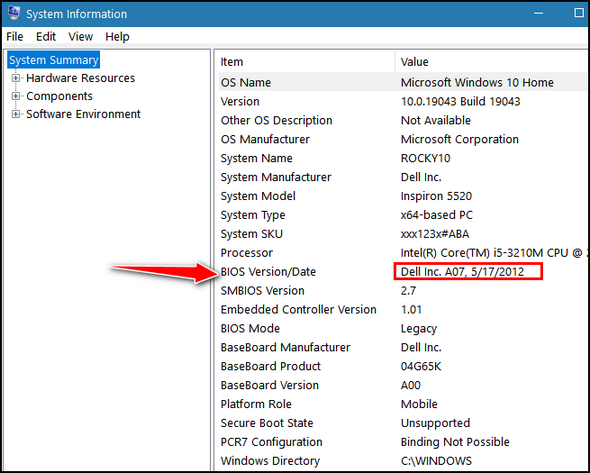 The BIOS Version/date shows the date your computer was manufactured. In the screenshot above, you can see the laptop I'm using is nine years old. It is running the current version of Windows 10 (Windows 10 version 21H1). It runs so well I use it instead of my newer one.
Please Note: There are always exceptions. If you changed your motherboard battery or flashed (updated) your BIOS, the date shown may not be the date your computer was manufactured.

Want more tips, tricks, and information?
We have thousands of Windows tips, tricks, and more on our InfoAve web site.
Subscribe to our free InfoAve Daily newsletter.






Now available: Reg Organizer 8.70

If you purchased or renewed Reg Organizer through Cloudeight within the last 12 months, you're entitled to a free version upgrade to Reg Organizer 8.70.

Save $14 on Reg Organizer right now!

Reg Organizer - A Swiss Army Knife of Windows Tools - Works Great on Windows 10!




The Cloudeight Freeware Hall of Fame
All Windows Users

We grew up with freeware. When we first jumped on the Web over two decades ago, almost all software was freeware. Things have changed. But we still use and love freeware – not just because it's free – but because it's good stuff. And you can't beat the price.

And yes, we know — there's a lot of good freeware that is not on this list, but we think it's a good start.

Here is our Cloudeight Freeware Hall of Fame

All the following programs work on Windows 8.1 and Windows 10 and should work well on Windows 11 too.
And if you want to see our honorable mentions, visit this page.




Happy Birthday, Darcy! May All Your Dreams Come True

Some of you know her as EB, some of you know her as Darcy, and most of you know she's a special lady. She is the one who makes sure that everyone who writes gets an answer, every order gets filled, and everyone with a computer problem who has a Cloudeight Direct service key gets scheduled.

Without her, Cloudeight would not be around anymore.

She's a fighter and she really cares. She's the one who takes the ideas I come up with and makes them work. My head's always in the clouds — which is why we are called Cloudeight…not really. She makes this our business and our site work. And she comes up with some great ideas too – like Cloudeight Direct, just to mention one.

Her birthday is July 30th. What I wish the most for her birthday is that all her dreams come true.

You don't know this, but she used to own a bar, and that's where I met her – in a bar. The bar was called...

Please read the rest of this essay here.

Our Cloudeight SeniorPass Summer Special is available all our friends 55 and older!

For a limited time only, we're offer our SeniorPass for $10 off plus we're including two new included services. Not only will you get one year of unlimited computer repair and support and all the other great services included with our SeniorPass (see this page), during our SeniorPass summer special we're including free setup of OE Classic (free version/one email account) and free installation & setup of Emsisoft AntiMalware with free 3-month license. Plus, we're taking $10 off the regular price of our SeniorPass.

You'll get one-year of computer care & repair and everything and all the other benefits of our SeniorPass, PLUS free setup of OE Classic (free version/one email account), free setup and installation of Emsisoft AntiMalware, plus we're knocking $10 off the price of our SeniorPass - for a limited time only.

If you're 55 or older, this is a deal you can't refuse. Get all of the above for just $89 - but only for a limited time!




What's the difference between Standard and Administrator accounts?

Administrator accounts have complete access to Windows and its settings, whereas Standard user accounts are limited. If you share a computer at home or at school or at the office, creating Standard accounts is a good way to ensure that the computer isn't too affected by the changes the users make on it.

For example, if a school gave all students Administrator accounts, they could make changes to the computer's security, delete system files, run programs that haven't been approved, and more.

If it's just you using the computer at home, making yourself the Administrator is the way to go. That way you can install software and make changes quickly and easily.







Our newest Cloudeight Endorsed Email Program - Very Similar to Windows Mail & Outlook Express. Stationery works great!

Read more about OE Classic here!




Sales of the following products and services help support our newsletters, websites, and free computer help services we provide.

Cloudeight Direct Computer Care: Single Keys, SeniorPass, or Season Tickets - always a great deal. Cloudeight Direct Computer Care is like having PC insurance. Get more information here.

Emsisoft Anti-Malware: Emsisoft is the only Cloudeight endorsed and recommended Windows security program. It provides users with a complete antivirus, antimalware, anti-ransomware, anti-PUPs solution. We offer single Emsisoft licenses and multi-computer licenses at discount prices. Also, we offer our exclusive Emsisoft with Cloudeight installation & setup. Get more information here.

OE Classic Email program. The email program that is most like Outlook Express. We can even set it up for you. Get more details here.

Reg Organizer: Reg Organizer is the Swiss Army Knife of Windows tools. It's far more than just a registry optimizer and cleaner... it's a Windows all-in-one toolkit. Reg Organizer helps you keep your computer in tip-top shape and helps you solve annoying Windows problems. Reg Organizer works great with Windows 10! Get more information about Reg Organizer (and get our special discount prices) here.
SeniorPass - One year of Cloudeight Direct Computer Care - unlimited sessions! Get more information here.

Windows 10 Customization: Make Windows 10 look and work the way you want it to. Learn more.

MORE IMPORTANT STUFF!

Your InfoAve Weekly Members' Home Page is located here.

Print our Cloudeight Direct Computer Care Flyer and spread the word about our Cloudeight Direct Computer Care repair services. Get our ready-to-print flyer here.

Help us Grow! Forward this email newsletter to a friend or family member - and have them sign-up for InfoAve Weekly here!

Get our free daily newsletter! Each evening we send a short newsletter with a tip or trick or a computer-related article - it's short and sweet - and free. Sign-up right now.

We have thousands of Windows tips and tricks and computer articles posted on our Cloudeight InfoAve website. Our site has a great search engine to help you find what you're looking for too! Please visit us today!

Help us by using our Start Page. It costs nothing, and it helps us a lot.

Print our Cloudeight Direct Flyer and spread the word about our computer repair service! If you want to help us by telling your friends about our Cloudeight Direct Computer Care service, you can download a printable flyer you can hand out or post on bulletin boards, etc. Get the printable PDF Cloudeight Direct Computer Care flyer here.



We'd love to hear from you!

If you have comments, questions, a tip, trick, a freeware pick, or just want to tell us off for something, let us know.

If you need to change your newsletter subscription address, please see "Manage your subscription" at the very bottom of your newsletter.

We received hundreds of questions for possible use in IA news. Please keep in mind we cannot answer all general computer questions. We try to personally answer as many as we can. We can only use a few to in each week's newsletter, so keep this in mind. If you have a support question about a service or product we sell, please contact us here.

Subscribe to our Daily Newsletter! Get computer tips & tricks every night. Our daily newsletter features a computer tip/trick or two every day. We send it out every night around 9 PM Eastern Time (USA). It's short and sweet, easy-to-read, and FREE. Subscribe to our Cloudeight InfoAve Daily Newsletter!





We hope you have enjoyed this issue of Cloudeight InfoAve Weekly. Thanks so much for your support and for being an InfoAve Weekly subscriber.

Have a great weekend... be safe!

Your friends at Cloudeight,

Darcy and TC
Cloudeight InfoAve Weekly - Issue #929
Volume 18 Number 39
July 30, 2021

Not a subscriber? Subscribe to our FREE Cloudeight InfoAve Weekly Newsletter here.





"Cloudeight InfoAve Weekly" newsletter is published by:

Cloudeight Internet LLC
PO Box 73
Middleville, Michigan USA 49333-0073

Read our disclaimer about the tips, tricks, answers, site picks, and freeware picks featured in this newsletter.

Copyright ©2021 by Cloudeight Internet