How to Find Out What You've Been Doing on Your PC
Windows 10 (all supported versions)
Windows keeps track of everything you do on your computer.
Did you know that every file or folder you access in Windows is tracked and added to a list? If someone (or you) wants to know what files and folders you've open recently, it is quite easy to do.
Just open a Run box by holding down the Windows Key and tapping the "R" key. Type RECENT in the Run box and press Enter or click "OK".

A list of files you've accessed recently will appear.
I did this tutorial on my spare laptop, the one I rarely use. So, my list is sparse, yours may be much longer.
My "Recent" list on my spare laptop, goes back about three weeks. It would go back further, but I was writing a tutorial on how to run CLEANMGR to clean up junk files and old restore points and cleaned up my PC.
Just for your information: The red icons (Irfanview image viewer) you see in the screenshot below are pictures. If you want to see what pictures I've been looking at, all you need to do is double-click to open them.
Remember. Anyone with access to your computer can do this. This list contains every file and folder you've opened since the last time you cleaned up your PC. If you run Windows Disk Cleanup or another cleanup program regularly, you will not have much on this list.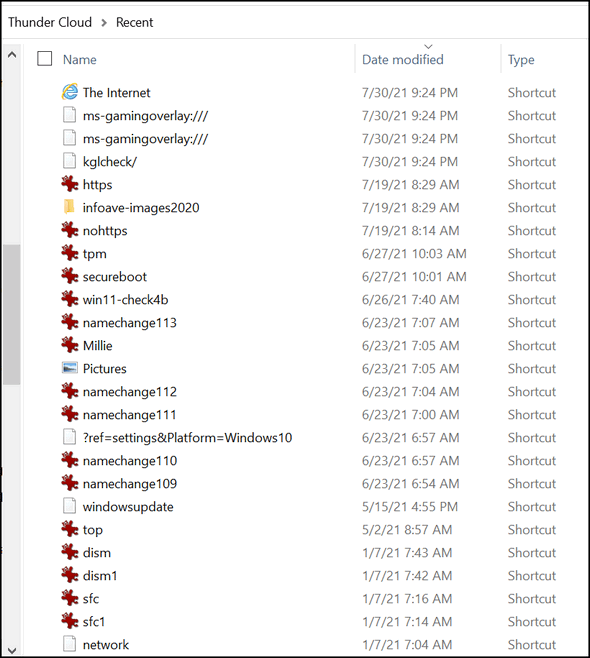 Windows 10 users will also notice that a list of recently accessed files and folders appears in File Explorer "Quick Access".
Here's how to clear the list of recently access files and folders
Type FOLDER OPTIONS in taskbar search and press Enter. File Explorer options will open. The General tab should open by default. Near the bottom, you'll see "Clear File Explorer history" and right next to it, a button labeled "Clear". You guessed it! Click the "Clear" button to clear recent history and remove the traces of your activity on your PC.
OK! Now you know how to see what files and folders you have recently accessed on your computer, and how to clear the list.

Want more tips, tricks, and information?
We have thousands of Windows tips, tricks, and more on our InfoAve web site.
Subscribe to our free InfoAve Daily newsletter.






Now available: Reg Organizer 8.70

If you purchased or renewed Reg Organizer through Cloudeight within the last 12 months, you're entitled to a free version upgrade to Reg Organizer 8.70.

Save $14 on Reg Organizer right now!

Reg Organizer - A Swiss Army Knife of Windows Tools - Works Great on Windows 10!




How to Find the Source of Any Image with TinEye
If you see an image anywhere on the web, on a website, on Facebook, Instagram, Twitter, or anywhere else on the web and you want to know where that image came from, there is no faster or easier way to find out than searching for it on TinEye. When you see a picture of someone or something and you want to know where it came from, search for it on TinEye. There are two ways to do that.
The hard way
Download the image you want to check out and then upload it to TinEye.
The easy way
Right-click the image and choose "Copy image URL" (Firefox); "Copy image address" (Chrome); "Copy image link" (Edge). And if we didn't mention your favorite browser here, keep in mind that all browsers have a method for copying the URL (web address) of an image.
How it works
I found a Microsoft Windows 10 image on the web that has been used by many sites (including ours). It's a generic image of Windows 11. TinEye searched over forty-eight billion images in less than five seconds and found that image has been used by 127 sites… and goes on to provide the names and URLs of all 127 of them.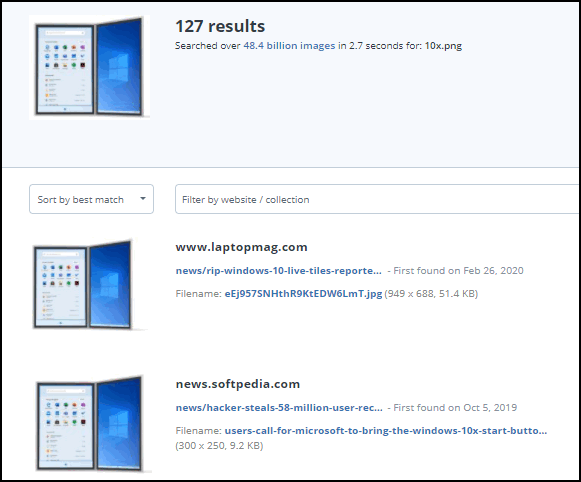 And TinEye does not save your search images.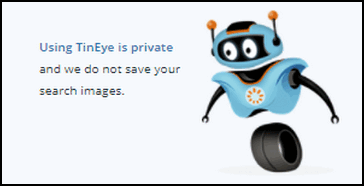 Here's how TinEye describes its services and its company:
TinEye is an image search and recognition company. We are experts in computer vision, pattern recognition, neural networks and machine learning. Our mission is to make your images searchable.

We have built a small, exceptional team based in Toronto. We deliver image search and recognition solutions to the industries where searching images is mission critical. Today, TinEye's image recognition is used by millions of people and powers billions of searches across a wide range of industries. We are privately owned, profitable and founder led. Our revenues are generated the old fashioned way – by our clients.

Learn more about our technology.
So, there you go. If you want to know where an image really came from — any image – TinEye can probably tell you. Visit TinEye right now and begin reverse image searching the easy way!




The Gift from Maryanne

I don't recall any shadows in that room on that late autumn morning. A gray, forlorn sky loomed sadly and hovered over everything. There was no hint of the sun and in the dim morning light. There were no shadows except for the shadows that you can only see with your mind. Those shadows are shadows of things yet to come.

The air was still, and no birds were singing. There was a strange and melancholy feeling in the air. You could tell it was not going to be a good morning.

Inside the house, there was an eerie silence. The sound of labored breathing made me even more aware of how silent that room was. As soon as I entered, I felt the morose and prescient feeling of doom. It was the kind of feeling you struggle with and try hard not to feel, but you feel it all the same. It was everywhere and it clung to me. There was an awful sadness there too - the air was heavy and saturated with it. It was a sadness that crawled under your skin and buried itself deep in your soul, and once it did, you knew it would never let go. It was the kind of sadness that came to stay.

As usual, a scented candle burned and flickered in a corner. It smelled strangely sweet to me. I didn't like it. While the scents changed from time to time, it didn't matter. The candle always filled the room with the same feeble, sweet odor. Still, the hungry odor of death prevailed. The sweet scent of the candle was pathetic and powerless against it....
Please read the rest of this short story here.

LAST WEEKEND!
Our Cloudeight SeniorPass Summer Special is available all our friends 55 and older!
For a limited time only, we're offer our SeniorPass for $10 off plus we're including two new included services. Not only will you get one year of unlimited computer repair and support and all the other great services included with our SeniorPass (see this page), during our SeniorPass summer special we're including free setup of OE Classic (free version/one email account) and free installation & setup of Emsisoft AntiMalware with free 3-month license. Plus, we're taking $10 off the regular price of our SeniorPass.
You'll get one-year of computer care & repair and everything and all the other benefits of our SeniorPass, PLUS free setup of OE Classic (free version/one email account), free setup and installation of Emsisoft AntiMalware, plus we're knocking $10 off the price of our SeniorPass - for a limited time only.
If you're 55 or older, this is a deal you can't refuse. Get all of the above for just $89 - but only for a limited time!




Copy & Paste - Windows sometimes adds a space


Sometimes when you copy/paste, if you "copy" from left to right, Windows adds a space. The best way to copy and paste something critical like a program registration key is to copy it from right to left instead of left to right. Many times Windows adds a phantom space before the item you copy if you copy from left to right. So next time try copying from right to left and we'll bet that eliminates the space Windows sometimes (annoyingly) adds at the beginning of the item you copied.


Our newest Cloudeight Endorsed Email Program - Very Similar to Windows Mail & Outlook Express. Stationery works great!
Read more about OE Classic here!


Sales of the following products and services help support our newsletters, websites, and free computer help services we provide.

Cloudeight Direct Computer Care: Single Keys, SeniorPass, or Season Tickets - always a great deal. Cloudeight Direct Computer Care is like having PC insurance. Get more information here.

Emsisoft Anti-Malware: Emsisoft is the only Cloudeight endorsed and recommended Windows security program. It provides users with a complete antivirus, antimalware, anti-ransomware, anti-PUPs solution. We offer single Emsisoft licenses and multi-computer licenses at discount prices. Also, we offer our exclusive Emsisoft with Cloudeight installation & setup. Get more information here.

OE Classic Email program. The email program that is most like Outlook Express. We can even set it up for you. Get more details here.

Reg Organizer: Reg Organizer is the Swiss Army Knife of Windows tools. It's far more than just a registry optimizer and cleaner... it's a Windows all-in-one toolkit. Reg Organizer helps you keep your computer in tip-top shape and helps you solve annoying Windows problems. Reg Organizer works great with Windows 10! Get more information about Reg Organizer (and get our special discount prices) here.
SeniorPass - One year of Cloudeight Direct Computer Care - unlimited sessions! Get more information here.

Windows 10 Customization: Make Windows 10 look and work the way you want it to. Learn more.

MORE IMPORTANT STUFF!

Your InfoAve Weekly Members' Home Page is located here.

Print our Cloudeight Direct Computer Care Flyer and spread the word about our Cloudeight Direct Computer Care repair services. Get our ready-to-print flyer here.

Help us Grow! Forward this email newsletter to a friend or family member - and have them sign-up for InfoAve Weekly here!

Get our free daily newsletter! Each evening we send a short newsletter with a tip or trick or a computer-related article - it's short and sweet - and free. Sign-up right now.

We have thousands of Windows tips and tricks and computer articles posted on our Cloudeight InfoAve website. Our site has a great search engine to help you find what you're looking for too! Please visit us today!

Help us by using our Start Page. It costs nothing, and it helps us a lot.

Print our Cloudeight Direct Flyer and spread the word about our computer repair service! If you want to help us by telling your friends about our Cloudeight Direct Computer Care service, you can download a printable flyer you can hand out or post on bulletin boards, etc. Get the printable PDF Cloudeight Direct Computer Care flyer here.



We'd love to hear from you!

If you have comments, questions, a tip, trick, a freeware pick, or just want to tell us off for something, let us know.

If you need to change your newsletter subscription address, please see "Manage your subscription" at the very bottom of your newsletter.

We received hundreds of questions for possible use in IA news. Please keep in mind we cannot answer all general computer questions. We try to personally answer as many as we can. We can only use a few to in each week's newsletter, so keep this in mind. If you have a support question about a service or product we sell, please contact us here.

Subscribe to our Daily Newsletter! Get computer tips & tricks every night. Our daily newsletter features a computer tip/trick or two every day. We send it out every night around 9 PM Eastern Time (USA). It's short and sweet, easy-to-read, and FREE. Subscribe to our Cloudeight InfoAve Daily Newsletter!





We hope you have enjoyed this issue of Cloudeight InfoAve Weekly. Thanks so much for your support and for being an InfoAve Weekly subscriber.

Have a great weekend... be safe!

Your friends at Cloudeight,

Darcy and TC
Cloudeight InfoAve Weekly - Issue #930
Volume 18 Number 40
August 6, 2021

Not a subscriber? Subscribe to our FREE Cloudeight InfoAve Weekly Newsletter here.





"Cloudeight InfoAve Weekly" newsletter is published by:

Cloudeight Internet LLC
PO Box 73
Middleville, Michigan USA 49333-0073

Read our disclaimer about the tips, tricks, answers, site picks, and freeware picks featured in this newsletter.

Copyright ©2021 by Cloudeight Internet