Using the Windows 10 Start Menu to Uninstall Programs and Apps
Windows 10 (all supported versions)

Sure, you can uninstall programs using Settings > Apps > Apps & features or the Control Panel. But did you know that you can uninstall programs right from the Windows 10 Start menu? You can even uninstall most (but not all) Windows Store apps.
It is quick and easy to do. But if you haven't done it before, there are a few things you need to know. For our example, we're going to uninstall AbleWord (not really – it's a great program).
To uninstall a program, you may have to expand the folder or the Start menu item. As you can see AbleWord is one of those programs. So, to expand the folder, just click on the down arrow to the right of the program's name. See?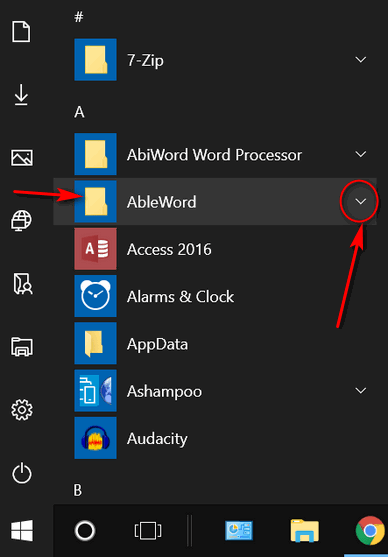 After you've expanded the folder, find the program and right-click on it.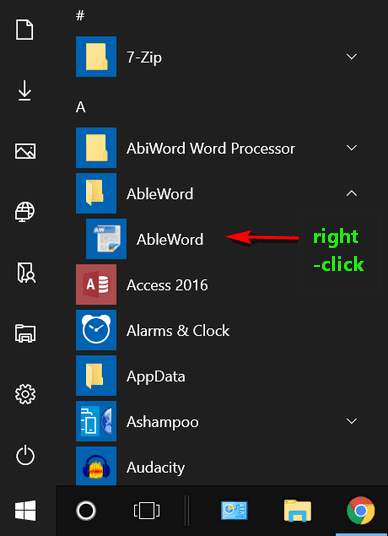 After you right-click the program's icon, you'll see a menu appear. Click "Uninstall" from the menu…and proceed.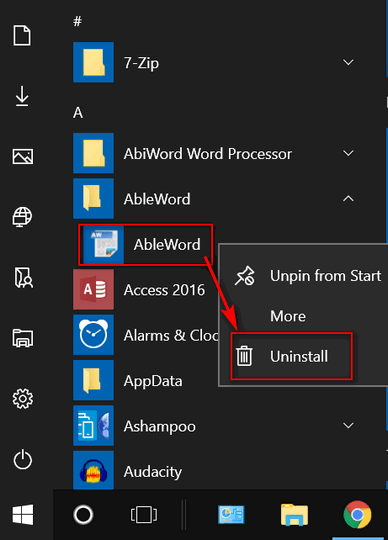 One more thing to remember. Not all programs on your Start menu need to be expanded, sometimes you can right-click on the item in the Start menu and you'll get the menu with Uninstall in it. For instance: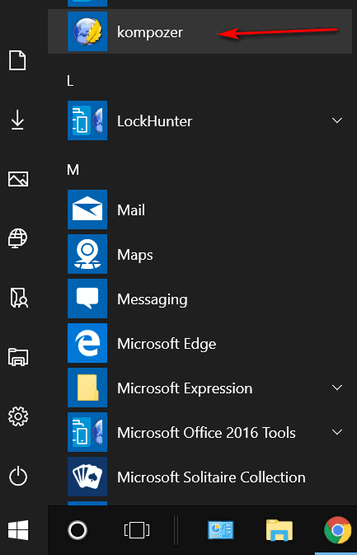 Just right-click the name of the program and you'll get the uninstall menu.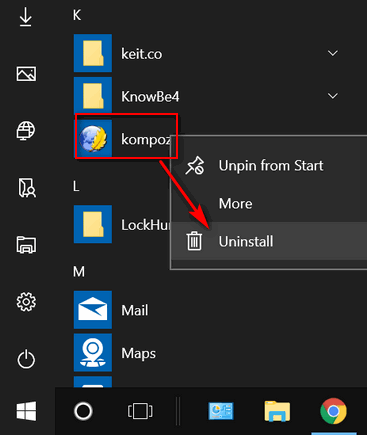 Note: Revo Uninstaller, HiBit Uninstaller, and Geek Uninstaller are all excellent uninstallers that can help you remove programs and almost all leftover traces of them. Also, Reg Organizer has a great uninstaller included – along with many other useful Windows utilities and tools.

Want more tips, tricks, and information?
We have thousands of Windows tips, tricks, and more on our InfoAve web site.
Subscribe to our free InfoAve Daily newsletter.






Now available: Reg Organizer 8.70

If you purchased or renewed Reg Organizer through Cloudeight within the last 12 months, you're entitled to a free version upgrade to Reg Organizer 8.70.

Save $14 on Reg Organizer right now!

Reg Organizer - A Swiss Army Knife of Windows Tools - Works Great on Windows 10!




All About Your Browser: WhatIsMyBrowser.com – a Cloudeight Site Pick

If you're reading this, then you already know that one thing all of us have in common, regardless of the operating system we use, s that we all use browsers to… well to browse the web. Right?

But how much do you know about your browser? Well, we found a website that will tell you everything you ever wanted to know about your browser- and a whole lot more. WhatIsMyBrowser.com is a Cloudeight site pick that everyone can learn something from.

We will let the developers step in now and tell you more about WhatIsMyBrowser.com…
WhatIsMyBrowser.com tells you what browser and version you have, the type of device you are using, which operating system you're using, and your settings for important things such as JavaScript and Cookies.

When someone is troubleshooting a problem with you, it's very useful for them to know all the technical details about your system – it can narrow down where the problem might be and help ensure that you have all the required software.

This website saves you all the complicated steps to figuring out what versions of software you have, what features you have enabled & whether your web browser is up to date and let you focus on solving your problem.

If you're missing some important bit of software, we have a whole list of guides which can help you do things like enable javascript, update your web browser or try a different web browser.
Here are some screenshots to show you what you can learn from WhatIsMyBrowser.com.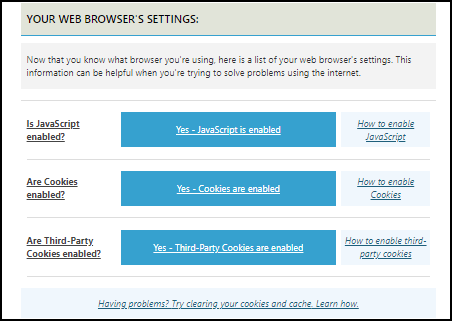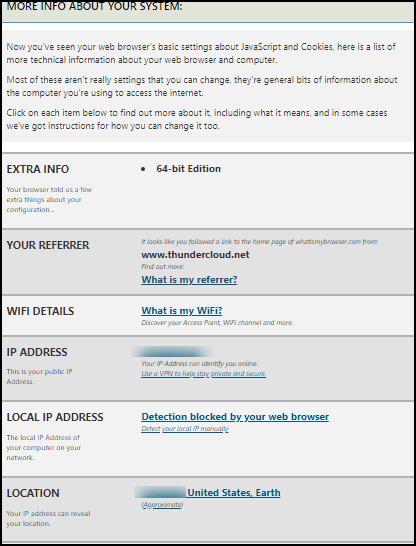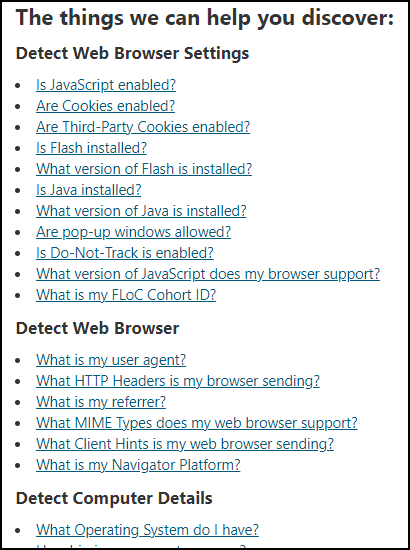 Are you ready to learn more about your browser? Great!

Visit WhatIsMyBrowser.com right now!




Rainy Day Musings

The sound of rain falling, cascading down the eaves, rushing to be free. The gloomy rainy day provides the perfect backdrop and the perfect soundtrack for a pensive day. A perfect day for quiet and disparate musings.

Sometimes I feel so sad and lost, but I realized today, I cannot even manage to summon up a single tear. I think I have cried all the tears allotted to me in this lifetime. I used to cry freely, so much so I'd walk out of theaters with the tracks of tears still glistening on my cheeks.

Death and tragedy have been my companions throughout my life, and I've made some horrible choices that have added a new dimension to the darkness that grows inside.

And the more the darkness grows, the more I withdraw into a world that exists only in the center of my mind; a place where flowers bend in a gentle wind, the sound of children, in their beautiful innocence, echo, and the sun, warm and brilliant, always shines. A place where gentle showers only come when I am sleeping.

Now I go there as often as I can; I go there more often than I should. Someday, perhaps, I will never return from that place, and the world will judge that I have lost my mind, and institutionalize me, and feed me soft foods...

Please read the rest of this essay here.




What is carding?

Well, when EB was 16 (that was a long time ago!) she would try to sneak into bars with her friends to swill alcohol and raise havoc. She looked ten years older than she was (still does!). But, alas, she could never get into the bar because they carded her - checked her I.D. - and found out she was not old enough to drink. That's called "carding".

NO! NO! NO!

According to Wikipedia... "Carding is a term describing the trafficking and unauthorized use of credit cards. The stolen credit cards or credit card numbers are then used to buy prepaid gift cards to cover up the tracks. Activities also encompass exploitation of personal data, and money laundering techniques. Modern carding sites have been described as full-service commercial entities..."

In other words carding is the illegal acquisition of and the selling or using of stolen credit card data. In short, you definitely don't want to be a victim of carding.





Our newest Cloudeight Endorsed Email Program - Very Similar to Windows Mail & Outlook Express. Stationery works great!

Read more about OE Classic here!




Sales of the following products and services help support our newsletters, websites, and free computer help services we provide.

Cloudeight Direct Computer Care: Single Keys, SeniorPass, or Season Tickets - always a great deal. Cloudeight Direct Computer Care is like having PC insurance. Get more information here.

Emsisoft Anti-Malware: Emsisoft is the only Cloudeight endorsed and recommended Windows security program. It provides users with a complete antivirus, antimalware, anti-ransomware, anti-PUPs solution. We offer single Emsisoft licenses and multi-computer licenses at discount prices. Also, we offer our exclusive Emsisoft with Cloudeight installation & setup. Get more information here.

OE Classic Email program. The email program that is most like Outlook Express. We can even set it up for you. Get more details here.

Reg Organizer: Reg Organizer is the Swiss Army Knife of Windows tools. It's far more than just a registry optimizer and cleaner... it's a Windows all-in-one toolkit. Reg Organizer helps you keep your computer in tip-top shape and helps you solve annoying Windows problems. Reg Organizer works great with Windows 10! Get more information about Reg Organizer (and get our special discount prices) here.

SeniorPass - One year of Cloudeight Direct Computer Care - unlimited sessions! Get more information here.

Windows 10 Customization: Make Windows 10 look and work the way you want it to. Learn more.

MORE IMPORTANT STUFF!

Your InfoAve Weekly Members' Home Page is located here.

Print our Cloudeight Direct Computer Care Flyer and spread the word about our Cloudeight Direct Computer Care repair services. Get our ready-to-print flyer here.

Help us Grow! Forward this email newsletter to a friend or family member - and have them sign-up for InfoAve Weekly here!

Get our free daily newsletter! Each evening we send a short newsletter with a tip or trick or a computer-related article - it's short and sweet - and free. Sign-up right now.

We have thousands of Windows tips and tricks and computer articles posted on our Cloudeight InfoAve website. Our site has a great search engine to help you find what you're looking for too! Please visit us today!

Help us by using our Start Page. It costs nothing, and it helps us a lot.

Print our Cloudeight Direct Flyer and spread the word about our computer repair service! If you want to help us by telling your friends about our Cloudeight Direct Computer Care service, you can download a printable flyer you can hand out or post on bulletin boards, etc. Get the printable PDF Cloudeight Direct Computer Care flyer here.



We'd love to hear from you!

If you have comments, questions, a tip, trick, a freeware pick, or just want to tell us off for something, let us know.

If you need to change your newsletter subscription address, please see "Manage your subscription" at the very bottom of your newsletter.

We received hundreds of questions for possible use in IA news. Please keep in mind we cannot answer all general computer questions. We try to personally answer as many as we can. We can only use a few to in each week's newsletter, so keep this in mind. If you have a support question about a service or product we sell, please contact us here.

Subscribe to our Daily Newsletter! Get computer tips & tricks every night. Our daily newsletter features a computer tip/trick or two every day. We send it out every night around 9 PM Eastern Time (USA). It's short and sweet, easy-to-read, and FREE. Subscribe to our Cloudeight InfoAve Daily Newsletter!





We hope you have enjoyed this issue of Cloudeight InfoAve Weekly. Thanks so much for your support and for being an InfoAve Weekly subscriber.

Have a great weekend... be safe!

Your friends at Cloudeight,

Darcy and TC
Cloudeight InfoAve Weekly - Issue #931
Volume 18 Number 41
August 13, 2021

Not a subscriber? Subscribe to our FREE Cloudeight InfoAve Weekly Newsletter here.





"Cloudeight InfoAve Weekly" newsletter is published by:

Cloudeight Internet LLC
PO Box 73
Middleville, Michigan USA 49333-0073

Read our disclaimer about the tips, tricks, answers, site picks, and freeware picks featured in this newsletter.

Copyright ©2021 by Cloudeight Internet