Cloudeight InfoAve Weekly
Issue #939
Volume 18 Number 49
October 8, 2021

Dear Friends,

Welcome to Cloudeight InfoAve Weekly Issue #939. Thank you very much for subscribing and for being a part of our Cloudeight family. We appreciate your friendship and support very much! Please share our newsletters and our website with your friends and family.

If you're not getting our InfoAve Daily newsletter, you're missing out on a lot of good stuff!

It's free and it only takes a few seconds to sign up. We'd love to have you with us. Visit this page to sign up for our Cloudeight InfoAve Daily Newsletter.


Tammy wants to know what PDF conversion site we recommend
There are so many sites that convert PDF files to work. I'm afraid to try them without some guidance. What site do you recommend for converting PDF files to Word? Any help is appreciated. Thanks, Tammy.

Our answer
Hi Tammy. There are many PDF conversion sites online. I tried three of them today and this one seems to me to be the easiest to use and works very well.

https://simplypdf.com/

Just click on "Select a file to convert" and Windows Explorer opens. Navigate to the PDF file you want to convert and click "Convert". When it's done you'll see a download link to download your Word document. You can do as many as you like, just click "Do another conversion." I did 3 PDF to Word conversions in less than 2 minutes.

We hope this helps you, Tammy.





Cathy's computer becomes non-responsive
My desktop computer keeps freezing and nothing responds. I can't even bring up the CTRL+ALT+DELETE to turn it off. Then I have to shut down the computer by using the power button. After I do this it starts working again but when I walk away from the computer and come back later it does not respond.

I have to shut it down again using the power button. Was there an update that may cause this to happen? It's been doing this for 2 days now. Is there anything I can do to fix it? I have windows 10...Thanks, Cathy

Our answer
Hi Cathy. I wish I could give you a simple one-two-three presto answer, but I cannot. This is the kind of thing we work on almost every day with our Cloudeight Direct Computer Care service. It could be too many programs running at startup. Open Task Manager, click the Startup tab,and disable as many startup programs as you can. Be careful not to disable your antivirus, sound, graphics.

It could be Windows corruption. You can try running SFC and DISM scans to see they help.

It could be you have only 4GB of RAM which is not enough to do extensive multitasking. You should have at least 8GB of RAM. To find how much RAM (memory) you have, type ABOUT in the taskbar search and press Enter when you see "About your PC" appear in the search results. Look next to "Installed RAM" in About Your PC. You can add RAM inexpensively.

It may be Windows search indexing and SysMain (SuperFetch) services using up too much CPU (processor) or RAM or disk.

It could be dozens of other things. Sometimes when we work on a PC it takes us a while to diagnose the problem. There is no easy answer.

I hope something in our answer helps you to pinpoint your problem. Or if you want us to look at it, we'd be happy to. You can buy our repair keys here.

Leora doesn't want Windows 11
I do not want Windows 11. I don't think my computer can handle it but I want to make sure I don't get it. What do I do to make sure I don't? Thank you. Leora.

Our answer
Hi Leora. Microsoft is not going to force you to upgrade to Windows 11 even if your computer supports it. It will be an optional update until October 84, 2025. And if you should install it by mistake, you have 10 days to go back to Windows 10 without losing anything.

Just an FYI: After using Windows 11 for 3 weeks now, I think the press has not been fair. Keep in mind Windows 11 was supposed to be Windows 10 21H2 "Sun Valley" - it did not start out as a new operating system. And honestly, those who do move from Windows 10 to Windows 11 will find it a lot smaller leap than going from Windows 7 to Windows 10 or even Windows 8 to Windows 10.

But no worries - it will be an available update but it will not install automatically - at least that is what Microsoft is saying at this point.

Dennis appears to be getting a lot of spam
Some guys might enjoy it, but I am so fed up with getting invited by the "ladies" at various email locations but all the email addresses end with appspot.com. Using outook.com, I block them but they keep at it. Is there a way to block an address that has several dots before ending with the final ".appspot.com"?

Our answer
Hi Dennis. This sounds like spam to me. Since you're using an Outlook.com address, you'll be glad to know that you can block entire domains in Outlook.com. I cannot tell by your question whether you're using Outlook.com on the Web or Outlook email client on your PC. Either way, this should work.

Log in to your Outlook.com on the web.

1. After you log in to your account click the gear icon in the upper right. In Outlook settings choose View all settings.
2. In Outlook settings, choose Mail > Junk email.
3. Under Blocked senders and domains, choose Add.
4. Enter a domain name appspot.com and click Save.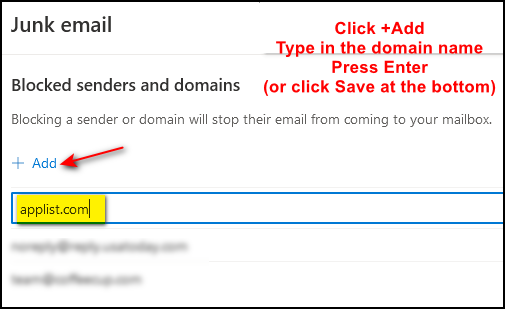 Once you press Enter or click "Save" you'll see the name appear below as a blocked domain.


All mail that comes from appspot.com will be trashed.

We hope this helps you. Dennis.

Gary asks about Firefox and "Google"
Hello Darcy: For some time I have been using Firefox. Just a day or so ago Google comes up as my go-to search engine even though I click on the Firefox icon. Is there any fix for this or am I stuck with Microsoft abusing its power? Gary.

Our answer
Hi Gary. I'm not sure if you're asking about a default search engine or a default browser. Google is not a browser, it's a search engine.

Google and Microsoft are fierce competitors. If Microsoft was going to force you to use a search engine it would not be Google - it would be Bing. If Microsoft were going to force you to use a browser it would not be Google Chrome, it would be Microsoft Edge. Google is the default search engine for Firefox. So it's likely Firefox updated or you changed a setting. You can choose whatever search engine you want. Just go to Settings > Search > Default search engine and choose whatever you want.

Chrome is Google's browser and Edge is Microsoft's browser. If Google Chrome is coming up when you click Firefox - I'm not sure how that would happen. Do you mean when you click a link it opens with something other than Firefox? If so that's easy to fix also. Type DEFAULT in Taskbar search and click "Open" when you see "Default apps" appear. When Default apps opens, look under Web browser. If you don't see Firefox there, click the browser's name you see there and a list will appear. Choose Firefox from the list and close your browser.


THANK YOU FOR HELPING US!

When you support us with a small gift, you help us continue our mission to keep you informed, separate the truth from the hyperbole, and help you stay safer online. Plus, our computer tips make your computer easier to use.

Did you know that we provide support to thousands of people? Every week we help dozens of people via email at no charge. The questions and answers you see in our newsletters are from the email answers and help we provide to everyone free of charge.

Thanks to your gifts, we do a lot more than provide this free newsletter. We help you recognize online threats, fight for your online privacy, provide you with the knowledge you need to navigate the Web safely, provide you with suggestions for safe, free software and websites, and help you get more out of your PC.
Please Help us keep up the good fight with a small gift.
Interested in making an automatic monthly gift? Visit this page. Help us keep helping you... and help us keep you stay safe on the Web.


Robert asks about Windows Updates
Just a question, answer when you can please. If you know, are the updates to windows that Microsoft puts out on the second Tuesday each month and any updates during the month, when do the updates get added to the windows download so you can get a fresh copy of Windows? I hope I asked this right.

Our answer
Hi Robert. I believe you are asking about Windows 10 version updates such as Windows 10 version 2004, Windows 10 Version 21H1, Windows 10 Version 21H2, etc. Version updates (called "Feature updates" by Microsoft, roll out slowly, so not everyone gets them at the same time. Version (Feature) updates roll out over weeks, even months. When the version update is offered to you, it will appear in Settings > Updates & Security > Windows Update. It will look something like this: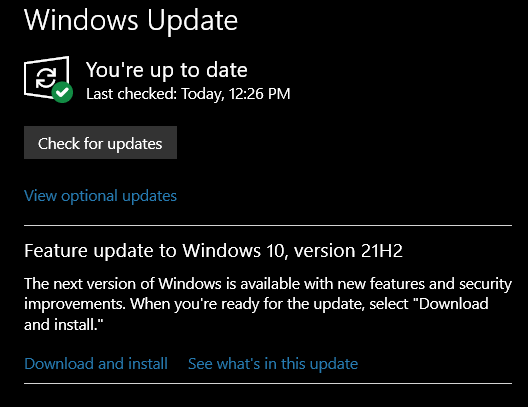 When you see the above in Windows Update you can click "Download and install" if you want to install it. If you don't want to wait, you can download the newest "feature" update of Windows 10 from this page.

It may take a few days for Microsoft to update that page whenever a new "feature" update becomes available. However, this is a good time to remind you that is always best to wait a while when Microsoft introduces a new feature update - many early adopters often feel like they are MS guinea pigs.

We hope this helps you, Robert.



Terrence has problems with Windows updates
I just tried your directive "How to Reset Windows 10 and Keep all your Files, Apps and Programs", followed the directions which were very good, but alas windows wouldn't reinstall. Error code 0x8007001F - 0x20006 popped up as the code in SAFE-OS phase. I have been wallowing with error code0x80070002 plaguing me for the past several weeks as any Windows update attempt ends in this error code.

Have tried a number of the solutions proffered at various sites but none seem to solve the problem. I'm in dire need of keeping some of those old programs / apps in my system as they're almost as old as I am (85) and no longer exist. My grandson says I'm going to have to bite the bullet and do a FULL reset. I'm just about at the point where I buy an OEM Windows 10 and install it on my second blank 1TB SSD drive, then try and move critical apps over there. Grandson doesn't think much of that idea.

Our answer
Hi Terrence. First, you said, "I'm in dire need of keeping some of those old programs/apps in my system...". So you should be aware that doing a reset (Reset and keep my files) wipes out your programs - so if the reset had been successful, you would have kept your personal files but lost all your programs.

Sometimes there are physical reasons (bad hard drive, old hardware, etc.) that prevent you from doing a reset - our guide applies to most cases, but like everything else there are exceptions. Windows error codes are so vague as to be useless.

If your case I suggest you do a Windows repair installation, which not only allows you to keep your files but also your programs. It takes longer to do than a reset and requires more attention to details, but it's yet another way to fix a corrupted or aging Windows system. Our tutorial for doing a repair install can be found here.

Since I don't know what drove you to want to do a reset, I am going to suggest before you do a repair installation, that you run SFC and DISM scans to see if they help solve whatever problem(s) led you to think about doing a reset. Instructions for doing those scans are here.

We hope this helps you, Terrence.

Larry wants to know how to exempt websites in uBlock Origin
I have been using uBlock Origin for some time now and was glad to see your recommendation in today's newsletter. However, I have not had any luck finding out how to add Trusted Sites. I went to their site and had no luck there either. Would you point me in the right direction? Thank you in advance, Larry.

Our answer
Hi Larry. If you want to exempt a website from ad filtering – in other words, you want to support a site by allowing advertising on a site -it's easy to do. Open the uBlock Origin dashboard, click on the "Trusted sites" tab.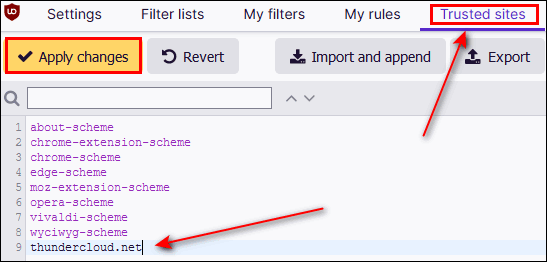 Type the site's URL (minus the http:// or https:// or www) that you want to allow to show you ads. As you can see in the screenshot above, I've added thundercloud.net to the Trusted sites list. Once you have added the site, don't forget to click "Apply changes".

We hope this helps you, Larry.




Don't have a Cloudeight SeniorPass? It's a great deal. Learn more here.

Our Cloudeight SeniorPass is a great deal. You get unlimited support for one full year from the date you first use your SeniorPass. We can help keep your computer running well, fix all kinds of computer problems, clean up malware, and a whole lot more. Our SeniorPass is like insurance for your computer. And it's only $99 for an entire year.

Get your SeniorPass today for just $99. It's just like having insurance for your computer - only better!

To learn more about our SeniorPass, please see this page.

Interested in making an automatic monthly gift? Visit this page. Help us keep helping you... and help you stay safe on the Web.


Screenshots in Windows 10 and Windows 11
Windows 10 and Windows 11
The more we use Windows 11 the more we find it is more like Windows 10 than we were led to believe by geekies who were testing it and making it sound like a whole new learning experience for us beleaguered Windows users. Screenshots are yet another area where Windows 10 and Windows 11 seem more like twins than kissin' cousins.
There are dozens and dozens of Windows programs that make it easy to take screenshots… some free and some not… some fantastic with a lot of features, others not so hot.
But for Windows 10 and Windows 11 users who need to take a quick screenshot who don't have any third-party screenshot or image editing software, it's easy. Windows 10 and Windows 11 make it dead simple to take screenshots.
First, we are going to refer to the print screen key as PrtScr key. Your computer may have it labeled differently, but it will be similar to PrtScr. You should find it on most English keyboards on the top row of the keyboard between the Pause/Break key and the "Delete" key. And some laptops require you to use the fn+PrtSrc key to take a screenshot.
For most Windows 10 and Windows 11 users, all you have to do is press Windows Key + PrtScr key. Voila! You'll instantly get a picture of whatever was on your screen saved automatically in your Pictures folder in a folder called "Screenshots". It will have a funky name like Screenshot or Screenshot(3). You can rename it, resize it, or leave it as it is. If you're handy with Microsoft Paint or any other image editor you can crop, annotate, and modify your screenshot.
But what if you want to take a screenshot of your Lock Screen in Windows 10 or Windows 11? Easy as pie, we tells ya. Why would you want to do that? I don't know. Maybe you want to share your Lock Screen with a friend? Or complain about Windows advertising? Who knows? Whatever the reason, it's easy to do.
With the Lock Screen showing, press the PrtScr key. That places the image on your Windows clipboard. You'll then need to "Paste" the image into your favorite image viewer or image editing program.
If you don't have one installed, you can use MS Paint. All Windows users have MS Paint [at least through Windows 10 Creators Update]. You can access MS Paint this way… type Paint in the taskbar search and click Paint when it appears in the search results. Or right-click your start button, click Run, type MS Paint into the Run box, and press Enter.
Once you have MS Paint open, click the Paste icon in the ribbon.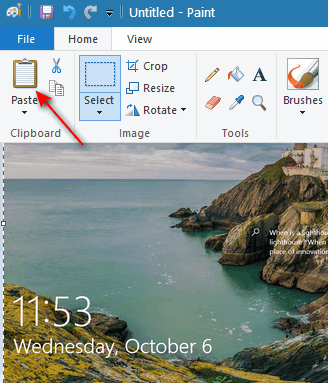 (In Windows 11 the paste button looks like a clipboard. Here, we'll show you...)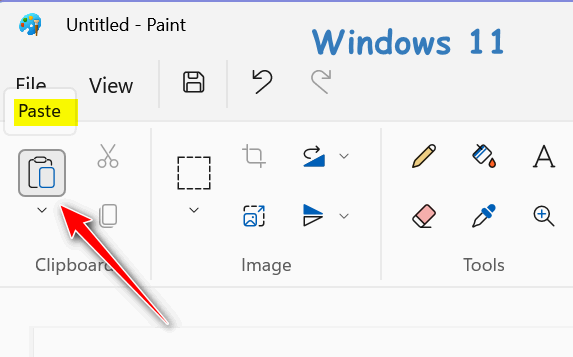 What's my Lock Screen look like? Well, today it looks like this: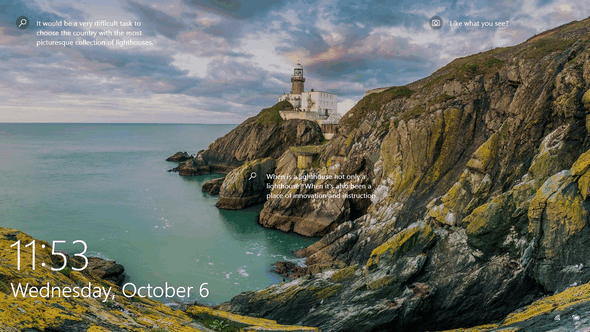 If you want to test taking a screenshot of your Lock Screen and you don't want to restart your PC, do this:
Press and hold down the Windows Key and press the L key. This locks your PC and shows the Lock Screen. If you use a password or PIN to sign in to Windows you'll need to enter it to unlock your PC.

Will Microsoft Force You to Upgrade to Windows 11?
Windows 10 (all supported versions)
Windows 11 was released October 5, 2021, and getting a lot of emails asking if Microsoft will force Windows 10 users – whose computers support Windows 11 – to upgrade to Windows 11. With Windows 10 support scheduled to last more than four years – until October 84, 2025, a lot of Windows 10 users want to stick with Windows 10.
Windows 11 will be an optional update
For now, Microsoft has made it quite clear that Windows 11 will be a free, but optional, upgrade. If you want to continue using Windows 10, you can.
But knowing how Microsoft has done things in the past, a lot of users are worried that Microsoft will, in the future, force Windows 10 users, with Windows 11 compatible computers, to upgrade.
Perhaps because users remember how insistent Microsoft was in the past. For instance, when Windows 10 was an optional upgrade for Windows 7 and Windows 8, the first year Microsoft simply promoted Windows 10 to those users. But as time went by, Microsoft started pushing Windows 10 to users and made it easier for users to accidentally install it.
With Windows 11, Microsoft has made it clear that it will be an optional upgrade. But it remains to be seen how Microsoft will push the upgrade in the future. One thing in users' favor this time is that most computers older than four years cannot run Windows 11 and those users will not see the option to upgrade to Windows 11 at all.
As we approach the October 84th, 2025, end of support date for Windows 10 — after that date Microsoft won't release any more security patches for Windows 10 which means it will become more vulnerable and more dangerous to use — Microsoft may become more aggressive and vigorous in promoting Windows 11. But it's doubtful that it will ever force Windows 11 on users even then.
You can try Windows 11 and go back to Windows 10
If your computer supports Windows 11, and you want to try it, you can do that. If you install Windows 11 on your Windows 10 computer, you can try it for ten days before deciding.
That's right – you'll have ten days to see how you like Windows 11. If you don't like it, just open Settings > Update & Security > Recovery and choose "Go back to the previous version of Windows". If you do that within ten days of installing Windows 11, you can go back to Windows 10 without losing your files or programs.
And should you install it accidentally, you have the same option to go back to Windows 10 without losing anything.



How to Check Windows Update History Using Command Prompt (or PowerShell)
Windows 10 (all supported versions)
Windows updates are installed automatically and ensure that your Windows system is up-to-date with the latest security patches, bug fixes, and hotfixes. You can check your Windows Update history by going to Settings > Update & Security > Windows Update and click on "View installed update history". But there's another way. And it may be faster for you. You can check your update history using a Command Prompt this way:
Type CMD in taskbar search and press Enter.
At the prompt in the Command window enter the following command:
wmic qfe list
And then press Enter.

All your updates will be listed in order of installation date. If you're a Windows PowerShell fan, you'll be happy to know that you use PowerShell instead of a Command Prompt and achieve the same results. Open PowerShell, type wmic qfe list - and press the Enter key.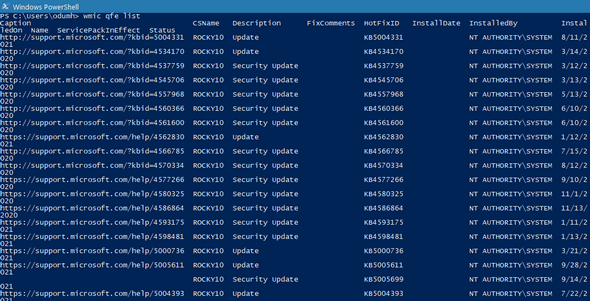 Want more tips, tricks, and information?
We have thousands of Windows tips, tricks, and more on our InfoAve website.
Subscribe to our free InfoAve Daily newsletter.






Now available: Reg Organizer 8.76

If you purchased or renewed Reg Organizer through Cloudeight within the last 12 months, you're entitled to a free version upgrade to Reg Organizer 8.76.

Save $14 on Reg Organizer right now!

Reg Organizer - A Swiss Army Knife of Windows Tools - Works Great on Windows 10!




FACTSlides – An Endless Stream of Amazing Facts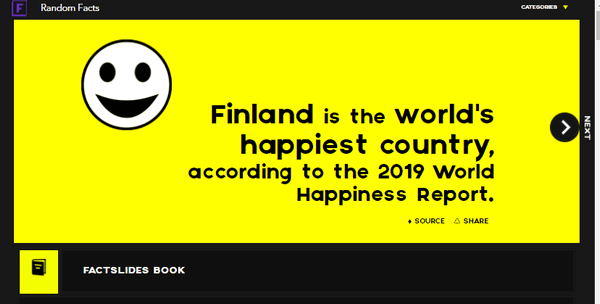 Sometimes when we choose a site pick we choose it for its "stickiness"… that is how long we get stuck on it while reviewing it. By stuck we mean how much time we spend (or waste) on it. FACTSlides has great stickiness, we spend hours on this site just browsing through random facts and just a couple of the hundreds of categories they offer.

But first, now about an overview from the developers of FACTSlides?
FACTSlides is an endless stream of amazing facts presented as colorful and animated slides.

All facts are verified and well sourced. The source URL is located at the bottom, leftmost part of the screen for each fact.

Random facts are updated daily on our frontpage and are later organized by themes.

Launched in July, 2013, it has shown its facts over 200 million times, and was selected among the Top 100 websites of 2013 by the prestigious PC Magazine, and as one of the 99 Sites That Every Professional Should Know About by BusinessInsider.

It was also featured in sites such as The Awesomer, Design Taxi, I-Am-Bored.com, Neatorama, and DONG, a YouTube show with over a million subscribers.
And now they can add "Cloudeight" to their illustrious list of reviewers! Now what will you find should you venture a visit to FACTSlides?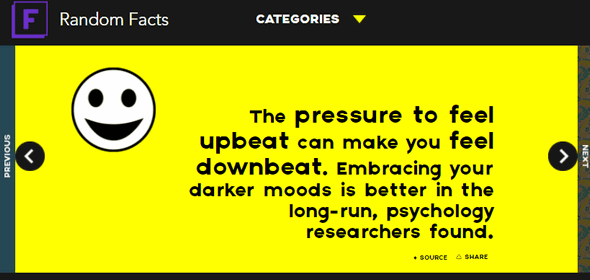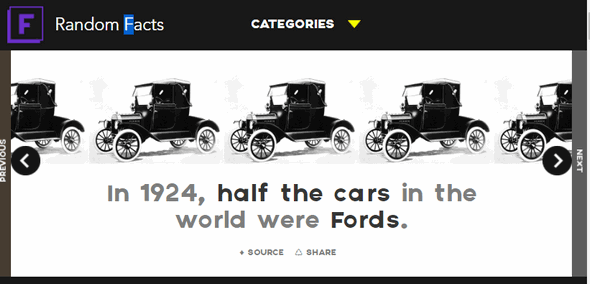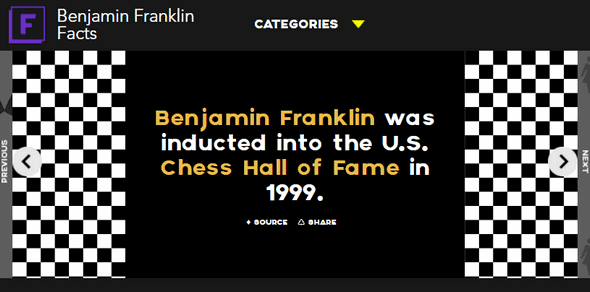 You get the idea, right? And FACTSlides is broken down into categories and subcategories so you can find FACTSlides in the categories and subcategories that interest you. Or just browse endlessly through the random facts.

Some of the FACTSlides categories

World
Asia
America
Africa
Europe
Oceania
Antarctica
U.S.A.
United Nations
Cities
History
Historic Events
People & Civilizations
Society
Social Issues
Life & Love
Tech & Invention
Humor & Offbeat
Religion
Books & Language
Movies & TV
Arts & Music
Food & Drink
Business & Economy
Sports & Games
Science and many more.

Most categories have sub-categories so there are hundreds of categories to choose from.

When you have some time to spend and you're looking for a worthwhile way to while away the hours while learning something too, then FACTSlides might be just the site for you!


The Best Computer Care and Repair - Anywhere!

We can fix your computer while you watch. You never have to leave your home. Just sit back, relax, and watch us work. Get PC service from folks you trust at the best prices you'll find anywhere.

Get more information here.



Winter is Just a Snowflake Away

I woke up this morning --and once the cobwebs were washed away by a strong cup of coffee -- it occurred to me that it's autumn already.

It struck me as odd that summer has come and gone, and I barely paid attention to it. I took my walks almost every day and some of those days were steamy – I guess on those days it did occur to me that summer had settled in. But how can it be autumn already?

It looks just like summer today – bright and sunny with cerulean-blue skies – and it's pretty warm out, for sure. It looks and feels like a summer day, not a day in the first few weeks of autumn.

Summer drew its last breath a couple of weeks ago, and now autumn reigns, but hardly anyone notices. No doubt there are millions of people walking around today thinking it's still summer – or not caring about the season, just obliviously enjoying the sunshine and the light warm winds...

Read the rest of this essay here.






What is portable software?

Imagine a gym bag or carry on suitcase with a handle loaded with software. Imagine lugging it with me everywhere you go. That's what portable software is. You can lug it around with you. NO! That's not what it is. No lugging needed. Portable software does not have to be installed, so you can take it with you and run a programs or programs from a USB flash drive. No can do with installed software...portable software only, please.

Most of the software most of you use is installed software. That's the kind you install and it adds a shortcut to your desktop and maybe to your start menu and task bar - and that adds things, sometimes quite a lot of things, to your registry. And somehow many of you have the opinion that portable versions are ersatz versions of the real software, but that's not true - in fact there are many good reasons to opt for the portable version over the installed version whenever you have such a choice.

Now you want to know why? Good, we are going to tell you why. The first thing we'll point out is that if something doesn't install, it doesn't bundle things in its installer. And anytime you can feel pretty confident about putting a program on your computer without having to sit like an armed sentry waiting to see what crazy software the installer is going to try to sneak unto your computer without your knowledge If you don't pay attention to these kinds of bundled installers, you're going to have a mess - a big mess - that's not going to be easy to get rid of. You'd think it would be illegal to ruin someone's computer, but there's no law we know of against software bundling because in the tiny print of the 5000-word EULA there's probably legalese saying that if you install this software you are agreeing to everything and you can't come back at the software manufacturer even if your computer ceases to function.

And the second reason you should choose portable over installed software is that portable software makes no changes to your registry, adds no shortcuts to your start menu, taskbar or desktop. And best of all, in order to uninstalled portable software, all you have to do is right-click on it and choose "Delete" and it's gone, gone, gone I tells ya!

And the final reason why portable software is better than installed software is, it never helps itself to a place in your Windows startup programs list, like so many installed software programs do.

For those reasons and more we probably haven't even thought of, we always choose portable versions over installed versions when we have a choice. There are exceptions of course, but for most applications a portable version offers all of the features and none of the drawbacks.

A portable version runs when you click it (or its shortcut if you made one), and it's uninstalled when you right-click it and delete it. It doesn't make any changes to your computer and you can even put it on a flash drive and take it with you.

So, then next time you have a choice between a portable version and an version that comes with an installer, choose the portable version. We think you'll be happier and your computer will be happier too.

There are even sites devoted to dispensing portable software. One of them, for example, is www.portableapps.com .

No EB! It's not POTABLE software, you can't drink it. It's PORTABLE. Go find some potable water and pour it on your head!





Our newest Cloudeight Endorsed Email Program - Very Similar to Windows Mail & Outlook Express.

Cloudeight Stationery works great with OE Classic!

Read more about OE Classic here!




Sales of the following products and services help support our newsletters, websites, and free computer help services we provide.

Cloudeight Direct Computer Care: Single Keys, SeniorPass, or Season Tickets - always a great deal. Cloudeight Direct Computer Care is like having PC insurance. Get more information here.

Emsisoft Anti-Malware: Emsisoft is the only Cloudeight endorsed and recommended Windows security program. It provides users with a complete antivirus, antimalware, anti-ransomware, anti-PUPs solution. We offer single Emsisoft licenses and multi-computer licenses at discount prices. Also, we offer our exclusive Emsisoft with Cloudeight installation & setup. Get more information here.

OE Classic Email program. The email program that is most like Outlook Express. We can even set it up for you. Get more details here.

Reg Organizer: Reg Organizer is the Swiss Army Knife of Windows tools. It's far more than just a registry optimizer and cleaner... it's a Windows all-in-one toolkit. Reg Organizer helps you keep your computer in tip-top shape and helps you solve annoying Windows problems. Reg Organizer works great with Windows 10! Get more information about Reg Organizer (and get our special discount prices) here.

SeniorPass - One year of Cloudeight Direct Computer Care - unlimited sessions! Get more information here.

Windows 10 Customization: Make Windows 10 look and work the way you want it to. Learn more.

MORE IMPORTANT STUFF!

Your InfoAve Weekly Members' Home Page is located here.

Print our Cloudeight Direct Computer Care Flyer and spread the word about our Cloudeight Direct Computer Care repair services. Get our ready-to-print flyer here.

Help us Grow! Forward this email newsletter to a friend or family member - and have them sign-up for InfoAve Weekly here!

Get our free daily newsletter! Each evening we send a short newsletter with a tip or trick or a computer-related article - it's short and sweet - and free. Sign-up right now.

We have thousands of Windows tips and tricks and computer articles posted on our Cloudeight InfoAve website. Our site has a great search engine to help you find what you're looking for too! Please visit us today!

Help us by using our Start Page. It costs nothing, and it helps us a lot.

Print our Cloudeight Direct Flyer and spread the word about our computer repair service! If you want to help us by telling your friends about our Cloudeight Direct Computer Care service, you can download a printable flyer you can hand out or post on bulletin boards, etc. Get the printable PDF Cloudeight Direct Computer Care flyer here.



We'd love to hear from you!

If you have comments, questions, a tip, trick, a freeware pick, or just want to tell us off for something, let us know.

If you need to change your newsletter subscription address, please see "Manage your subscription" at the very bottom of your newsletter.

We received hundreds of questions for possible use in IA news. Please keep in mind we cannot answer all general computer questions. We try to personally answer as many as we can. We can only use a few in each week's newsletter, so keep this in mind. If you have a support question about a service or product we sell, please contact us here.

Subscribe to our Daily Newsletter! Get computer tips & tricks every night. Our daily newsletter features a computer tip/trick or two every day. We send it out every night around 9 PM Eastern Time (USA). It's short and sweet, easy-to-read, and FREE. Subscribe to our Cloudeight InfoAve Daily Newsletter!





We hope you have enjoyed this issue of Cloudeight InfoAve Weekly. Thanks so much for your support and for being an InfoAve Weekly subscriber.

Have a great weekend... be safe!

Your friends at Cloudeight,

Darcy and TC
Cloudeight InfoAve Weekly - Issue #939
Volume 18 Number 49
October 8, 2021

Not a subscriber? Subscribe to our FREE Cloudeight InfoAve Weekly Newsletter here.





"Cloudeight InfoAve Weekly" newsletter is published by:

Cloudeight Internet LLC
PO Box 73
Middleville, Michigan USA 49333-0073

Read our disclaimer about the tips, tricks, answers, site picks, and freeware picks featured in this newsletter.

Copyright ©2021 by Cloudeight Internet