Cloudeight InfoAve Weekly
Issue #940
Volume 18 Number 50
October 15, 2021

Dear Friends,

Welcome to Cloudeight InfoAve Weekly Issue #940. Thank you very much for subscribing and for being a part of our Cloudeight family. We appreciate your friendship and support very much! Please share our newsletters and our website with your friends and family.

If you're not getting our InfoAve Daily newsletter, you're missing out on a lot of good stuff!

It's free and it only takes a few seconds to sign up. We'd love to have you with us. Visit this page to sign up for our Cloudeight InfoAve Daily Newsletter.


Leslie wants to know how to reinstall Windows and also where to download Windows 11
Hi, Darcy & TC. I know you have the info, but I have searched for a half an hour and can't find the instructions on how to make a Windows 10 installation disc or thumb drive so that I can reload Windows when I clear the hard drive so that I can load the operating system again. Also, is there a place to download Windows 11?

Our answer
Hi Leslie. You can do a clean install of Windows 10 without using a disk or USB drive. You can go to Settings> Update & Security > Recovery and click "Reset this PC". If you want to wipe out everything and do a clean install choose "Remove Everything" then choose the Cloud option to download the Windows 10 installation file.

If you want to install Windows 11, go to this page and choose the "Create installation media" option. Please be sure your PC can run Windows 11 before you do this. Use the updated Windows PC health check app to check your computer for Windows 11 compatibility.

Keep in mind we're not recommending installing Windows 11 yet. While we like it, we recommend waiting for a while yet before updating - just to be on the safe side.

We hope this helps you, Leslie.
------
Leslie wrote back: "Thanks again for your expertise. As always, it is much appreciated. Best & Stay Safe. Leslie"





Allan wants to know what cheap laptop we bought to run Windows 11
In an issue in the past, you discussed a laptop you bought to run Windows 11. I thought I had it bookmarked, but not sure I have the correct laptop. Could you post that again, please? Thanks! Allan.

Our answer
Hi Allen. Here is the article you're looking for.

https://www.thundercloud.net/infoave/new/windows-11-first-impressions/

It's still running great!

We hope this helps you, Allan.

Lin wants to know when Windows 10 version 21H2 will be released
Do you know when Windows 10 21H2 will be released? Thanks in advance. Lin.

Our answer
Hi Lin. According to Microsoft, Windows 10 version 21H2 was scheduled to start rolling out on Tuesday, October 12, 2021. However, as of October 13, 2021, Windows 10 version 21H1 was still being offered on the Windows 10 download page.

Keep in mind, that even after it starts rolling out, it will be rolled out slowly. So, it may take months for it to reach all Windows 10 users.

Delores wants her beautiful daily desktop wallpaper back
Hi there. Since installing Windows 10 Version 21H2, my Bing wallpaper is gone. I miss those beautiful pictures on my desktop that automatically changed each day.
Do you know how I can get this back on my computer? I always looked forward to the next beautiful picture every day. Thank you so much for your help - you two are the best! Delores

Our answer
Hi Delores. Thanks for your nice comments.

Here's the article we wrote about the Bing wallpaper app. It contains a download link and other information.

We hope this helps you, Delores. If you need anything else, just let us know.

Sally has something strange going on with her Google Chrome searches
Hi,you two. All of a sudden when I search from the search bar in Chrome, I get a list of "Trending Searches" that drops down from the address/search bar. None of them are relevant to my search. It's crazy. Have you ever heard of this? Help!

Our answer
Hi Sally. It sounds like you may have unintentionally installed an extension that is causing the "trending searches" dropdown - which sounds like an advertisement trying to get you to click something.

You should reset Chrome and clear its history by following the instructions on this page.

After you reset Chrome, close it and then reopen it. You should not see any "trending" because "trending" is not part of Google search on Windows.
-------------
Sally wrote back: "Thanks so much! I reset Chrome and now the trending searches dropdown is gone. You guys are great! Sally.


Help Us During our Fall Donation Drive
When you support us with a small gift, you help us continue our mission to keep you informed, separate the truth from the hyperbole, and help you stay safer online. Plus, our computer tips make your computer easier to use.
Did you know that we provide support to thousands of people? Every week we help dozens of people via email at no charge. The questions and answers you see in our newsletters are from the email answers and help we provide to everyone free of charge.
Thanks to your gifts, we do a lot more than provide this free newsletter. We help you recognize online threats, fight for your online privacy, provide you with the knowledge you need to navigate the Web safely, provide you with suggestions for safe, free software and websites, and help you get more out of your PC.
Please Help us keep up the good fight with a small gift.
Interested in in helping us with a monthly gift? Visit this page. Help us keep helping you... and helping you to stay safe on the Web.
And you can also help us by printing our Cloudeight Direct Computer Care Flyer and help spread the word about our Cloudeight Direct Computer Care and repair services. Get our ready-to-print flyer here.


Bob asks why we don't recommend backup software anymore
In a response to a question that backup programs are no longer necessary. Now I can't find that question and answer anywhere. Did you really mean that backup programs are not necessary? And if so, why would they not be necessary? Bob R.

Our answer
Hi Bob. We never said you shouldn't back up your files and folders. We noted that File History is included with all versions of Windows 10 and it would serve most people well. If you have MS Office 365, OneDrive is a good backup option, because when you have MS Office you get one terabyte of OneDrive space.

What we did say is that image backups are not nearly as important as they once were because of all of the Windows 10 recovery options including Reset and the fact that you can download and create Widows installation media free of charge.

Everyone should keep good backups of their files and folders.

You can read one of our articles about backups here.

We hope this clears things up for you, Bob.



Barbara gets way too much disgusting spam
Hello TC and Darcy. I use Gmail for a lot of my emails for places like Hobby Lobby, etc. Recently all of a sudden a ton of raunchy, sexually-oriented emails started appearing in my Spam folder of Gmail.

Now I know that just selecting them all and deleting is one way to take care of them but I do have people who contact me through Gmail also and don't want to miss one of their emails in case it goes into my Spam folder. So I feel I must go through them all to make sure I'm not deleting any important emails. Is there some way to stop them from coming in? I can't seem to find anything to do it. Why they started is not because I clicked on something sexual which would be the first thing you might think I did. I didn't. But I did join an art group, supposedly a Christian group, for lessons. Unfortunately, I don't remember what I signed up with! It might have been Gmail. IAnd anyway, I have since left the group and unsubscribed.

And......what is the point of changing one's password? Would that keep those who have spammed my email from sending things to me?

Thanks, guys. Enjoy our Fall season and keep safe...Barbara...

Our answer
Hi Barbara. Nasty pornographic spam and other disgusting spam emails are sent out by the billions by spammers. It has nothing to do with you or your password. If you could get rid of spam by changing your password spam would be easy to control.

Keep in mind when you sign up for updates and notifications from retailers they may sell your email address to others who then may sell it to spammers. I'm not saying Hobby Lobby is selling your email address, I'm saying the more stuff you sign up for, using your email address, the more spam you're going to get. You should get a throwaway address to use for signing up for things and not use your main email address. A good idea right now for you would be to get a new Gmail address and then let all contacts know you'll be using a new Gmail address. And use the new address only for friends, banking, etc. Don't use it to sign up for things.

There's no way I know that will separate "Real" spam from good emails that end up in the spam folder. We get hundreds of emails a week and hundreds of spam emails, and we find very few good emails in our spam folders. It's pretty easy to identify the spam by the subject lines. Check your spam folder every day rather so there won't be so many emails in that folder - and if you find a good email in the spam folder, highlight it and click the Not Spam button at the top. If you mark something Not Spam it should never go back into the spam folder.

We hope this helps you. Have a great autumn season too, Barbara.


Don't have a Cloudeight SeniorPass? It's a great deal. Learn more here.

Our Cloudeight SeniorPass is a great deal. You get unlimited support for one full year from the date you first use your SeniorPass. We can help keep your computer running well, fix all kinds of computer problems, clean up malware, and a whole lot more. Our SeniorPass is like insurance for your computer. And it's only $99 for an entire year.

Get your SeniorPass today for just $99. It's just like having insurance for your computer - only better!

To learn more about our SeniorPass, please see this page.

Interested in making an automatic monthly gift? Visit this page. Help us keep helping you... and help you stay safe on the Web.


Nine "Quick" Windows Tips
Windows 8.1, Windows 10, Windows 11
There's nothing better than quick and easy Windows tips. Here are eight of our favorite Windows tips. These tips work with Windows 8.1, Windows 10 (all versions), and Windows 11.
Quick Change
Want to change the name of a desktop icon, folder, file, etc.? Click whatever you want to rename, then click the F2 key and make your change!
Quick View
To view the properties menu of a file, folder, etc., highlight it and click Alt + Enter. Highlight My Computer (This PC) and click Alt + Enter to view System Properties.
Quick Print
Click Control + P to open the Print Dialog.
Quick Downloads
While using your favorite browser, press CTRL + J to view recent downloads.
Quick History
While using your favorite browser, press CTRL + H to view your browser history.
Quick File Explorer
Hold down the Windows Key and tap the E key to open File Explorer or Windows Explorer in a flash!
Quick Settings
(Windows 10 and Windows 11) Hold down the Windows key and tap the I key (aye! the I key) to open the Settings app.
Quick-Lock Your Computer
Use the Windows Key + L shortcut to lock your computer. You'll need to type your password to log back into your user account.
Quick Run
Hold down the Windows key and tap the R key to open a run box.

The Public Folder in Windows 10 and Windows 11
Windows 10 and Windows 111

Ever wonder why there is a user called "Public" in your User folder for Windows? It is a very convenient way to share files with other users on your PC. If you have more than one user account on your computer, anything you put in the Public folder will be accessible instantly by all users on the computer. Any user can put files in the Public folder, copy them, move them, edit them, etc.

The general public does not see this folder; just the users on your system and network. And, only those users who log in to their accounts with a password can access it.

You can also set it to share with anyone who logs in on your Wi-Fi network too.

Be sure to pin it to Quick Access so it's easily accessible. Just right-click on the Public folder in C:\ Users and choose "Pin to Quick Access" from the menu.



Above the Public folder in Windows 10.

The Public folder in Windows 11.
Here's some additional info to help you:

By default, any files in the Public folders are accessible by any user on your computer. You will have to turn on Public folder sharing if you want to share the Public folder with other computers on your home Wi-Fi network. If you used the advanced options to give users permission to change and edit files, any changes they make will change the files on your computer.

Public folder sharing is off by default for sharing the Public folder on your network. But the public folder is accessible to all user accounts on the same PC. So, you do not have to turn anything on to use the public folder UNLESS you also want to share the folder with other computers on your home Wi-Fi network. When Public folder sharing is turned off, only people with a user account on your PC can access them. Other users using other devices or PCs on your network will not be able to access any public folders on your PC when Public folder sharing is turned off.

Public folders allow you to share files with other users on your PC, or other users on your network. You can restrict how users use files in public folders, or you can allow them full access. It's up to you and how you want to set up Public folder sharing on your PC and/or your Wi-Fi network.



No Lock Screen. OK!
Windows 10 and Windows 11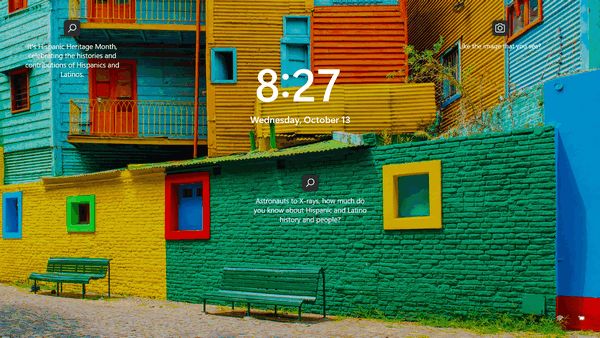 How to get rid of the lock screen with a single click.

The lock screen is the screen that covers the sign-in screen. To sign in you have to click or swipe the lock screen first. If you're using Windows 10 or Windows 11 on a desktop or laptop, does it make sense to click or swipe the lock screen to sign in? Maybe it makes sense on a smartphone or tablet, but not on desktops or laptops. Am I right or am I right?

There are registry hacks for doing away with the lock screen, and we've created a couple of reg keys for that. But then we found something simpler, from the same guy who gave us DesktopSnow.OK (I'm being serious, really, OK?)

Now, this guy, who loves the Americanism "OK" so much that his company and his software have OK in its name, created a program to get rid of the lock screen with one click. But no worries. Should you start drinking a lot and decide you need the lock screen for some reason, you can get it back with a single click, OK?

The program is called "NoLockScreen.OK". You don't even need to install it, OK? Just download it and click "Turn Off – The Lock Screen" or "Turn On – The Lock Screen". As you can see in the screenshots below, I have turned my lock screens off – on my Windows 10 PC and my Windows 11 PC. But I can click "Turn On – The Lock Screen" if I miss it too much, but I doubt that will happen, OK?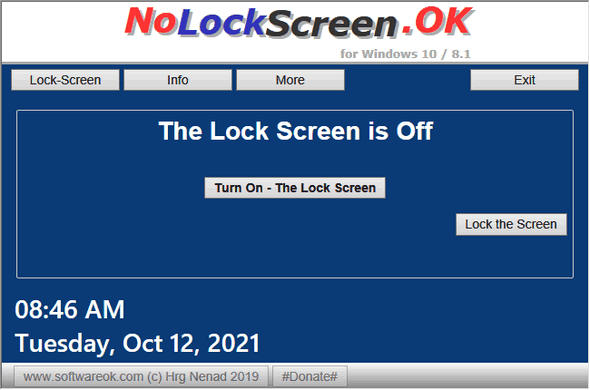 Above: NoLockScreen.OK running on Windows 10. You can see, it tells you that my Lock Screen is Off.
Below: NoLockScreen.OK running on Windows 11.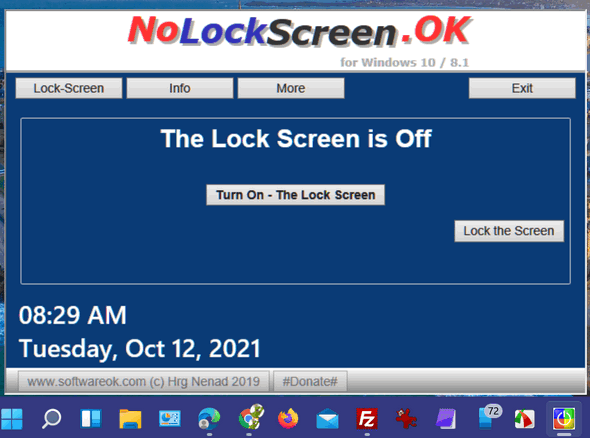 Since the program does not install, we suggest you add it to your start menu just in case you change your mind and suddenly become a lock screen aficionado, you can find the program and get your lock screen back without a lot of fuss, OK?
And here's how to do that – both on Windows 10 and Windows 11.
1.) While the program is open, right-click on its icon in the taskbar.
2.) Right-click on the program's name.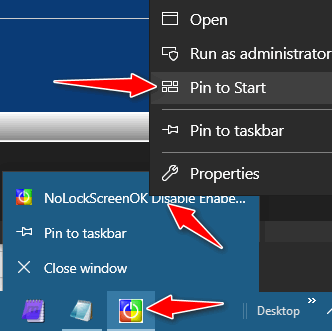 3.) Click Pin to Start.
That's it. So, now you can turn that annoying lock screen off (or on) with a click using a tiny freeware app called, "NoLockScreen.OK".
You can download NoLockScreen.OK from this link.
It's a zip file. Just unzip it and click on the application to run it. That's all there is to it, OK?
OK!

Want more tips, tricks, and information?
We have thousands of Windows tips, tricks, and more on our InfoAve website.
Subscribe to our free InfoAve Daily newsletter.






Now available: Reg Organizer 8.76

If you purchased or renewed Reg Organizer through Cloudeight within the last 12 months, you're entitled to a free version upgrade to Reg Organizer 8.76.

Save $14 on Reg Organizer right now!

Reg Organizer - A Swiss Army Knife of Windows Tools - Works Great on Windows 10!




Meet our staff!

A Cloudeight Site Pick in Disguise

These are the fine people who help us keep Cloudeight great!

TC and Darcy intend to remain elusive, hiding our old saggy bodies, so sorry, no photos of us. But these are the fine folks who do the work behind the scenes while Darcy sails around in her yacht – and TC supervises the staff!

NO NO NO! Those People, Like Our Staff, Do Not Exist!

Introducing a new Cloudeight Site Pick…

ThisPersonDoesNot Exist

Rather than try to get you to read our site pick today, we thought we'd use a little bait and switch – innocently of course – to introduce you to ThisPersonDoesNotExist. The people above, whom I named for this light-hearted deception, do not exist. Just like our staff does not exist.

Artificial intelligence (AI) is what Stephen Hawking feared most. ThePersonDoesNotExist uses AI to generate face after face of people who don't exist, except in the electrons and the bits and bytes of digital imagery.

We found it fascinating to view the faces of people who don't exist. We can't tell you why it's so fascinating and is rather creepy.

The only flaw I found was that a lot of them look like advertisements for ClearChoice or Aspen Dental.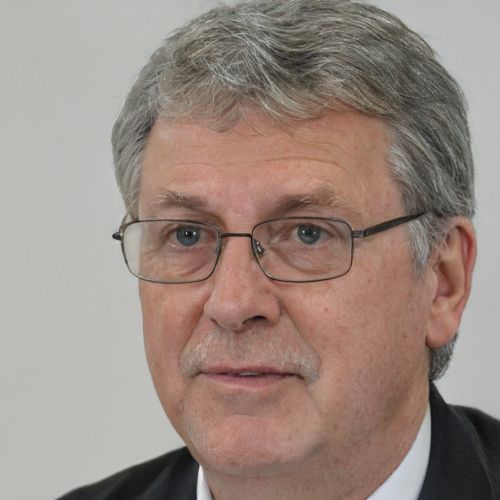 CEO Johnny

We hope you're as amazed as are. AI is fascinating – and maybe a bit scary. It sure is hard to believe that none of the people pictured in this post exist.

Prepare yourself for the future. AI is going to affect your life. Spend some face time by visiting our site pick ThisPersonDoesNotExist... and be sure to hover over every photo to learn more. Just try it, you'll see what we mean.


The Best Computer Care and Repair - Anywhere!

We can fix your computer while you watch. You never have to leave your home. Just sit back, relax, and watch us work. Get PC service from folks you trust at the best prices you'll find anywhere.

Get more information here.


The More Things Change…
The More They Stay the Same

We wrote our first "Your Computer Won't Bite" e-book way back in 2005. Windows XP was just a few years old, and some folks were still hanging on to Windows 98 and Windows ME.

Sixteen years ago, we told you that your computer won't bite, and though things have changed a lot in those sixteen years, the basic theme of that old, outdated e-book is still true even though sixteen years have passed.

Microsoft is taking heat again for foolishly promising, in 2015, that Windows 10 would be the last numbered version of Windows, only to break that promise in 2021 with the release of Windows 11. And the click-hungry, reader-hungry, tech sites and tech publications are regaling users with tales of the horrors of and the flaws in Windows 11.

But one thing we've always done is disregard what the geeks and experts say and honestly evaluate things for ourselves. And then, as always, tell you the truth. And the truth is, Windows 11 is much more like Windows 10 than we've all been led to believe. But there's no clickbait in that, so instead of telling you about the many similarities and improvements in Windows 11, many people spend time focusing on the bad things, on the flaws, and the differences. And yes, there are flaws, sure. It's new. But the differences are few and the similarities are many.

So, here in 2021, the week after Microsoft released Windows 11, I realized that it is true that "the more things change, the more they stay the same"...

Read the rest of this essay here.






Good Hackers, Bad Hackers

Good Hackers

You may think that hackers are all bad, but they're not. There are good hackers too.

Good hackers, also known as "White Hat hackers", are skilled hackers, just as skilled as the bad guys. But good hackers put their skills to use finding loopholes and weaknesses in systems and programs that may be vulnerable to attacks so that these weaknesses and loopholes can be fixed before they're attacked by the bad guys - the bad hackers. Good hackers help make software, systems, and networks safer for all of us.

Want to be a "White Hat hacker"? You can make a career out of being a good hacker. You can take professional courses if you're interested in hacking for a living... ethical hacking that is.

Bad Hackers

These are the hackers you read about in the news. Bad hackers or "Black Hat hackers" find security flaws, loopholes, and weaknesses in systems, software, and networks and exploit them for personal gain. By personal gain, we don't necessarily mean financial gain. Although most professional "Black Hat hackers" hack for financial gain, some do it for fame and recognition, others just because they can. Bad hackers are responsible for most of the data theft, identity theft, and financial loss caused by malware and ransomware.



Our newest Cloudeight Endorsed Email Program - Very Similar to Windows Mail & Outlook Express.

Cloudeight Stationery works great with OE Classic!

Read more about OE Classic here!




Sales of the following products and services help support our newsletters, websites, and free computer help services we provide.

Cloudeight Direct Computer Care: Single Keys, SeniorPass, or Season Tickets - always a great deal. Cloudeight Direct Computer Care is like having PC insurance. Get more information here.

Emsisoft Anti-Malware: Emsisoft is the only Cloudeight endorsed and recommended Windows security program. It provides users with a complete antivirus, antimalware, anti-ransomware, anti-PUPs solution. We offer single Emsisoft licenses and multi-computer licenses at discount prices. Also, we offer our exclusive Emsisoft with Cloudeight installation & setup. Get more information here.

OE Classic Email program. The email program that is most like Outlook Express. We can even set it up for you. Get more details here.

Reg Organizer: Reg Organizer is the Swiss Army Knife of Windows tools. It's far more than just a registry optimizer and cleaner... it's a Windows all-in-one toolkit. Reg Organizer helps you keep your computer in tip-top shape and helps you solve annoying Windows problems. Reg Organizer works great with Windows 10! Get more information about Reg Organizer (and get our special discount prices) here.

SeniorPass - One year of Cloudeight Direct Computer Care - unlimited sessions! Get more information here.

Windows 10 Customization: Make Windows 10 look and work the way you want it to. Learn more.

MORE IMPORTANT STUFF!

Your InfoAve Weekly Members' Home Page is located here.

Print our Cloudeight Direct Computer Care Flyer and spread the word about our Cloudeight Direct Computer Care repair services. Get our ready-to-print flyer here.

Help us Grow! Forward this email newsletter to a friend or family member - and have them sign-up for InfoAve Weekly here!

Get our free daily newsletter! Each evening we send a short newsletter with a tip or trick or a computer-related article - it's short and sweet - and free. Sign-up right now.

We have thousands of Windows tips and tricks and computer articles posted on our Cloudeight InfoAve website. Our site has a great search engine to help you find what you're looking for too! Please visit us today!

Help us by using our Start Page. It costs nothing, and it helps us a lot.

Print our Cloudeight Direct Flyer and spread the word about our computer repair service! If you want to help us by telling your friends about our Cloudeight Direct Computer Care service, you can download a printable flyer you can hand out or post on bulletin boards, etc. Get the printable PDF Cloudeight Direct Computer Care flyer here.



We'd love to hear from you!

If you have comments, questions, a tip, trick, a freeware pick, or just want to tell us off for something, let us know.

If you need to change your newsletter subscription address, please see "Manage your subscription" at the very bottom of your newsletter.

We received hundreds of questions for possible use in IA news. Please keep in mind we cannot answer all general computer questions. We try to personally answer as many as we can. We can only use a few in each week's newsletter, so keep this in mind. If you have a support question about a service or product we sell, please contact us here.

Subscribe to our Daily Newsletter! Get computer tips & tricks every night. Our daily newsletter features a computer tip/trick or two every day. We send it out every night around 9 PM Eastern Time (USA). It's short and sweet, easy-to-read, and FREE. Subscribe to our Cloudeight InfoAve Daily Newsletter!





We hope you have enjoyed this issue of Cloudeight InfoAve Weekly. Thanks so much for your support and for being an InfoAve Weekly subscriber.

Have a great weekend... be safe!

Your friends at Cloudeight,

Darcy and TC
Cloudeight InfoAve Weekly - Issue #940
Volume 18 Number 50
October 15, 2021

Not a subscriber? Subscribe to our FREE Cloudeight InfoAve Weekly Newsletter here.





"Cloudeight InfoAve Weekly" newsletter is published by:

Cloudeight Internet LLC
PO Box 73
Middleville, Michigan USA 49333-0073

Read our disclaimer about the tips, tricks, answers, site picks, and freeware picks featured in this newsletter.

Copyright ©2021 by Cloudeight Internet