Cloudeight InfoAve Weekly
Issue #942
Volume 18 Number 52
October 29, 2021

Dear Friends,

Welcome to Cloudeight InfoAve Weekly Issue #942. Thank you very much for subscribing and for being a part of our Cloudeight family. We appreciate your friendship and support very much! Please share our newsletters and our website with your friends and family.

If you're not getting our InfoAve Daily newsletter, you're missing out on a lot of good stuff!

It's free and it only takes a few seconds to sign up. We'd love to have you with us. Visit this page to sign up for our Cloudeight InfoAve Daily Newsletter.


Brian's PC doesn't meet the requirements for Windows 11
Hi. I have an HP All-In-One computer which is only several years old; I'm not sure of the exact age of my PC.

When I run the latest version of WhyNotWin11 (version 2.4.4.1) it says everything is compatible except the CPU.
The computer specs are listed below:

Processor Intel(R) Core(TM) i7-6700T CPU @ 2.80GHz 2.81 GHz
Installed RAM 16.0 GB (15.9 GB usable)
System type 64-bit operating system, x64-based processor
Pen and touch support with 10 touchpoints

All components are compatible except the CPU. Regards, Brian.

Our answer
Hi Brian. First, Microsoft has updated its PC Health Check app to check your PC's compatibility with Windows 11- so there's no need to use the workaround WhyNotWin11. You can read more about that here. I would run that before making any decisions.

From what I can see, you have a 6th generation Intel processor that doesn't make the cut as far as Windows 11 goes. According to Microsoft, it must be a 7th Generation Intel processor or newer. You can follow the instructions on this page and use a registry hack to skip the CPU check and install Windows 11 anyway. But, Microsoft warns if you use their workaround to install Windows 11, updates are "not guaranteed".

But so far my ASUS computer, like your PC, meets all Windows 11 requirements except for the processor, is running Windows 11, and has been getting updates. It seems to me that Microsoft would never really cut updates off for users who used Microsoft's workaround to install Windows 11. But, if you do upgrade to Windows 11, you would have to assume that risk.





Linda wants our recipes link
A little while ago you had a link to a page that you could find recipes, but I am not finding it on your start page. Does it ring a bell for you?

Our answer
Hi Linda. Here is the most recent article we published called "Search Over Two Million Recipes Instantly".

And here's a hint for you. The next time you're looking for an article we've posted, go to our InfoAve page and use the search engine on that page to search our articles and tips. We use it all the time to find things. It works great.

We hope this helps you cook up some great meals!

Bil wants to know why he has to keep reinstalling the "new" Microsoft Edge
Hi Guys. I am buying and setting up an HP Inspiron laptop for my wife. Unfortunately, I am having a problem with Microsoft Edge! It asked me to install the new Microsoft Edge which I did. Every time I boot up it loads up Microsoft Edge asking me to install it! I can't seem to get rid of it for the screen at boot up. Any suggestions?

Great Newsletter... it is compulsory reading every day/week/month! Regards, Bil.

Our answer
Hi Bil. Thanks for your nice comments.

Was this a used computer? New computers with Windows 10 should not ask you to install the "new" Edge. There is no "new" Edge. There is only one Edge now and that's the Chromium version of Edge which comes with all supported versions of Windows 10.

Your best bet is to type Apps & features in taskbar search.

Click "Open" when Apps & features appears in the search results.

In Apps & features, in the list of Apps, find Microsoft Edge and click on it.

Then click "Modify".

When you click "Modify" you'll get an Administrator prompt (allow this app to make changes to your device). Click "Yes".

You'll see this dialog: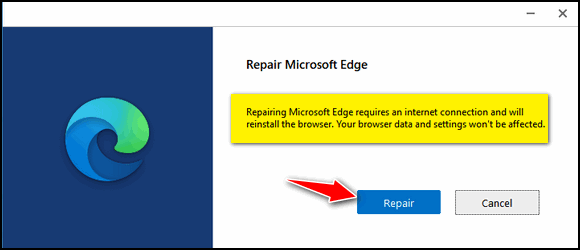 Click on "Repair". Notice the dialog says it will reinstall the browser.
We hope this helps you fix your MS Edge problems, Bil.

We hope this helps you, David.

Janet gets a blue screen
Hi Darcy & TC. Today when I started my computer it was running fine and then suddenly, after about 15 minutes, I got a Blue Screen saying my computer had encountered an error and needed to restart. After my computer restarted, everything seems fine. It's been three days since I saw the Blue Screen. Should I be worried? Does this mean my PC is going bad?

Our answer
Hi Janet. If you see a Blue Screen every once in a Blue Moon - you don't have to worry. I think every Windows user has seen a few Blue Screens - at least those who've been using Windows for a while.

Most Blue Screens are caused by hardware driver issues. And many times, "driver-updaters" exacerbate the problem. In any case, if you see Blue Screens infrequently it doesn't indicate any major problems. It's when you start seeing them every day or more than once a day that indicates you've got a serious problem.

You can rest easy, Janet.

Marjorie says she cannot import a CSV file of contacts into Outlook
I use Outlook 2019 but it will not import my CSV file of my e-mail contacts.

Our answer
Hi Marjorie. We may not have enough information to answer your question correctly.

How did you export the CSV file? Where did you export it from? What format did you choose, Outlook CSV or Gmail CSV? Did you follow the instructions on this page when trying to import the CSV contacts?

If you're following those instructions and it still does not work then we're going to need more info to help you. Just let us know.


Help Us During our Fall Donation Drive
When you support us with a small gift, you help us continue our mission to keep you informed, separate the truth from the hyperbole, and help you stay safer online. Plus, our computer tips make your computer easier to use.
Did you know that we provide support to thousands of people? Every week we help dozens of people via email at no charge. The questions and answers you see in our newsletters are from the email answers and help we provide to everyone free of charge.
Thanks to your gifts, we do a lot more than provide this free newsletter. We help you recognize online threats, fight for your online privacy, provide you with the knowledge you need to navigate the Web safely, provide you with suggestions for safe, free software and websites, and help you get more out of your PC.
Please Help us keep up the good fight with a small gift.
Interested in helping us with a monthly gift? Visit this page. Help us keep helping you... and helping you to stay safe on the Web.
And you can also help us by printing our Cloudeight Direct Computer Care Flyer and help spread the word about our Cloudeight Direct Computer Care and repair services. Get our ready-to-print flyer here.


John wants to know how to run Windows 11 on a computer that doesn't quite meet the requirements
Read your article about Windows 11 with interest. I have a 5-year-old Asus laptop and am interested in the registry hack you used to bypass the processor and TPM check. Any chance you describe the details on how to do that? Keep up the good work! John.

Our answer
Hi John. Keep in mind that Microsoft says if you use the infamous Microsoft registry hack, "future updates" are not guaranteed. Many who are in the know don't think Microsoft would dare to withhold updates from Windows 11 users, but if you do the registry hack, that's a risk you will be taking.

See this page for details on how to install Windows 11 on a PC that does not meet the requirements for Windows 11.
We hope this helps you... and good luck, John!



Susan lost her Internet connection on her desktop computer
My desktop computer has lost internet connection. In Device Manager, there is the yellow triangle beside the network adapter. I have a laptop and a smartphone and I am connected to the Internet without any problems.

I tried to update the drivers but I got a message that says "Windows has determined the best driver for this device is already installed." Could there be better and newer drivers on the device manufacturer's website? I would appreciate your advice. Thanks so much for helping me and so many others.

Our answer
Hi Susan. Installing a new driver will not fix your Ethernet connection. We're assuming it stopped working before you tried installing a new driver. So, our first guess is your network card is going bad or has gone bad.

We can rule out a problem with your modem and router since your other devices are connected and working. Does your desktop computer have a wireless card? If so, you could connect try connecting using the WiFi connection.
But, before doing anything else we suggest you reset your network settings. Resetting the network settings only affects your computer -it won't affect the other devices connected to your network. Resetting your network settings on your desktop will completely reset your desktop computer's network settings as well as its network adapters. This may help you. If you want to try resetting your network - and we think it's worth a try -- follow the instructions on this page.

Let us know what happens and if you need any more help.
-------
Susan wrote back: "Hi TC. It worked!! I reset the network settings as you suggested and I'm back on the Internet. The instructions you provided were excellent and everything went perfectly. Thanks so much. This isn't the first time you guys have helped me. I so appreciate this! Thanks again, Susan"

Terry upgrades his laptop to Windows 11
Howdy, folks...Windows graced me with its 11th version a few days ago. As far as I can tell, the major change is them moving the taskbar icons into the middle of the bar, mimicking Apple products.

I've taken some time to indicate my preferences on my often-used programs and apps but not all of them, I suspect. So far, I have seen non of the issues that were reported on for months prior to the program's release.

One issue I have experienced however is a couple of my programs stalling, being unresponsive. I get around that by using my Task Manager and canceling or restarting the program. I went through this a while ago using Windows 10 on my 13-year-old Media Desktop from HP. Same remedy. I'm never sure what causes this issue; perhaps you do?

After reading your item this week regarding Internet speeds, I used Speed.com a few times to see how my GB speed functions on my new laptop. It was 2:15 p.m. on a Sunday afternoon and the posted result was 800 MBPS and then, a few minutes later, 720 MBPS. I won't complain about that!

Anyway, that's it for now. Keep up the good works that you do for us all. Enjoy Halloween and then U.S. Thanksgiving. Terry

Our answer
Hi Terry. Happy Halloween & Thanksgiving to you as well. It doesn't seem possible that we are entering the final months of 2021 already. Time flies like the wind, but fruit flies like bananas.

Thanks for your report on Windows 11. Your report reminds me to add Windows 11 to our support form as an operating system choice - and that's been done.

Non-responding programs are generally the result of not enough RAM or too many programs running in the background - usually a combination of both. It's hard to say without actually seeing what's going on there.

Regarding the centered Taskbar. Windows 11 allows you to move the taskbar to the left as it has been in all previous versions of Windows.

1. Right-click the taskbar

2. Click Taskbar settings

3. Click Taskbar behaviors

4. Next to Taskbar alignment use the dropdown arrow to select "Left".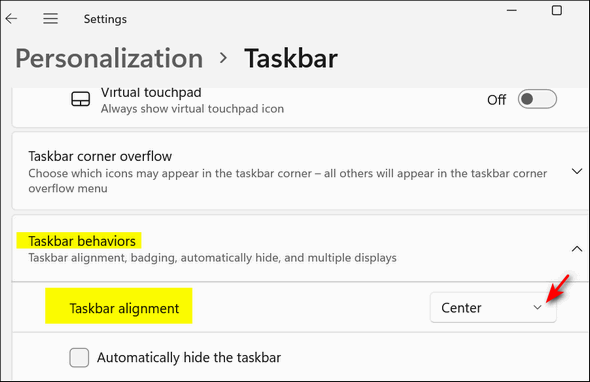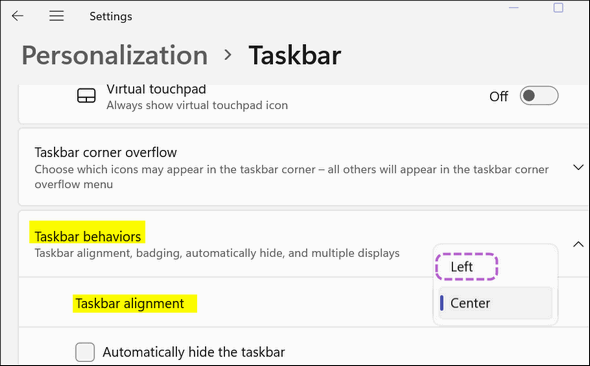 Keep on exploring Windows 11, Terry.




Don't have a Cloudeight SeniorPass? It's a great deal. Learn more here.

Our Cloudeight SeniorPass is a great deal. You get unlimited support for one full year from the date you first use your SeniorPass. We can help keep your computer running well, fix all kinds of computer problems, clean up malware, and a whole lot more. Our SeniorPass is like insurance for your computer. And it's only $99 for an entire year.

Get your SeniorPass today for just $99. It's just like having insurance for your computer - only better!

To learn more about our SeniorPass, please see this page.

Interested in making an automatic monthly gift? Visit this page. Help us keep helping you... and help you stay safe on the Web.


About Me and About You Too!
Everyone who uses Google/Gmail

Did you know that Google has a page at https://aboutme.google.com/ where you can go to change or update your personal information across all Google services (Drive, Gmail, Calendar, etc.)? You can change or update your name, contact information, photos, etc. And you can also change your privacy settings and do a privacy checkup from there too. It's a good idea to visit https://aboutme.google.com/ and make sure your contact information is correct.




There's a whole lot about you on aboutme.google.com, maybe even more than you knew. So, go take a look

A female dragon mascot and a place where males get paid less than females. That's us... Cloudeight!

The Windows Cloud Download Recovery Option
Windows 10 and Windows 11
Beginning with Windows 10 version 1909, Microsoft added a Cloud Recovery option to Windows 10. Windows 11 now offers the same option.
The Cloud Recovery option gives all Windows 10 and Windows 11 users who are trying to recover a badly corrupted installation of Windows a better choice. With the Cloud Download recovery option, users can download a pristine copy of Windows 10 or Windows 11 from Microsoft without using any of the pre-existing files on their computers.
According to Microsoft…
"The cloud download option will reinstall the same build, version, and edition, that is currently installed on your device. This new cloud download option is available to all Windows 10 devices and is different from the "Recover from the cloud" feature available on some earlier Windows 10 devices."
The Cloud Download option is available in Windows 11 as well.
Here's how to your the Cloud Download option to reset your Windows 10 or Windows 11 PC...and keep all your files (all your programs will be removed).
1.) Type RESET in the taskbar search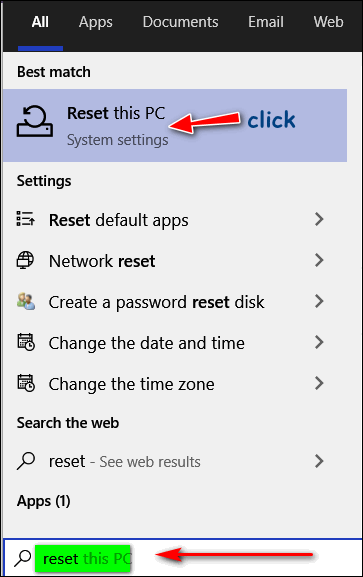 Click on "Reset this PC" when it appears in the search results
In the Recovery dialog, click Get Started under "Reset this PC"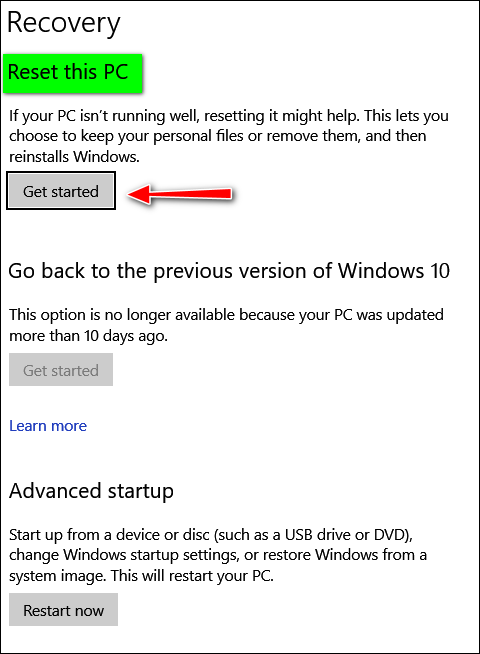 When you click "Get Started" a window will open showing you two options:
"Keep my files" and "Remove everything"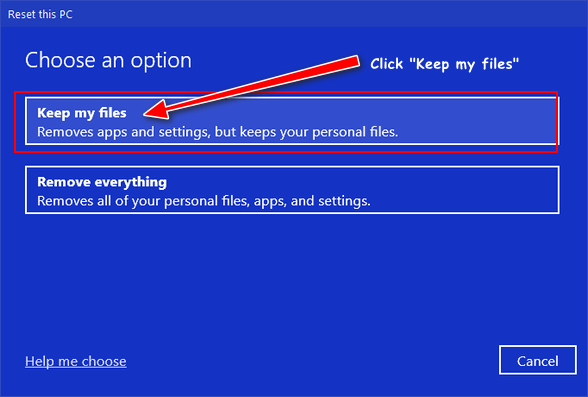 If you want to keep your files and reinstall a fresh copy of Windows make sure you select "Keep my files"
When you click on "Keep my files" you'll see this dialog: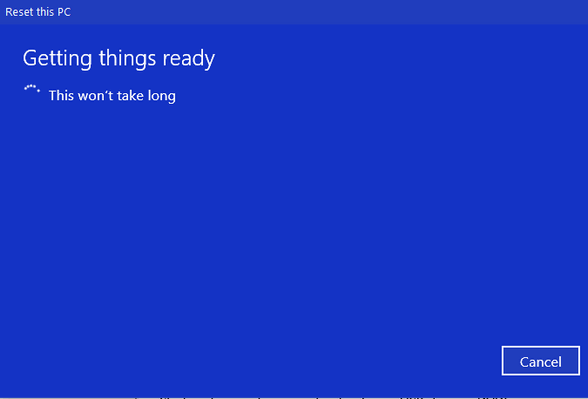 On the next screen, Windows will give you two options – "Cloud download" and "Local Reinstall". If you choose the first option, Windows will reinstall a pristine copy of the same version of Windows that is installed on your PC by downloading the files directly from Microsoft's servers. If you choose the second option, Windows will be reinstalled with the files stored on your computer.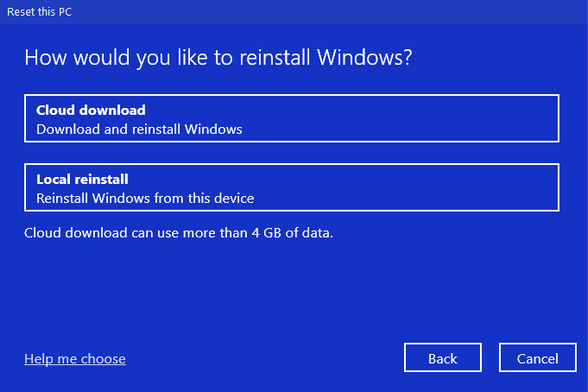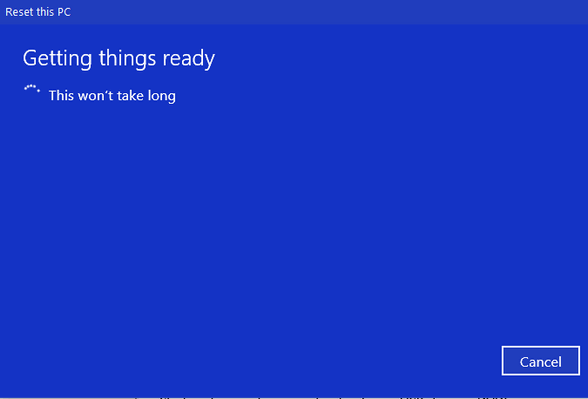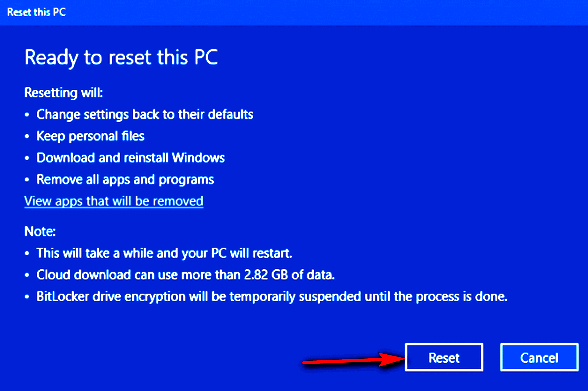 Click "Reset" and the reset will begin. Keep in mind that the Cloud download option will take longer than a local reinstall. A Cloud Recovery reset could take from 1 to 2 hours or even longer, depending on the speed of your internet connection.
The Cloud download option is your best choice if your Windows installation is badly corrupted.

Four Slick Quick Tips for You
Windows 8.1, Windows 10, Windows 11 & all popular browsers
These four tips are easy and quick. But more than that they're useful and time-saving. Three of them are browser tips for Chrome, Edge, Firefox, and almost any other browser — and one is a "copy and paste" tip.
Three browser tips first…
1. Show recently viewed pages with a click
Did you know you can show a list of recently visited pages from the current tab? You can. All you have to do is right-click on the "Back" button and you'll see a list of recently visited pages. Keep in mind the back button may not be visible (or grayed out) when you first open your browser since there's nothing to go back to, right?
2. Drag-a-tab

Did you know you can drag any tab and rearrange the tabs showing at the top of your browser? And, if you drag a tab off the edge of the browser, it will open that tab in a new browser window. Just drag the tab outside the active browser window. And you can also add it back to the original browser window too. Just drag it and drop it where you want it.
3. Going Home
Most of you have a Web page you call your home page. In case you're wondering, the browser's home page or "Start" page is the page that opens when you first start your browser. Of course, we're sure it's https://thundercloud.net/start/ because you like us so much. Alas, it's probably not though… but we can always hope.
Anyway, when you're surfing the Web and have several tabs open, and you decide you want to return home page quickly here's how to do it fast! All you have to do is press the Alt key + the Home key to return to your home (start) page. The next time you want to return to your home (start) page quickly, give your mouse a rest and use the Alt + Home shortcut.
A Copy & Paste tip
This tip works in any version of Windows, including Windows 11.
How do you copy? Do you copy text and links from the left to right or right to left? Did you know if you copy text from left to right, Windows will automatically add a space to the beginning of the first line when you paste what you copied?
While that's not a problem most of the time, it can be if you are copying and pasting passwords, usernames, a line of computer code, a registry entry, etc. That space at the beginning of the first line can cause you problems.
So, from now on try to get used to copying from right to left and avoid that extra space at the beginning of the first line that Windows adds automatically.
Copy that?

Want more tips, tricks, and information?
We have thousands of Windows tips, tricks, and more on our InfoAve website.
Subscribe to our free InfoAve Daily newsletter.






Now available: Reg Organizer 8.80

If you purchased or renewed Reg Organizer through Cloudeight within the last 12 months, you're entitled to a free version upgrade to Reg Organizer 8.80.

Save $14 on Reg Organizer right now!

Reg Organizer - A Swiss Army Knife of Windows Tools - Works Great on Windows 10!




The Krazy Coupon Lady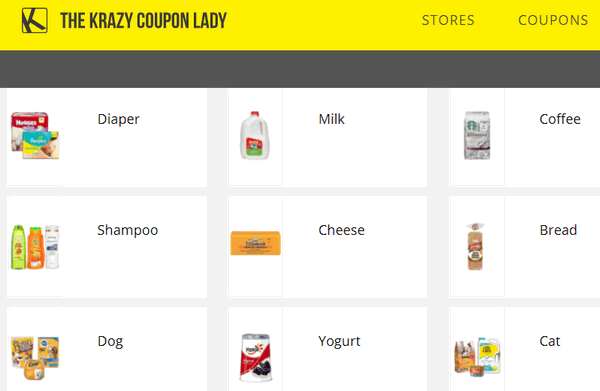 OK… it's really TheKrazyCouponLady.com, but that makes a lousy title for an article, right? Seriously, the spell-checkers are already blaring alarms, we tells ya!

Anyway…

Who doesn't like saving money? EB! Put your hand down! Most people like saving money. There's something crazy fun about clipping coupons, printing coupons, using coupons. And we know many of you are on tight budgets like us, and every coupon clipped, and every dollar saved is important. The more money you save, the more money you have, right? Who said, "A penny saved is a penny earned"? You're right, EB, good old Ben Franklin!

Anyway, we've seen a lot of coupon sites, but we've never seen a coupon site like The Krazy Coupon Lady. These two gals started as two coupon-clipping pals trying to save money on the family groceries. Now they're millionaires. Makes me want to ask EB… why didn't we think of this all those years ago?

Anyway, here's the story, right from the keyboard of the Krazy Coupon Lady.
TheKrazyCouponLady.com was founded, quite by accident, when two stay-at-home moms began blogging about their strategic coupon-clipping in Boise, Idaho. Founders, Heather Wheeler and Joanie Demer were tired of spending $500 per month feeding their young families and wanted to find a way to cut that number in half. Soon, they were "stacking" coupons, sales, and store promotions and walking out of the store with sacks full of free groceries!

Today, TheKrazyCouponLady.com is a thriving multi-million dollar corporation, outpacing the growth of any website of its kind in the world! Heather and Joanie's team of two has grown to include 20 employees and an impressive social media following, with nearly 1.3M fans on Facebook, 56.5K followers on Twitter, and 84.9K followers on Pinterest. In the spirit of sharing,

TheKrazyCouponLady.com partners with a local IRC chapter to provide groceries, gifts, and free classes to local refugee families from all over the world…
I mean what more can we tell you? Let's do some show and tell, OK?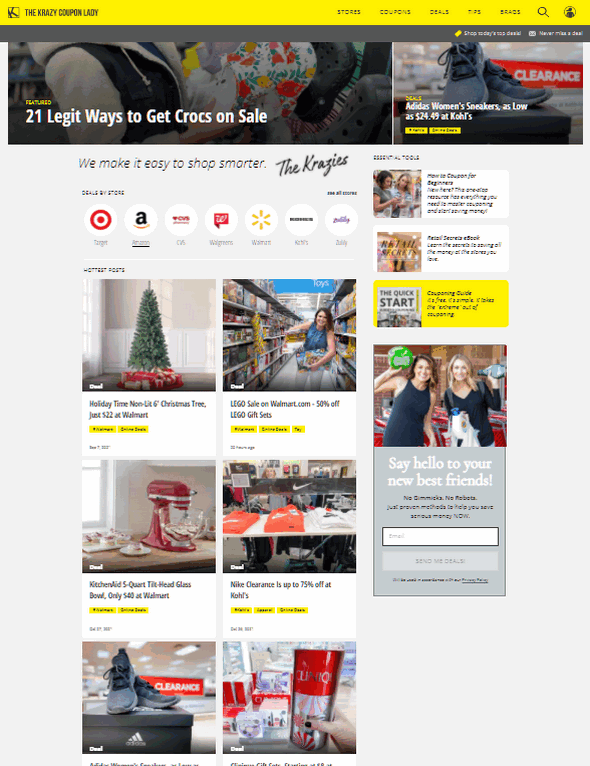 TheKrazyCouponLady makes it easy to find the coupons you're looking for – which is one of the reasons why we love the site.

If you're looking to save money, and you like coupons, exploring TheKrazyCouponLady will be well worth your time.

Let's go couponing, my friends!

PS: It would have been cooler if it were TheKrazyKouponLady, eh?


The Best Computer Care and Repair - Anywhere!

We can fix your computer while you watch. You never have to leave your home. Just sit back, relax, and watch us work. Get PC service from folks you trust at the best prices you'll find anywhere.

Get more information here.


The Lion Sleeps Tonight

"In the jungle, the mighty jungle, the lion sleeps tonight…"

Is there anyone who doesn't know the song, 'The Lion Sleeps Tonight'? If you're an older person, you remember it as a hit record by The Tokens in the early 1960s; if you're younger you remember it from "The Lion King".

But there's a backstory to that song that few people know. And it's a story of poverty and of strong vs. weak. A story of wealth and power vs. a poor man and his family.

And it's also the story of one of the biggest and most recognizable hit songs of all time.

The song 'The Lion Sleeps Tonight' has its roots in "Mbube". According to Wikipedia...
"Mbube is a form of South African vocal music, made famous by the South African group Ladysmith Black Mambazo.

The word mbube means "lion" in Zulu. Traditionally performed a cappella, the members of the group are male although a few groups have a female singer. In this form, groups of voices singing homophonically in rhythmic unison

are employed to create intricate harmonies and textures…" (Wikipedia "Mbube (genre)".
'The Lion Sleeps Tonight' was written and recorded as 'Wimoweh" in 1938 (you can listen here), in Johannesburg, South African by singer and itinerant worker Solomon Linda and his band The Evening Birds.

'Wimoweh' slowly evolved into 'The Lion Sleeps Tonight'...

We hope you'll read the rest of this essay here.




What is the most popular way for cybercriminals to steal your identity, spread malware, and entice you to visit malicious websites?

A. Software Bundling
B. Hacking
C. Spam Email
D. None of these

If you answered "C", you're correct. You get an A! Spam is number one when it comes to bringing malicious files and websites to your computer.

According to Security outfit F-Secure, spam email is still the most popular means for cyber-miscreants to spread malware and entice people to click links to malicious websites.

According to F-Secure's analysis of spam email, almost half of all spam emails (46 percent) are pushing dating scams, about one-third of them (31 percent) contain links to malicious websites and approximately a quarter of them (23 percent) have malicious attachments. Eighty-five percent of these malicious attachments are one of five file types: .ZIP, .DOC, .XLS, .PDF, and .7Z (7-zip compressed file).

F-Secure noted that while spam has been a vector for viruses and malware for decades, as computer operating systems and security software become more efficient at protecting users from exploits and vulnerabilities, spam has gained more popularity over the past few years and it now is the number one way malware and links to malicious web sites are spread.

As we've been warning you for 20+ years now - Never click links in suspicious emails or spam emails. And always THINK BEFORE YOU CLICK.

And... don't open attachments directly in an email unless you were expecting an attachment, you know what it is... and you're sure you know who sent it.





Our newest Cloudeight Endorsed Email Program - Very Similar to Windows Mail & Outlook Express.

Cloudeight Stationery works great with OE Classic!

Read more about OE Classic here!




Sales of the following products and services help support our newsletters, websites, and free computer help services we provide.

Cloudeight Direct Computer Care: Single Keys, SeniorPass, or Season Tickets - always a great deal. Cloudeight Direct Computer Care is like having PC insurance. Get more information here.

Emsisoft Anti-Malware: Emsisoft is the only Cloudeight endorsed and recommended Windows security program. It provides users with a complete antivirus, antimalware, anti-ransomware, anti-PUPs solution. We offer single Emsisoft licenses and multi-computer licenses at discount prices. Also, we offer our exclusive Emsisoft with Cloudeight installation & setup. Get more information here.

OE Classic Email program. The email program that is most like Outlook Express. We can even set it up for you. Get more details here.

Reg Organizer: Reg Organizer is the Swiss Army Knife of Windows tools. It's far more than just a registry optimizer and cleaner... it's a Windows all-in-one toolkit. Reg Organizer helps you keep your computer in tip-top shape and helps you solve annoying Windows problems. Reg Organizer works great with Windows 10! Get more information about Reg Organizer (and get our special discount prices) here.

SeniorPass - One year of Cloudeight Direct Computer Care - unlimited sessions! Get more information here.

Windows 10 Customization: Make Windows 10 look and work the way you want it to. Learn more.

MORE IMPORTANT STUFF!

Your InfoAve Weekly Members' Home Page is located here.

Print our Cloudeight Direct Computer Care Flyer and spread the word about our Cloudeight Direct Computer Care repair services. Get our ready-to-print flyer here.

Help us Grow! Forward this email newsletter to a friend or family member - and have them sign-up for InfoAve Weekly here!

Get our free daily newsletter! Each evening we send a short newsletter with a tip or trick or a computer-related article - it's short and sweet - and free. Sign-up right now.

We have thousands of Windows tips and tricks and computer articles posted on our Cloudeight InfoAve website. Our site has a great search engine to help you find what you're looking for too! Please visit us today!

Help us by using our Start Page. It costs nothing, and it helps us a lot.

Print our Cloudeight Direct Flyer and spread the word about our computer repair service! If you want to help us by telling your friends about our Cloudeight Direct Computer Care service, you can download a printable flyer you can hand out or post on bulletin boards, etc. Get the printable PDF Cloudeight Direct Computer Care flyer here.



We'd love to hear from you!

If you have comments, questions, a tip, trick, a freeware pick, or just want to tell us off for something, let us know.

If you need to change your newsletter subscription address, please see "Manage your subscription" at the very bottom of your newsletter.

We received hundreds of questions for possible use in IA news. Please keep in mind we cannot answer all general computer questions. We try to personally answer as many as we can. We can only use a few in each week's newsletter, so keep this in mind. If you have a support question about a service or product we sell, please contact us here.

Subscribe to our Daily Newsletter! Get computer tips & tricks every night. Our daily newsletter features a computer tip/trick or two every day. We send it out every night around 9 PM Eastern Time (USA). It's short and sweet, easy-to-read, and FREE. Subscribe to our Cloudeight InfoAve Daily Newsletter!




We hope you have enjoyed this issue of Cloudeight InfoAve Weekly. Thanks so much for your support and for being an InfoAve Weekly subscriber.

Have a great weekend... be safe!

Your friends at Cloudeight,

Darcy and TC
Cloudeight InfoAve Weekly - Issue #942
Volume 18 Number 52
October 29, 2021

Not a subscriber? Subscribe to our FREE Cloudeight InfoAve Weekly Newsletter here.





"Cloudeight InfoAve Weekly" newsletter is published by:

Cloudeight Internet LLC
PO Box 73
Middleville, Michigan USA 49333-0073

Read our disclaimer about the tips, tricks, answers, site picks, and freeware picks featured in this newsletter.

Copyright ©2021 by Cloudeight Internet