Cloudeight InfoAve Weekly
Issue #944
Volume 19 Number 2
November 12, 2021

Dear Friends,

Welcome to Cloudeight InfoAve Weekly Issue #944. Thank you very much for subscribing and for being a part of our Cloudeight family. We appreciate your friendship and support very much! Please share our newsletters and our website with your friends and family.

If you're not getting our InfoAve Daily newsletter, you're missing out on a lot of good stuff!

It's free and it only takes a few seconds to sign up. We'd love to have you with us. Visit this page to sign up for our Cloudeight InfoAve Daily Newsletter.


Annette wants to copy/move files on Windows 11
Hello. Is there a copy to / move to for windows 11? I am unable to transfer the files out of the downloads. Any help you can give I would appreciate. Thank you, Annette.

Our answer
Take a look at our article here. https://www.thundercloud.net/infoave/new/how-to-put-copy-to-move-to-on-your-windows-11-right-click-menu/. It's a tutorial on adding "Copy to folder" and "Move to folder" to the right-click menu in Windows 11. You can do it the same way as you did in Windows 10... but it won't show up on the main right-click menu, you have to click on "Show more options".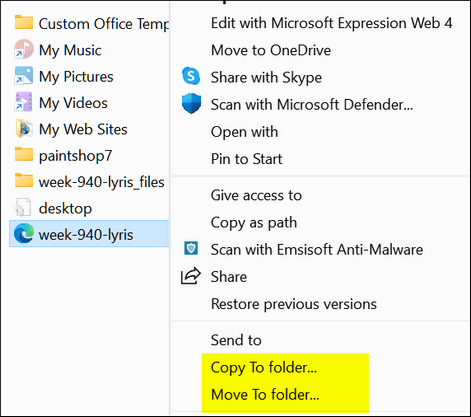 We hope this helps you, Annette.



Imogene has some questions on RTF files and office programs
Hi again. I need help to know how to make Open Office free online program my Default as I have it, Libre Office and MS online free Office all installed. I want to delete Libre Office but 95% of all my files are saved in .rtf extension which only can be opened by Libre Office. How do I change the .rtf extension to .ODF? Most times it does not allow me the choice to save as .ODF. After changing all files to .odf, I want to delete Libre Office.2nd question: Is Open Office also known as OnlyOffice? Thank you again for your much appreciated help. Imogene.

Our answer
Hi Imogene. RTF files are "Rich Text Files". They can be opened with any word processing program. Plus they can be opened with Windows WordPad (type WordPad in Taskbar search). Right now, on your computer, RTF files appear to be associated with LibreOffice. You can change that by right-clicking any RTF file and then clicking on "Open with" and choosing a different program. When you choose a different program, make sure "Always open files of this type with this app"(or similar is checked).

The best thing I can tell you to do is uninstall the office programs you don't want using Settings > Apps > Apps & features. Click on all the office programs you want to remove (one at a time) and click uninstall. After you're done removing the unwanted office programs, restart your computer.

After you've done that, then re-install Open Office from this link. When you reinstall Open Office pay close attention, during the installation it will ask if you want to make OpenOffice the default office program and give you a list of file types (doc, docx, rtf, and so on). Make sure you allow Open Office to be the default opener for all office-type files.

I think you just had too many office programs installed and the file associations got mixed up. Best to choose one office program and stick with it.

And finally -- there is only one OpenOffice and that's Apache OpenOffice. OnlyOffice is a different program and one with which we're not familiar.

We hope this helps you, Imogene.

Betty wants a good password manager
Can you suggest a good password keeper?

Our answer
Hi Betty. We have a couple of suggestions for free password managers.

LastPass

If you just want to use the password manager on your Windows computer, the free version of LastPass is great. But you can only use the free version on one operating system (i.e. you can't use it on Windows computers and Android smartphones and tablets). If you only want to use it on Windows computers, LastPass (free version) is a great choice. You can read more about LastPass here.

Bitwarden

The more I use Bitwarden the more I like it. And unlike LastPass, you can use the free version of Bitwarden on all your devices. You can read more about Bitwarden here. They offer various plans and pricing, but the free version works great and you can use it on all your devices.



Virginia asks about Microsoft 365 and OneDrive
Hi TC. Today I read where you said: "I have a subscription to Microsoft 365 ($6.99/month) and with that, I get one terabyte of OneDrive space, so have a lot more than I'll ever use, so I will never run out of space. If you don't have Microsoft 365 and/or you have not purchased more OneDrive space, you have 5 GB of space free."

Please tell me how you got that subscription at that price? I just looked in at a Microsoft 365 website and saw where they are asking $9.99 a month. I recently dropped Carbonite (per your advice) and feel like I need to get OneDrive which requires the Microsoft 365 subscription. Thanks for that information - and ALL that you do to help us all floundering around out here!

Our answer
Hi Virginia. Here is Microsoft 365 page. The plan you referenced for $9.99 a month is for use on two to five computers. If you look just below that, you will see the one-person plan for $69.99 a year... or $6.99 a month.

We hope this helps you, Virginia.
------------
Virginia wrote back: "OMG, so fast you have replied! And with just the right amount of information! Thank you SO much, Darcy. I would surely be up that well-known creek without a paddle without you two. You deserve a tip - forthcoming. God Bless you both. Virginia."

Euan wants to know if there is an ad blocker that lets him select ads he wants to see.
Hi! Is there something that you can do when you open websites in a browser and they have annoying ads popping up over them? And they also cover the ones you want to look at. Many thanks. Euan.

P.S. And thank you for having an easy and straightforward verification method when ending our comments to you.

Our answer
Hi Euan. I'm not aware of any ad blocker that lets you selectively view some ads and block others. That doesn't mean there isn't one, but we have never heard of one. We recommend Privacy Badger and uBlock Origin in tandem to block ads and together they do a great job.

With uBlock Origin and Privacy Badger, you can allow certain sites to show ads, but you cannot select which ads you want to be shown.

Thanks for your nice comments.
We hope this answers your question, Euan.


Help Us During our Fall Donation Drive
When you support us with a small gift, you help us continue our mission to keep you informed, separate the truth from the hyperbole, and help you stay safer online. Plus, our computer tips make your computer easier to use.
Did you know that we provide support to thousands of people? Every week we help dozens of people via email at no charge. The questions and answers you see in our newsletters are from the email answers and help we provide to everyone free of charge.
Thanks to your gifts, we do a lot more than provide this free newsletter. We help you recognize online threats, fight for your online privacy, provide you with the knowledge you need to navigate the Web safely, provide you with suggestions for safe, free software and websites, and help you get more out of your PC.
Please Help us keep up the good fight with a small gift.
Interested in helping us with a monthly gift? Visit this page. Help us keep helping you... and helping you to stay safe on the Web.
And you can also help us by printing our Cloudeight Direct Computer Care Flyer and help spread the word about our Cloudeight Direct Computer Care and repair services. Get our ready-to-print flyer here.


Richard has a couple of issues with Windows 11
I just upgraded to Windows 11. Two issues so far. One the touch keypad no longer works. I'm typing this on an old fashion keyboard I attached. Second is I see no way to attach a file folder to the taskbar. I put them in the start menu, which was not easy. Any help would be appreciated.

Our answer
Hi Richard. If you're talking about the Windows touch keyboard... if you right-click on the desktop, choose "Personalization" and look under "Taskbar corner icons" you'll see a switch for Touch Keyboard. You can turn it on from there. I just tried my touch keyboard in Windows 11 on both Windows 11 PCs and it works fine. If that doesn't work then you have a Windows issue that may require you to reinstall Windows11 or run SFC/DISM scans. Or perhaps a future update will fix it.

Pinning a folder to the taskbar is not the same as Windows 10. Even in Windows 10, it was not just a matter of dragging and dropping - see this tutorial. It does not work in Windows 11.

It's easy to pin a folder or app to the Start menu in Windows 11, though. All you have to do is right-click and choose "Pin to start". So, I'm not sure why you're having trouble pinning apps/folders to the start menu. The main start menu does not show everything that is in the start menu, to see the entire start menu, click on "All apps" near the top right. When you see that you'll see a menu similar to other versions of Windows.



Eduard has trouble with his computer's power settings
Dear entrusted friends of Cloudeight: I suddenly have been a problem. It may be a minor problem, but it is quite annoying. When I am working on my PC and not being active for about 1 (one) minute, the PC goes to sleep and I have to sign in again. I have tried to fix it via Settings - Power & sleep, but it there says that "When plugged in, PC goes to sleep after 15 minutes. I have been a Cloudeight member for many years, and very much appreciate the excellent advice you are giving us, but I have so far luckily I never needed your direct help. I certainly do hope that you do have a solution for this problem. Thanking you beforehand, regards, Eduard
Our answer
Hi Eduard. OK, so there are two things you can do. You can set your computer to never sleep when plugged in (that's how I have my computer set up), or you can choose to have your computer sleep after so many minutes and set your PC so you don't have to log back in after the computer wakes.
Here's how to set your PC so it never sleeps.
1. Right-click on the start button and click "Power Options".
2. In Power Options under "Power & sleep" > Sleep > "When plugged in, PC goes to sleep after" click on the down arrow (circled) and select "Never" from the list that pops up. Or you can select a different interval and follow the instructions provided so you don't have to sign in after your computer wakes.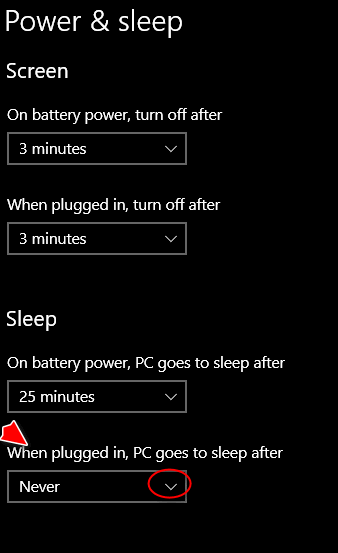 How to set your computer so you don't have to sign in after it wakes from sleep.
1. Right-click on the start button and click "Settings"
2. In Settings, click on Accounts.
3. In Accounts click on Sign-in options (from the menu on the left)
4. Under "Require sign-in" under "If you've been away, when should Windows require you to sign in"...click the down arrow (circled) and choose "Never".
We hope this answers your questions, Eduard, but if not, just let us know.
------------
Eduard wrote back: "Hi TC...Thanks a million. I followed the instructions and the problem has been solved. The two of you do a great job. Regards, Eduard."


John's sister has a big problem
Hello, you two wonderful people. I am hoping you can help me help my sister. My sister lives out of state. And she called to tell me she had gotten a blurb on her screen that she was infected and to call Microsoft at a specified number (BIG mistake). I was going to help her but she cannot get it to boot to Windows. It boots every time looking OK, then she puts in her 4 digit pin and it finishes only to an Administrator account it says, then a command prompt like this C:\windows\system32. No matter what I try to do for her, it always goes back to C:\ Windows\System32. I did try a system restore by running RSTRUI at the prompt. It went through all the motions and time and comes back to the command prompt. Nothing works. It is an HP All in One pc, about 10 months old I think. Win 10 for sure, do not know the version.

Do you have any suggestions that I might try to help her? She could call you for help but cannot get booted or online. It appears the creeps she called did something to make it continue to boot this way. Again, it looks normal until she puts in her PIN, then it goes thru motions and boots to the prompt. Thank you so much, John.

Our answer
Hi John. Wow... it's really hard to guess what's going on. It could be a lot of things. It sounds like the scammers did to her boot files. There's not much you can do for her do other than reinstall Windows.

We think her best option - at least the best we can think of -- is trying a Windows 10 Repair installation. But she'll need to have access to a working computer with a DVD drive or you can create a Windows 10 installation USB flash drive. Or you can create a DVD or USB for her on your computer.

We created a tutorial showing step-by-step how to create the DVD or USB, and how to do the repair installation.

Let us know if this helps, John.


Don't have a Cloudeight SeniorPass? It's a great deal. Learn more here.

Our Cloudeight SeniorPass is a great deal. You get unlimited support for one full year from the date you first use your SeniorPass. We can help keep your computer running well, fix all kinds of computer problems, clean up malware, and a whole lot more. Our SeniorPass is like insurance for your computer. And it's only $99 for an entire year.

Get your SeniorPass today for just $99. It's just like having insurance for your computer - only better!

To learn more about our SeniorPass, please see this page.

Interested in making an automatic monthly gift? Visit this page. Help us keep helping you... and help you stay safe on the Web.


A Shortcut to All Gmail Shortcuts [and more]
All Windows 8x, Windows 10, Windows 11 users with a Gmail account
Gmail has a lot of nifty and useful shortcuts that you can use with Gmail. And you don't need to memorize them because they're just a shortcut away. You can bring up a list of all Gmail shortcuts instantly by pressing just two keys.
Open Gmail in your browser. Now press Shift +? (Hold down your Shift key and tap the question mark key) and you'll see this: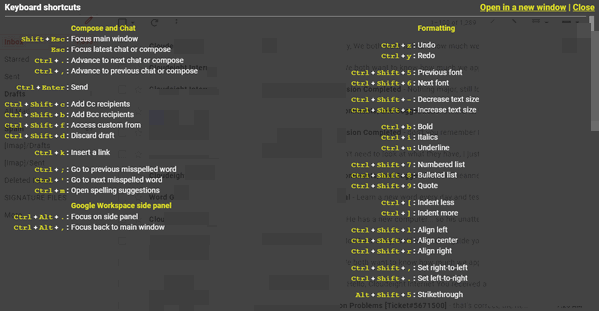 If you want to see the list of shortcuts in a new window, click "Open in a new window".
If you scroll down, you'll find more shortcuts that are not enabled by default. However, you can enable them just by clicking a link. See?
Remember, some Gmail shortcuts work only if you've turned them on... so turn 'em on!
Open Gmail...
In the top right, click Settings and then See all settings.
Click Settings.
Scroll down to the "Keyboard shortcuts" section.
Select Keyboard shortcuts on.
At the bottom of the page, click Save Changes.
All those Gmail shortcuts right at your fingertips and you probably never knew it. And all you need to remember is the keyboard shortcut Shift +? (Shift key plus the question mark key).

Pretty cool, eh? Now you're a Gmail power user!
Bonus Tip: Want More Gmail Tips?
Do you want to see an impressive list of Gmail tips & tricks? Just click right here.

Add a Settings Context Menu to the Windows 10 or Windows 11 Desktop
Windows 10 and Windows 11
On Windows 10 and Windows 11, the Settings app contains the following categories: System, Devices, Network & Internet, Personalization, Apps, Accounts, Time & language, Gaming, Ease of Access, Cortana, Privacy, Update & security and (on some versions) Mixed Reality.
All Settings categories have sub-categories. Most of these sub-categories are accessible directly using the ms-settings commands. you can see a list of ms-settings commands here and directly from Microsoft here.
How to Add a Settings Context Menu to the Windows desktop

If you want to add a "Settings" context menu that you can open by right-clicking your Windows 10 desktop, we've made it simple for you.
Once you've downloaded the file, unzip it, and right-click on the file named "settings-menu.reg" and choose "Merge". (You can also double-click it.)
You will get a warning reminding you that adding things to your registry can cause problems. Click "Yes" to proceed.

Once you click yes, you'll see a dialog confirming that the changes have successfully been added to your registry
And if you did all that correctly when you right-click on an empty space on your desktop you'll have a Settings entry on your right-click menu. And when you click on "Settings" you'll see a menu showing all the categories in Settings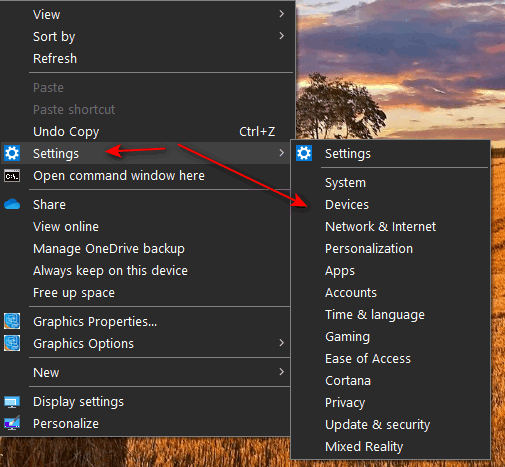 Above: Windows 10
On Windows 11, when you right-click the desktop, you'll need to click "Show more options" in the main right-click dialog to see "Settings" in "More options".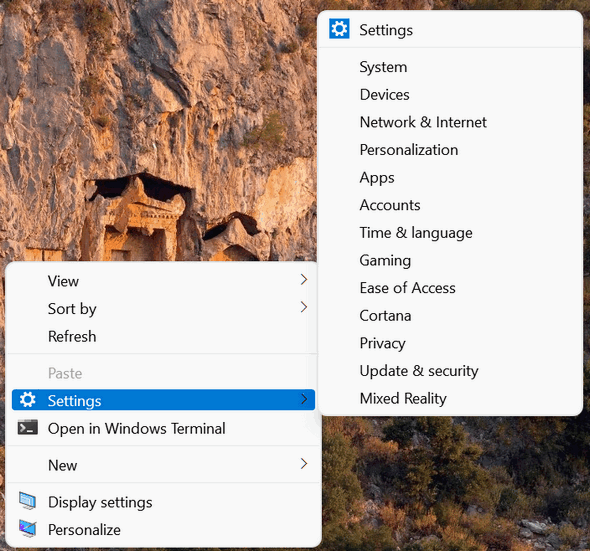 Above: Windows 11
Enjoy!

Exploring the File Explorer in Windows 11
Windows 11
File Explorer in Windows 11 takes some time to get used to since it's a radical change from File Explorer in Windows 7, Windows 8.1, and Windows 10. The File Explorer in those versions of Windows was essentially the same as the old Windows Explorer included in earlier versions of Windows.
The File Explorer in Windows 11 is quite different. Icons now replace words for Cut, Copy, Delete, etc. Here's a screenshot.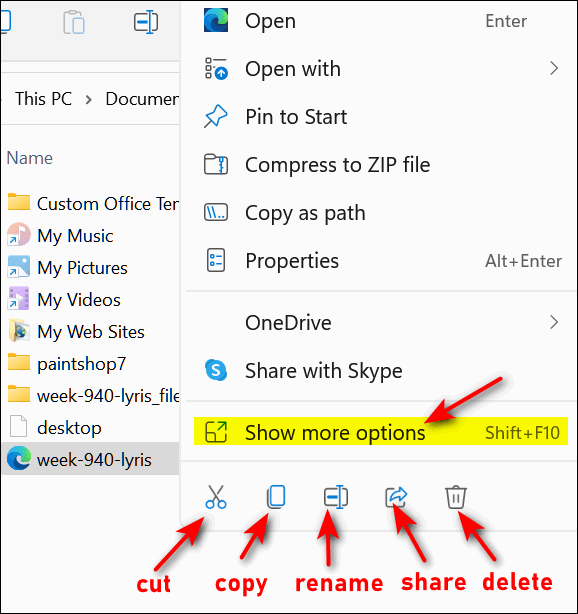 Notice the icons near the bottom – and the yellow-highlighted "Show more options" above them. This presents an uncluttered menu that contains most of the basic functions and tasks – instead of the long menu presented in Windows 10 which can be quite cluttered depending on how many programs you installed that add themselves to the right-click menu.
Windows 11 will show a menu much more like Windows 10 when you click on "Show more options", including the duplication of the Cut, Copy, Rename, Share, Delete, and Rename functions.
The File Explorer in Windows 11 looks quite different than in previous versions of Windows, but the "full menu" is still there, it just requires an additional click.
Copy to and Move to
In the screenshot above, you can see that "Copy to folder" and "Move to folder" are shown on the secondary menu. They are not there by default. Those of you who like having "Copy to" and "Move to" on the right-click menu will be happy to learn that our tutorial on how to add "Copy to" and "Move to" to the right-click menu on Windows 11.
And don't forget. You don't have to update to Windows 11 right now. You can safely keep on using Windows 10...
We hope this helps those of you who will be updating to Windows 11. If you're using Windows 10 and don't want to update to Windows 11 – or your computer does not meet the requirements for Windows 11 – you can continue to use Windows 10 safely until October 14, 2025.

Want more tips, tricks, and information?
We have thousands of Windows tips, tricks, and more on our InfoAve website.
Subscribe to our free InfoAve Daily newsletter.






Now available: Reg Organizer 8.80

If you purchased or renewed Reg Organizer through Cloudeight within the last 12 months, you're entitled to a free version upgrade to Reg Organizer 8.76.

Save $14 on Reg Organizer right now!

Reg Organizer - A Swiss Army Knife of Windows Tools - Works Great on Windows 10!




Microsoft PowerToys for Windows 10 and Windows 11
Microsoft PowerToys has been around for a long time. They came and went. PowerToys disappeared for a few years then made a triumphant return. Despite its name, PowerToys isn't for just Power Users, just about everyone can find something in PowerToys they can use.

Yes, some of the toys in PowerToys are things that only experts should be fooling around with (like the Keyboard Manager), many of the "Toys", like Color Picker, PowerRename, Image Resizer, and Shortcut Guide can be used by just about any Windows user regardless of experience

The current version of PowerToys has been updated for Windows 11 so it can be used by both Windows 10 and Windows 11 users.

Here is a list of the "Toys" included with PowerToys along with a short description (mostly) from Microsoft.
Microsoft PowerToys is a set of utilities for power users to tune and streamline their Windows experience for greater productivity.

Awake – PowerToys Awake is a utility tool for Windows designed to keep a computer awake without having to manage its power & sleep settings. This behavior can be helpful when running time-consuming tasks, ensuring that the computer does not go to sleep or turn off its screens.

Color Picker – A system-wide color picking utility for Windows that enables you to pick colors from any currently running application and can copy it in a configurable format to your clipboard.

Fancy Zones – FancyZones is a window manager utility for arranging and snapping windows into efficient layouts to improve the speed of your workflow and restore layouts quickly. FancyZones allows the user to define a set of window locations for a desktop that are drag targets for windows. When the user drags a window into a zone, the window is resized and repositioned to fill that zone.

File Explorer add-ons – File Explorer add-ons currently include:
— Preview Pane rendering of SVG icons (.svg)
— Preview Pane rendering of Markdown files (.md)
— Preview Pane rendering of PDF files (.pdf)
— Icon thumb preview for SVG icons.
— Icon thumb preview for PDF files.

Image Resizer – Image Resizer is a Windows shell extension for bulk image-resizing. After installing PowerToys, right-click on one or more selected image files in File Explorer, and then select Resize pictures from the menu.

Keyboard Manager -The PowerToys Keyboard Manager enables you to redefine keys on your keyboard. For example, you can exchange the letter A for the letter B on your keyboard. When you press the A key, a B will display.

Mouse utilities -Mouse utilities are a collection of features that enhance mouse and cursor functionality on Windows. Currently, the collection consists of "Find my mouse". From the PowerToys settings, users can enable/disable Find My Mouse, and optionally prevent the functionality from activating when playing games on the system.

PowerRename – PowerRename is a bulk renaming tool that enables you to:
— Modify the file names of a large number of files (without giving all of the files the same name).
— Perform a search and replace on a targeted section of file names.
— Perform a regular expression rename on multiple files.
— Check expected rename results in a preview window before finalizing a bulk rename.
— Undo a rename operation after it is completed.

PowerToys Run – PowerToys Run is a quick launcher for power users that contains some additional features without sacrificing performance. It is open-source and modular for additional plugins. To use PowerToys Run, select Alt+Space and start typing! (note that this shortcut can be changed in the settings window)

Shortcut Guide -This guide uses PowerToys to display common keyboard shortcuts that use the Windows key. Open the shortcut guide using the shortcut Windows key + ? (may require using the Shift key). You can create your own shortcut keys. An overlay will appear showing keyboard shortcuts that use the Windows key.

Video Conference Mute -Quickly mute your microphone (audio) and turn off your camera (video) with a single keystroke while on a conference call, regardless of what application has focus on your computer. The default shortcuts to use Video Conference Mute are:

— Windows key+N to toggle both audio and video at the same time
— Windows key+Shift+A to toggle microphone
— Windows key+Shift+O to toggle camera
OK! Are you ready to learn more about Microsoft PowerToys and/or download it? Great!

All you need to do is visit this page to learn more about and/or download Microsoft PowerToys.


The Best Computer Care and Repair - Anywhere!

We can fix your computer while you watch. You never have to leave your home. Just sit back, relax, and watch us work. Get PC service from folks you trust at the best prices you'll find anywhere.

Get more information here.


Lighthouse
In the late afternoon, on so many summer days, the old man would sit with me in still silence. Clouds scattered and majestically moving crossed the sky as I sat on the rocks, fishing pole in hand, waiting and waiting for a fish to bite. The smell of the old man's pipe was pleasant. The aroma mixing and swirling and waning in the pleasantly scented sea breeze that blew in off the lake.

The night was coming – we both knew it. But neither of us said a word. The sloshing of the waves against the rocks and the seagulls swirling above our heads were the only sounds as the long summer day came to an end.

Another day in the life of a little boy in what would become the summer of dreams at the lighthouse.

The darkness seemed to crawl like a huge silent shadow across the gentle swells as the sunset tinted them a strange red-orange. Along the rock edge, the foam of a billion way ebbed and flowed in slow motion.

The old man, pipe in hand, took my hand as we headed to the living quarters of the lighthouse. It was a small, cottage attached to the side of the lighthouse. It was painted white, though years of gales and splashing waves had dulled it some. It looked weathered but welcoming and I loved it.

The house was small but homey; its decorations were functional and sparse. Looking back I would call it comfortable and cozy. In the corner...


We hope you'll read the rest of this essay here.




What is a driver?

If you work for Uber, it's a job. If you play golf, like Darcy, it's the club you usually use off the tee. If you are a bad golfer, like TC, you use the driver on the fairway after plucking your ball from the creek. Using a tee in the fairway is unethical and against the rules - I think - but you gotta do what you gotta do, eh?

OK, down to business and back to the world of computers.

Drivers are called "Device Drivers" but we all know them as drivers because we don't like long complex things. A device driver (also known as a hardware driver) is a file or a group of files that enable hardware devices to communicate with Windows (or whatever operating system is running).

Without drivers, the computer could not communicate with the hardware device and the device would not function. For example, without device drivers, your computer would not be able to communicate with your printer and your printer would not work.

If the wrong driver is installed - woe is you. The device for which the driver(s) was installed may not function or may not function correctly - worse yet it may cause a driver conflict resulting in an error and you may see a BSOD (Blue Screen of Death).

This is why we warn everyone about downloading driver updaters which automatically download drivers for hardware devices even when not needed.

To sum it up. Device Drivers drive the hardware in and attached to your computer by allowing hardware to communicate with your operating system.

All this is driving me crazy, I'm off to the clubhouse for a beer. Hey EB, where's my driver?





Our newest Cloudeight Endorsed Email Program - Very Similar to Windows Mail & Outlook Express.

Cloudeight Stationery works great with OE Classic!

Read more about OE Classic here!




Sales of the following products and services help support our newsletters, websites, and free computer help services we provide.

Cloudeight Direct Computer Care: Single Keys, SeniorPass, or Season Tickets - always a great deal. Cloudeight Direct Computer Care is like having PC insurance. Get more information here.

Emsisoft Anti-Malware: Emsisoft is the only Cloudeight endorsed and recommended Windows security program. It provides users with a complete antivirus, antimalware, anti-ransomware, anti-PUPs solution. We offer single Emsisoft licenses and multi-computer licenses at discount prices. Also, we offer our exclusive Emsisoft with Cloudeight installation & setup. Get more information here.

OE Classic Email program. The email program that is most like Outlook Express. We can even set it up for you. Get more details here.

Reg Organizer: Reg Organizer is the Swiss Army Knife of Windows tools. It's far more than just a registry optimizer and cleaner... it's a Windows all-in-one toolkit. Reg Organizer helps you keep your computer in tip-top shape and helps you solve annoying Windows problems. Reg Organizer works great with Windows 10! Get more information about Reg Organizer (and get our special discount prices) here.

SeniorPass - One year of Cloudeight Direct Computer Care - unlimited sessions! Get more information here.

Windows 10 Customization: Make Windows 10 look and work the way you want it to. Learn more.

MORE IMPORTANT STUFF!

Your InfoAve Weekly Members' Home Page is located here.

Print our Cloudeight Direct Computer Care Flyer and spread the word about our Cloudeight Direct Computer Care repair services. Get our ready-to-print flyer here.

Help us Grow! Forward this email newsletter to a friend or family member - and have them sign-up for InfoAve Weekly here!

Get our free daily newsletter! Each evening we send a short newsletter with a tip or trick or a computer-related article - it's short and sweet - and free. Sign-up right now.

We have thousands of Windows tips and tricks and computer articles posted on our Cloudeight InfoAve website. Our site has a great search engine to help you find what you're looking for too! Please visit us today!

Help us by using our Start Page. It costs nothing, and it helps us a lot.

Print our Cloudeight Direct Flyer and spread the word about our computer repair service! If you want to help us by telling your friends about our Cloudeight Direct Computer Care service, you can download a printable flyer you can hand out or post on bulletin boards, etc. Get the printable PDF Cloudeight Direct Computer Care flyer here.



We'd love to hear from you!

If you have comments, questions, a tip, trick, a freeware pick, or just want to tell us off for something, let us know.

If you need to change your newsletter subscription address, please see "Manage your subscription" at the very bottom of your newsletter.

We received hundreds of questions for possible use in IA news. Please keep in mind we cannot answer all general computer questions. We try to personally answer as many as we can. We can only use a few in each week's newsletter, so keep this in mind. If you have a support question about a service or product we sell, please contact us here.

Subscribe to our Daily Newsletter! Get computer tips & tricks every night. Our daily newsletter features a computer tip/trick or two every day. We send it out every night around 9 PM Eastern Time (USA). It's short and sweet, easy-to-read, and FREE. Subscribe to our Cloudeight InfoAve Daily Newsletter!





We hope you have enjoyed this issue of Cloudeight InfoAve Weekly. Thanks so much for your support and for being an InfoAve Weekly subscriber.

Have a great weekend... be safe!

Your friends at Cloudeight,

Darcy and TC
Cloudeight InfoAve Weekly - Issue #944
Volume 19 Number 2
November 12, 2021

Not a subscriber? Subscribe to our FREE Cloudeight InfoAve Weekly Newsletter here.





"Cloudeight InfoAve Weekly" newsletter is published by:

Cloudeight Internet LLC
PO Box 73
Middleville, Michigan USA 49333-0073

Read our disclaimer about the tips, tricks, answers, site picks, and freeware picks featured in this newsletter.

Copyright ©2021 by Cloudeight Internet