Cloudeight InfoAve Weekly
Issue #952
Volume 19 Number 10
January 7, 2022

Dear Friends,

We wish you and your family a very safe, healthy, and happy new year!

Welcome to Cloudeight InfoAve Weekly Issue #952. Thank you very much for subscribing and for being a part of our Cloudeight family. We appreciate your friendship and support very much! Please share our newsletters and our website with your friends and family.


If you're not getting our InfoAve Daily newsletter, you're missing out on a lot of good stuff!

It's free and it only takes a few seconds to sign up. We'd love to have you with us. Visit this page to sign up for our Cloudeight InfoAve Daily Newsletter.




Mona wants to cast her computer screen to her TV
I have been scanning family photos that have been in albums, as well as 35 mm slides, in an effort to preserve our family history for our children. Now that I have them on my computer, is it possible to show these photos on our 'smart' TV? It would be nice to show them to visiting family members without having to gather around my small screen computer. Any suggestion will be greatly appreciated.

Our answer
Hi Mona. If you want to cast your computer screen to your smart TV do this:

On your computer, right-click the Start button and click 'Settings'. Then go to 'Connected devices' and click on the 'Add device' option at the top. The drop-down menu will list all the devices that you can mirror to. Select your smart TV and the laptop screen will start mirroring to the TV.

We hope this helps you, Mona.



Maureen asks about the OE Classic email program
Hello. I live in Canada and have received your newsletters for many years.

Within the last two weeks or so you mentioned that you have an e-mail program similar to Outlook Express that is suitable for Windows 10, which I am using.

On my old computer, I operated Windows 7 and ran Windows Live Essentials 11 but it then got to the point that I could not send out any e-mails but could receive them. Long story short. I changed over to my Windows 10 computer and because Windows Live Mail is no longer supported, I installed Microsoft Outlook 2007.

When using Windows Live Mail, I used only the Calendar in MS Outlook. But since moving my mail to Outlook, I have found it increasingly difficultlt to find sent e-mails because they go through various accounts -- even though I have set up e-mails to be in the Sent folder of the account from which I sent it and I do have a number of email accounts. Not only that, my friend who set things up for me has set up everything in IMAP and I cannot keep a copy on Gmail or Shaw webmail they only seem to work with POP3.

To cut a long story short ... oh how I long for the way things used to be! Can you please advise me on the Outlook Express program you mentioned to see if I will be better off using it?

Our answer
Hi Maureen. We've been recommending (and using) OEClassic for quite a while now. We love its simple elegance and its similarity to the old email programs Outlook Express and Windows Mail. But I'll be honest with you, if you're looking for a program with calendars and a lot of gingerbread, OEClassic isn't it. It does what a good email program should do. It reliably sends and receives email. It's uncluttered and intuitive.

You can read more about OEClassic here.
https://thundercloud.net/classic/
Also both Shaw and Gmail can be set up as IMAP in any email program that supports IMAP - we have set up OE Classic dozens and dozens of times for customers using IMAP protocols for Gmail. Shaw can be set up as IMAP as well. Here is a page with IMAP settings for Shaw.

We hope this answers your question(s), Maureen.

Cathy wants to know how to pass on passwords
I came across this question. When a spouse is the one who pays the bills online and he or she has all the passwords and that spouse passes away. And there's no access for the living spouse to get the passwords. How can the living spouse start paying the bills online without the passwords?

Our answer
Hi Cathy. A password manager like LastPass www.lastpass.com or Bitwarden www.bitwarden.com can save passwords on multiple computers and the only thing you need to know to use it is the master password you create. If both of you know the master password then either of you can access the passwords. And the nice thing about password managers is they can automatically log you into sites you need to log in to.

Both LastPass and Bitwarden have free versions. And both work on Windows 10 and Windows 11.

We hope this helps you, Cathy.



Glenda is worried about a flaw in Google Chrome she read about
What is the deal in the news about a critical update for Google Chrome? It talked about something like hackers. Is it true and what do I need to do if it is true?

I know I need to put the other two computers with you as you said but we were going to wait until after the holidays.

My anxiety is really high after reading this. I am very paranoid, with everything I have going on.

Our answer
Hi Glenda. It seems there's always a threat with something -with Chrome, with Windows, etc. With Chrome, it's easy to stay updated. Just click on the 3 vertical dots icon at the top-right corner, then click "Help > About Google Chrome". Chrome will check for and install any updates available. If an update is available, the update will be installed. And Google will tell you to Relaunch Chrome. If no updates are available, it will tell you that too.

It would be a good idea to check Chrome right now to see if updates are available. And it's a good habit to get into to check it every week since it only takes a few seconds to do.

We hope this helps you, Glenda.

Keith sometimes has trouble opening certain websites
Hi Guys, I have an issue with my Windows 10 desktop PC. Sometimes when I try to open a webpage I get the following error message - Hmmm... Can't reach this page - try running windows diagnostics. Usually, 15 to 20 seconds later the page will open, it is so frustrating. Please help. I am using Microsoft Edge as my default web browser. Many thanks as always for the tremendous service you provide for all Cloudeight subscribers. Best wishes, Keith

Our answer
Thanks so much, Keith. We appreciate your nice comments.

If your connection problems happen only with a particular site, then it's most likely the website. If you get "page cannot be displayed" or "can reach this page" and you see it often on different pages, it's almost always a problem with your Internet connection. It could be your ISP, it could be your router or modem, it could be your wireless adapter or Ethernet adapter. In some cases, it may be a browser extension or a VPN (Virtual Private Network) you have installed. I had a lady the other day whose connection was flaky because she was using Express VPN and didn't even know it.

Here are the steps you need to take...

1. Make sure you don't have anything installed on your computer or browser (like a VPN) that could affect your connection. VPNs are all the rage now as people futilely try to find privacy on the internet. VPNs have their place but not all are good ones. So, if you have VPN installed try turning it off. If you have one installed in your browser turn it off.

2. Call your ISP and have them check your connection and equipment. They can check your equipment from their office.

3. If they find no problems with your connection and equipment then and you're on a wireless connection, it might be your wireless adapter. If it is you can fix it yourself for $20-$30 by purchasing a USB Wireless adapter that plugs into a USB port. See this page for more info. If you don't use Wi-Fi there are also USB Ethernet adapters available.

We hope this helps you or at least gets you pointed in the right direction, Keith.



Phil wants to know if Reg Organizer works on Windows 11
Could you tell me if your "Reg Organizer" works with Windows 11, or will be made to work with it in the near future (and if that's the case would there be a free upgrade for Windows 11?). Regards, Phil

Our answer
Hi Phil. Just about any program that works on Windows 10- including Reg Organizer - will work with Windows 11. Keep this in mind... Windows 11 is not an all-new version of Windows. Last spring, when Microsoft was working on it, it was supposed to be released in October 2021 as Windows 10 Version 21H2. They didn't decide until June to call it Windows 11. Windows 11 is Windows 10 with a prettier(?) face.

Reg Organizer works just fine on Windows 11 as does just about every other program that worked on Windows 10. See our Reg Organizer page here.



JoAnn asks if it's safe to upgrade to Windows 11
Hi Darcy & TC. Thank you for all you do! You both are amazing. Is it safe to update to Windows 11? My PC keeps asking me to do it but I put it on pause. JoAnn

Our answer
Hi JoAnn. Thanks so much!

Microsoft will "encourage" you to update to Windows 11, but won't force you to. Windows 10 will be supported until October 14, 2025 - so you have nearly 4 more years to use Windows 10 safely.

Is it safe to update to Windows 11? Usually. It depends on how much time you want to spend learning the changes. Things like File Explorer, Settings and the right-click context menu are very different in Windows 11. If you're up to learning new things then you can upgrade to Windows 11. Also if you upgrade to Windows 11 and don't like it, you can go back to Windows 10 without losing anything -- provided that you do it within 10 days of installing Windows 11.

So, yes it's safe (no guarantee) and there is quite a difference between Windows 10 and Windows 11. It depends on how anxious you are to spend time learning the differences. Some people find learning new things fun. If you're one of those then Windows 11 might be something you'll enjoy.


Gordon has issues with a new computer
Hi TC - I followed your footsteps and purchased an Alldocube laptop for my wife and it seems to run well. However, I am having trouble installing the Canon printer driver and its mate, the scan software. Cannon says this needs to be done as an administrator. I wanted to first upgrade the software to Pro using her license from the old Lenovo, but the key is hidden on this new computer and the advice you gave for discovering it a few issues ago doesn't work on it (although it sure did work on my desktop). In response to the command she gets the following:

Node - GT book
ERROR
Description = Invalid namespace

Is this what you get? Is there some other command for a GT book? I do need to get this machine into God mode to get the drivers to work.

Our answer
Hi Gordon. I don't have a Canon printer, but my HP printer works flawlessly with my Alldocube laptop.

You don't have to upgrade your Windows license to Windows Pro to run programs or installers as an administrator - you would just be throwing money away. I assumed you're using an administrator account on Windows. If so, then all you need to do to install a program as an administrator is to right-click on the installer and choose "Run as administrator".

If you're not sure you're using an administrator account, go to Settings > Accounts and find your User account. It will tell you if you have an administrator account or a standard account.

I am not an Alldocube support person. I bought the computer not to be my only computer but to test Windows 11 without changing my other computers.

Alldocube supposedly has excellent support. So, if you need help with something that I cannot help you with, you can contact Alldocube support here. https://www.alldocube.com/en/support/

My praise for my cheap Alldocube computer was not meant to be a Cloudeight recommendation - it was meant to be what it was - indicating my surprise that such a cheap computer worked so well for me.


Don't have a Cloudeight SeniorPass? It's a great deal. Learn more here.

Our Cloudeight SeniorPass is a great deal. You get unlimited support for one full year from the date you first use your SeniorPass. We can help keep your computer running well, fix all kinds of computer problems, clean up malware, and a whole lot more. Our SeniorPass is like insurance for your computer. And it's only $99 for an entire year.

Get your SeniorPass today for just $99. It's just like having insurance for your computer - only better!

To learn more about our SeniorPass, please see this page.

Interested in making an automatic monthly gift? Visit this page. Help us keep helping you... and help you stay safe on the Web.


Handy Shortcuts for Google Chrome and Microsoft Edge (and other browsers Too)
Windows 8.1, Windows 10, Windows 11 (most popular browsers)
NOTE: If you don't have Chrome — or don't use Edge — don't worry. Many of these shortcuts work in Firefox and other browsers as well. The best way to find out if they work in your browser of choice is to try them. They'll either work, won't work, or will perform a different function than described.
Keyboard shortcuts are time savers. They can save you the time of hunting down a dialog box or menu item. The only problem with keyboard shortcuts is… remembering them. The best way to remember them is to use them. We don't expect you to remember all of these keyboard shortcuts, but you might want to commit to memory the ones you find the most useful. It will save you time — we tells ya!
Ctrl + P – Print the current page
Ctrl + S – Save the current page
Ctrl + O – Browse files and folders on your computer
F5 – Reload the current page
Esc – Stop page loading
Ctrl + F5 – Reload the current page (ignore cached content)
Ctrl + D – Bookmark the current web page
Ctrl + Shift + D – Save all open pages as bookmarks in a new folder
Alt + Click on a link – Download link
Ctrl + F – Open the browser's search box
F3 – Find the next match for your input in the search box
Shift + F3 – Find the previous match for your input in the search box
F11 – Open page in full-screen mode
Ctrl + + – Make the text larger
Ctrl + – – Make the text smaller
Ctrl + 0 (zero) – Return text to normal size
Ctrl + Shift + B – Toggle the bookmarks bar
Ctrl + H – View browser history
Ctrl + J – View recent Downloads
Ctrl + R — Refresh the page
Shift + Esc – View the browser's task manager
Ctrl + Shift + Delete – Open the Clear Browsing Data Dialog
F1 – Open the browse help page in a new tab
Ctrl + U – View the current page's source code

Clear Your Browser's Cache & History the Quick and Easy Way
Windows 8.1, Windows 10, Windows 11 (Firefox, Chrome, Microsoft Edge, and most other browsers)
If you use Chrome, Firefox, or Edge you're in luck. We're going to show you a quick and easy way to clear your favorite browser's cache and browsing history. Clearing your browser's cache and history is something you should do at least once a month. And if you're having issues with your browser, clearing your browser's cache is the first thing you should do.
So with that in mind, here's a quick & easy tip that will save you time when it's time to clear your browser's cache and history. Instead of opening the browser's settings, the following shortcut works on all major browsers (Chrome, Edge, Firefox, Opera, Brave, and others).:
With your browser open use the following keyboard shortcut to open to go directly to the dialog where you can clear your browser's history and cache.
CTRL+SHIFT+DELETE
You'll be able to choose how far back you want to go and what you want to clear. Once you've made your choices you can clear your browser's cache and history.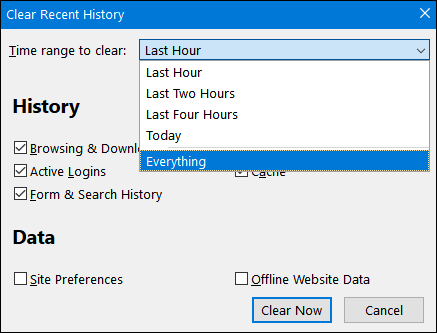 Above: Firefox's "Clear Recent History" dialog. You can choose a time range to clear, from the last hour to everything. Most browsers have similar options.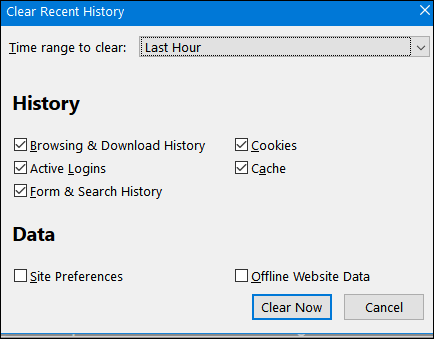 Above: Firefox "Clear Recent History" dialog where you can choose what you want to delete.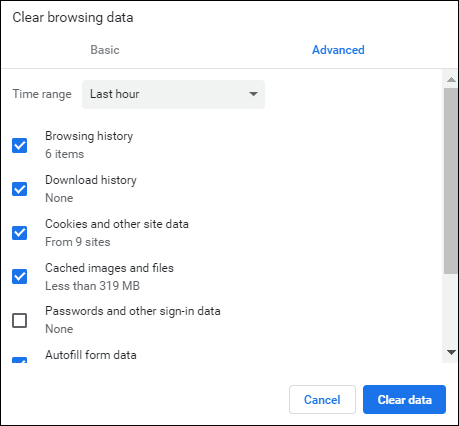 Above: Chrome's "Clear browsing data" dialog.
Below: Microsoft Edge's "Clear browsing data" window.
Keep in mind that after you clear your browser's cache and history you'll be logged out of all the sites you were logged in to, so the next time you visit those sites you'll need to log in again.

Six Easy Tips for Windows 11
Windows 11
Windows 11 has been available for over three months now – and more and more people are switching from Windows 10 to Windows 11. For those of you who want to continue to use Windows 10, Microsoft will continue to update it and support Windows 10 through October 14, 2025. So, if you like Windows 10 there's no reason to switch right now. For those of you who are using Windows 11 now – or plan to switch to Windows 11 soon, here are six easy tips for Windows 11.
1. Change the taskbar alignment
By default, the Windows 11 taskbar is centered, which also means the Start button isn't at the left edge of the taskbar as it has been in all previous versions of Windows.
If you want a more traditional Windows taskbar, it's easy to do:
a. Right-click on the taskbar and click "Taskbar settings"
b. Scroll down to "Taskbar behaviors"
c. Use the arrow next to Taskbar alignment "Center" to change it to "Left"


d. Your taskbar is now left-aligned as it was in Windows 10, Windows7, and earlier editions of Windows.
2. Expand the right-click menu
Windows 11 has (for whatever reason) and simplified, minimalistic, right-click menu. The right-click menu, by default, only shows the most often used options.
But the classic Windows right-click menu is still there. You can see it by right-clicking a file or folder and clicking on "Show more options" – or more quickly by using the SHIFT+F10 shortcut to see the full context menu. And if you want to change it permanently to the full context menu, see our tip here.
3. Task Manager missing from the Taskbar in Windows 11
In previous versions of Windows, you could access Task Manager by right-clicking on the taskbar and choosing Task Manager from the right-click menu. In Windows 11, you can't open Task Manager from the taskbar but you can open it by right-clicking the Start button, by selecting it from the Windows key + X menu, or by using our favorite way — the CTRL+SHIFT+ESC keyboard shortcut.
4. Hide the Chat and Widget apps
Taskbar real estate is precious. Many of you are not going to use the Windows 11 Widget app, and even fewer will use the Chat (Microsoft Teams) app.
To hide the Widget and Chat app icons on the taskbar
a. Press Windows Key + I to open Settings
b. In Settings choose "Personalization" > "Taskbar"
c. Under "Taskbar items" turn the switch for Widgets and Chat to "Off".
5. Stop "Recommended" from showing on the Start menu
The Recommended section in the new Start menu shows the most recently installed apps, opened files, and other recommendations. If you don't want this showing up on your Start menu turn off recommendations this way…
a. Open Settings (Windows Key + I)
b. Choose Personalization > Start
c. Toggle the switches next to "Show recently added apps", "Show most used apps", and "Show recently opened items in Start, Jump Lists, and File Explorer"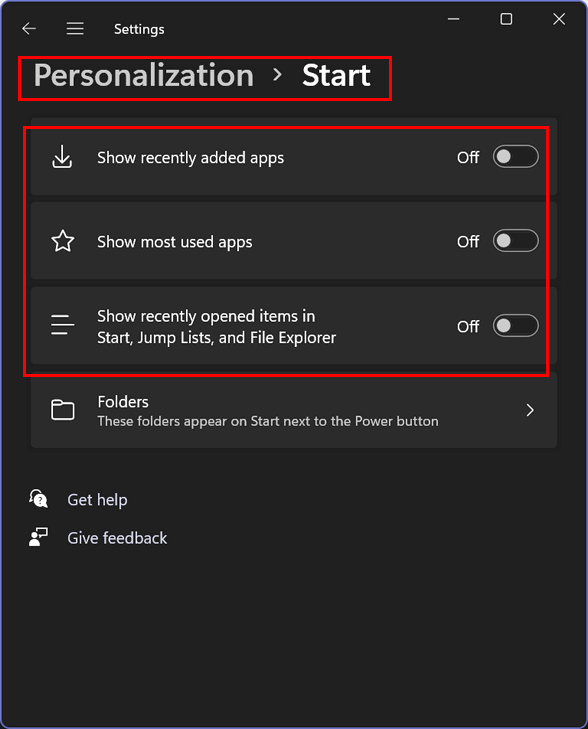 6. Take screenshots in Windows 11
Windows 11 comes with an advanced Snipping Tool that makes it easy to create screenshots without installing any third-party software.
Open the Snipping Tool from the Start menu. When you're ready to take a screenshot, use the keyboard shortcut Windows Key+Shift+S. You'll be able to take screenshots of a section of your screen, your whole screen, or create a free-style snippet. After you've snapped your screenshot, you can crop it, annotate it, and more.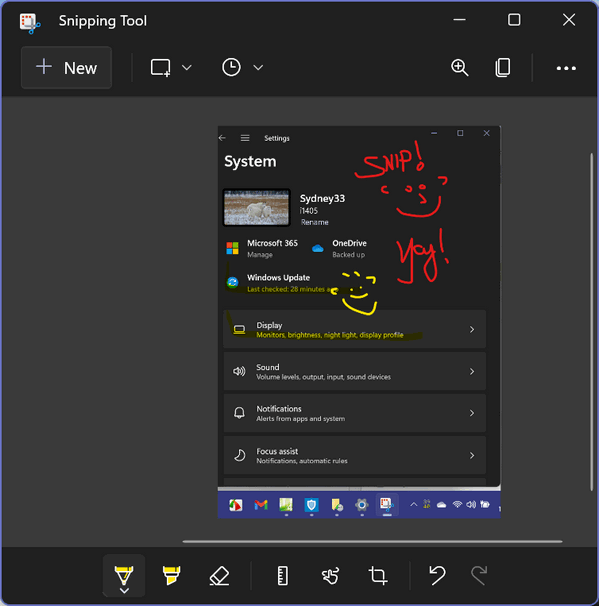 And by using the Snipping Tool's delay feature, you can even screenshot your Windows 11 log-in screen.

Want more tips, tricks, and information?
We have thousands of Windows tips, tricks, and more on our InfoAve website.
Subscribe to our free InfoAve Daily newsletter.






Now available: Reg Organizer 8.81

If you purchased or renewed Reg Organizer through Cloudeight within the last 12 months, you're entitled to a free version upgrade to Reg Organizer 8.81.

Save $14 on Reg Organizer right now!

Reg Organizer - A Swiss Army Knife of Windows Tools - Works Great on Windows 10!




Windows PowerToys: Toys You Will Use

We received an email from Don a couple of weeks ago asking us why we didn't mention PowerToys when we were asked about resizing images. Well, to be honest, we are old and set in our ways… and so used to using PaintShop, FastStone, and IrfanView to resize images. Also, unlike most of you, we have to resize images to fit our articles, webpages, and newsletters. Don's email pointed out that the image resizer in Windows PowerToys is a quick and easy way to resize images when you want to send images by email or SMS.

We've always thought of PowerToys as something geeks really enjoy but for the rest of us "normal" computer users not so much. After Don's email, we took another look at PowerToys and found a few toys almost everyone could use. And yes, some of the toys can be a little bit geeky.

Here are just three "Toys" of Microsoft PowerToys that just about everyone can use.

PowerToys Image Resizer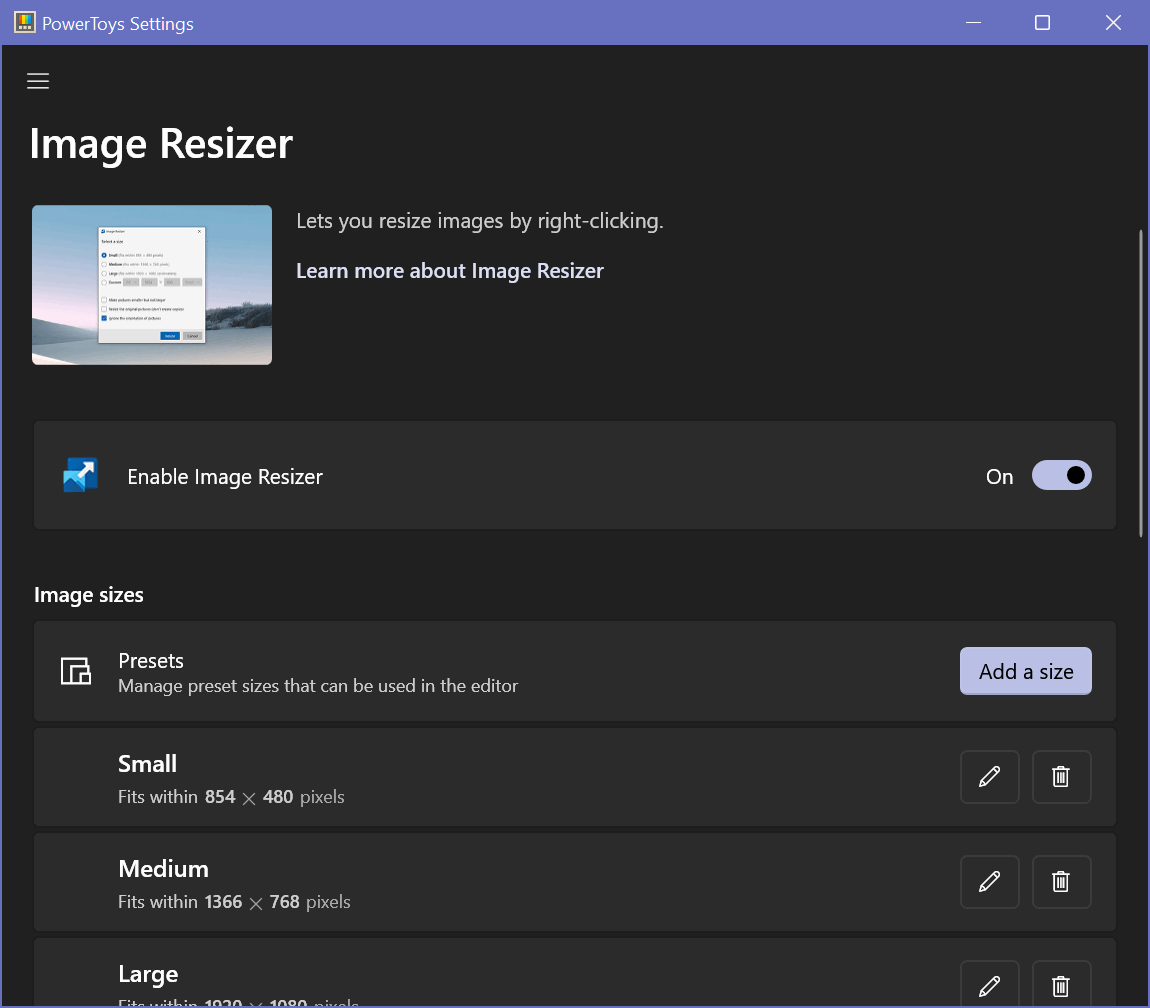 The above image was originally 1150 pixels x 1008 pixels — too wide for our newsletters and this page. For our newsletters, we need images 600 pixels wide or less and since we use a lot of our web articles in our newsletters, it makes sense (most of the time) to make the images on this site 600 px wide or less.

So we created a new size in the PowerToys Image Resizer, called (creatively "New size 3" which will resize images to 599 wide and keep the aspect ratio of the original picture.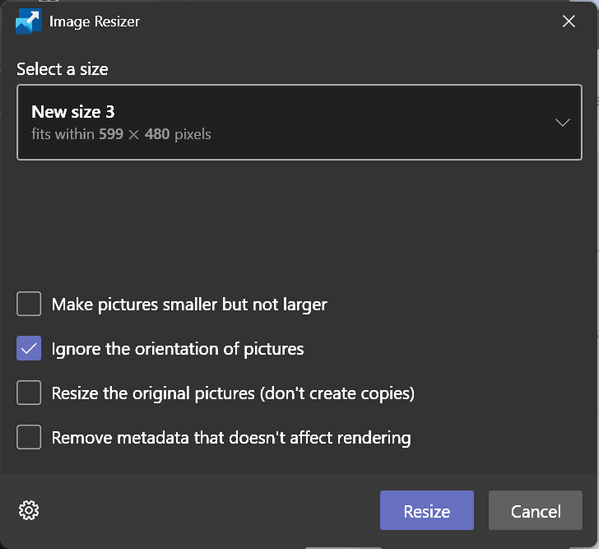 And now all we have to do to resize an image is to right-click on the image, choose a size, and click Resize. Unless you set it up differently, PowerToys will keep the original image and use the original file name plus the name of the preset you chose (or created)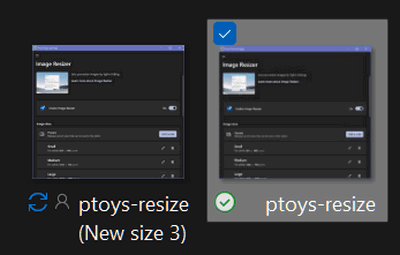 If you would like to resize images with a simple right-click, give PowerToys Image Resizer a try.

PowerToys Color Picker

We're not sure how much the average computer user will this feature, but the Color Picker allows you to pick any color from anywhere on your computer screen

For this example, we picked a colorful graphic (above) we recently used in an article.

Once your turn on PowerToys Color Picker, all you need to do to pick a color anywhere on your screen is use the Windows key shortcut - Windows Key+Shift+C. Then move the guide that appears over the color you want to pick…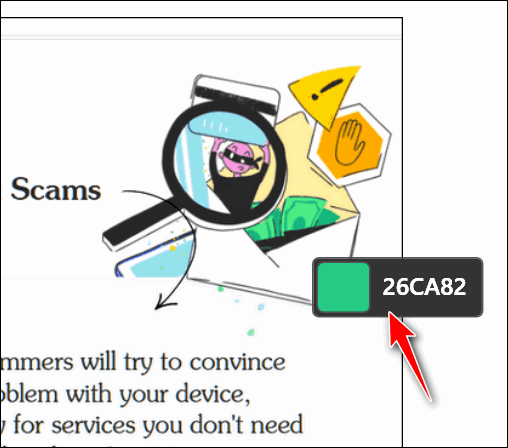 Move the color selector to the color you want and click the left mouse button. Then you can refine your color picker choices further in the dialog that appears.
The colors are displayed in HEX, RGB, and HSL formats.

Windows Key Shortcut Guide

Once enabled in PowerToys you can access the Windows key shortcut guide by pressing Windows Key + Alt + S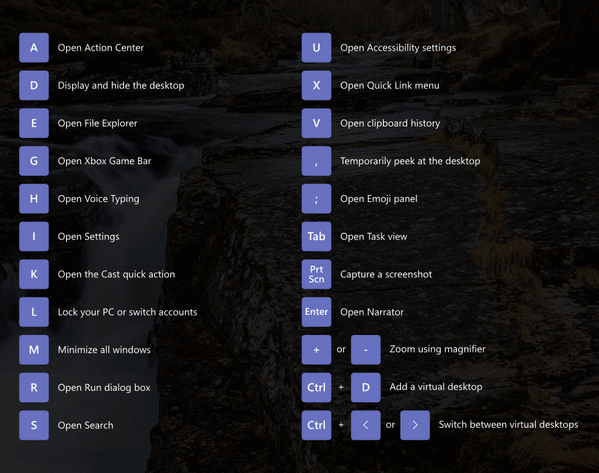 As you can see, you'll get an easy-to-use guide to Windows key shortcuts… and all you have to do is press Windows key + ALT + S.

A PowerToy for everyone?

Windows PowerToys aren't just for geeks… there is a toy for everyone.

Some other interesting PowerToys are:

Power Rename enables you to rename a large number of files without giving them all the same name.

Mouse Utilities give you options to make your mouse easier to see and to highlight mouse movements.

File Explorer add-ons allow you to see thumbnails of PDF files and SVG files.

You can see all the PowerToys "Toys" on the left.

If you want to learn more about Windows PowerToys visit this Microsoft page.

PowerToys are 100% free.

You can download Microsoft PowerToys for Windows 10 and Windows 11 here.


The Best Computer Care and Repair - Anywhere!

We can fix your computer while you watch. You never have to leave your home. Just sit back, relax, and watch us work. Get PC service from folks you trust at the best prices you'll find anywhere.

Get more information here.


My Friend

At first, I pretended. I tricked myself into thinking it didn't matter much that you were no longer my friend. Sometimes I make life too complicated:

We were good friends and then we weren't – it's as simple as that.

It's kind of like being told you have a terminal illness – at first, you deny it, then you rationalize it, then someday you realize you have no choice but to accept it.

We were friends, and then all of a sudden – within the span of a few minutes – we weren't. I still can't accept it, but I can see I'm going to have to.

You like to think it's my fault that we are no longer friends. I was not honest with you and that's certainly true. You had a right to get angry, and I suppose because of it you had a right to end our friendship.

Me? Well, I like to think that it's your fault that we're not friends because after all this time...

Read the rest of this essay here.


THANK YOU FOR HELPING US!

When you support us with a small gift, you help us continue our mission to keep you informed, separate the truth from the hyperbole, and help you stay safer online. Plus, our computer tips make your computer easier to use.

Did you know that we provide support to thousands of people? Every week we help dozens of people via email at no charge. The questions and answers you see in our newsletters are from the email answers and help we provide to everyone free of charge.

Thanks to your gifts, we do a lot more than provide this free newsletter. We help you recognize online threats, fight for your online privacy, provide you with the knowledge you need to navigate the Web safely, provide you with suggestions for safe, free software and websites, and help you get more out of your PC.

Please Help us keep up the good fight with a small gift.

Interested in making an automatic monthly gift? Visit this page. Help us keep helping you... and helping you stay safe on the Web.


What is an icon anyway?

EB is an icon. She represents the social elite, the elevated class, the aristocracy. When you see the EB icon, you think of Rolls Royce, Diamonds, Caviar, and Ned's Upholstery. An icon is a symbol kind of, it represents something else. EB is really something else.

Anyway, the icons on your computer represent something else, usually a program, but it may represent a file, folder, drive, etc.

Icons are usually shortcuts to something else. Shortcuts work just like links to web sites. When you click the EB Icon, to the left, you are whisked off to a wonderful and informative site.

When you click an icon on your desktop, let's say the Google Chrome icon, your Chrome browser opens because the icon is a link to the program's (Chrome) executable. It's just like a website link, only it links the icon to the program's executable. The link would look like this:

C:\Program Files\Google\Chrome\Chrome.exe

See? That's like a Web site address, only in Windows the slashes are backward slashes, probably because Bill Gates is left-handed.

Now purists who love DOS will try to tell you that real computer users know all these links (commands) and don't need sissy icons to open programs but who wants to type in the command line (link) in a run dialog every time they want to open a program. Now if you have that kind of time to waste, God Bless ya! Those purists are missing out on beautiful icons...like the EB icon (designed by yours truly!) above.

An icon is just a picture that links to something else or represents something else -- whether that is a program, a file, a website, a folder, or a drive, it doesn't matter, Clicking the icon takes you to the item it represents -- even the EB icon up there takes you to the site it represents.

EB is so famous, she's an icon. TC is not an icon. He's just an old hump.



Our newest Cloudeight Endorsed Email Program - Very Similar to Windows Mail & Outlook Express.

Cloudeight Stationery works great with OE Classic!

Read more about OE Classic here!




Sales of the following products and services help support our newsletters, websites, and free computer help services we provide.

Cloudeight Direct Computer Care: Single Keys, SeniorPass, or Season Tickets - always a great deal. Cloudeight Direct Computer Care is like having PC insurance. Get more information here.

Emsisoft Anti-Malware: Emsisoft is the only Cloudeight endorsed and recommended Windows security program. It provides users with a complete antivirus, antimalware, anti-ransomware, anti-PUPs solution. We offer single Emsisoft licenses and multi-computer licenses at discount prices. Also, we offer our exclusive Emsisoft with Cloudeight installation & setup. Get more information here.

OE Classic Email program. The email program that is most like Outlook Express. We can even set it up for you. Get more details here.

Reg Organizer: Reg Organizer is the Swiss Army Knife of Windows tools. It's far more than just a registry optimizer and cleaner... it's a Windows all-in-one toolkit. Reg Organizer helps you keep your computer in tip-top shape and helps you solve annoying Windows problems. Reg Organizer works great with Windows 10! Get more information about Reg Organizer (and get our special discount prices) here.

SeniorPass - One year of Cloudeight Direct Computer Care - unlimited sessions! Get more information here.

Windows 10 Customization: Make Windows 10 look and work the way you want it to. Learn more.

MORE IMPORTANT STUFF!

Your InfoAve Weekly Members' Home Page is located here.

Print our Cloudeight Direct Computer Care Flyer and spread the word about our Cloudeight Direct Computer Care repair services. Get our ready-to-print flyer here.

Help us Grow! Forward this email newsletter to a friend or family member - and have them sign-up for InfoAve Weekly here!

Get our free daily newsletter! Each evening we send a short newsletter with a tip or trick or a computer-related article - it's short and sweet - and free. Sign-up right now.

We have thousands of Windows tips and tricks and computer articles posted on our Cloudeight InfoAve website. Our site has a great search engine to help you find what you're looking for too! Please visit us today!

Help us by using our Start Page. It costs nothing, and it helps us a lot.

Print our Cloudeight Direct Flyer and spread the word about our computer repair service! If you want to help us by telling your friends about our Cloudeight Direct Computer Care service, you can download a printable flyer you can hand out or post on bulletin boards, etc. Get the printable PDF Cloudeight Direct Computer Care flyer here.



We'd love to hear from you!

If you have comments, questions, a tip, trick, a freeware pick, or just want to tell us off for something, let us know.

If you need to change your newsletter subscription address, please see "Manage your subscription" at the very bottom of your newsletter.

We received hundreds of questions for possible use in IA news. Please keep in mind we cannot answer all general computer questions. We try to personally answer as many as we can. We can only use a few in each week's newsletter, so keep this in mind. If you have a support question about a service or product we sell, please contact us here.

Subscribe to our Daily Newsletter! Get computer tips & tricks every night. Our daily newsletter features a computer tip/trick or two every day. We send it out every night around 9 PM Eastern Time (USA). It's short and sweet, easy-to-read, and FREE. Subscribe to our Cloudeight InfoAve Daily Newsletter!





We hope you have enjoyed this issue of Cloudeight InfoAve Weekly. Thanks so much for your support and for being an InfoAve Weekly subscriber.

Have a great weekend... be safe!

Darcy and TC
Cloudeight InfoAve Weekly - Issue #952
Volume 19 Number 10
January 7, 2022

Not a subscriber? Subscribe to our FREE Cloudeight InfoAve Weekly Newsletter here.





"Cloudeight InfoAve Weekly" newsletter is published by:

Cloudeight Internet LLC
PO Box 73
Middleville, Michigan USA 49333-0073

Read our disclaimer about the tips, tricks, answers, site picks, and freeware picks featured in this newsletter.

Copyright ©2022 by Cloudeight Internet