Cloudeight InfoAve Weekly
Issue #960
Volume 19 Number 18
March 4, 2022

Dear Friends,

Welcome to Cloudeight InfoAve Weekly Issue #960. Thank you very much for subscribing and for being a part of our Cloudeight family. We appreciate your friendship and support very much! Please share our newsletters and our website with your friends and family.


If you're not getting our InfoAve Daily newsletter, you're missing out on a lot of good stuff!

It's free and it only takes a few seconds to sign up. We'd love to have you with us. Visit this page to sign up for our Cloudeight InfoAve Daily Newsletter.




Richard wants an app to prevent recipients from forwarding and copying emails
A long time back you touted an app that blocked users from forwarding, copying and maybe deleting emails as a form of security. I am certain it was an app but I do not remember its label, so I cannot find it. Do you remember such an app?

PS. Your site is marvelous. I have promoted it both on my website and in my monthly newsletter. Have been using it for years now. Stay healthy, stay safe... Best, Richard

Our answer
Hi Richard. Thank you for your very kind comments and your support.

I am guessing here, but I think what you're referring to is not an app but a Gmail feature. If we're guessing right, it's called "Confidential mode".

It was not an app, it was a Gmail feature. While it's called Confidential mode, we call it self-destructing email. The email cannot be copied, saved, or forwarded. We are guessing that this is what you were looking for.

You can turn it on or off from the compose window in Gmail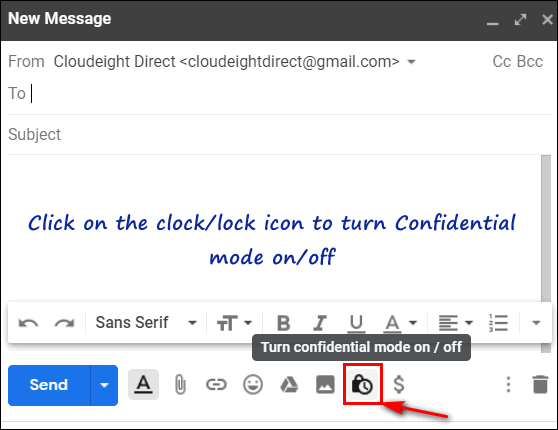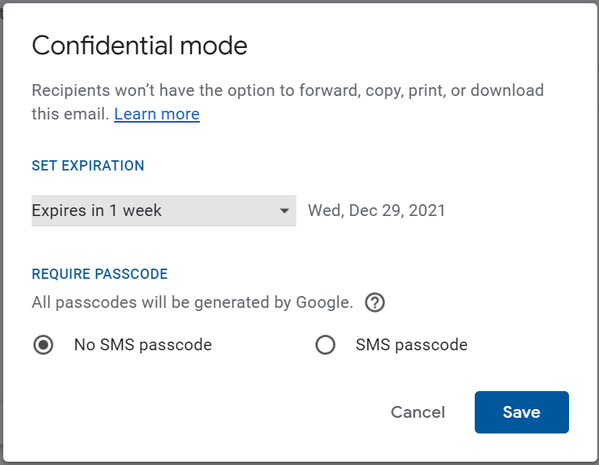 See this page for more information about Gmail's "Confidential Mode".

We hope this helps you, Richard.
-------
Richard wrote back: "Hi TC. That's exactly what I was looking for re: self-destructive email. Thank you... Richard."



Duke says he was going to upgrade from Windows 7 to Windows 10 but it's no longer free.
Hi Darcy. I decided I would just upgrade to Windows 10 and save the headaches with Windows 7 but I see it is no longer free - they want $130 to upgrade. I waited too long. Lesson well learned! Duke.

Our answer
Hi Duke. Windows 10 is still free for those who are using genuine copies of Windows 7 and Windows 8. Here's how to upgrade to Windows 10 free of charge.

First backup your personal files (Pictures, Documents, Music, etc.) then disconnect any unnecessary external devices, especially USB flash drives and external hard drives.

Next, go to the Download Windows 10 webpage and click the Download tool now button. After the download completes, double-click the file to run the Media Creation Tool. Choose the "Upgrade this PC now" option then click "Next".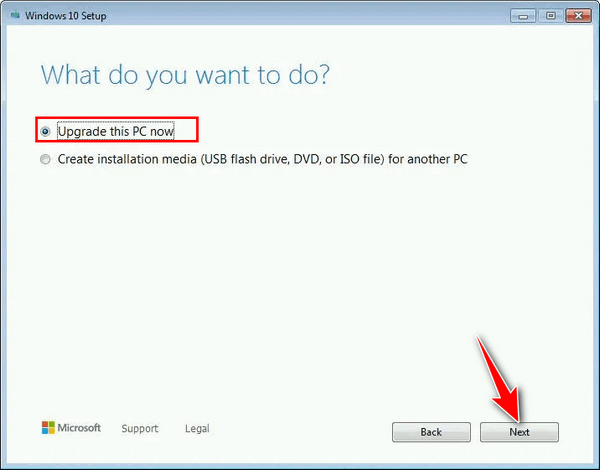 That option will install the most recent version of Windows 10. It typically takes about an hour.

You don't need a Windows 10 product key if the version of Windows 7 you're running now is licensed and activated. Windows 10 will get the product key from Windows 7 automatically.

We hope this helps you, Duke.

JP says that Emsisoft is blocking Big Fish Games
Could you recommend a safe site to download games, like Hidden Object games? Emsisoft warns me that Big Fish link has suspicious stuff in their download? Thanks loads.

Our answer
Hi JP. Are you sure you're using the correct link to access Big Fish Games? I have Emsisoft installed and it's up-to-date. I have Emsisoft installed and visited Big Fish Games at https://www.bigfishgames.com/us/en.html and got no warnings at all. Would you please try the link we used and let me know if you still get a warning?
-----
JP wrote back: "Thank TC. It appears that the link you gave me was the "authentic" link for Big Fish, and all went well. I must have clicked on a link that claimed to be Big Fish but was corrupt in some way. You guys are fantastic...with the hundreds, or more probably, thousands of clients you must have, you are so "Johnny on the spot" with your quick responses. What are we going to do without you guys when the good Lord calls you home. Paul"

Hazel wants a program to help print things from the Web.
Some years ago and before Windows 10 you showed us an app that would help when you wanted to print something from the web. It installed a button that when clicked on would allow you to copy and paste. I am not too clear on this as it is some time ago and I can't remember what it was called only that it was free and safe but it was a very useful tool. Best regards to you both. Hazel.

Our answer
Hi Hazel. Thanks for your nice comments.

I don't remember recommending anything like that. But I do remember recommending a program called PureText to convert messy text to plain text, and you can read more about PureText here.
Most modern web browsers have what is called "Reader mode" which gets rid of the ads and shows only text and relevant images. It makes it much easier to copy and paste. If you tell me what browser you're using, I'll tell you how to invoke Reader mode.

But we think what you're looking for is an app that lets you declutter a page so you can copy/paste, convert to PDF, or print it with the click of a button. If we're guessing correctly, you're looking for Print Friendly. You can add Print Friendly to your browser. Just go to this page and choose the Print Friendly extension for your browser. Once you install the Print Friendly extension, you'll have a lot of options for printing and saving pages and even sharing a page by email.

We hope this helps you, Hazel!

If you don't need any of our products or services right now, please help us with a donation. Even the smallest gift is appreciated. Every donation helps us to provide useful information that helps you with your computer as well as helping to keep you safe on the Internet. We offer free help to thousands of people every year... and we offer an honest and inexpensive computer repair service too. We do everything we can to help you with your computer and keep you safe too.

So if you don't need any of our products or services right now, please help us by donating right now. Thank you!

Interested in making an automatic monthly gift? Visit this page. Help us keep helping you... and help us keep you stay safe on the Web.

Pam wants to know what Windows File History backs up
When I originally set up my external hard drive, I used a backup program that came with the drive but have never been happy with it. I ended up formatting the external drive and then following your advice by not installing the software that came with the external drive. You now recommend Windows File History for backups. Can you please tell me what it backs up and how often? Thanks so much for your wonderful website and newsletters. Pam.

Our answer
Thanks, Pam. File History backs up your personal folders (Pictures, Documents, Downloads, Videos, Music, Desktop) located in the directory C:\Users\Your User Name. This is what it backs up by default. So all of your personal files are backed up. You can add other directories if you want (like C:\Users\Your Username\AppData) but the way it works by default pretty much covers all of your files assuming you keep your pictures in "Pictures" (or subfolders in Pictures) and so on.

As for how often it backs up - that's up to you. You can choose from every hour to every day. File History offers a wide range of backup intervals. To learn more about File History see our article here.

We hope this helps you, Pam.



Michael wants to know how to clear browsing history in Microsoft Edge
I recently started using the new Microsoft Edge browser and I really like it. But I don't know how to clear the browsing history. I'm a Firefox convert. How do I clear the browsing history in Edge? Thanks for all you guys do to help us all. Michael.

Our answer
Hi Michael. Thanks! It's really easy to clear browsing history in the new Edge.

1. Open Edge
2. Press Ctrl + H (or type edge://history/all in the address bar)
3. At the bottom of the menu on the left click "Clear browsing data"

That's all there is to it, Michael.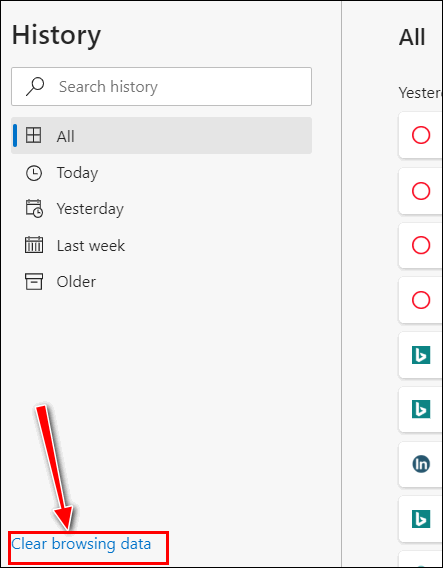 Paula has a problem with Task Manager on Windows 11
Hi TC & EB. I upgraded from Windows 10 to Windows 11. Overall, I'm pretty happy with Windows 11. But today I ran into a problem. When I open Task Manager it won't stay open. It opens for a second then closes. I looked online for a fix but I don't want to edit the registry. Can you help me please? Thanks, Paula.

Our answer
Hi Paula. Before you do anything else, try this:

1. Shut down your computer (power it off)
2. Make sure no lights are on and everything is off
3. Wait 5 minutes.
4. Power on (turn on) your computer.

Wait for Windows to fully load and then try opening Task Manager.

Let us know if that fixes Task Manager.
------
Paula wrote back: &"Thank you so much. It worked perfectly. Task Manager is now opening and staying open. Thanks so much. You guys are the best. Paula"


Sandy is thinking about using Microsoft OneDrive instead of an external drive
I have been using an external hard drive to store all of my data. I don't store it on my computer's hard drive. I've been thinking of ditching the external hard drive and using Microsoft One Drive. Is it possible to use One Drive like it's an external hard drive? If so, how do you do that? I have read that I can load it to my external hard drive and use them both, but it talks about if you remove the hard drive and don't stop One Drive you have issues. I'm not sure I would remember that when disconnecting my hard drive to take it somewhere with me. So what I'm looking for is, can I use One Drive like a hard drive, point my Word, etc., to find my documents and save my documents to One Drive only? Thanks again, Sandy.

Our answer
Hi Sandy. I'm going to try to answer your questions about OneDrive but there are a lot of variables. Cloud storage is like an external drive yet it isn't. With an external drive, your files are available anytime - whether you're online or not. OneDrive can be set up to store files online and on your computer... or only online only.

OneDrive backs up all your user files and folders (Pictures, Documents, Desktop, Music, Videos, Favorites, etc.) But the free version of OneDrive only gives you 5 GB of backup space - not nearly enough to backup all your personal files. However, if you purchase or already have Microsoft 365 (which is a Microsoft Office subscription you can get for as little as $6.99 a month) you get 1 TB (1000 GB) of space which should be plenty enough to back up all your personal files.

If you don't have one, you can get a Microsoft 365 personal subscription for $69.99 a year or $6.99 a month here.

OneDrive comes pre-installed on all Windows 10 and Windows 11 computers. You'll find it listed in the Start menu as OneDrive. To use it all you have to do is open it, sign into it with a Microsoft account (a @hotmail or @outlook.com or @live.com or @msn.com email address). If you have Microsoft 365 you already have a Microsoft account.

The only way you'd have issues with the current backup is if you removed the external hard drive and you didn't uninstall or turn off the current backup program to prevent it from continuing to try to make backups on the external drive that no longer exists (because you unplugged it). Then you would get a lot of error messages from the backup program - but still, it would not affect the OneDrive backup. You would need to stop the current backup as soon as you set up OneDrive. I do not know what backup program you are currently using, but if you're using File History, it's easy to turn off.

This is a general overview of OneDrive backups and I hope at least it gives you some ideas. If you have more questions, just let us know.



Don't have a Cloudeight SeniorPass? It's a great deal. Learn more here.

Our Cloudeight SeniorPass is a great deal. You get unlimited support for one full year from the date you first use your SeniorPass. We can help keep your computer running well, fix all kinds of computer problems, clean up malware, and a whole lot more. Our SeniorPass is like insurance for your computer. And it's only $99 for an entire year.

Get your SeniorPass today for just $99. It's just like having insurance for your computer - only better!

To learn more about our SeniorPass, please see this page.

Interested in making an automatic monthly gift? Visit this page. Help us keep helping you... and help you stay safe on the Web.


A Fast Way to Close Windows Explorer (and why you might want to)
Windows 10, and Windows 11

First -- why would you want to close Windows Explorer? Well, there are several reasons, but the two main reasons why most of you would want to do it are:

1. The start button or some other Windows feature stops working.

2. Your computer suddenly starts running poorly and seems non-responsive at times. You can try closing Windows Explorer and restarting it. Sometimes this works similar to a reboot.

The fastest way to end the Windows Explorer process is this:

Hold down the Ctrl and Shift and Esc keys to bring up Task Manager. Find "Windows Explorer" in the list (it should be under Windows process) and right-click it and choose "Restart". When you end or restart the Windows Explorer process it also terminates the Desktop shell and you'll notice that all your desktop and taskbar icons disappear. If you see more than one Windows Explorer process end them all. No worries!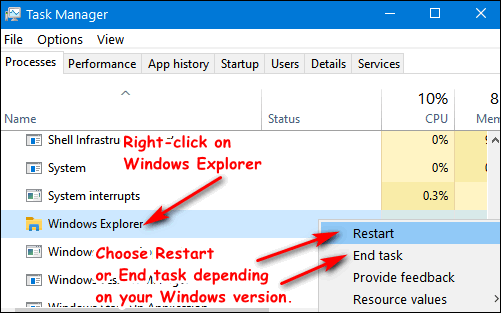 /
Above: Windows 10 Task Manager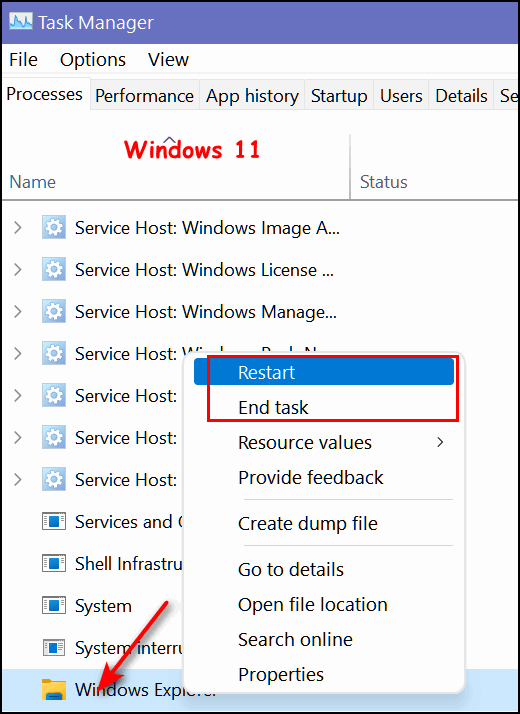 If you choose "Restart" all of your desktop and taskbar icons will disappear temporarily. They'll load back up on their own. If you choose "End Task" you have more to do. Assuming Task Manager is still open, click File ---> Run ---> and type in Explorer.exe in the Run dialog then press Enter. Your desktop and taskbar icons will reappear as Explorer is restarted, and hopefully, your system will be refreshed and things will work correctly for you. If not, you can still have the option to restart your computer.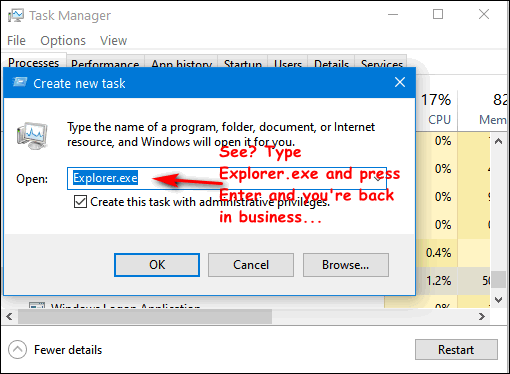 This is a good tip to remember if you're computer seems sluggish or if your Start menu or some other Windows feature isn't working right. It's always smart to try this first before you resort to restarting. This tip could save you some downtime and frustration./p>

Kill Multiple Instances of Non-responsive Programs All At Once
Windows 10 and Windows 11

Have you ever a program freeze up and therefore not be able to close it by clicking the "X" in the program's window? Sure you have. We all have. And many of you know you can kill programs that have stopped responding (frozen) by opening Task Manager, then clicking the Processes tab, right-clicking on the non-responsive program, and selecting "End process".

But what if you see half a dozen or more instances of the same program? Would you like to kill all of them at once instead of having to right-click each one and selecting "End process" - one by one?

Did you know you can kill multiple instances of a non-responding program, all at once? Here's how to do it:

Type CMD in taskbar search and press Enter

At the command prompt type Taskkill /IM (name of the program) /F

To kill all instances of Firefox, you'd type

Taskkill /IM firefox.exe /F

Make sure you type it exactly like that. Note the spaces after Taskkill, after IM before and after the program exe. If you don't type the command right, this tip will not work. Practice makes perfect.

Here's an example. I currently have 18 instances of Google Chrome running.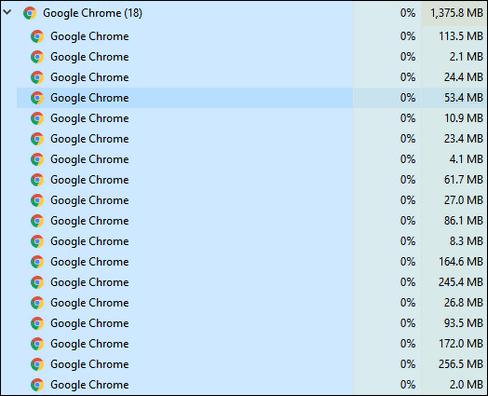 I could right-click on each one of those instances and choose "End task". But that takes forever and it's a lot of work. You can kill them all this way:

1. Open a command prompt

2. Type
taskkill /IM chrome.exe /F
at the prompt and press Enter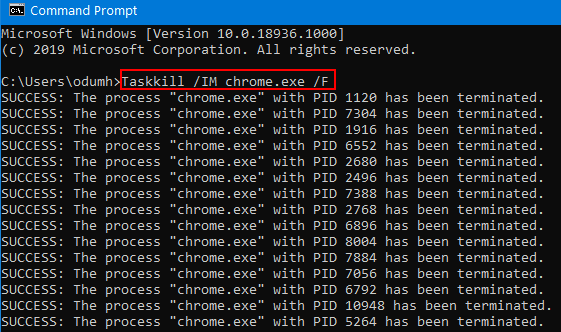 See? We really do test these tips. Above you can see all instances of Chrome were terminated in about a second.

So the next time you have a mess like this, save yourself some time and trouble and kill multiple instances of a program the quick and easy way.

Have You Noticed These Two Omnibar Icons In Chrome?
Chrome browser - Windows 10 and Windows 11
If your version of Chrome is up-to-date then you've noticed a couple of icons in the address bar (omnibar) in Chrome. They both can be very useful and we'll show you what we mean.

The "book" Icon – what does it do?
Thanks to the comments we received, I realized that some of you don't have "Reader Mode" enabled in Chrome. And if you don't, you won't see the "book" icon. So, first, make sure you have Reader Mode enabled. You can enable reader mode by typing (or copying & pasting)
chrome://flags/#enable-reader-mode
in Chrome's address bar and press Enter… Enable the feature if it's not already enabled. Restart Chrome and you'll see the book icon.
Let's look at a typical webpage full of ads, links, and distractions. You just want to read what's on the page. So let's look at what happens when you click the little "book" icon…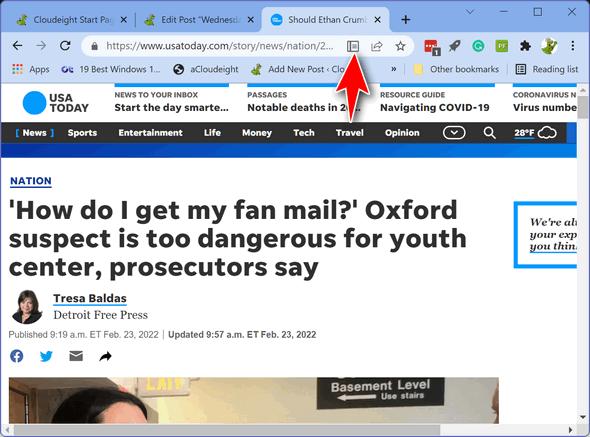 The distractions are removed – and you can now dig in and read the article without distractions. You'll notice the book icon is now highlighted. To return to the regular page just click the "book" icon again.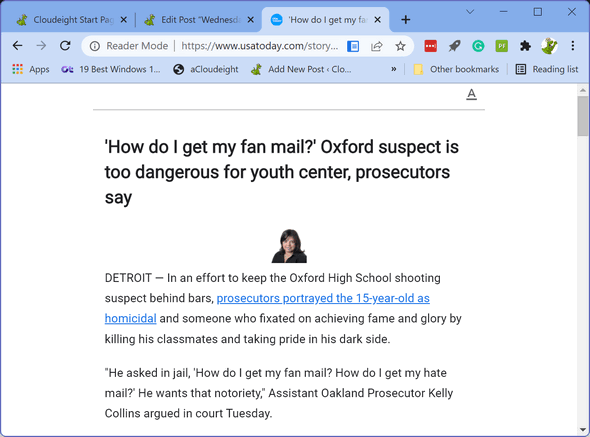 But wait there's more. If you look at the screenshot above you'll see a capital letter "A" near the top-right of the page. If you click on the "A" you can change the font, the font size, and the background color (white, beige, or black) to make the page easier to read.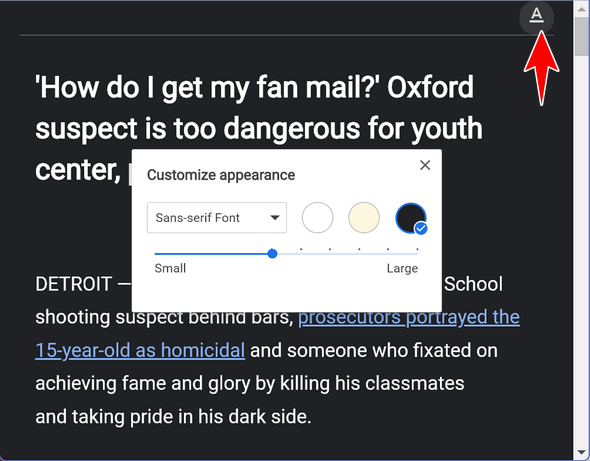 Now you know how to make most web pages easier to read. But keep in mind it doesn't work on all pages… but it does on most.
The "curved arrow" icon…what does it do?
I call it the curved-arrow icon – I'm sure the geeks have a better, spiffier name for it. But whatever you call it, when you click on it, it lets you share a web page in many different ways.
When you click the "curved arrow" icon you can copy the link to the page to the clipboard, create a QR code for the page, and scan it with your smartphone. You can "cast" it to your TV or another device. You can save the entire page.
And you can share the page on your favorite social media… all by clicking on the "curved arrow" icon in the Chrome omnibar (address bar) and choosing from the drop-down menu.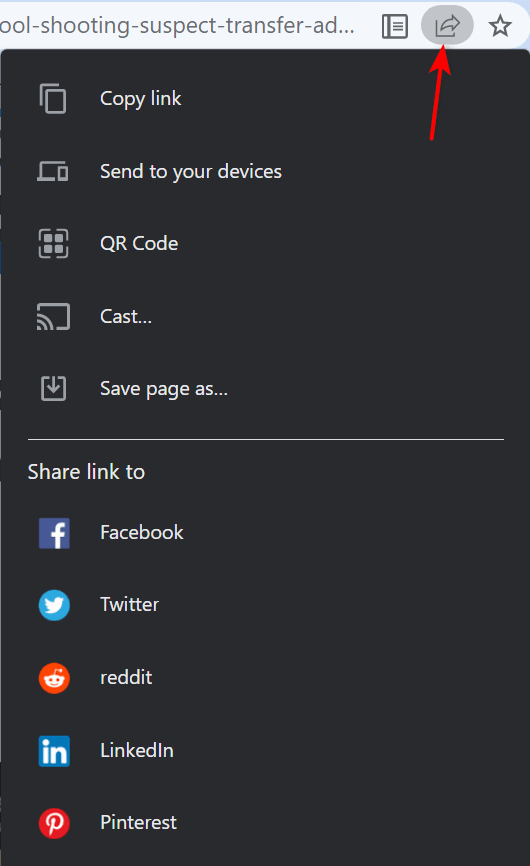 And of course, you already know what the star icon does right? YES! It adds the website or web page to your Favorites!

Want more tips, tricks, and information?
We have thousands of Windows tips, tricks, and more on our InfoAve website.
Subscribe to our free InfoAve Daily newsletter.






Now available: Reg Organizer 8.87

If you purchased or renewed Reg Organizer through Cloudeight within the last 12 months, you're entitled to a free version upgrade to Reg Organizer 8.87.

Save $14 on Reg Organizer right now!

Reg Organizer - A Swiss Army Knife of Windows Tools - Works Great on Windows 10!




Looking for a Gif or a Sticker? Here's the Site for You!
Looking for a gif? Gifs and stickers are all the rage. If you own a smartphone or tablet you probably already know this. And even old stodgy Microsoft is getting into the stickers game soon as they're adding "stickers" capability to Windows 11.

While most smartphones come with plenty of gifs and stickers you can add to text messages, most Windows users don't have access to many gifs and stickers to add "spice" to their emails or social media posts.

That's too bad (isn't it?). I mean adding spice to your posts and emails is a fun way to grab attention and even make a point.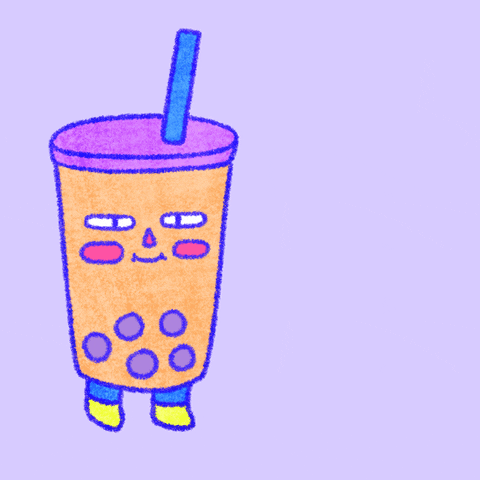 So what's the difference between a gif and a sticker? Well, stickers are usually more socially poignant and express a point of view, while Gifs are usually more for fun. Maybe you'll disagree.

The image to the left is a sticker and it's expressing an opinion telling the reader to spread love not hate. And what is wrong with that. There's certainly too much hate in this world.

Our site pick today is GIPHY. I

t's a fun site where you can find stickers and gifs and share them with your friends. And it's free but Giphy asks that you credit the people who create the gifs and stickers. And now a word from the folks who run GIPHY.
GIPHY Community Guidelines

GIPHY is dedicated to providing a fun and safe way to search, create, and share the best GIFs on the internet. GIPHY GIFs, once indexed, can be seen by anybody using GIPHY; therefore, it's important to be mindful of the type of GIFs that are appropriate for the site. To do that, we've set up a few guidelines that we ask you follow. Thanks for helping us make GIPHY a positive experience for everyone!

GIPHY Golden Rules:

Keep GIFS Friendly: The purpose of GIFS is to add a bit of fun to our online lives, so keep your GIFS friendly. Do not create or upload any GIF meant to hurt another individual.

Respect Privacy: It's important to respect and honor the privacy and consent of the individuals depicted in your GIFS. Make sure you're authorized to use any video or images from the appropriate people before you use them to make a GIF.

Credit the Community: People work hard to make their GIFs, and we want to make sure they get their proper dues. Help us support the community by using GIPHY's share tools to make sure that the original creator is getting credit for the work.

Sharing: Sharing is great. Please use GIPHY's embed options, available on each GIF's individual page, for proper sharing on your blog or social media accounts. Before you use GIFs you find on GIPHY or anywhere else on the web, you'll want to make sure you're comfortable that your use complies with any laws applicable where you're located.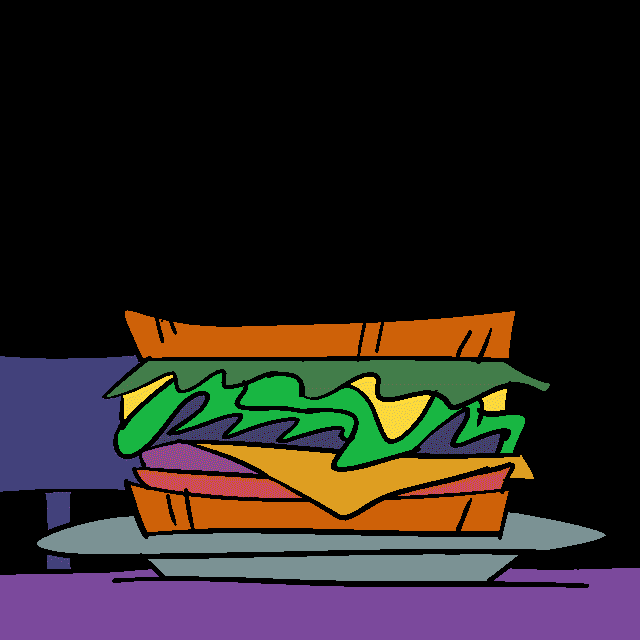 When you visit GIPHY you can search for the stickers of gifs you're looking for by using the site's excellent search feature. Once you find the gif or sicker you want to use, just hover over it and click the link icon which appears to copy the link to the image to your clipboard.

It's time to say goodbye so you can go hunting for gifs and/or stickers to add pizazz to your social media posts or emails.

Visit GIPHY now and browse through the impressive selections of gifs and stickers.

You'll be impressed, we promise.

After all, it's a Cloudeight site pick





The Best Computer Care and Repair - Anywhere!

We can fix your computer while you watch. You never have to leave your home. Just sit back, relax, and watch us work. Get PC service from folks you trust at the best prices you'll find anywhere.

Get more information here.


Smile…You're on Somebody's Camera!

One day this week, while browsing a real newspaper – Gosh! I really love the smell and feel of real newspapers – I read an article that made me think. It was about school systems that have started to put cameras on school principals — so they don't abuse students or paddle them. No that's not true. They're putting the cameras on the principals to improve the interaction between students or parents — or both– and the principal.

It seems that these little cameras are clipped on the principal's shirt or coat and presumably are turned on for the entire school day. I guess when he or she goes home, he or she can turn the camera off – or maybe we should be privy to the interaction between the principal and his wife, partner, significant other, and his or her kids if any.

Back when I was a kid — and I'm giving away my age here – I can remember wanting my own Brownie camera so bad and, one Christmas my dream came true. I got my very own Brownie camera. I took a lot of pictures then but I think it was stuff like me blowing up firecrackers, my grandfather eating mashed potatoes, my bean plant shooting up through the soil, and that kind of thing, Most of them didn't turn out very well...

Read the rest of this essay here.



Did you know that Web addresses and email addresses are never case sensitive?

We're going to make a case here, I tells ya! This is just in case you didn't know that case doesn't matter when it comes to email addresses and Web URLs (addresses).

In any case, while it is true that a lot of things on the Web are case sensitive - passwords, user names, CAPTCHAS - to name a few - are almost always case sEnSiTIVe. But did you know that Web addresses (URLs)and email addresses are never case sensitive? For example, anyname@anyname.com is the same as ANYNAME@ANYNAME.COM. Or, THUNDERCLOUD.NET is the same as thundercloud.net. And THunDeRclOUd.NeT is ok too?

We've MaDe ouR caSE.

Case CLOSED!





Our newest Cloudeight Endorsed Email Program - Very Similar to Windows Mail & Outlook Express.

Cloudeight Stationery works great with OE Classic!

Read more about OE Classic here!




Sales of the following products and services help support our newsletters, websites, and free computer help services we provide.

Cloudeight Direct Computer Care: Single Keys, SeniorPass, or Season Tickets - always a great deal. Cloudeight Direct Computer Care is like having PC insurance. Get more information here.

Emsisoft Anti-Malware: Emsisoft is the only Cloudeight endorsed and recommended Windows security program. It provides users with a complete antivirus, antimalware, anti-ransomware, anti-PUPs solution. We offer single Emsisoft licenses and multi-computer licenses at discount prices. Also, we offer our exclusive Emsisoft with Cloudeight installation & setup. Get more information here.

OE Classic Email program. The email program that is most like Outlook Express. We can even set it up for you. Get more details here.

Reg Organizer: Reg Organizer is the Swiss Army Knife of Windows tools. It's far more than just a registry optimizer and cleaner... it's a Windows all-in-one toolkit. Reg Organizer helps you keep your computer in tip-top shape and helps you solve annoying Windows problems. Reg Organizer works great with Windows 10! Get more information about Reg Organizer (and get our special discount prices) here.

SeniorPass - One year of Cloudeight Direct Computer Care - unlimited sessions! Get more information here.

Windows 10 Customization: Make Windows 10 look and work the way you want it to. Learn more.

MORE IMPORTANT STUFF!

Your InfoAve Weekly Members' Home Page is located here.

Print our Cloudeight Direct Computer Care Flyer and spread the word about our Cloudeight Direct Computer Care repair services. Get our ready-to-print flyer here.

Help us Grow! Forward this email newsletter to a friend or family member - and have them sign-up for InfoAve Weekly here!

Get our free daily newsletter! Each evening we send a short newsletter with a tip or trick or a computer-related article - it's short and sweet - and free. Sign-up right now.

We have thousands of Windows tips and tricks and computer articles posted on our Cloudeight InfoAve website. Our site has a great search engine to help you find what you're looking for too! Please visit us today!

Help us by using our Start Page. It costs nothing, and it helps us a lot.

Print our Cloudeight Direct Flyer and spread the word about our computer repair service! If you want to help us by telling your friends about our Cloudeight Direct Computer Care service, you can download a printable flyer you can hand out or post on bulletin boards, etc. Get the printable PDF Cloudeight Direct Computer Care flyer here.



We'd love to hear from you!

If you have comments, questions, a tip, trick, a freeware pick, or just want to tell us off for something, let us know.

If you need to change your newsletter subscription address, please see "Manage your subscription" at the very bottom of your newsletter.

We received hundreds of questions for possible use in IA news. Please keep in mind we cannot answer all general computer questions. We try to personally answer as many as we can. We can only use a few in each week's newsletter, so keep this in mind. If you have a support question about a service or product we sell, please contact us here.

Subscribe to our Daily Newsletter! Get computer tips & tricks every night. Our daily newsletter features a computer tip/trick or two every day. We send it out every night around 9 PM Eastern Time (USA). It's short and sweet, easy-to-read, and FREE. Subscribe to our Cloudeight InfoAve Daily Newsletter!





We hope you have enjoyed this issue of Cloudeight InfoAve Weekly. Thanks so much for your support and for being an InfoAve Weekly subscriber.

Have a great weekend... be safe!

Darcy and TC
Cloudeight InfoAve Weekly - Issue #960
Volume 19 Number 18
March 4, 2022

Not a subscriber? Subscribe to our FREE Cloudeight InfoAve Weekly Newsletter here.





"Cloudeight InfoAve Weekly" newsletter is published by:

Cloudeight Internet LLC
PO Box 73
Middleville, Michigan USA 49333-0073

Read our disclaimer about the tips, tricks, answers, site picks, and freeware picks featured in this newsletter.

Copyright ©2022 by Cloudeight Internet